Being at the top doesn't necessarily mean that you are best at everything you do. The same goes for search engines. According to the Statista, Google owns more than 86% of the online search engine market share. No doubt, it deserves its position but there are few things that Bing –its biggest competitor — does way better than Google.
In many ways, Microsoft's Bing was painted as everything Google wasn't. Although they both work on the same principle, the main difference lies in the algorithms they used for ranking each webpage.
Since the article focuses on users-end (instead of technical-end), we are not going to talk about their ranking factors and algorithms. Our aim is to make you more aware of search engine's features and help you retrieve useful information as quick as possible. Below, we have listed 10 cases (or types of queries) in which Bing provides superior results than Google.
10. Bing Rewards
Launched in 2010, Bing Rewards is a way to encourage the use of the Bing search engine. It won't be wrong if I say Bing is bribing users to use their service.
Bing rewards their users by giving them credits for checking out their few features and performing quality searches. As long as you are signed in, you can search on any device to earn credits. You can later redeem credits by buying gift cards, movie tickets and Microsoft services. For now, Bing Rewards are available for US users only.
Of course, you can't count this as a feature but considering the growth in Bing search volumes, it looks like their strategy is working well.
9. Better Wikipedia Results
Bing displays the results from Wikipedia page in a tab view, so that user can extract brief information without entering the site. For example, if you search Nelson Mandela, Bing will show you an interactive Wikipedia result where you can learn about his early life, revolutionary activities, and more, without leaving the search page.
Whereas, Google gives no special treatment to Wikipedia results, except highlighting links from the table of content. Note: we are not comparing the Knowledge Graph [displayed in a box to the right (top on mobile) of search results]. 
8. Detailed Suggestions
Bing suggestions are quite different from Google's, and they keep making changes. If you type someone's name in the query box, it gives you a small piece of information along with his/her image as the first suggestion.
7. Stock Results
Google does a good job at displaying stock charts. Bing does the same but with additional information. Along with stock prices, it shows average volume at the bottom of the chart. You will also see recent news (in the same box) related to the stock, and stock prices of other similar companies.
6. American Sign Language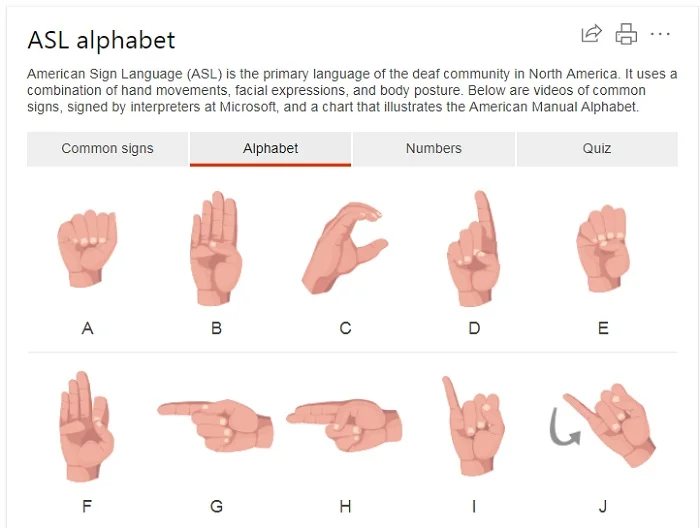 To empower each and every user and enable learning across a variety of groups, Bing has developed a sign language experience that consists of 13 phrases and over 150 videos of words of American Sign Language. These videos will teach you common sign, numbers, and alphabet.
While existing videos feature trained interpreters, Bing is working to provide a more authentic experience by starring individuals from the deaf community.
5. Equation Solver
Bing features a Math Solver that lets you solve mathematical equations by capturing an image (of written equations) and tapping the 'Math' button in the bottom. It can help you with linear, radical, quadratic and exponential equations as well as calculus.
It gives a step-by-step explanation while solving the equation. To increase your knowledge, it will connect you to related educational videos like Khan Academy lectures.
Read: 20 Best Android Apps to Learn Science and Mathematics
4. Bing Education Carousel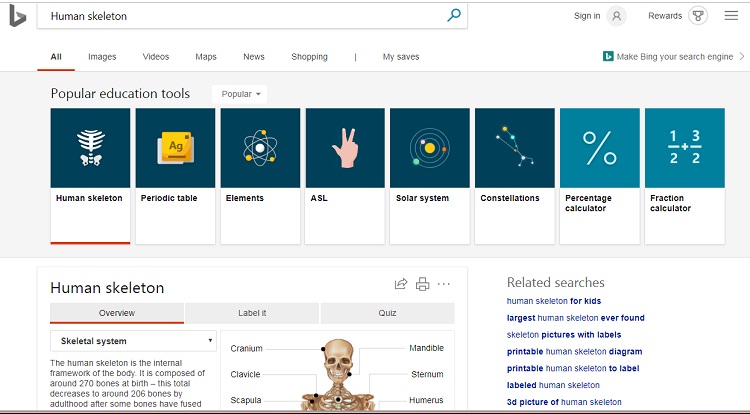 In addition to equation solver, Bing released a full suite of science, math and language tools to make learning easy for students and parents. Most of these tools feature quizzes and a step-by-step guide to help with retention and memory.
To try this features, you can search for "Education on Bing", or try certain topics like percentage calculator, elements, periodic table, human skeleton, geometric shape, and more.
3. Image-To-Text Transcription
Bing does a fantastic job when it comes to visual search for finding similar pictures, products for purchase, and identifying objects. What most people don't know is it can search image texts. With Visual Search, you can capture an image of a phone number to add it in your contact list or call it directly, copy-paste text, visit a website, and navigate to an address.
The feature comes in handy when you have to type long website URLs or long serial numbers, and in situations when you can't identify an object or pronounce a dish listed in a restaurant menu.
2. Image Search
Both Google Images and Bing Images are good enough for most people. You cannot go wrong with either one. However, there is one search engine that offers a better design and more options, i.e. Bing.
Bing was far better than Google at image search a few years ago. It was first to introduce the 'infinite scroll' to eliminate the need of clicking through several pages of image results. But since then, Google has made a significant amount of progress.
Bing still has the advantage when it comes to filters. You can search for different image layouts – square, wide or tall. Although rest of the features are same, you have to dig a little deeper in Google to find them.
1. Video Search
The home page of Bing Video allows you to browse for music videos, TV shows, trending news, and most-watched video content on the Web. It returns both family-friendly and NSFW results based on your SafeSearch settings.
The best thing about Bing Video is it has a Smart Preview feature that lets you preview a video by mousing over its thumbnail. This is way better than opening a video, realizing it's not what you are looking for, and going back to the search.
Read: Microsoft Develops AI That Can Draw Pictures Based On Your Description
It has a lot of useful filters: you can sort videos by length, date, source, and even resolution. Also, there is an option to switch between the list view and grid view. Overall, you can say that Bing has really nailed it with their video search results.