Today, mobile gaming mostly revolves around Android and iOS, as there are no other feasible alternatives. But this was not the case more than a decade ago or so. Believe it or not, Symbian and BlackBerry OS were more popular before 2009.
Then there were platforms such as Adobe flash lite, BREW (Binary Runtime Environment for Wireless), and Java (Java ME), which were widely used for mobile game development. Java ME (formerly known as J2ME) is a software platform with which applications can be developed and deployed in a cross-platform environment, including mobile phones.
Java used to be one of the best, if not the best platform for mobile games. However, performance-related limitations prompted developers to adopt other more suitable platforms to create sophisticated games. But that doesn't mean java gaming world is entirely dead.
Enthusiastic fans can still enjoy these old gems on their smartphones. To install a java game, you can follow this instruction. And in case you're looking for a possible way to run them on your iOS, then this Reddit thread might be of some use.
Below is the list of 18 all-time best java games that you can play right away.
18. New York Nights 2: Friends For Life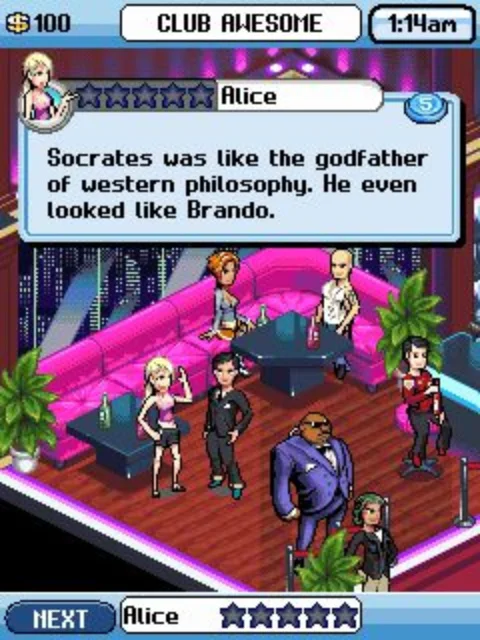 Developer: Gameloft
Genre: Strategy and Simulation
New York Night 2 is a virtual life and dating simulator, in which player experiences what it's like to become a superstar from an ordinary New Yorker. In the game, your character will face various real-life issues, such as finding a suitable job and paying the rent.
The character meets famous personalities (fictional) and possible love interests. As the game progress, you make important life decisions, which will ultimately influence the game's ending.
17. Real Football 2008
Developer: Gameloft
Genre: Sports simulation
Real Football 2008 is the fifth edition of the popular sports simulation game Real Football. It was the first game in the series to be released for a platform other than mobile phones.
Real Football 2008 has almost everything going for it; fair graphics, easy controls, and gameplay. The interface is clean and easy to understand. Face buttons give simple commands such as passing and shooting, while button combinations perform more complex actions (one-twos and stepovers).
It has four gameplay modes. There is a league competition, cup tournament, and friendly match for you to choose form. Multiplayer game mode is also available.
16. Hotel Tycoon Resort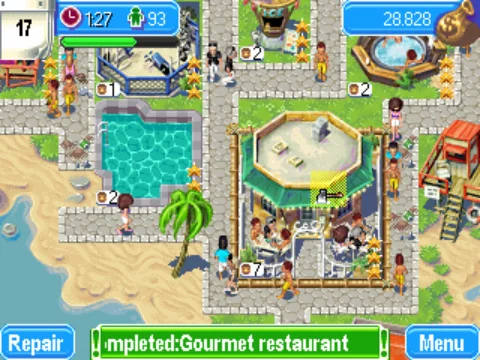 Developer: Claw Design Software
Genre: Business simulation
Hotel Tycoon Resort is a fun-to-play business simulation game first released in 2010. Your character is in love with the daughter of one of the most successful and ruthless hotel business tycoons in the country.
He will only allow you to be together if you prove your worth to him by successfully managing his vast hotel empire. Like the plot? If yes, then you are certainly going to love the gameplay.
To begin with, you need to choose from two game modes; story mode, which has eight missions, and endless game mode. The gameplay remains almost the same in both modes, that's to build restaurants, other buildings and provide services to fulfill the needs of visitors.
15. Real Football 2009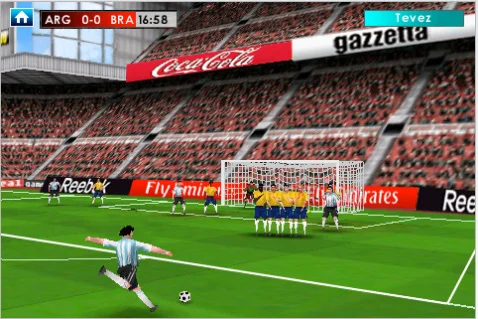 Developer: Gameloft
Genre: Simulation
For me, it just doesn't feel right if a football (soccer) game have fictional names and lack official licensing. But that doesn't mean that Gameloft's Real Football 2009 is anything less than a perfect java-based sports game.
The game allows you to choose from various local clubs as well as national teams and participate in cup games. It boasts a reasonably good graphics engine and runs smoothly.
14. Ferrari GT: Evolution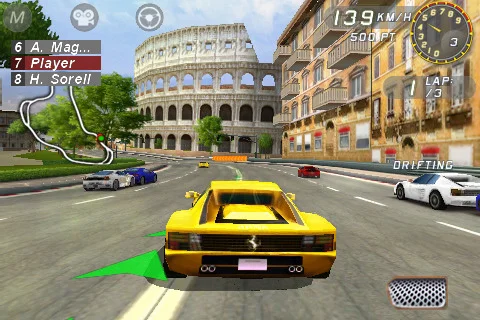 Developer: Gameloft
Genre: Racing Game
Ferrari GT: Evolution is a car racing game with more than 30 different cars (based on real-life Ferraris) and eight race tracks. One of the race circuits is based on Ferrari owned Fiorano Circuit, situated in Fiorano Modenese, Italy.
The game has two modes; Quick race, in which you can freely choose cars, locations, and race types, and Career Mode, where you take part in scheduled competitions, trials, and challenges.
13. Asphalt 3: Street Rules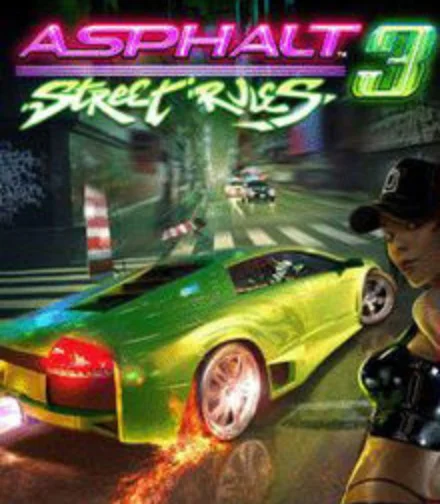 Developer: Gameloft Shanghai
Genre: Racing
Street Rules is the third edition of the widely popular racing game series Asphalt. As with most other games in this series, Asphalt 3 has two gameplay choices; instant race mode and career mode.
You start your racing career with a factory-tuned Mini Cooper S but will be able to unlock a dozen more cars as you progress. Each vehicle has its component upgrades, which can also be unlocked. The game ends when you finish all the races.
In 2008, Asphalt 3 became the first mobile-based game to be played at the prestigious World Cyber Games.
12. Midnight Pool 3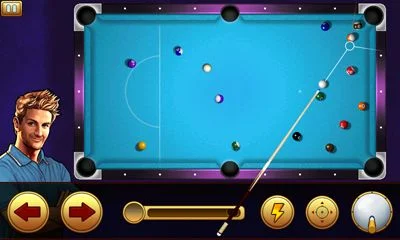 Developer: Gameloft
Genre: Sports
Midnight Pool 3 is the ideal java game if you want to try your hand on the pool table in the middle of the night. The game has three modes; career mode, friend mode, and quick game.
In career mode, players face each other in a tournament like gameplay. Before matches, you'll be shown cut scenes of trash-talking between you and your opponent, which makes the game more entertaining.
The Friend mode allows you to match up directly against your friends in various pool setups (3-Ball, 8-Ball, and 9-Ball). The Quick mode is for those who want a rapid set against a bot.
11. Gangstar 2: Kings of LA
Developer: Gameloft
Genre: Action
If you're looking for a java game that has the same gameplay and presentation as the Grand Theft Auto, then Gangstar 2: Kings of LA is the one you should try.
Your character is the newest member of the Los Angeles crime world, who rise through ranks by completing missions given by different crime bosses and their associates.
You try and evade cops, earn money and prestige. Moreover, players can use a wide range of weapons from pistol to sniper rifles and rocket launchers. Hand-to-hand combat is also allowed.
10. Asphalt 6: Adrenaline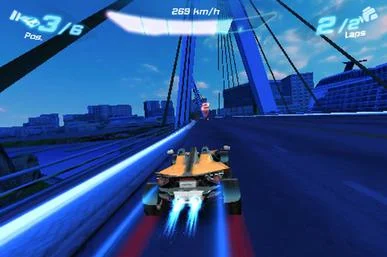 Developer: Gameloft
Genre: Racing
The second Asphalt installment in the list, Asphalt 6: Adrenaline, is perhaps one of the best racing games you can play on your java handset. The gameplay is similar to that of Asphalt 5 in which players can steer their vehicles either by touching controls on the side of the screen or tilting the device.
Your performance is assessed after the end of each race based on the parameters set before the start of the race. There is an "Adrenaline mode," in which your car becomes indestructible. The game features more than 40 licensed cars and bikes.
9. Gothic 3: The Beginning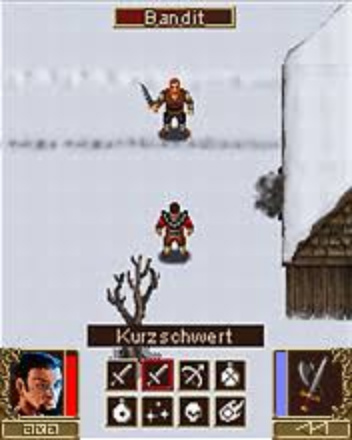 Developer: Handy-Games GmbH
Genre: Role Playing
Gothic 3 takes place about one and a half-century before the events of the original Gothic game. One night, Xardas, one of the main characters of the series, is visited by the ghost of Buthomar. The spirit warned Xardas about an impending threat upon them and urge him to locate "the other four Chosen Ones."
To begin with, the player first chooses their preferred fighting style, be it melee, ranged, or magical. As the game progress, you gain more strength, power, and mana.
The game features about 30 different types of weapons and ten armor types for you to choose from.
8. Spider-Man: Toxic City
Developer: Gameloft
Genre: Action
Set in the Ultimate Spider-Man universe, the Toxic City is a fine side-scrolling action game that you enjoy. The game has a total of 13 missions, four of which are bonus levels. Players can gather various collectibles, such as golden spiders, and golden heart. They allow players to boost their health, power, and endurance.
The game also allows you to choose between the original suit and the black suit. This feature is only available in the Java version of the game.
7. Doom II RPG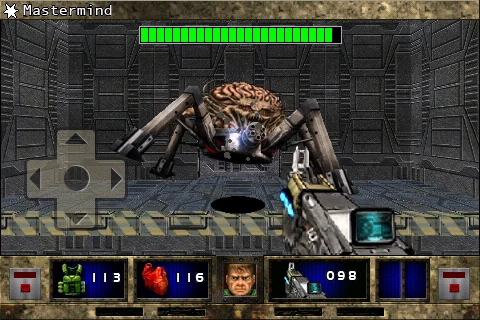 Developer: id software
Genre: First-Person Shooting
Doom II RPG is a role-playing first-person shooter game based on mobile. It's a sequel to Doom RPG and third official spin-off of the main series. Apart from Java, the game was launched for other mobile platforms such as BlackBerry OS, Windows Mobile, and iOS.
Doom II RPG has lengthy gameplay and a compelling plot to back it up. However, you'll be disappointed if you're looking for something fresh (especially if you have played its previous titles).
Rather than running-and-gunning, you are expected to navigate a level square by square. When locked in battle with the enemy, you attack first, and then they do. It's like an old-school RPG gameplay but focused on the action part.
6. The Overtaker 3D
Developer: Gameleons
Genre: First-person shooting
The Overtaker 3D is a first-person shooting game set in the World War II backdrop. At first, the game may be seen constricted, given the technical limitations of the mobile platform. However, the lack of graphic details is quickly overshadowed by its fantastic in-game mechanics and overall gameplay.
You began as a powerful mind-controlled robot inside a secret Nazi research laboratory. Your objective here is to foil the enemy's plans using stealth and deception. No, your robot can't kill those unsuspecting soldiers, but it is equipped to stun them and take over their bodies. The trick is to swap bodies (in and out of hosts) while maintaining cover.
Impressive features like heat sensor, which allows your robot to see through walls, make this game more so exciting.
5. Tetris
Developer: Gameloft
Genre: Tile-matching, puzzle
Tetris, surly doesn't need any formal introduction. Initially designed by Alexey Pajitnov in 1984, Tetris became an instant hit among gamers. Its surge in popularity led developers to built platform-based variants of the game.
The Java version of Tetris has two modes; marathon mode, which is similar to classic Tetris, and a campaign mode with a limited number of levels. There are four different types of levels, as well. You'll also face various obstacles and unique power-ups that will assist you throughout the game.
You can play an online version of the game here.
4. Wolfenstein RPG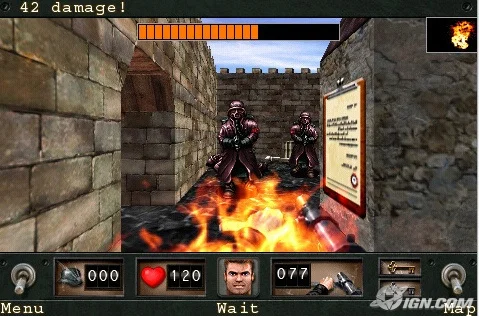 Developer: id software
Genre: First-Person Shooting
You will love this if you're an FPS fan. First launched in 1981, Wolfenstein is an acclaimed FPS series based on the World War II theme. In 2008, a mobile version (for Java ME, BREW, and later iOS) of the game was released named Wolfenstein RPG.
The game revolves around William "B.J." Blazkowicz, your character and the protagonist of the Wolfenstein series, who is imprisoned by the Axis forces. To save the world from the enemy, William Blazkowicz must foil their evil plans himself.
Wolfenstein RPG is the lighter take on the original Wolfenstein 3D with chicken mutants and Gunther. Sgt., a lively giant. You can use various weapons, tools, and other items to overcome obstacles. The game received favorable 8/10 ratings from the Pocketgamer.
3. FreeCol
Developer: Opensource Project
Genre: Strategy
FreeCol is an open-source, 4X strategy (explore, expand, exploit, and exterminate) game based on Sid Meier's Colonization and has striking similarities with the previous game, Civilization. The player begins with two colonists and a small vessel with the entire ocean at their disposal.
As the leader of the colonial power, your objective is to colonize the New World. After establishing a colony, you are required to grow food, build commercial buildings, and conduct trade to improve your settlement. Your final and ultimate objective is to defeat the European overlords and gain independence.
FreeCol is one of the most popular open-source game. Between January 2003 and April 2007, the game was downloaded over 1.9 million times from Sourceforge.
2. Bounce Tales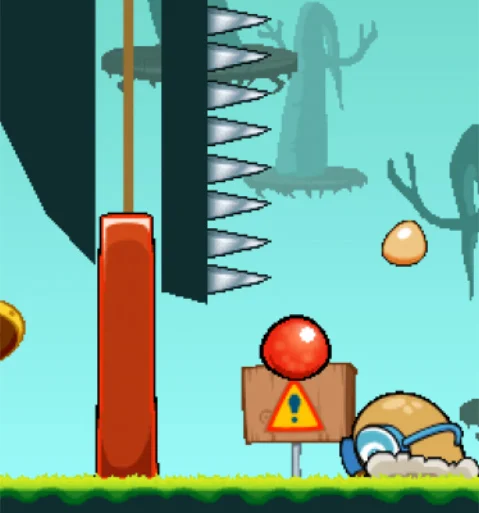 Oh boy, it takes me down to the memory lane. Bounce Tales is the sequel to Nokia's original Bounce game in which you control a bright red ball (named Bounce) and navigate through various terrain and obstacles. The player must move Bounce forward at any cost.
Read: 35 Best GBA Games OF All Time | Bring Your Childhood Back
Bounce will eventually gain special abilities that will help you get through problems or obstacles. The game also features bonus levels.
1. Gangstar: Crime City
Developer: Gameloft
Genre: Action-adventure
Gangstar: Crime City, released in 2006, is an open-world urban action game in which the player explores the city's crime world to gain power and money. The game-map is modeled after the parts of Los Angeles and Miami.
The game, much like Grand Theft Auto, allows players to engage in side quests and other activities such as buying properties and street racing throughout the map.
Read: 18 Best Nintendo Switch Games You Should Play
An excellent collection of weapons are available in the game, which can either be bought from gun stores or picked up from random locations. At gun stores, players can also purchase additional health packs and even hire bodyguards.