From a brick size that weighs a pound to currently available sleek touchscreen devices, we saw many changes in designs of mobile phones. We are currently expecting a lot from the next generation of handsets that will be available in the next ten to fifteen years. The main features that will be built into these phones are better screen and more flexibility. Most of the phones mentioned below are very difficult to create because of the lack of advanced technology, but a few of them are already under construction. Have a look at the following list of futuristic concept phones that has a unique and creative design.
25. Mechanical Mobile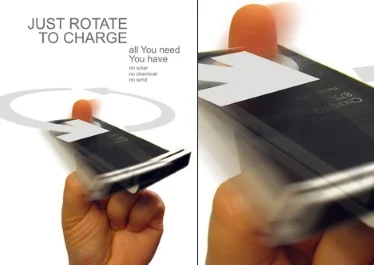 Mechanical mobile features an interesting idea of generating energy. Just spin it around your finger to charge it up. You can also charge it while waiting for bus at the bus stand. It has a sleek design with full size touchscreen. The concept of showing clock on the edge would let you easily check the time without holding the phone.
24. Black Label Retroxis
Instead of having a realistic design, black label retroxis cell phone was never produced. It has a retro classy look with all necessary functions. Its body is made up of polycarbonate to provide it more toughness.
23. Tron Phone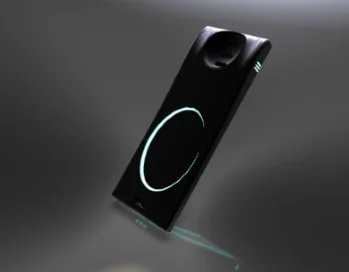 Andrew D. Morgan designed a Tron phone after getting inspired by the Tron Legacy film. The LED lighting with sleek dark finishing gives it a futuristic look. It also features a sound system, an LED ring identifier and a power connecting port.
22. Mobiado Aston Martin Prototype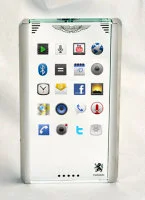 Aston Martin, luxury car maker and Mobiado, luxury phone maker are trying to create a transparent phone. The Mobiado concept is basically a big sapphire glass with two titanium edges. It has a cool design but technically, it is impossible to create it.
21. OLED Roll Phone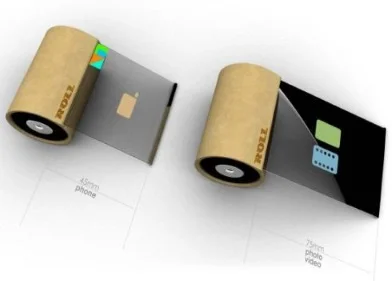 Designer Tao Ma created the world's smallest roll up phone, OLED roll phone. It has the ability to increase screen size up to 7.5 cm for watching videos. It runs on rechargeable standard batteries. Its compact size is also a problem for fat finger typos.
20. DYA Phone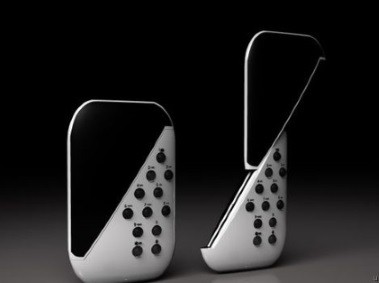 The DYA phone concept comes with a new design of a sliding phone. You can extend it from the diagonal cut for performing any function and slide it down when not in use. It has a completely new design but many people rated it as a bad futuristic concept.
19. Motorola Origami
Motorola Origami is also known by the name of Motorola phones of 2030. It is made out of a segmented sheet of techno stuff. You can also fold it into the camera, recording device or a mobile phone.
18. Weather Cell Phone Concept
The weather cell phone is a concept mobile phone which can transform itself like a home window as per the weather. It is very thin and looks like a transparent plastic sheet. It remains clear during a sunny day, becomes humid during a rainy day and also changes during a snowy day.
17. Nokia Kinetic
Nokia Kinetic's thickness varies from 8 mm to 18 mm. It provides a better grip and feel like a DSLR camera. It was a student project showed at the Saint Martin College of Art & Design. In 2011, Nokia developed a Nokia kinetic prototype but never produced it.
16. LG Helix Bracelet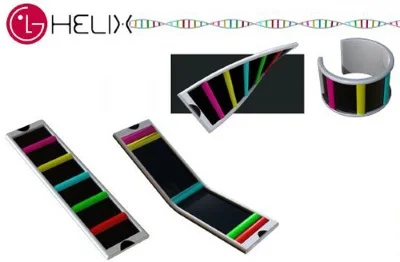 Rob Luna created an LG Bracelet (also known as Helix) which is originally a concept phone. You can attach it anywhere using a magnetic charger and use the kinetic energy generated by the user to power up the phone.
15. Facebook Phone Concept
Facebook is also trying to expand its market in the mobile industry. A Polish designer, Michal Bonikowski created this beautiful concept of Facebook mobile. It has all features of a standard smartphone and can be charged via induction charging on its dedicated dock. If Facebook produces this gorgeous phone, then they would be in good position in the mobile manufacturing industry.
14. Samsung Bracelet
Erik Campbell designed a next generation smart phone, Samsung Bracelet. It has innovative technology, specially built for athletes and adventure lovers. It features an OLED touch screen and a split pad design that increases air flow and reduce sweating.
13. Black hole Holographic Phone Concept
The Black Hole holographic concept was specially designed for Apple. It has a central ball like hub device that projects all the controls and functions in mid-air. It could also be used as a desktop device. This project is in development and will be available after 2020.
12. Philips Fluid
The concept of Philips Fluid was designed by a Brazilian designed, Dinard da Mata. It looks like a bracelet that kids used to wear in their childhood. It is made of OLED and its flexibility feature makes it different from any conventional mobile phone.
11. LG EXO
The internal design of the LG EXO is inspired from the human body. Just like the human body protects its internal organs with complex skeletal, LG EXO also features a rubber skin to protect its internal system. It provides its high strength with good looking phone.
10. Nokia 2030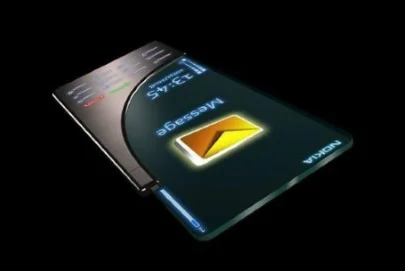 The concept of Nokia 2030 was designed by Jim Chan. It would be made up of scratch resistant glass and titanium body and you can also customize it by attaching a color film. It still has a standard keypad look and a super thin glass screen of thickness of 0.25 inches.
9. Kambala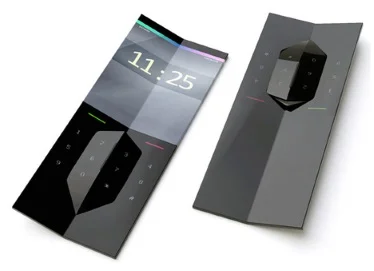 The Kambala is a combination of a mobile phone and a wireless earphone. It is made up of multi layered polymer in which all electronic components are placed between these layers. It can change the color like a chameleon.
8. Mobile Script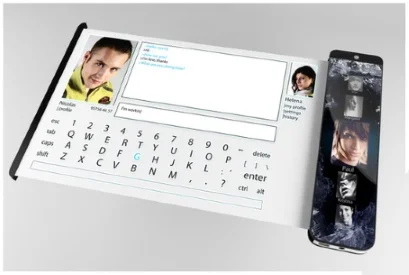 A conventional mobile phone must feature some common functions such as mobility, access to internet, documents and games. This mobile contains all these features. Mobile Script is a solar-powered concept phone designed by Aleksandr Mukomelov. It has a secondary screen which you can hide behind the main screen.
7. Nokia 888 Concept
Like any Nokia's phone, Nokia 888 concept also features a simple and stylish look. The concept of E-motion interface and liquid powered battery makes it a futuristic phone. You can also change its shape from wristband to smartphone, according to your need.
6. Kyocera Flexible Phone
Kyocera unveiled a kinetic energy powered phone that features a foldable OLED screen. The memory allows the phone's keys to pop up while using them. It generates its energy from human interaction and you will never have to worry about the battery.
5. Sony Transparent Smartphone
The BRANDA World has created a futuristic phone design for Sony. This is the result of creativity and high-end elegant thinking. Its chipsets are enclosed in aluminium rounded squares that are not visible inside the silicon sheets. It uses the carbon nanotube technology for communication.
4. Finger Touch Wearable Phone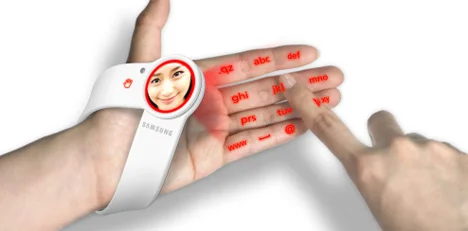 Sunman Kwon tries to give a completely new look to wearable devices. Finger touch is very easy to communicate or chat with anyone because of the 4G communication standard. He uses the human hand for the most basic communication method. He designed it in a way to project twelve buttons on the fingers. It has a flexible wrist which you can adjust according to your hand.
3. Mozilla Seabird
Mozilla developed a seabird concept phone after a feedback from the wider community. They also called it an open web mobile phone. It includes all features of a standard smartphone. Its dual Pico projectors can project a virtual keyboard and videos.
2. Nokia Morph
In 2008, Nokia research center and the University of Cambridge unveiled the Nokia Morph concept. It was the result of study of the future of mobile phones. It has the ability to bend into many shapes. It also features solar-powered battery with a wide range of sensors. They believed that some features will come in high-end device by 2016.
1. ZTE Eco Mobius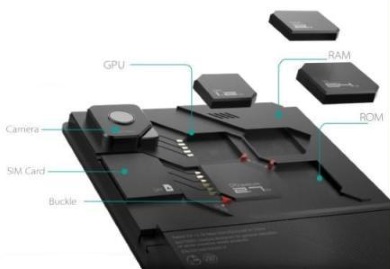 Recommended: 7 Future Linux Smartphone OS other than Android
Designers of ZTE Company are always thinking about to create a mobile phone that will be needed in the future. They have developed a new concept that will help disposing the old phone. ZTE Eco Mobius is designed in a way that could upgrade part by part. It would be divided into memory, screen, processor unit and camera. This will be the best option for you if you like to change your phone configuration every year.  Motorola is also working on this project.