Founded in 2015, a company named Desktop Metal is promising a new 3d printing system which will be 100 times faster and 10 times cheaper than currently available 3d printing options, including the existing laser technology. The company claims that it is more convenient, safer, cost efficient and practical as compared to the traditional systems.
A Massachusetts startup, Desktop Metal is reinventing the complete PC printing system, from prototyping to mass production phase. The product is built out of the disciplines of material science, design and hardware and software engineering. Basically, different techniques are required to move metal 3d printing afar its current limits.
Problem With Current 3d Printing Systems
Three dimensional printing has yet to advance beyond the enthusiast markets and niche industrial. One of its primary drawback is the lack of durable materials. Almost all 3d printers use cheap plastics that are not suitable for long-term use. Meanwhile, metal 3d printing is both slow and expensive.
A few years back, a company named MakerBot was leading the 3d printing market and later it was acquired by Stratasys. But, because of not-so-good-sales, they closed all its retail locations and stopped building printers. You can still purchase their product on Amazon for a few hundred dollars, but they don't do anything impressive.
Moreover, NASA and other big space agencies make use of metal printing to build individual components, but the laser based technologies they use are large in size and have limited applications.
How Desktop Metal Printer Works
The company calls its core technology 'microwave enhanced sintering'. Unlike laser printers, Desktop Metal Printers don't require any supply of hazardous and loose metal powder. These machines use metals that are suspended in polymer binding agent, and it is loaded into the printer through a sealed cartridge. The machine supports more than 200 alloys, including bronze, aluminum and titanium. You can put the product at home or office environment just like a regular 3d printer.
When printing, the binding agent and metal (as a powder) are together deposited on the build surface. The final outcome is built layer-by-layer, and when it is done, it is washed and heated to further remove the binding agent.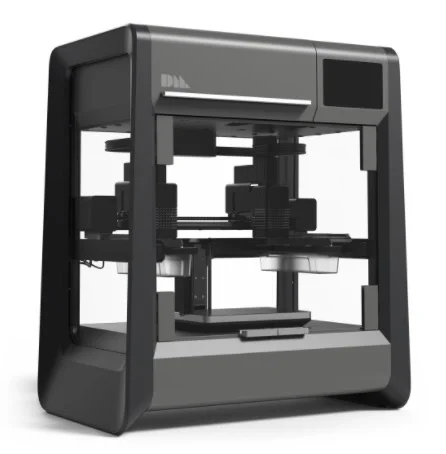 The finishing is carried out in a separate component by heating the metal to just below its melting point. In this process, both conventional and microwave heaters are used to heat the metal. The binding agent burns away and the metal particles fuse together to create a solid structure. The machine is capable to produce up to 8,200 cubic centimeters of metal objects per hour.
Company's Plans
The company will be shipping their products in two versions – Studio system and Production system.
The studio system is designed for end-to-end solutions for home and office use. It costs $120,000 (including a printer and sintering furnace) and will ship in September. The other one is a production system for mass production, arriving in 2018. It costs around $420,000 to purchase outright. It promises to deliver the quality, speed, and cost-per-part required to compete with conventional manufacturing process.
Fundings
Desktop Metal has raised over $211 million in 5 rounds of funding from 22 investors, including GE Ventures, Tyche Partners, Vertex Ventures and BMW iVentures.
Read: 40 Websites to Download Free STL Files for 3d Printing
Uwe Higgen, Managing partner at BMW iVentures, said Desktop Metal and BMW are working together to explore the potential uses of its printing technologies in the automotive industry. The investors expect the company to use its funding to put the first product in the market as soon as possible. 'This type of technology could solve the issues of warehousing parts in automotive as well as in other industries' Higgen added.