This article has been submitted by Paulina Gibson. 
The PDF (Portable Document Format) has been around for 24 years now and has become the most popular and most widely used document format for archiving and sharing information. The question is: "Why is the PDF file format so popular?"
There are a number of benefits  for storing information in PDFs:
They're platform independent – meaning they can be viewed on any operating system
They can't be modified without leaving an electronic footprint
Their size is compressed without any loss of quality
They maintain document formatting – the layout remains the same no matter what, etc.
Over time, we have developed the need to manipulate the information locked in  those PDF files, not just to store and present it as is. If, for whatever reason, you need to alter the content locked in the PDF format, you'll need a dedicated PDF tool.
It isn't any wonder then that numerous companies decided to throw their hat into the PDF software business ring. Of course, when you think of PDF software, Adobe is the first company that comes to mind. After all, they were responsible for the creation of the PDF file format in the first place. However, Adobe Acrobat comes with a considerable price tag and there are many alternative tools on the market that are worth checking out.
One particular alternative caught our attention. We're referring to Able2Extract – a PDF tool developed by a Canadian company called, Investintech.com, Inc. Investintech is no new kid on the block. Established in 2000, the company has stood the test of time and positioned itself as one of the market leaders for automating PDF work.
For this reason, we've decided to take a closer look at Able2Extract and count down the top 3 reasons for using Able2Extract Professional.
Simplicity
Don't get us wrong, simplicity is not always a good feature when you need a sophisticated tool. But when you need to work with PDF software, it's great. After all, with your day-to-day work, you probably don't want to burden yourself with a complicated tool that comes with a high learning curve. Time is a precious commodity and having a user-friendly tool can make all the difference when you're up against a deadline.
No worries here, though. If you're a fan of straightforwardness, Able2Extract is just the tool for you. The interface is clean and minimalistic, yet effective. Drop-down navigation menus and the command toolbar are located to the top of the program window and allow you to perform any given task in just a few clicks. On top of that, there is a right-side panel that offers different options, whether you're viewing the PDF conversion or editing mode.
Versatility
The main strength of Able2Extract comes from its versatility. While most PDF tools are focused on a single PDF manipulation feature, Able2Extract is an all-in-one PDF suite that allows its users to create, convert, edit and annotate their PDFs.
PDF Creation & Conversion
If a file is printable, Able2Extract can create a PDF file out of it. Furthermore, the software is capable of converting PDF files to several different file formats: MS Word, Excel, HTML, PowerPoint, Open Office… The conversion is executed with a quick 3-click process – Open-Select-Convert.
If you need to extract content from a scanned PDF file, its OCR technology kicks in and gets the job done. Another conversion feature worth mentioning is the Batch Conversion feature – instead of converting PDF files one by one, you can convert a whole folder that contains PDF files and save valuable time in the process.
PDF Editing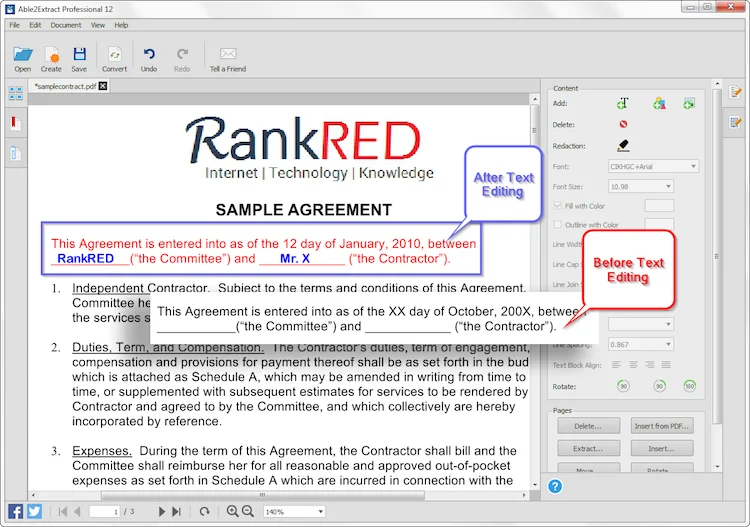 When it comes to PDF editing, Able2Extract allows its users to change and modify their PDFs at the page and content level:
Page level editing – Able2Extract offers several page editing options to choose from: moving, rotating, resizing, scaling and deleting pages. Users can also split and merge multiple PDF files.
Content level editing – Users can make modifications to the textual and graphical content located in a PDF file. This way users can add and/or delete textual data, specify and adjust the font style and size, and adjust the alignment and line spacing. Additionally, users can add/delete images and vector shapes in order to create captivating PDF content.
PDF Annotation
Business teams often work on huge projects and collaboration between team members can sometimes be problematic, especially if there are a lot of PDF documents involved. With Able2Extract's PDF Annotation feature, collaboration between colleagues that work on the same PDFs can be vastly improved.
Basically, you can choose from one of 12 annotation possibilities: Sticky note, Link, Free Text, Highlight, Underline, Squiggly, Strikeout, Stamp, Caret, Pop-up, File attachment, and Watermark. Using any one of them, you can mark an important part of the document and the recipient will be able to swiftly revise the annotations and act upon them if necessary. Obviously, having the right annotation tools can reduce the chance of error and boost your team's collaboration, co-operation, and workflow.
Security
PDFs like any other document can contain highly sensitive information. For example, various confidential contracts and bank statements are not meant to be viewed by everyone. A professional tool like Able2Extract excels in the security department.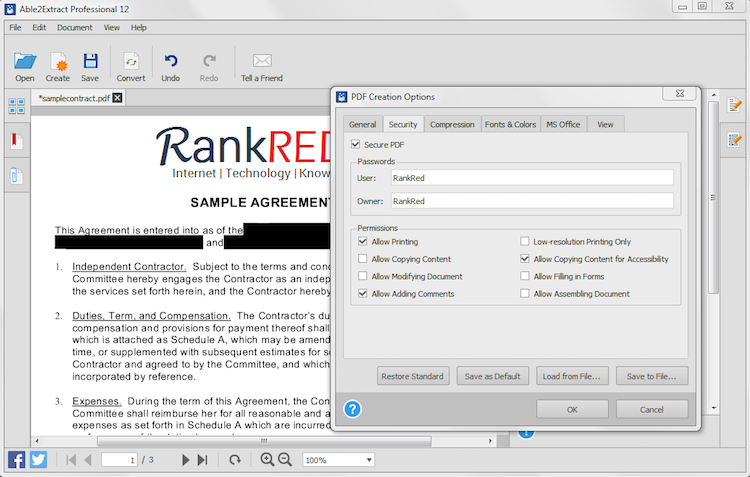 There are a few ways Able2Extract can help you make sure that your confidential PDF files remain confidential. To disable unauthorized viewing of your sensitive information, you can choose from one of two options, depending on the extent to which you want to protect the PDF:
Password protection – If you want to be the sole person who decides who can access the PDF file, you can password protect the document and set different permissions. This way you can limit the recipients' options when dealing with your document.
Content redaction – If you want to blackout a part of the document containing confidential information without having to deny access to the document, you have the redaction option at your disposal.
Read: 25 Best Mind Mapping Tools To Organize Your Ideas
Final Words
As far as working with PDF files on a daily basis is concerned, we can conclude that Able2Extract offers many benefits. The reasons to use the tool don't end here, though. There are just far too many for us to cover. You can avail yourself of the many advantages that a professional PDF software like Able2Extract has to offer. Simply download a free trial for either Windows, Mac or Linux and start processing your PDF documents.