A few decades ago, farmers used to plant crops based on what they thought would be profitable. Today, the entire agriculture industry has changed for the better.
Data analytics and artificial intelligence have revolutionized the industry and brought numerous solutions that people a few years ago couldn't imagine. Farmers no longer have to rely on instinct; they can track valuable data and make informed decisions.
Modern agricultural software tools allow farmers to determine optimal harvesting time, manage livestock, keep records, and mitigate risks and losses. These tools also help farmers monitor their performance and understand how minor changes in strategy can actually impact revenue.
As of now, more than 5,000 agriculture software development companies operate across the world. Most of them provide cloud-based solutions to help farmers improve their overall business model. However, only a few of them are designed for small-scale farmers.
Below, we have listed some of the best agriculture software companies that offer great solutions at reasonable prices. They enable farmers, growers, and ranchers to maximize yield and efficiently respond to market demands.
10. Agworld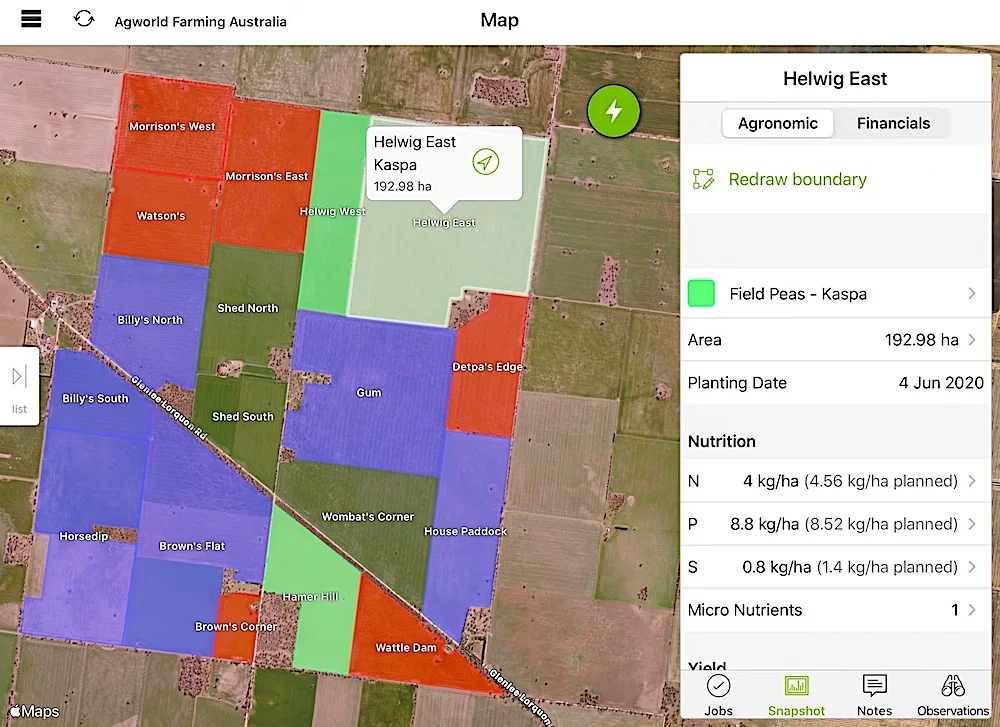 Founded in 2007
Price: Starts at $1695 per year | 7-day free trial available
Agworld offers a farm data management platform, allowing growers and advisors to collaborate easily. More specifically, it allows farmers, agronomists, contractors, land owners, banks, accountants, input providers, and other stakeholders to work together on the same set of data.
The platform can collect data at each level and show real-time changes to all stakeholders, keeping everyone on the same page.
It also shows your agronomic and financial plan in an easy-to-understand format. The agronomic snapshot includes applied herbicide groups, rainfall, pests, and field rotation information, while the financial snapshot includes the cost of production, forecast vs actual cost, gross margin, and more.
Key Features 
Record everything, from seeding rates and locations to machinery setup information
Real-time information sharing with all stakeholders
Analyze top-performing and poor-performing areas
ERP integration to streamline reporting, budgeting, and billing processes
You can view data in several different ways and compare crucial parameters (like the total cost to date, yield, and profits) without ever leaving the farm map page.
Since everything is stored in the cloud, you can access your farm data from any iOS device or PC. Their app works offline, which means you can gather and feed data even when you are not connected to the internet. It will automatically sync your activities when you get back into range.
9. Farmbrite
Founded in 2013
Price: Starts at $39 per month | 14-day free trial available
Farmbrite provides end-to-end solutions to help you manage all aspects of your agricultural business, from planning and keeping records to managing tasks and tracking sales.
It allows you to organize and assign jobs (even when you are not online), so your team members know when the work is due and what exactly they need to do. You can streamline farm activity and track the progress of each member from anywhere.
Key Features
Pre-loaded with common plant types, spacings, and yield data
40+ pre-built user-friendly reports
Weather map and forecasting
Encrypted data transmission and storage
The platform is designed to fit a broad range of agricultural operations. It is fully flexible and scalable.
In addition to managing crop production and monitoring solid health and yield metrics, you can map farms, track finances, and generate customizable reports — all from a single, user-friendly dashboard.
Unlike most other tools, Farmbrite gives you a true picture of input costs, break-even points, and margins across every field and animal. All in all, it helps you understand how your decisions impact your business growth.
8. FloEnvy
Founded in 2019
Price: Starts at $99 per location per month for unlimited users
FloEnvy's web and mobile tools are specifically designed for cannabis cultivation. They capture every activity you perform on the ground (from logging cultivation parameters to managing labor efficiently) and generate valuable information from the raw data.
For example, once the platform processes your data, it can show you the history of each strain, uncovering the highest-performing cultivars. It can accurately project upcoming material use and harvest yields before the cycle begins.
Since it uses machine learning algorithms to make the projection, the more you feed the data, the smarter it gets.
Key Features 
Forecasts material costs, yield, and total revenue
Compliance management
Plant lifecycle tracking
Comprehensive waste tracking
Integrates with QuickBooks
FloEnvy has a unique tool called SmartGrid, which allows you to manage plants from a bird's eye view. View the timeline of all plants, with each timeline containing events like watering, topping, running, culling, etc.
You can even create your own template, so you never miss a task or run behind schedule.
7. Arable
Founded in 2014
Headquarters: San Francisco, California, United States
Arable offers a new generation of IoT tools that allow producers to take advantage of wireless networks, advanced sensors, and AI recommendations to improve crop growth.
Its monitoring/sensing hardware and data analytics software tools can be adapted to any field's demands. And they are powerful enough to extract the most granular tidbit of information about harvest.
More specifically, these tools can precisely collect data on rainfall, water stress, canopy biomass, microclimate, chlorophyll levels, and other crucial variables, helping farmers refine crop growth and achieve their desired outcome.
Key Features 
Hardware (Mark 2) collects data in real time from the field
40+ climate and plant metrics
Analytics transforms data into actionable insights
Customizable alerts and permissions
The platform utilizes an extensive calibration and validation network, which produces over 50 million data points each quarter. To establish such an advanced network, Arable has partnered with 30+ research institutions.
This partnership allows the Arable platform to continually calibrate and validate against gold-standard equipment placed at over 50 research sites worldwide, spanning various agricultural climate zones.
According to the company, its infield weather reports are 350% more accurate than standard gridded weather reports. It provides seamless data delivery even in the worst conditions where satellite data is prone to interference and lower frequency.
6. Farmers Edge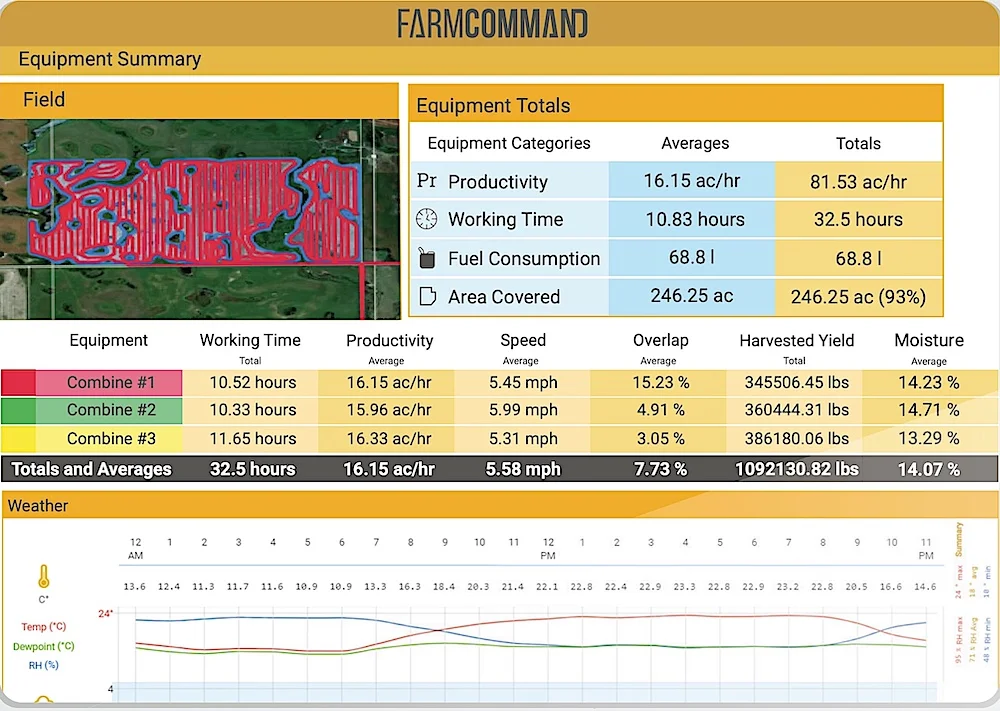 Founded in 2005
Headquarters: Winnipeg, Manitoba, Canada
Farmers Edge creates intelligent technologies to help farmers and their trusted advisors improve food production and distribution.
The company has been delivering top-notch solutions for more than a decade. These solutions are usually powered by field-centric data, machine learning, and complete integration.
In order to gather precise data in real time, Farmers Edge professionally installs and maintains on-field hardware.
Key Features 
Develop crop plan scenarios and estimate profits
Plan operations and assign tasks to crews
Track crop progress and share farm records from phone
Hazard detection and notifications
They have developed an intuitive platform called FarmCommand, which makes it easy to visualize and analyze complex data. It facilitates end-to-end farm management so farmers can reduce risk and increase return on investment across every acre.
More specifically, FarmCommand transforms visuals into field-level insights, helping farmers pinpoint issues, detect yield threats, prioritize areas of investigation, and understand the impact of operational or environmental damage.
5. Granular by Corteva Agriscience

Founded in 2014
Headquarters: San Francisco, Northern California, Canada
Granular's software products allow farmers to manage their financial performance and agronomic inputs for maximum return. The company focuses on ways that could actually help growers become more efficient and profitable.
One of its popular products, Granular Insights, makes it easier for farmers and advisors to collaboratively plan and analyze every field. It provides detailed data and flexible field plans, so you can minimize risk and ensure each acre achieves its full potential.
Key Features 
Seamlessly link data across farms
Centralized task management system
Compare the performance of different zones
Track inventories and budget inputs
Share field notes, threat observations, yield projections, and images with the crew
Another product, called Granular Business, helps you integrate data gathered from various instruments, monitor input and crop inventories, and track the profitability of individual farms. 
Moreover, the company offers a smartphone app for large teams. Each member can access schedules, work orders, special tasks, and other information in the field.
4. Fieldmargin
Founded in 2006
Pricing: Starts at $9.99 a month | Free version is available
With Fieldmargin, you can record everything that happens on your farm. It allows you to map the entire farm within half an hour — record crops, plan rotations, and add more information with features like buildings, water pipes, gateways, and fences.
The platform automatically calculates total farm yield and displays data with graphs, so you can easily compare performance with previous years. Plus, you can generate a spreadsheet of each report for cost analysis, gross margin verification, and farm benchmarking.
Key Features
Divide your field by slicing or drawing shapes
Manage livestock
Use built-in messenger to discuss issues with team members
Make notes for issues with images and location
The company has developed a smartphone app for both Android and iOS users. It makes it easier to add more detail with drone and satellite imagery, assign tasks to team members, record when tasks have been completed, and identify issues and treat them earlier.
Take a quick look at the history of the work that has been done on your farm and see if management decisions have made any difference in the past year.
You can start with the free version, which supports up to 5 inputs per farm and keeps your data for 30 days.
The platform is already being used by thousands of farms in over 170 countries, from small farms and stakeholders to large contractors.
3. Agrivi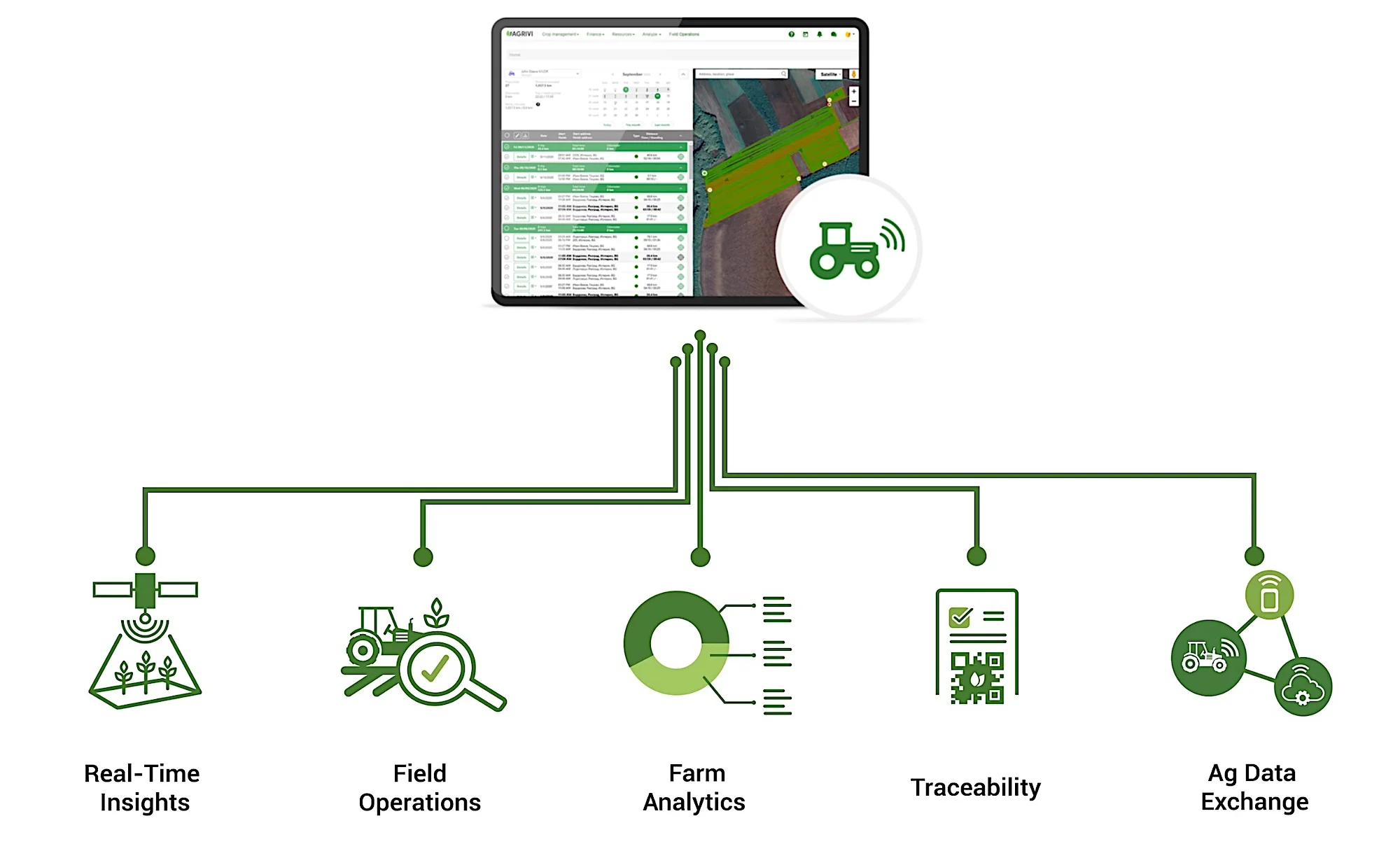 Founded in 2013
Headquarters: London, England
Agrivi focuses on solving the global food problem by digitalizing the agricultural industry. They have developed a suite of products for food companies, farms, ministries of agriculture, agribusiness banks, and other key stakeholders of the agri-food value chain.
The farm management tool, for instance, allows companies to control farm operations, improve yields, optimize costs, and make better decisions based on advanced field analytics and real-time insights.
The fleet management tool makes it easier to monitor farm equipment and gather fuel consumption data. This eliminates the misuse of machinery and ensures accurate cost accounting.
Key Features
Track sales, expenses, and payments and analyze farm economics
Real-time yield forecasting
Agronomic and risk insights for individual fields
Ensure compliance with food quality and safety standards
All these tools can be easily integrated with your supply chain and crop-sourcing processes. Once everything is set up, you can monitor and manage all complex operations through a centralized digital agriculture platform.
2. FarmLogs
Founded in 2011
Pricing: Starts at $19 per month | 7-day free trial available
FarmLogs develops easy-to-use software for farmers to help them run businesses more efficiently and see how each decision impacts profitability.
Its web and mobile applications make it easier to monitor crop and field conditions, manage digital farm records, and analyze farms' financial performance at the field level.
Key Features 
Automatically calculates the cost of production
Satellite maps give an aerial view of fields
Offers a complete view of your current grain marketing position
See soil types and elevation features in your fields
Unlike most other platforms, FarmLogs gives instant access to field-specific rainfall data and compares the current data with prior seasons and the 10-year average.
More than 50,000 farms trust the platform — they have access to more accurate data and valuable insights than ever before.
As for pricing, the company offers three plans: Lite (costs $19 a month), Essentials ($69 a month), and Business ($149 a month). Add-ons (like rain and heat history, basic satellite imagery, and custom reports) can be purchased separately.
1. Climate FieldView
Founded in 2006
Pricing: Starts at $99 a year | Free version is available
Climate FieldView is an integrated agriculture platform that provides you with a comprehensive suite of digital tools to optimize yields, increase efficiency, and get a deeper understanding of each field.
The company offers a Bluetooth-enabled device (named FieldView Drive) that can be plugged into a tractor to extract data during planting and harvest. The data is presented in an easy-to-understand format on the FieldView Cab app.
You can install the app on your smartphone to view field maps and analyze the impact of your agronomic decisions on crop performance. Since the app supports third-party data, you can upload information stored on different devices or transfer the data generated by other agronomic software tools.
Key Features 
Measure vegetation and biomass with hi-resolution field health imagery
True color overlay option provides real-world images of fields
Manual seed and fertility scripting tools
Analyze yield performance by seed, soil type, field, or region
Share operations with agronomic partners
The app generates high-quality images of your fields, helping you detect issues early, prioritize scouting, and take necessary actions to protect yield. Compare critical data (such as application rate and seed population rate) with side-by-side maps.
The app also gives you the option to generate crop performance reports and pick the best seed for the next season. However, this feature is not available in the free version (which comes with simple data entry, visualization, and cloud storage).
Other Equally Good Agriculture Services
11. CropX
Founded in 2015
Headquarters: Netanya, HaMerkaz, Israel
CropX has developed an integrated hardware and software system that allows farmers to continuously monitor soil and crop conditions. The company collects data via sensors and stores it in the Cloud for processing.
Their proprietary algorithms analyze thousands of data points to predict water-uptake patterns and identify faulty irrigation systems and burst pipes. The algorithms constantly adapt to the changing environment as well as the crop's growth phase.
Farmers can access detailed insights and valuable reports through a single dashboard. These insights help them understand how they can make more profit by using less energy, less water, and fewer chemicals.
The platform also provides crop-specific suggestions and keeps you updated on potential risks from pests or diseases. According to the company, their suggestions have helped farmers achieve 10% more crop yield.
12. Croptracker
Founded in 2006
Pricing: Starts at $5 per month for an annual subscription | Free demo is available
With Croptracker, you can monitor and analyze every activity done on your farm, from planning and planting to workers' productivity and everything in between. It is designed for farmers, advisors, and companies of all sizes.
It offers a cloud-based tool and a smartphone app to record sprays and chemical usage by commodity, enhance traceability and food safety, and optimize operational costs associated with supervision and auditing.
Analyze benchmarks and performance to verify whether your crop production operations comply with laws and regulations. Use flexible tracking options to monitor and manage quality specific to your commodity.
The platform gives you access to more than 80 automated reports so that you can make smart, data-driven decisions. Large teams can use the mobile app to communicate better and maximize labor efficiency. 
13. Harvest Profit
Founded in 2006
Pricing: $1,600 a year | 14-day free trial is available
Harvest Profit is a revenue and profit-tracking platform for savvy farmers who treat their fields as a business. It allows them to track their expenditure and P&L in real time, helping them make less emotional and more data-focused decisions.
The platform is integrated with a tool called Grain Marketing Plan Builder. As the name suggests, it enables farmers to create marketing plans that could actually drive more profit in real-world scenarios. It notifies you when your price and date targets are achieved. This helps you focus on your farm operations instead of worrying about market prices which none of us have any control over.
If you purchase the software, you will get a free educational course (worth $500), which includes numerous helpful lessons like key mistakes in the farm business, best practices to grow and protect your equity, and 40+ videos covering commercial basis strategies and long-term farm planning.
More to Know
What are the benefits of using agricultural software services?
Farm software, powered by advanced data analytics and artificial intelligence, impacts all aspects of the agricultural industry, from yield optimization to food safety management. It makes it easier for farmers and producers to
Make data-driven decisions instead of relying on gut feelings
Use less water, fertilizer, or pesticide
Increase profits and reduce risks
Monitor environmental conditions like rainfall or temperature changes
Keep records of every farm activity
What are the different types of agricultural software tools?
Modern agricultural platforms can be categorized into different groups based on the nature of tasks they perform. The most popular ones are:
Farm management tools (53%)

involve crop management, enterprise management and finance, and enterprise resource planning system

Precision agriculture and predictive analytics (12%)

focus on improving yield and minimizing risks

Field monitoring (10%)

covers crop growth, fertilization, irrigation, soil and weather conditions, and more

Data aggregation and spatial imagery (9%)

deal with the way of gathering data from different sources and processing process spatial images

Analytics and visualization tools(8%)

process data, find specific patterns and issues, and displays information in easy-to-understand formats.

Scouting tools (2%)

track critical regions

The rest (6%)

comprise sensors and software for in-field hardware like drones and robots
Agricultural Software Market Size
According to the Fusion Market Research report, the agricultural software market size will exceed $9.1 billion by 2028, growing at a CAGR of 25.65%.
This phenomenal growth is driven by factors such as the availability of high-speed internet connectivity, increasing adoption of cloud computing in real-time farm data management, and a rise in government investment for the implementation of modern agricultural technologies.
Why you can trust us?
We thoroughly analyzed 26 agricultural software services and read customers' reviews. It took more than 20 hours to do the comprehensive research. Finally, we decided to shortlist the 13 companies/platforms based on the features offered, pricing structure, and ease of use.
To make this article unbiased, we haven't considered the reviews and testimonials featured on the company's official site.
We DO NOT earn commission from any of the listed companies. Moreover, we have two separate editors who have no influence over our listing criteria or recommendations.
Read More
8 Best Banks For Small Businesses and Startups