Initially released as an online marketplace for books, Amazon is now a multinational company focusing on e-commerce, digital streaming, online advertising, artificial intelligence, and cloud computing.
Below, we will be doing a SWOT analysis of Amazon to figure out how it became one of the world's most valuable brands. We will analyze its internal parameters (including strengths and weaknesses) and external parameters (opportunities and threats) and see how these factors affect Amazon's business model.
Company Profile
Founded in 1994
Owner: Jeff Bezos (9.8%)
CEO: Andy Jassy
Headquarters: Arlington (Virginia) and Seattle (Washington)
Number of employees: 1,541,000+
Annual Revenue: $524.89 billion+
Gross Profit: $234.77 billion+
Market Capitalization: $1.31 trillion+
Overview
While Amazon is known for its e-commerce platform, it has diversified its business through various ventures. This includes
Amazon Web Services (AWS): provides on-demand cloud storage, computing, APIs, and developers tools. It holds about 33% of the cloud infrastructure market and generates over $80 billion in annual revenue.
Hardware and Devices: The company has created its own line of electronic devices, including Fire TV streaming devices, Fire tablets, Kindle e-readers, and Echo smart speakers.
Digital Services: Amazon offers multiple digital services, such as Prime Video, Music, Appstore, and Drive for cloud storage. Amazon Prime alone has more than 200 million active users in 22 countries.
Advertising: Amazon has built a significant presence in the digital advertising field, allowing sellers and brands to advertise their products on its e-commerce platform through display ads, video ads, and sponsored product listings. Although the advertising unit is still a small fraction of their sales, its revenue is increasing 19% year-over-year.
Logistics and Delivery: Over the years, Amazon has created a robust delivery network to offer fast and reliable shipping options. They operate their own delivery fleet, partner with third-party couriers, and offer services like Amazon Prime and Amazon Flex.
Mission Statement
Amazon.com started with a mission to be the most customer-centric company in the world. It focuses on the customer first and then works backward. When the company discovers something that is really working for customers, they double down on it with hopes of turning it into a bigger success.
Nearly three decades later, Amazon's approach remains the same — make smart, fast decisions, innovate, and focus on satisfying customers.
Quick Summary of Amazon's SWOT Analysis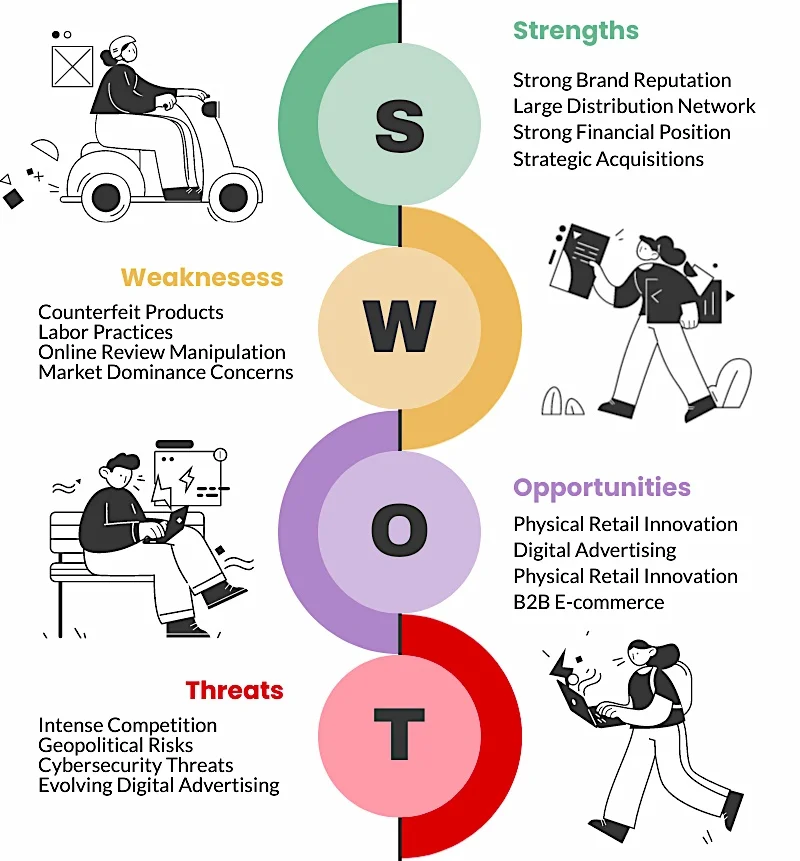 STRENGTHS
1. Strong Brand Reputation
Over the decades, Amazon has built a trusted brand that is associated with convenience, reliability, and innovation. It is one of the world's most valuable brands, with an estimated value of $300 billion.
As the largest online retailer, Amazon has a vast customer base and extensive reach (which give it a competitive edge). Its eCommerce platform has over 300 million active users, of which 197 million users visit Amazon.com every month.
2. Diverse Product Portfolio
Amazon's vast and diverse product portfolio spans multiple categories, offering a range of options. This includes Fire tablets, streaming devices, Echo smart speakers, and Kindle e-readers
It also offers countless options in the home and kitchen, fashion and apparel, groceries and pantry, toys and games, pet supplies, and health and personal care sectors. Such a broad range of products attracts millions of customers and allows for cross-selling and upselling opportunities.
3. Customer Oriented
Amazon has fostered a culture that revolves around the customer. It focuses on fast and reliable delivery, easy returns, customer reviews, and personalized recommendations to enhance the shopping experience.
The company also engages with customers through multiple means, including personalized emails, marketing campaigns, and newsletters.
4. Data-Driven Approach
It utilizes advanced data analytics and AI to gain insights into user behavior and tailor marketing strategies accordingly. It also employs sophisticated algorithms to dynamically adjust prices based on various factors such as demand and competitors' prices.
Amazon analysis historical and real-time data to streamline logistics, manage inventory levels, and shipping routes, ultimately increasing operational efficiency and reducing costs.
5. Large Number of Third-Party Sellers
There are more than 2.4 million active sellers on the Amazon marketplace. About 38% of global sellers are from the United States, 9.6% from the United Kingdom, 8.3% from Germany, 7.4% from Italy, 7.2% from France, and 7% from India.
These are rough figures; the number is constantly changing.
6. Large Distribution Network
Amazon has built a robust distribution network with last-mile delivery capabilities. It enables efficient order processing, fast shipping, and reliable logistics operations.
They also have smaller facilities, Prime Now Hubs, that store frequently ordered items and enable deliveries within one to two hours. However, this ultra-fast delivery service is available in selected cities only.
To expedite deliveries between distant regions, the company has developed its own air cargo network called Amazon Air. It reduces the reliance on external shipping carriers like UPS and FedEx.
7. Prime Membership Program
Amazon offers additional benefits to its Prime members, such as free one-day shipping, access to Prime Video Prime Music, and exclusive deals. Launched in 2005, this program has attracted millions of subscribers globally, resulting in significant recurring revenue.
Amazon Prime has more than 200 million subscribers across 23 countries. About 153 million subscribers are from the United States.
This program creates a mutually beneficial relationship where subscribers get valuable perks, while Amazon gains a loyal customer base and better business opportunities within its ecosystem.
8. Cloud Computing Services
Amazon Web Services (AWS) consists of 200+ products and services, including storage, networking, database, computing, analytics, machine learning, and developer tools.
It has a global presence, with data centers located in multiple regions across the world. This allows Amazon to expand and deliver its services (Amazon.com, Prime, Alexa, etc.) at low latency in different geographical locations.
AWS diversifies Amazon's revenue streams and contributes significantly to the company's profitability. In 2022, AWS generated $80 billion in revenue and had an operating income of $22.8 billion.
9. Strong Financial Position
Amazon has maintained a healthy balance sheet, with substantial assets, positive cash flow, and a manageable level of debt. As of 2023, it has cash equivalents of $43.4 billion and total assets of $386 billion. Its annual revenue stood at $524.89 billion.
The strong financial position gives Amazon plenty of advantages, including the ability to operate normally during economic downturns, invest in new growth opportunities, and attract and retain top talent.
10. Think Global, Act Local Strategy
Amazon combines a global perspective with localized strategies to reach a wider audience, compete more effectively with local retailers, and build trust with customers.
The company operates in more than 55 countries and has adapted its business model to meet the requirements of each market. For example, in the United States, Amazon has opened physical stores to compete with brick-and-mortar retailers. In China, Amazon has developed its own logistic network to ensure customers receive their orders quickly.
11. Strategic Acquisitions
Amazon has a history of strategically acquiring other companies to improve its capabilities, expand into new markets, or gain a competitive edge. In 2018, for example, Amazon acquired PillPack, an online pharmacy, to enter the healthcare sector.
So far, the company has made over 110 acquisitions, spending over $44.49 billion. Their most notable ones include Whole Foods Market for $13.7 billion (2017), Metro-Goldwyn-Mayer for $8.4 billion (2021), One Medical for $3.9 billion (2022), and iRobot for $1.7 billion (2022).
12. Research and Development
The company allocates a significant portion of its budget towards improving its existing services, exploring new business opportunities, and developing new technologies.
Its R&D efforts span a wide range of fields, from AI and robotics to cloud computing and logistics, with a focus on both consumer-facing innovations and backend infrastructure enhancements.
As of 2023, Amazon's R&D expenses were over $78.82 billion, a 34.9% increase year-over-year. These investments help Amazon stay ahead of the competition and seize future growth opportunities.
WEAKNESSES
1. Inauthentic and Counterfeit Products
As one of the world's largest e-commerce platforms, Amazon faces several challenges related to inauthentic and counterfeit products.
Fraudsters have become increasingly sophisticated, making it hard to differentiate between genuine and fake products. They use the exact replica of the product, fake trademarks, and high-quality packaging to deceive customers.
Despite Amazon's constant efforts to combat this issue, fake products often slip through the system, leading to customer dissatisfaction and damaging the brand's reputation.
In 2022, Amazon shut down over 800,000 illegal new selling accounts and removed 6 million counterfeit items from its platform.
2. Delivery Challenges
Although Amazon invests heavily in its delivery infrastructure, it still sometimes fails to meet customer expectations, especially during peak seasons and extreme weather conditions. Logistical complexities, missing packages, and delays impact customer satisfaction and trust.
Also, managing product returns and handling reverse logistics can be complex and time-consuming.
3. Data Privacy and Security
Since Amazon collects massive amounts of customers' data, it raises concerns about data privacy and potential security breaches.
Balancing the use of data for targeted advertising while respecting customers' privacy can be challenging for the company, especially in the complex landscape of privacy regulations and laws.
4. Reliance on Third-Party Sellers
While Amazon's reliance on third-party sellers has allowed them to grow exponentially, the company also faces risks associated with dependence on partnerships and collaborations.
Disputes or termination of long-term partnerships can disrupt operations or limit access to specific items or services.
5. Product Quality Control
With an inventory of over 12 million items across all categories and services, ensuring consistent product quality can be challenging for Amazon.
Some sellers may not prioritize quality control, which could result in inferior products listed on the platform.
The company doesn't have direct control over the production or manufacturing process of third-party sellers' items. It relies on sellers to adhere to quality standards and provide accurate product information. Constantly monitoring and enforcing quality regulations across millions of sellers can be a very difficult task.
6. Pricing and Competitiveness
Since third-party sellers have control over the products' pricing, it can lead to price variations and challenges in ensuring fair pricing for customers. And if prices fluctuate significantly, it can impact Amazon's revenue generated through fees and commissions.
Although Amazon has implemented several measures to improve price transparency and competitiveness, it is still difficult to maintain consistent pricing strategies across the platform.
7. Labor Practices and Worker Conditions
In the past few years, Amazon has faced criticism and scrutiny regarding its labor practices and working conditions in its warehouses. High productivity demands, long working hours, and insufficient breaks have raised concerns about workers' well-being.
In 2021, the company was fined $60,000 by the Occupational Safety and Health Administration for failing to protect employees from ergonomic hazards. In 2022, a group of workers in New York City filed a lawsuit against Amazon for violating labor laws by not providing them with adequate breaks.
Amazon has made some changes, such as they increased wages and improved working conditions in warehouses. However, as per reports, they haven't addressed all concerns raised about the company's labor practices.
8. Antitrust and Market Dominance Concerns
Amazon's market dominance has raised concerns about antitrust violations and potential anti-competitive behavior. Critics argue that Amazon's control of both the e-commerce platform and its own private-label items could reduce competition and limit options for consumers and third-party sellers.
9. Online Review Manipulation
Sellers can manipulate Amazon's review system — they may add fake reviews or pay users to put incorrect reviews, distorting the accuracy and trustworthiness of product ratings.
Fraudsters utilize various methods (like multiple accounts, IP masking, and subtle language) to avoid detection. Despite Amazon's implementation of automated systems and machine learning algorithms to detect fake reviews, this problem remains an ongoing challenge for the company.
10. Regulatory and Legal Challenges
Since Amazon operates in many different countries, it is subject to various laws and regulations. It faces legal challenges to antitrust concerns, data privacy regulations, labor laws, tax policies, and intellectual property disputes.
The legal and regulatory landscape changes over time, and compliance with laws and regulations can be complex and costly.
11. International Expansion Challenges
Expanding into different nations requires adapting to local languages, preferences, and cultural norms. Amazon has to customize its platform, marketing strategies, and product/service offerings to resonate with new user bases.
The company needs to build and manage an efficient distribution network, accommodate various payment options, and deal with currency exchange, local banking systems, and transaction security.
Furthermore, economic fluctuations, currency exchange rate fluctuations, and political instability can impact Amazon's international operations.
12. Negative Public Perception
Amazon's dominance in retail e-commerce may negatively impact small business owners. Some argue that Amazon's market influence and pricing power can make it very difficult for small retailers to compete, which may eventually result in the closure of local businesses and reduced competition.
13. Shrinking Margins in E-commerce
Even with improving performance, Amazon's e-commerce business is delivering the lowest margins. According to a McKinsey report, higher on-site advertising and warehousing/shipping expenses for e-commerce companies, including Amazon, keep their margins often lower than that of brick-and-mortar stores.
14. Tax Avoidance Allegations
Tech giants, including Amazon, have been accused of tax avoidance by international authorities and jurisdictions. The company is known for its poor tax conduct. According to a report by the Fair Tax Foundation that evaluates companies' tax practices, Amazon has paid just $3.4 billion in income taxes in the United States while making $26.8 billion net profit on a $960.5 billion revenue in the last decade.
OPPORTUNITIES
1. Expansion into New Product Categories
While Amazon has expanded its product categories over the years, it can further leverage customer data and market insights to identify gaps and introduce new products.
For example, the company already sells automotive accessories, but it could further expand its service by offering online car sales, vehicle maintenance, or connected car solutions. This will open new avenues for growth.
2. Digital Advertising
Amazon's digital advertising has grown exponentially over the past few years, positioning itself as one of the leading companies in the digital advertising industry.
By leveraging its deep understanding of huge product catalogs and customer behavior, the company has built a robust platform for advertisers to reach their target audience and improve sales.
Amazon can further improve its advertising platform by offering more diverse and engaging ad formats and expanding the ad inventory beyond its owned properties. It can also provide enhanced targeting capabilities and more educational resources and support
3. Subscription Services
More than 200 million people have already subscribed to Amazon Prime. The company can attract more subscribers and compete with other major streaming services by investing more in original content — unique TV shows, movies, animated series, and documentaries.
4. Physical Retail Innovation
Amazon has been expanding its physical presence with Go Stores, Fresh Stores, 4-star Stores, Book Stores, and Pop-Up Stores and Kiosks.
The company has a great opportunity to further innovate in the brick-and-mortar space by leveraging its customer data, technological expertise, and supply chain capabilities. This will blend online and offline experiences, catering to evolving customer expectations.
5. Healthcare and Pharmaceuticals
Amazon's expansion into healthcare and pharmaceuticals presents numerous opportunities for innovation and disruption. With its logistics capabilities and customer-centric approach, Amazon can enter fields like prescription drug delivery, telemedicine, or healthcare services.
The company can also introduce pricing visibility and comparison tools, empowering customers to make informed decisions and reduce healthcare expenses.
6. Artificial Intelligence (AI) and Machine Learning
Amazon continues to invest in AI and machine learning technologies to drive improvements in customer experience, operational efficiency, and business growth.
As a technology company, it can build proprietary AI models to optimize supply chain operations, prevent fraudulent activities, and deliver enhanced customer experience via AI-powered chatbots and virtual assistants.
One of its key AI technologies is Amazon Comprehend Medical, which extracts information from unstructured medical text like clinical trial reports or doctors' notes. Another tech called Amazon Forecast accurately predicts future demand and trends.
7. B2B E-commerce
Amazon can expand its dedicated B2B marketplace by catering to the unique needs of businesses, streamlining procurement processes, and offering specialized services.
The company can leverage its existing infrastructure, brand value, and expertise in the e-commerce industry to capture a large share of the B2B market and drive growth in this segment
8. Virtual Reality (VR) and Augmented Reality (AR)
Amazon can utilize VR and AR technologies to improve customer experience and business operations. For example, AR features can allow customers to virtually try on clothes or visualize furniture in their homes, further enhancing customer engagement and satisfaction.
AR can also assist warehouse workers by overlaying digital information on physical items, such as inventory locations or picking instructions. This will improve efficiency and reduce errors in order fulfillment processes.
9. Last-Mile Delivery Innovations
Amazon can continue to invest in last-mile delivery solutions. This includes exploring options like autonomous vehicles, drone delivery, and advanced routing and optimization to reach customers more efficiently, especially in densely populated areas.
10. Education and E-learning
The global online education market is expected to reach $198.9 billion by 2030, growing at a CAGR of 23.12% from 2023 to 2030.
Amazon can leverage its platform to offer online courses, digital learning materials, and educational resources, targeting both students and professionals seeking continuous learning and skill development.
11. Robotics and Automation
Amazon is already a leader in warehouse automation — it has developed various robotic systems, including experimental transport robots and advanced autonomous mobile robots, to streamline its operations and improve efficiency.
The company can continue investing in robotics and automation technologies to further optimize its fulfillment operations. This includes more robots for performing tedious tasks like picking, packing, and sorting. These robots can also help assist with inventory management and warehouse maintenance.
12. Gaming and Esports
Amazon has the opportunity to increase its presence in the gaming market. It already has a game development platform called Amazon Game. It can expand its portfolio of games, create esports tournaments, or develop gaming accessories to capture a larger market share.
The company can also leverage its AWS platform to offer top-notch cloud gaming services.
13. Financial Services
While Amazon offers financial services, they are primarily focused on ones that complement its core e-commerce platform. The company can expand its existing services, such as Amazon Lending, Amazon Credit Cards, and Insurance Offerings, to disrupt the financial services industry and offer innovative solutions that align with its customer-centric approach.
It can also expand its online payments processing service, Amazon Pay, to include peer-to-peer payments, similar to platforms like PayPal and Venmo. This would allow users to send and receive money directly through the Amazon platform, which could eventually lead to more sales.
14. Small Business Support
Amazon can empower small businesses through initiatives such as Amazon Launchpad and Amazon Handmade. By providing guidance and educational resources (through the Small Business Academy program), the company can foster the growth and success of small retailers on its platform.
THREATS
1. Intellectual Property Infringement
Amazon faces risks of listing and selling counterfeit or infringing products on its platform. Despite its numerous effect to solve this problem (such as the introduction of the Brand Registry program), unauthorized sellers can undermine brand trust and lead to legal disputes.
2. Regulatory and Legal Challenges
Amazon's global reach and wide range of business activities have attracted scrutiny from regulators and legal entities in various jurisdictions.
The company must ensure compliance with constantly changing domestic and international regulations. This includes regulation related to data privacy, taxes, cross-border trade, and labor and employment practices.
Failing to do that may impose a heavy penalty or complete halt of operations.
3. Supply Chain Disruption
Since Amazon's vast supply chain involves relationships with hundreds of thousands of suppliers and manufacturers, any disruption can impact delivery times, product availability, and customer satisfaction.
This includes disruptions like natural disasters, production delays, accidents, congestion, labor strikes, fuel price fluctuations, and inaccurate demand forecasting.
4. Geopolitical Risks
The company's global operations are exposed to geopolitical risks such as regulatory changes, trade disputes, and political instability. Moreover, the shifting international relations and regulations can impact market access, supply chains, and cross-border trade.
5. Data Breaches and Cybersecurity Threats
Like all other tech companies, Amazon faces the risk of data breaches, social engineering attacks, DDoS attacks, malware, ransomware, as well as insider threats. And since cybersecurity threats are constantly evolving, new risks may emerge over time.
6. Changing Digital Advertising Landscape
Amazon has been developing its own digital advertising platform to compete with Google and Facebook. However, the evolving ad formats and channels, privacy regulations, and shifts in consumer preferences for ad-free experiences can impact the company's ability to attract advertisers and generate significant advertising revenue.
7. Disintermediation by Manufacturers
Manufacturers may bypass distribution channels (such as Amazon, which acts as a middleman between manufacturer and consumer) and directly sell their products to consumers.
Big brands can develop their own platforms, reducing their dependence on Amazon.com. This will decrease the number of products available on Amazon, potentially affecting item variety and consumer choice.
8. Environmental Sustainability
Expectations for companies to address environmental issues are increasing. Amazon faces pressure to minimize packaging waste, reduce carbon emissions, and adopt green practices. However, it requires major operational adjustments and significant investments to meet sustainability goals.
9. Intense Competition
Amazon operates in highly competitive markets across different sectors, including e-commerce, digital streaming, cloud computing, and more. In each sector, several companies are competing for the market share. For example,
E-commerce
Walmart

dominates the physical space, while Amazon leads online. In terms of annual revenue, Walmart ($622 billion) is still ahead of Amazon ($524 billion).

Alibaba Group

operates the largest online marketplace in China. It is also growing its international presence via its cross-border e-commerce platform, AliExpress.

eBay

provides a platform for auction-style listings as well as fixed-price sales. Its strength lies in its ability to connect buyers with sellers offering hard-to-find or specialized items.
Streaming Services
Disney+

is known for its vast catalog of animated movies, Star Wars series, Marvel superhero films, and exclusive TV shows. With more than 165 million subscribers, it is one of the major competitors of Amazon Prime.

Netflix

is growing at a phenomenal rate. It has over 233 million paid subscribers (from diverse ethnic backgrounds).

Hulu

focuses on current and past TV shows, with a range of episodes from major networks and cables. It has nearly 48.2 million paid subscribers.
Cloud Computing
Microsoft Azure

is the biggest competitor of Amazon Web Services. With data centers in multiple regions worldwide, Azure is steadily gaining cloud market share.

Google Cloud

offers different types of cloud computing, including IaaS, PaaS, and SaaS. It holds nearly 10% of the cloud infrastructure services market. In contrast, AWS and Microsoft Azure control 32% and 23% of the market share, respectively.
Digital Assitance
Apple Siri

is integrated into all Apple devices and operating systems.

Google Assistant

is available in 100+ countries and 40+ languages. It is built into more than 1 billion devices.
Additional Analysis
Amazon's Growth Timeline
1995: Amazon launched its website, allowing users to order books online.
1997: The company went public on May 15, with its IPO priced at $18 per share.
1998: Amazon.com expanded its online products and started selling music and videos.
1999: Introduced the "one-click" feature, allowing users to purchase products with one click.
2000: Expanded its product range to include toys, kitchen items, and electronics.
2002: Launched AWS, initially offering cloud-based storage and computing services.
2005: Introduced Amazon Prime, offering 2-day shipping on eligible products for an annual subscription fee.
2007: Released the first generation of Kindle e-readers and launched AmazonFresh in selected cities.
2011: Released Kindle Fire tablet, expanding its device line-up beyond e-reader.
2013: Announced an ambitious project, Amazon Prime Air, to deliver products via drones.
2014: Acquired Twitch, a video gaming streaming platform, for nearly $970 million.
2015: Amazon surpassed Walmart as the most valuable retailer in terms of market capitalization.
2017: Acquired Whole Foods Market for $13.7 billion, expanding its presence in the grocery industry.
2018: Amazon became the second company to reach a market cap of $1 trillion (after Apple).
2020: Acquired self-driving car startup Zoox, positioning itself in the autonomous vehicle industry.
2021: Acquired MGM Studios for $8.45 billion, expanding its content library for Prime Video.
2023: Launched a prescription drug delivery service, giving Prime members access to 60 medications for a $5 monthly fee.
How owns Amazon?
As of 2023, about 61 percent of the total outstanding shares of Amazon were owned by various institutions, including asset managers and mutual fund managers. The top four institutional investors of the company are Vanguard Group, BlackRock, Fidelity Investments, and Capital Group.
The founder and executive chairman of Amazon, Jeff Bezos, remains the company's largest individual shareholder with 10.1 percent (or 51.2 million) of the total outstanding shares. Amazon's CEO and President, Andrew Jassy, owns about 0.02 percent of the total shares.
Fastest Growing Product Categories
Fashion and Apparel is projected to be Amazon's fastest-growing product category, with an expected sales growth of 12.4% per annum between 2022 and 2027. Health and Beauty comes next, with a CAGR of 12.1%.
Moreover, the sales of Electrical and Office products are expected to grow at a CAGR of 11.6 percent, followed by Leisure and Entertainment, with 11.1% sales growth.
Financial Analysis
Amazon's financial performance over the past five years has been impressive — its revenue increased 82.8%, well above the average for the S&P 500.
Although the company reported a net loss of $2.72 billion in 2022, its balance sheet has been strong for almost a decade.
| | |
| --- | --- |
| Year | Revenue (in billion) |
| 2018 | $280.52 |
| 2019 | 347.44 |
| 2020 | 386.06 |
| 2021 | 469.82 |
| 2022 | 513.98 |
Amazon's recent acquisition and investments in AI are likely to pay off in the long run, and they could help the company main its strong financial performance in the years to come. Its consolidated revenue is expected to grow at a CAGR of 10% for the next five years.
Product Failure
While Amazon is known for its successes, it has released several products and services that didn't work well. For example,
Amazon Fire Phone (launched in 2014 and discontinued in 2015)
Amazon Destinations (offered hotel and travel deals for local getaways but failed to gain significant user adoption)
Amazon Local (launched to compete with services like Groupon but failed miserably and shut down in 2015).
Amazon Restaurants (a food delivery service criticized for its high prices and lack of availability)
Global E-commerce Market Size
The global e-commerce market size will exceed $70.9 trillion by 2028, growing at a CAGR of 27.3% from 2022 to 2028. The key factors behind this phenomenal growth include the rising online shopping activities, the availability of a diverse range of products, and the expansion of cross-border e-commerce.
Conclusion
In conclusion, Amazon benefits from its strong brand recognition, extensive product offerings, and efficient logistics capabilities. Its focus on innovation and technology has allowed it to generate billions of dollars in multiple fields, including cloud computing, digital streaming, and online advertising.
The company faces several threats and challenges, including regulatory scrutiny, chain disruptions, and security threats. Nevertheless, it has countless opportunities for growth, including expanding into new markets, offering improved subscription-based services, and leveraging emerging technologies like AI, AR, and blockchain.
Read