There is a popular saying that the World is small. But in reality, it's big, really big. With roughly 196 countries (UN-recognized), countless cities, and constantly evolving geopolitics keeping on your geography can be slightly difficult.
But, sometimes it just crosses the line from an honest mistake to hilarious ignorance. Here is a list comprising silly geographical mistakes that will surely make you laugh.
13. CNN's mistaken location of Tripoli
In 2011, Libya was the center of attention for international broadcasting channels due to military confrontation in Tripoli between pro-Muammar Gaddafi and the National Transitional Council, who were attempting to overthrow Gaddafi and take control of the capital.
In a CNN update on this matter, they mistakenly displayed the troubled Libyan city of Tripoli over in Lebanon. Libya is a north African nation, while Lebanon is located in Western Asia.
12. Fox News' Egypt Graphic Fail
In 2011, the Social media exploded over an image from Fox News showing a map of the Middle East. The map showed Egypt, an African country, is where Iraq should be in West Asia or the middle east.
The focal point of the news was that the image was originally circulated two years ago. So to conclude it all, this may have been a legitimate blunder by Fox news, but surely for the first time, don't you think.
11. The Sporting World's National Anthem Fails
Being a citizen of developing and geographically non-significant nation can sometimes cause embarrassment. Most people will not only fail to locate your nation on a map – they often confuse you with other nationalities.
Read: 25 Most Powerful Countries In The World
One such embarrassing event occurred during the 2015 National Athletics Championship in China when a Ukrainian athlete was forced to accept his gold medal while there was Uzbek national anthem running in the background.
In another instance, during a medal ceremony at the Youth and Juniors European Sambo Championships held in Novi Sad, Serbia an Azerbaijani athlete had to receive his gold medal while listening to the Armenian national anthem.
Armenia and Azerbaijan have been at war for nearly two decades. But at least these are real national anthems which get mixed up. 
The same can't be said for Kazakhstan though. Ever since 2006, when the burlesque movie Borat was released, medal ceremonies now and then have repeatedly honored or embarrassed Kazakh athletes with its fake anthem from the movie.
10. Chechnya or The Czech Republic
As soon as the news spread out that Boston bombings (occurred on April 15, 2013) were carried out by terrorist from Chechnya origin, a popular social media site gets flooded with loathing and ill willing comments against The Czech Republic. It was a blunder.
For those who still didn't get it, Chechnya is a Russian province in the southernmost part of eastern Europe. On the other hand, The Czech Republic is a central European country.
9. Westboro Baptist Protests The Wrong Country
The Westboro Baptist Church is widely known for its hate speech, insane stunts, and blocking military funerals. They also protest America and other countries with gay-tolerant laws in the most dreadful way possible. It all starts with Ireland legalizing same sex marriage in 2015 and the Church almost instantly decided to protest.
They promptly released a video, with the intention of mocking Ireland and Irish flag. But, it seems that they didn't do their homework properly and picked up the wrong flag.
Ireland and Ivory Coast share an almost identical national flag, with just a flip of colors. Because of the vast similarity between two flags, it is hard to tell them apart. So, the Westboro Baptist accidentally picks Ivory Coast instead and, what happened next is predictable.
8. An Engineer's Geographical Error Costed His Family Millions
Michael Crowley-Milling, an engineer most famous for developing first computer touchscreens technology at CERN, died in 2012 leaving behind millions. According to his will, all his properties/wealth "within the UK" would go to the Royal Society.
Unfortunately, most of Crowley's wealth resides in British Isles of Jersey and the isle of Man. Although under the UK's protection, both of them are Crown dependencies.
After the mistake was discovered by Crowley's family, they laid claim on his offshore assets worth £1m triggering a legal battle between the family and the Royal Society.
The final verdict forced the family to forfeit his wealth as all of it went to the Royal Society.
7. CNN Moves Ukraine To Pakistan
In 2014, during news airing on the ongoing war in Eastern Ukraine's Donbass region, CNN produced a handy map to provide their viewers with a visual aid. Unfortunately, the map zoomed into the Asian region instead of Europe. It round up to Pakistan.
Well, this wasn't the first time that CNN had made a serious mistake. In the same year, they'd produced their own version of map locating London in the wrong part of Britain, and in 2013, placed Hong Kong in South America.
On a different note, a study published by the Washington Post prior to the CNN mistake asked Americans to place Ukraine on a map. Most opted to place it – somewhere near Pakistan.
6. Venezuela Belongs To The Peruvian People
In 2007, the former vice president of the United States Dick Cheney during a foreign policy speech in Dallas, Texas, criticized the former Venezuelan president Hugo Chavez and said: "the people of Peru deserve better".
He also added that "The people of Peru, I think, deserve better in their leadership. But that's obviously a matter, they've got to resolve for themselves". For a heads-up, Mr. Chavez was among the most unpopular figure in the Bush administration with his socialist ideology and anti-American thinking.
5. Obama's The Falkland Islands Gaffe
The Falkland Islands are an archipelago in the South Atlantic Ocean with a total area of 12,000 square km, comprises of East Falkland, West Falkland, and 776 other smaller islands.
For long, these islands have been a focal point of tensions between Argentina and the United Kingdom. Officially, the islands are British overseas territory, administered by the U.K.
In Argentina, the Falklands are known by the name of Las Malvinas and considered as an integral part of the nation. Argentina's claim has been rejected by the British.
Anyway, at the Summit of the Americas in Cartagena, Colombia in 2012, former president Barak Obama instead of addressing Falklands by its Spanish name, referred to the islands as the Maldives, a group of atolls that lie off the Southern coast of India.
4. Rick Perry's hilarious geography
In 2011, the former Governor of Texas, Rick Perry identified Juarez, a Mexican city which lies across the Rio Grande, south of El Paso, Texas as "the most dangerous city in America.". If you think that was a big gaffe on the part of Mr. Perry, then here is a bigger one.
In the same year, while criticizing the green energy policy, he gave birth to a whole new nation. Halfway through his speech, he made a gaffe nation, his exact word was "I want to say it was over $500 million that went to the country Solynda."
Solynda was actually a solar energy company that went down after receiving over $500 million in federal loan guarantees.
3. Nicaragua Accidentally Invades Costa Rica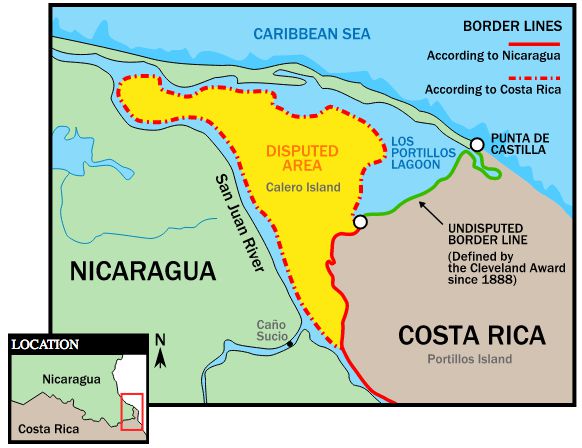 Well, this might not be a geographic gaffe but a demonstration of territorial sabotage, we never know. Eden Pastora, Nicaragua's military commander, invaded the Costa Rican territory and ordered troops to take down Costa Rican flags in the territory. The important thing was that the invasion was carried based on faulty google maps.
It led to discontent between the neighboring countries for nearly five years. The dispute was finally settled on December 2015 by the International Court of Justice (ICJ) that ruled the disputed area belonged to Costa Rica.
2. Slovakia Is Not Slovenia And Vice Versa
A large number of people always get these two countries mixed up. Both countries are situated in Eastern Europe, and were once ruled by communist governments. Since their independence, each of them has been embarrassed and humiliated unintentionally on various international events.
Read: Top 30 Failed Technology Predictions by Tech Leaders
In 1999, the former president and then Texas governor, George W. Bush, jeopardize a Slovak reporter by saying "the only thing I know about Slovakia is what I learned firsthand from your foreign minister, who came to Texas. But the fact was, Bush had not met the foreign minister of Slovakia, but the then prime minister of Slovenia.
In 2004, Slovenia got so fed up that they even start considering flag redesign to solve their current identity crisis. Just imagine how humiliated you will feel if someone repeatedly associate yourself with a nation that you never even been into.
1. What is Aleppo?
Read: Top 20 Epic Logo Design Fails Ever
Seriously, what is Aleppo? Well, the question should be where is Aleppo as it's one of the most prominent cities in Syria. But, for the 29th Governor of New Mexico, Gary Johnson the city of Aleppo is certainly a thing that he is not aware of.
While on MSNBC, "What is Aleppo" that's what he said on how as the president, he will address the refugee crisis in the war-torn Syrian city. After MSNBC commentator emphasize whether he was serious Mr. Johnson indicated that he was really not aware of the city. When they explained the whereabouts of Aleppo, it was too late for the Governor to recover.