Grain offers a line of credit to your current checking account without asking about your credit score. Unlike most other lending platforms, it approves your primary checking account and gives you access to credit in minutes. You can then instantly transfer credit to your linked account and use it as cash.
However, the Grain app is limited to Apple devices only, which cuts out a large number of potential customers. Plus, the app has been criticized for its poor customer support.
Fortunately, there are many good alternatives available in the market that offer both secure and insecure credit lines. Most of them provide financing in different ways, either through conventional loans or more creative financing options like crowdfunding.
We've compiled a list of best apps like Grain that can transfer cash directly to your checking account in the same way. A few of these apps help you build a credit score and manage your expenses as well.
9. Grid Money
Platform: iOS | Android
Rating: 4.6/5 from 14,000+ users
With Grid, you can access cash, build credit, spend money wisely, and file your taxes more efficiently. The app is incredibly easy to use — it gives you on-demand cash advances (up to $200/advance) without running any credit check on your account. Or you can buy Grid+ membership to get unlimited advances.
There is a feature called BoostCard, which pays you to build credit. You can earn up to $100 in cash rewards per month.
Unlike most other apps, Grid Money also helps you get your tax refund early. All you need to do is fill out your financial and household information and link up your jobs to the app. It will then run some numbers and give you the option to set how much more amount you want on your paycheck. You can change this amount every month as per your financial situation.
Key Features 
Offers up to $200/advance
No credit check, no hidden fee
Get part of your yearly tax refund on every paycheck
The prime membership costs $10 per month. It gives you access to more advances if you need extra cash quickly. It will also calculate how much tax refund you will get next year, so you can manage your budget accordingly.
8. SoLo Funds: Lend & Borrow
Platform: iOS | Android
Rating: 4.1/5 from 12,100+ users
SoLo makes it easy for everyone to borrow money at a low cost or lend and earn a return. It has created a community that works together to create mutually beneficial outcomes and enable financial autonomy for all.
The biggest advantage of this app is you can borrow money on your own terms: select the loan amount (up to $500), payback date, and the appreciation tip to lenders. By paying back your loans on time, you can increase your SoLo Score and become eligible for borrowing higher amounts.
If you have access to money lying in your account, it's better to put it to work. The app allows you to lend money to people who need it and earn some extra cash. Since you can only lend small amounts for shorter durations, you will receive your capital back quicker than anywhere else.
It's totally up to you to decide who to lend to. You can view borrowers' SoLo Scores and transaction histories to assess risk profiles. To make this process quick, the app lets you filter the marketplace according to payback date, tip amount, and borrower history. Once you lend someone money, the app takes care of the rest through automation and step-by-step updates.
Key Features
Borrow money (up to $500) on your own terms
No approval process
No hidden fee or compounding interest
Lend money to make some extra bucks
Offers free courses to help you build strong financial habits
The platform never stores users' online banking credentials, and each account held at the partner bank is insured for $250,000. You can download the app and sign up without worrying about your data and privacy.
7. ZayZoon
Platform: iOS | Android
Rating: 4.1/5 from 12,100+ users
ZayZoon integrates with payroll partners to give you access to wages on-demand. It has already partnered with hundreds of major payroll platforms, giving employees control over their paychecks.
You can set how much of your wages you would like to receive early, and ZayZoon will pay you instantly. It then recovers the fund on your next pay run. This means it will automatically deduct the amount you have already accessed from your next salary.
Key Features
Flat fee to access money; no interest fee
Money is transferred almost instantly
Dedicated team to support you throughout the process
Free course to improve your financial health
Overall, the app helps you pay unexpected bills, reduce financial stress, and eliminate the need to take on unnecessary debt. It also comes with financial wellness tools that offer accurate financial tracking, overdraft estimation, and financial education. 
6. Line – Get cash now. Pay later
Platform: iOS | Android
Rating: 4.4/5 from 16,500+ users
With Line, you can borrow up to $250 cash advance instantly. They will transfer the money to your bank account, debit card, or a gift card of your choice.
The money you borrow through this platform is not considered a loan, so it won't impact your FICO score. It charges a flat fee to transfer the cash into your bank account or debit card. This flat fee is substantially lower than the interest you would pay otherwise.
However, this emergency line of funds is available to members who pay for a 'small' subscription. It costs about $1.97 per month.
You become eligible for higher amounts (up to $1,000) if you maintain the active paid subscription and adhere to Line's community guidelines that include paying your debt on time.
Key Features 
Instant cash advance
No interest fee
Active credit monitoring
Personalized alerts to protect you from overdraft and NSF fees
$1 million identity theft insurance
All users get a chance to win $100,00 every week. Your chances will increase if you save more for your emergency periods. These savings will earn you higher interest than most banks or credit unions.
You can also link the app to your debit or credit card to win up to 20% cashback on your daily transactions done at local restaurants, retailers, and groceries.
5. CashNetUSA
Platform: iOS | Android
Rating: 4.6/5 from 47,000+ users
When you need money for emergency situations, you want a lender with a proven track record. CashNetUSA is a subsidiary of one of the leading financial technology companies, Enova International. It has helped more than 4,000,000 users rescue their finances over the last 16 years.
The company has designed an app to make it easier for everyone (including people with less-than-perfect credit scores) to manage lines of credit.
First, you need to fill out an application. If approved, it will show your available credit on the dashboard. You can then draw the money to your account on the same day. Draw requests made after 1 p.m. are processed on the next business day.
Benefits
Fast funding; get up to a $2,000 line of credit
Flexible borrowing and repayment options
Proven track record
Several benefits, including discount offers and coupons
Although you have to option to gradually repay with a minimum amount, we advise you to pay in full to minimize interest. And take advantage of all the discount coupons you get every month.
Furthermore, the platform also gives you access to some financial assistance tools and educational courses to help you save on bills and build budgeting skills.
4. Bright – Crush Your Card Debt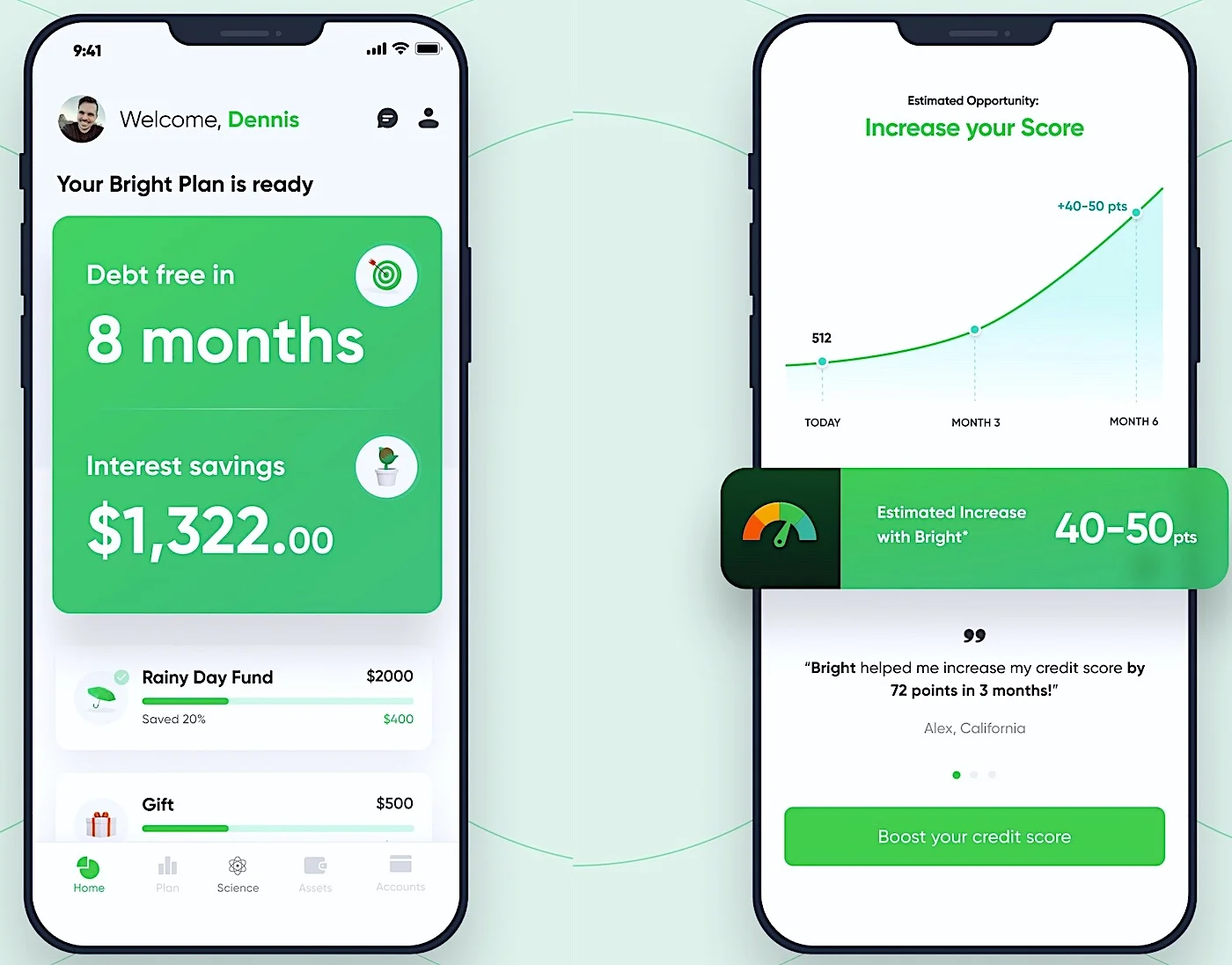 Platform: iOS | Android
Rating: 4.8/5 from 32,000+ users
Bright is an all-in-one app that helps you crush credit card debt, build a credit score, and manage your finances. Once your account is approved, you can start with a low-interest line of credit. It can lend you up to $8,000 at a low APR.
The app is integrated with a Smart Manager to automate your monthly repayments. It prioritizes the repayment of high-interest loans so you can get debt-free faster. If you regularly pay before the due date, Bright will increase your credit limit. And this will also have a positive impact on your credit score.
Key Features 
Instant approval; no credit check is required
Low APR
AI system studies your finances and makes payments accordingly
Offers a personalized, step-by-step guide to reaching your goals
The platform uses AI models to analyze your finances and build a personalized Bright Plan. It's the smartest and fastest way to deliver your goals.
More specifically, the Bright Plan transfers a small amount from your bank account to your Bright Stash Account based on your current finances and future goals. In case of unexpected expenses, Bright automatically adjusts the amount, or you can manually increase or decrease the amount as per your convenience.
‍Bright Stash Account makes smart payments on your behalf and moves funds to build your savings faster. The more you save, the more you earn interest. And of course, since it's your savings, you can withdraw funds any time.
All in all, you can always configure how much you want to save, how much you want to pay off, and how your investments should grow.
3. EXTRA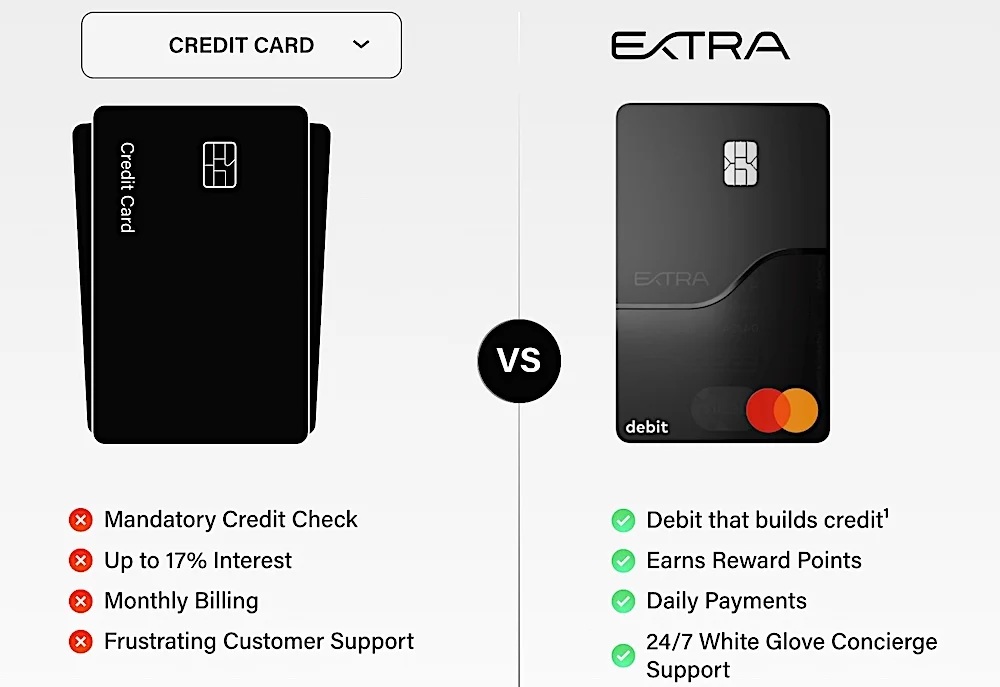 Platform: iOS
Rating: 4.5/5 from 3,600+ users
Extra is a debit card that helps you build credit and earn reward points. It's very easy to use. Just connect your bank account, and Extra will give you a spending limit based on your transaction history. It doesn't check your credit score.
Once you are assigned a spending limit, you can use the card anywhere (just like your normal debit card). At the end of the month, Extra will add up all your purchases and report them to the credit bureaus.
If you use the card regularly, it will increase your spending limit. The more you make transactions, the more spending limit you will get. Or you can complete daily tasks from the app to increase your limit.
Key Features 
Build credit history using a debit card
Get reward points with every purchase
Monitor your credit
Overdraft protection
Unlike most other debit cards, the Extra card offers real-time rewards. Plus, it doesn't require any security deposit, and you can keep track of your spending habits.
As for pricing, Extra charges a flat monthly fee. You can either pay $20 per month for the basic plan or $25 per month for the 'reward' plan. The latter gives you exclusive access to the Extra Rewards Store. However, in my opinion, it's not worth the additional price.
2. Chime
Platform: iOS | Android
Rating: 4.8/5 from 800,000+ users
Chime is a financial technology company that offers various banking products, including checking accounts with zero balance, early wage access, and an automated savings system.
The company partners with regional banks to create a competitive market with better and affordable options for users who aren't being served well by conventional banks. They have designed an intuitive banking app to have your back.
The app is completely free to use. It keeps your money safe and allows you to overdraft up to $200 with no fees. You can also set up a direct deposit and get your paycheck two days earlier than your coworkers.
Benefits
No overdraft or negative balance fee
Access to 60,000+ fee-free ATMs
Set up a direct deposit and get paid early
No foreign transaction fees
High yield savings account
Chime also has a credit builder that helps you increase your FICO score. It reports your transactions to all three credit bureaus. According to the company, their users have experienced an increase of 30 points on average.
And if your money is simply lying in the Chime savings account, you will earn interest at 1% APY — that's 12 times the average national savings account interest rate.
1. Credit Sesame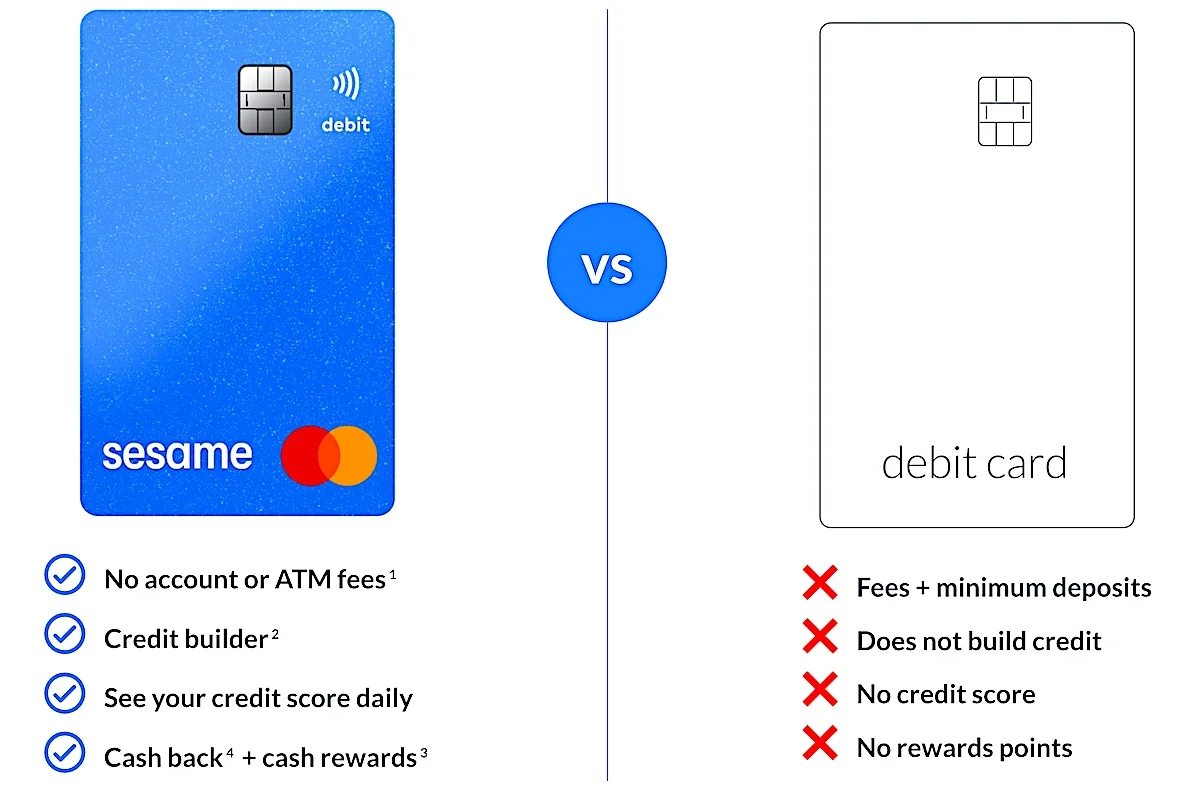 Platform: iOS | Android
Rating: 4.8/5 from 415,000+ users
Credit Sesame has helped millions of users get on a path to better credit. Its mobile banking app allows you to monitor your credit, grow cash, and get personalized financial tips.
The platform gives you access to an account called Sesame Cash, which is specifically designed to enhance your financial wellness. Once you transfer funds to this account, you will get a Sesame debit card with exciting cashback offers. You can use this debit card anywhere Mastercard is accepted. It works with Google Pay, Apple Pay, and Samsung Pay.
There is also an option to set up direct deposit to start getting paid up to two days earlier. There is no hidden fee involved; just more time with your money.
Key Features 
Daily credit score refreshes
Access cash from 55,000+ free ATMs
Cashback offers at over 5,000 retailers
Free credit alert and monitoring
The platform also gives you personalized recommendations for the best credit cards, affordable mortgage rates, and refinance options.
Unlike most other tools, you don't need to pay to manage your money or grow your credit. Instead, the app pays you $100 every time you increase your credit score by 100 points in a one-month cycle.
As for pricing, the premium version costs $5 per month. It provides you with detailed credit reports (generated by three credit bureaus) and covers your account with a $1M identity theft protection policy.
Other equally good Grain alternatives
10. PointCard Neon
Platform: iOS | Android
Rating: 4.8/5 from 415,000+ users
PointCard is a modern debit card with unlimited cashback, exclusive rewards, and comprehensive benefits. It seamlessly works with the Point app, giving you the best choice for everyday spending.
The app shows you personalized offers and allows you to configure your own reward and redeem your way. You can use any existing card to instantly fund your Point account — no need to pay any additional fee or wait for 2-5 business days.
While the card allows you to spend as much as you like (no upper limit is specified), it charges a flat fee of $399 a year. Also, you need to have an annual income above $100,000 or $10,000 in liquid assets, including cash or investments.
11. SeedFi
Platform: iOS | Android
Rating: 4.4/5 from 2,000+ users
SeedFi gives you access to up to $4,000 upfront while also helping you save money. You can borrow money with APRs ranging from 16% to 30% and choose to repay between 8 months and 45 months.
When you are finished paying off your loan, you can use the app to save money and improve your credit. Here is how it works: set aside as little as $10 per paycheck, and before long, you will have saved a significant sum. Every time you save $500, the app gives you access to it. Repeat the step and keep your plan active to maximize the impact. It's completely free.
With each on-time payment, SeedFi reports to all three credit bureaus. According to the company, users have experienced a gain of 41 points on average after making on-time payments on all credit accounts after 6 months.
12. Petal Card
Platform: iOS | Android
Rating: 4.7/5 from 12,000+ users
Petal Card utilizes millions of data points to help you qualify for credit/loan, even if you have never had it before. You need to link Petal to your primary bank account, so it can dig and analyze your transaction history. This is a common practice among issuers that grant credit to people who don't have any credit history.
Petal has two versions:
PETAL 1

: Gives you access to a credit limit between $300 – $5,000.

PETAL 2

: Get approved for a limit of up to $10,000.
Both cards have no annual fee and are loaded with 2-10% cashback offers from top brands and 500+ local businesses. PETAL 2, however, comes with additional benefits, such as low APRs, zero foreign transaction fees, and zero late payment fees.
Furthermore, its intuitive app lets you track your credit score, plan your budget, manage subscriptions, and see all your account information in one place.
13. Nuula: Small business finance
Platform: iOS | Android
Rating: 4/5 from 200+ users
Nuula offers various financial products and services for small business owners within one app, allowing them to manage their business finances as well as personal financial needs at a single destination.
The app makes it easy to monitor valuable metrics, such as revenue, profit and loss, cash flow forecasts, and credit score. It even shows you reviews and what people are talking about your business on social media platforms.
The platform can also be used to fund your business. If you have a solid business, you can get fixed-term loans up to $2 million from Mulligan Funding. Sole proprietors and freelancers can apply for personal loans up to $50,000. Each application process can be easily tracked and managed within the Nuula app.
More to know
What are the most reliable personal finance apps?
PocketGuard

: helps you curb overspending

Mint

: tracks your spending and monitors your credit health for free

Personal Capital

: offers several tools for wealth building

EveryDollar

includes a detailed approach to managing your money; make every dollar count

NerdWallet

: helps you find the right credit card and mortgage rates

Prism

: automatically tracks bills and sends bill pay reminders
Do not install lending apps from unknown sources
According to the Federal Trade Commission, consumers lose more than $3 billion every year to fraudulent practices.
There are thousands of fake companies out there trying to scam you. They contact you to offer a low APR loan in exchange for upfront fees. They justify this upfront fee with legitimate terms like processing or application fees.
To look genuine, some scammers offer to add the upfront fee to your loan amount; and then they generate a fake electronic transfer to your bank for the total amount.
To avoid such traps, you should always download the app or software from trusted sites. Check whether the lender is registered in your state and whether it has a valid physical address. If the loan offer sounds too good to be true, it probably is. Any genuine lender won't contact you out of the blue with a tempting credit offer.
Read More 
8 Best Banks For Small Businesses and Startups
11 Best Credit Repair Software [Detailed View]