OfferUp is an online marketplace that allows users to buy and sell various items, ranging from furniture and instruments to books and clothing. The platform competes against eBay, Craigslist, and other marketplaces where users can quickly sell items they no longer need or buy things that they feel are essential for the home.
Optimized for smartphones, Offerup features big images of items for sales via an infinite scroll interface. It shows you what's selling nearby in your local community and connects you with sellers via secure messaging. Since it has more than 20 million monthly active users, you can find almost anything you need.
However, the platform is often criticized for poor customer support and glitching app functions. Fortunately, numerous applications and tools are available in the market that offer the same core functionality, giving you more exposure to prospective buyers or sellers.
To help you explore more options, we have shortlisted the 14 best apps like OfferUp that are worth using. They all provide an effective way to get rid of your unnecessary items and find products that would cost you much less than the brand new ones.
9. Poshmark
Founded in 2011
Rating: 4.7/5 from 400,000+ users
Poshmark is one of the leading social marketplaces for new and secondhand styles for men, women, and kids. Its services are available in the United States, Canada, and Australia.
The platform has more than 200 million items for sale, 9000 brands, and deals up to 70% off retail. You will find amazing deals on fashion, beauty, home decor, and more from popular brands like Nike, Michael Kors, Louis Vuitton, and MAC Cosmetics.
How does it work? 
Sellers can easily register for an account on the app or website and upload their products. Just click a photo of your item, upload it, enter a description, and set the price. If someone likes your product, they will buy it from you directly.
When a user purchases your product, Poshmark sends you a prepaid and pre-addressed shipping label. Attach this label to your package before dispatching.
For buyers, purchasing items is relatively simple. Poshmark has a great interface to browse or search for available listings. You can either buy the product at the listing price or make an offer. Most sellers accept or reject the offer within a day.
Once you make the payment, your order is shipped via USPS priority mail. If the seller doesn't dispatch the product within a week, you have the option to cancel (or Poshmark will automatically cancel it after three weeks).
Pricing
Poshmark charges a commission fee based on the value of the sale. The company keeps 20% of the listing price if your product sells for more than $15. Otherwise, they charge a flat fee of $2.95 per sale.
8. Swappa
Founded in 2010
Rating: 4.7/5 from 3,500+ users
Swappa is a great platform for selling or trading your electronics to get the most money. It gives buyers a private sale page to communicate directly with the seller and Swappa staff. Visitors can toggle between listings in the United States, United Kingdom, Canada, and Europe.
Every device listed on Swappa is fully functional. The company has a dedicated team to review listed items and ensure that they meet certain requirements, such as
The device has all ports and buttons
The device is not cracked or water damaged
The device has a functional battery
The device isn't reported stolen or lost
Swappa has three programs for sellers: Standard, Trusted, and Enterprise seller program. Sellers under Trusted Seller programs are reviewed by Swappa's quality team before they upload a product for sale. The review process involves checking ESN or Serial Number, seller's account history, verifying images, and making sure that products meet the required criteria.
Enterprise sellers are allowed to list items in volume instead of one at a time. Although they don't have to verify photos, they are still required to abide by the same procedures as all other sellers on Swappa.
Pricing
Swappa charges a flat fee on every sale. However, unlike other platforms, the fee is not paid by the seller (they only pay shipping costs directly to the carrier). The commission fee is built into the price of the listing and paid by the buyer at the time of purchase.
If you have bought items less than $50, Swappa charges nothing. For sales between $51 and $100, it charges $5; for $101-300, $10; for $301-500, $15; $501-700, $20, for $701-999, $25, for $1000-1999, $50; $2000-2999, $50; for $3000-3999, $100, for $4000-4999, $150, and so on.
7. Meta Marketplace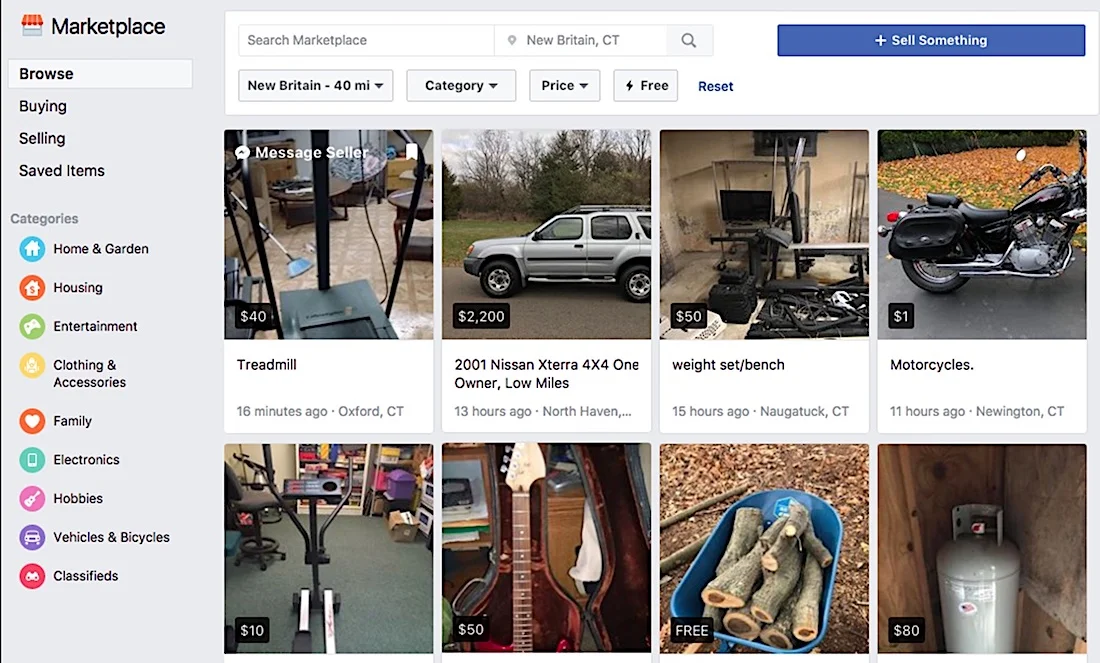 Introduced in 2016
Rating: 4.1/5 from 1,500+ users
In 2016, Facebook launched a new feature called Marketplace to help users discover, buy, and sell items within their communities. It is built into the Facebook app and website, making it easier for people to find what they are looking for by filtering the results by category, price, and location.
According to the company (Meta), more than 1 billion people globally use its Marketplace every month to browse, buy, or sell products. This gives retailers a huge opportunity to showcase their products and sell them to a target audience.
As of now, individual sellers or brands can list items under various categories, including Deals, Electronics, Clothing & Accessories, Vehicles, Housing, Home & Garden, Hobbies, Family, Entertainment, and Classifieds.
Tips to attract more buyers 
Optimize listings by adding relevant keywords in the title
Write longer descriptions and explain how exactly the product can help customers
Hire a professional photographer or graphic designer to take/edit photos of your goods
Facebook algorithms ensure that your products are being seen by the right consumers, significantly increasing the conversion rates.
Price
Facebook does not take a commission on sales, nor does it charge any listing fee. It makes money by charging sellers who want run ads to increase the visibility of their products.
6. TopHatter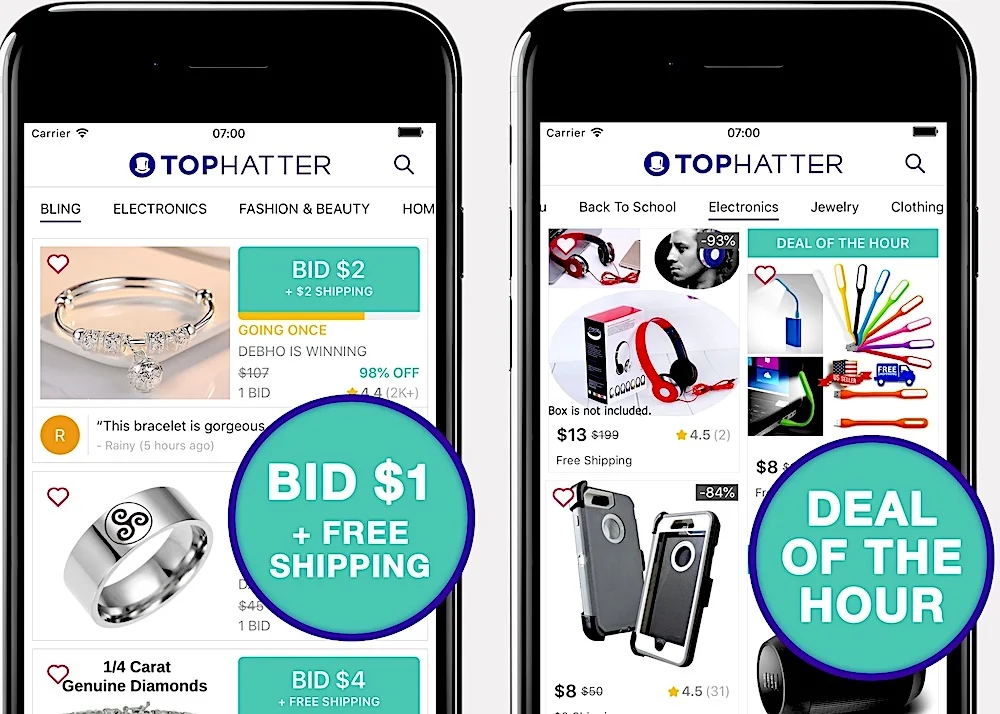 Introduced in 2009
Rating: 4.2/5 from 250,000+ users
Tophatter is truly one-of-a-kind. It combines the economics of a marketplace with the engagement of a game. It allows shoppers to participate in fleeting, 90-second auctions to win deals of up to 80% off on electronics, fashion & beauty, jewelry, and home & hobbies.
The platform connects sellers to more than 10 million shoppers worldwide. It uses artificial intelligence to customize the shopping experience, delivering heavy discounts on branded and unbranded items.
The company generates over $300 million of annual Gross Merchandise Volume and sells about 100,000 products every day.
Caution
Most of the items are not sold by brands or trusted sellers, so you will need to carefully read specifications and descriptions before you bid. But since each auction lasts for only 90 seconds, evaluating items and making decisions can be quite difficult.
To make sure you don't end up getting things you don't like, read everything about the products and prepare for bids ahead of time.
Pricing
Tophatter doesn't charge any bidding fee. Buyers only pay when they win the auction. However, sellers have to pay a scheduling fee to list their products in an auction. They have to pay this fee whether the listed items sell or not. This is why certain items are quite expensive, as most sellers try to cover up for losses made in previous auctions.
5. Tradesy
Introduced in 2012
Rating: 4.7/5 from 51,000+ users
Headquartered in Santa Monica, California, Tradesy is a peer-to-peer marketplace that provides a platform for buying and selling fashion. It includes designer clothing, shoes, handbags, wedding-related items, and accessories.
You will find Gucci, Prada, Hermes, Chloe, Givenchy, Louis Vuitton, Balenciaga, and other famous brands on the website and app. Hundreds of items are added daily, so you stay updated with the latest trends. You can save your favorite items, and Tradesy will notify you when they drop in price.
Buyers get an option to checkout with Affirm and split purchases into multiple payments. Sellers, on the other hand, get a prepaid, pre-addressed shipping kit, complete with beautiful packaging. The company takes care of processing and inspecting returns, eliminating the extra burden of sellers.
Key Features 
Money-back guarantee if you've doubts about the item's authenticity
Smart pricing tool provides real-time pricing recommendations
Buyers can split their purchase into monthly payments with Affirm
Sellers don't have to process returns and pay for shipping
Tradesy has developed an intelligent system to automatically detect and remove fake items. It works with 99.6% accuracy. They also have a team of expert authenticators who can help you with your questions or concerns.
Pricing
If you have sold items less than $50, you need to pay a flat fee of $7.50. Otherwise, they will deduct a commission rate of 19.8%. You can withdraw the money via an ACH transfer, debit card, or PayPal.
4. Nextdoor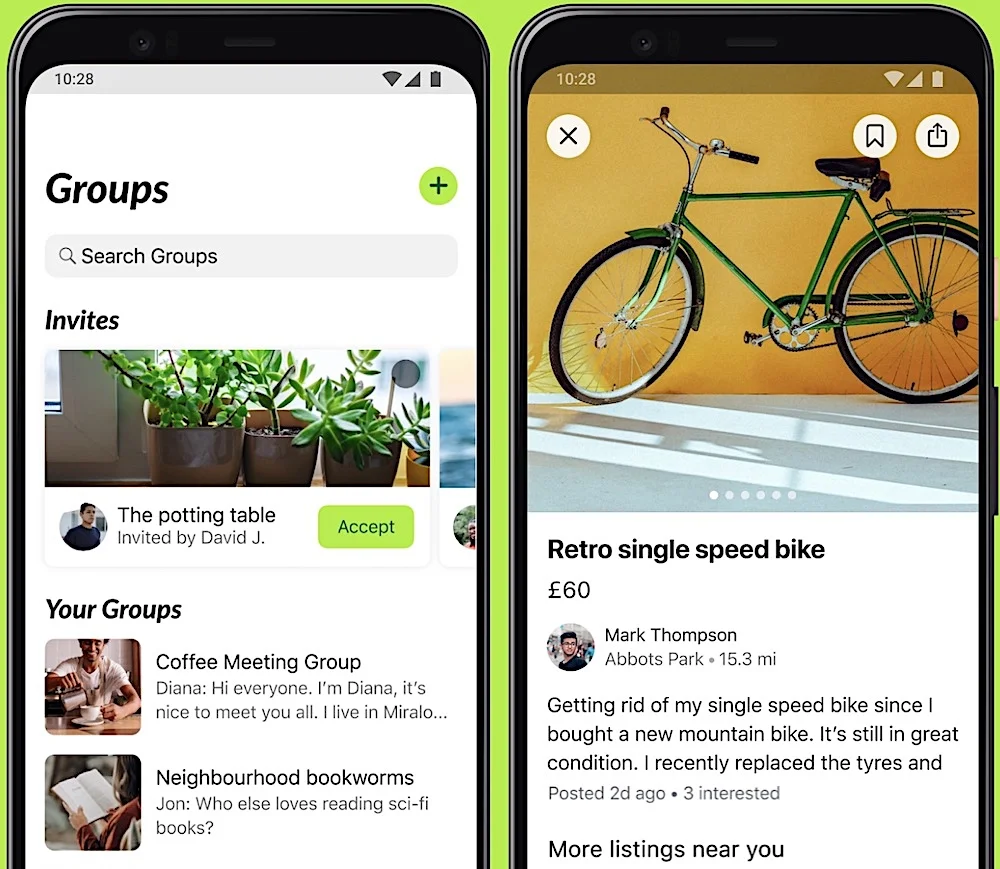 Introduced in 2008
Rating: 4.7/5 from 1,200,000+ users
Nextdoor is a social networking platform that connects people based on their location. It's similar to Facebook, but instead of your newsfeed showing your friends and acquaintances, it's the people who live in your neighborhood.
It's a great app to know what's happening nearby. Find events like art festivals and community activities, learn about shops and restaurants near you, and much more. Neighbors post updates, conduct polls, host events, ask for recommendations, and list items for sale.
Nextdoor can help you find home services and deals, hire a local babysitter, locate a pet sitter, and find discounts offered by nearby businesses. You can also use the platform to sell the items you don't need anymore. Just upload the image of the item, state its condition, and post it under a suitable category.
If your products don't get sold within two days, you have the option to boost the products in the feed by adding attractive discounts. Discounting unsold products increases the probability of finding buyers in three ways:
The app will show your products to a wider audience
It will highlight the discount, making the deal more prominent
Your neighbors get value for money
Pricing
Nextdoor doesn't charge any fee. You can buy, list, and sell as many items as your like. However, the platform doesn't facilitate money transactions and takes no responsibility for the risk of transactions.
3. Etsy

Introduced in 2005
Rating: 4.9/5 from 3,700,000+ users
Etsy is an online marketplace where people come together to sell, buy, and collect unique items. The platform focuses on vintage or handmade items and craft supplies. These items fall under a broad range of categories, from home decor and furniture to clothing and jewelry.
It is also the go-to destination for DIY kits and unique occasion gifts. You can save your favorite items and brands to get more personalized recommendations in the future.
Key Features 
Get notifications when your favorite products go on sale
Chat with shopkeepers to customize the item
International shipping options
Immediate tracking updates
Sellers can set up their own customized online shop with full e-commerce capabilities on the platform. This reduces sellers' overhead costs and makes it easier to connect with buyers all around the world.
Perhaps the best thing about Etsy is it allows you to sell downloadable items. You can easily upload and store the digital file on their platform. Buyers can download this file immediately on their local machine after making the payment.
Your data is completely safe, and if you ever need assistance, Etsy is always ready to step in for support.
Pricing
Etsy charges sellers a flat fee (as low as $0.20) to list their items. It also cuts a 3.5% commission from the sale price before paying the money to the seller.
Sellers can also buy additional features to increase the reach of their products. These are basically pay-per-click ads placed automatically as per the daily ad budget and auction price.
2. Mercari
Founded in 2013
Rating: 4.7/5 from 1,650,000+ users
Mercari connects millions of people across the United States to buy and sell almost anything. The platform (including app and website) has more than 19 million monthly active users, and 100,000+ new items are added every day.
Selling items on Mercari is fairly easy — it takes only a couple of minutes to list an item. Once listed, the product is available to ship anywhere in the country, offering a larger pool of potential buyers than other marketplaces. When the product is sold, a printable shipping label is sent to the seller via email.
With Mercari, you can set a target or earnings goal and track your progress. It also allows you to expose your product to a wider audience without promotion fees. Plus, it sends you important notifications so you can make sure everything is on track.
Key Features 
Intuitive interface makes it easy to list and sell items
Built-in shipping feature and safe transactions for consumers
Rating system for both buyers and sellers
Unlike most other apps, Mercari processes each payment to help prevent either party from getting ripped off. It utilizes identification verification and reviews to ensure all parties are fully informed during transactions.
The overall experience of most sellers has been positive. The information provided on the website and app is detailed and easy to understand. And if you get stuck anywhere, you can always contact their team. They will give you a more personalized and contextual solution.
Pricing
Sellers have to pay a 2.9% commission rate plus $0.30 for each payment received from the buyer. They don't need to sign up for another processing account. Mercari balance can be easily cashed out via Direct Deposit or InstantPay.
1. LetGo
Founded in 2015
Rating: 4.3/5 from 1,650,000+ users
With hundreds of millions of listings, LetGo makes it easier to find the products you need. This includes stuff like electronics, clothing, decorations, and furniture. You can also post a house for sale or apartments available for rent.
Unlike most other apps, LetGo allows you to list bicycles and cars. All you have to do is get a free initial quote for the car and book a free inspection. It provides professional inspection, free car valuation, transparent pricing, as well as secure payment in 3 hours. Buyers get a 20,000 km or 1-year warranty and a 20-day return guarantee through the app.
Key Features 
Location-based browsing
In-app chat
Verified user profiles
Super boost mode to maximize listings' visibility
LetGo has verified user profiles with reviews and ratings, so users can see who they are talking to and how other people have rated them. The platform also uses machine learning methods to detect and block inappropriate content.
Pricing
LetGo is free to use, and it doesn't take any commission. You can list or buy as many products as you want. However, it does offer a monthly subscription to users who want to draw attention to their listing and sell their items quickly.
The subscription fee is based on the number of items you want to feature at the top. It starts from $0.99 and goes all the way to $44.99. There is also a "Super Boost" monthly subscription that features one of your listings every day. The platform automatically selects the item that has the best chance of selling, and features it for 24 hours.
Read: 12 Best Virtual Staging Software And Apps
Other Popular OfferUp Alternatives
10. eBay
Founded in 1995
Rating: 4.7/5 from 4,150,000+ users
eBay is the largest marketplace that facilitates business-to-consumer and consumer-to-consumer sales. It gives equal opportunities to individuals, entrepreneurs, businesses, and organizations of all sizes.
eBay has about 1.5 billion live listings, 147 million active buyers, and 17 million sellers worldwide. A wide range of items is sold every second on this platform. In the United States, for example,
A men's t-shirt sells every 4 seconds
A smartphone sells every 7 seconds
A skincare product sells every 11 seconds
A fashion bracelet sells every 15 seconds
Pricing
The platform is free to use for buyers; however, sellers are charged two types of fees. First, they have to pay for listing items on the website or app ($0.35 per listing). This only applies when you add more than 250 items per month. And then, there is a separate fee when those items are sold. This is calculated as a percentage of the total amount of the sale, plus $0.30 per order.
11. CPlus Classifieds
Initially developed in 2011
Rating: 4.2/5 from 155,000+ users
CPlus makes it easier to access various classified sites, especially Craigslist. It allows you to search for garage sales, yard sales, jobs ads, and much more. Customize your profile by saving your favorite ads and postings.
Key Features 
Add different locations and switch the search results easily with a single click
Add notes to your favorite postings
Easily renew, edit, or repost your ads
Manage multiple accounts from your smartphone
Overall, the app is elegantly crafted to make searching and posting smooth and effective.
Pricing
The app is completely free to use, and new features are added regularly. You can upgrade to the Pro version for $4.99.
12. DealDash
Founded in 2009
Rating: 4.1/5 from 70,000+ users
With more than 15 million registered users, DealDash is one of the most popular bidding fee auction platforms. It sells brand-new premium products and helps businesses move their excess inventory.
DealDash forms mutually beneficial partnerships with popular brands and businesses, allowing retailers to sell items outside the constraints of conventional discount distribution. Moreover, retailers prefer working with DealDash to liquidate their items from overstocked warehouses.
How it works? 
After receiving the brand new products, DealDash auctions them on its platform. Each auction starts at $0. With every bid, one penny is added to the final price of the product. There are no reserve prices, so the products can go for as low as 99% off.
Bidders may place bids manually by clicking the bid button, or they may use an automated bidding tool named 'BidBuddy'. When no more bids are placed, the last bidder gets the product for the discounted price (with free shipping). Like all other traditional auctions, the excitement arises from the fact that any bid can be the last one.
Pricing
To participate in an auction, users have to purchase "bids" priced at $0.60 each. They can then spend those bids on any auction. Users who do not win the auction can get all their bids back if they buy the product at its "Buy It Now and Get Your Bids Back" price.
13. thredUP
Founded in 2015
Rating: 4.3/5 from 1,650,000+ users
thredUP is one of the largest resale platforms for kids' and women's apparel, shoes, and accessories. It contains high-quality secondhand clothes from designer and luxury brands like Ann Taylor, Zara, Lululemon, Kate Spade, Louis Vuitton, Gucci, and more.
You can also use this platform to sell or donate clothes that you don't need anymore. Here's how it works:
Order a Free Shipping Label or Clean Out Kit from the app.
Fill a bag with the item you want to sell or donate and send it back.
thredUP will inspect, click photos, list, and ship products on your behalf.
The company can process and recirculate clothing at an impressive speed and scale. More specifically, they can process 100,000 items every day, list up to 2.4 million items at any given time, fit 5.5 million items in their distribution centers. So far, they have processed over 100 million garments having an estimated retail value of $3.3 billion.
Pricing
The listing price of an item is based on various factors, such as the age of the item, style, quality, seasonality, and the level of inventory thredUP already has in that size. Their payout estimator tool will tell you how much you might earn by selling each item.
The payout structure is quite complicated and depends on the value of your sales. For instance, if your clothes sell for $5-19.99, you will get a 3-5% payout. The commission goes up from there. If you sell clothes or accessories for $200+, you will get 80% of the sales value.
You get paid 2 weeks after the item is delivered (because shoppers have a 2-week return window). You can then withdraw the money via Stripe direct deposit (1.5% transfer fee) or PayPal (2% transfer fee). Earnings remain in your thredUP account for one year, after which they are converted into an e-gift card.
14. VarageSale
Founded in 2012
Rating: 4.2/5 from 120,000+ users
VarageSale is built for people who feel hesitant about buying and selling anonymously. This local marketplace allows you to find amazing bargains without sacrificing your safety.
Users can browse local classified listings on the feed or exclude categories they are not interested in for a personalized shopping experience. Quickly search for items like electronics, furniture, shoes, clothing, jewelry, baby gear, household items, and more. Thousands of items are listed every day on this platform, so it's easy to find good bargains on quality products.
Selling an item is equally easy. Click a photo, upload it on the website or app, add title and description, and put a price. If you have done everything correctly, your item will most probably sell within a day.
Pricing
The platform is completely free to use. It doesn't charge any commission for buying and listing items. Prices are negotiated directly between buyers and sellers. However, the payment partner of VarageSale (Stripe) does charge a transaction fee between 2% and 3%.
Read: 13 Best Sourcing Tools For Recruiters
Frequently Asked Questions
Can you get scammed from OfferUp?
You can get scammed on any online platform. It's not specific to OfferUp. However, you can protect yourself by looking out for the following behaviors.
The seller asks you to click on an unknown URL.
The seller asks you to pay via a third-party application. All transactions are done right in the OfferUp app.
The seller makes an offer for a product that seems too good to be true. For example, someone willing to sell a new MacBook for $100.
What are the other websites and marketplaces to sell stuff online?
When it comes to eCommerce marketplaces, there are many websites that have a huge audience and a wide variety of listed items.
eBid

is a low-cost marketplace with zero listing fees and less than 3% sale fees.

eCrater

 allows you to search among millions of items and create your own free online store in minutes.

Bonanza

is a seller-centric marketplace with no listing fees, no monthly store free, and no other sneaky fees.

OpenSky

boasts 70,000+ independent merchants who offer multiple product categories, ranging from apparel and wellness to electronic and luggage.
Read: 13 Best Market Research Tools
Is Craigslist still popular?
Yes, people still use Craigslist, just in far fewer numbers than they did a few years ago. According to the SimilarWeb, Craigslist is still one of the top 200 websites, with more than 250 million monthly visitors.
If you are looking for a classified advertisement platform, Craigslist can still be worth trying. However, do not use it simply because you think there is no alternative. There are several equally good tools that you can try out instead.