Periscope made live streaming an overnight phenomenon. Within four months of its launch, the app had more than 10 million active users. In December 2015, Apple named Periscope the iPhone app of the year. In 2016, the app was integrated with a new feature that allowed users to stream live from GoPro and HERO4 cameras.
Although Twitter had already acquired Periscope before it was publicly launched, the company didn't embed Periscope's feature into the Twitter app until the end of 2016. After the integration, users didn't feel the need to download the Periscope app as they could start live streaming directly from the Twitter app. 
Because Periscope was no longer offering any unique feature and most social networking platforms came up with their own live broadcasting feature, the number of users on Periscope started declining pretty fast.
Its service was discontinued in April 2021 due to declining usage and high maintenance costs. The app was removed from both Play Store and App Store.
But that's not a sad ending. Today, we have many great apps that allow users to broadcast and explore the world through live videos. We have listed some of the best apps like Periscope that offer all significant functions for live streaming.
9. Bigo Live
Platform: iOS | Android
Price: Free | In-app purchases from $0.99 to $129.99
Rating: 4.1 from 5,000,000+ users
Owned by Singapore-based BIGO Technology, Bigo Live is a live streaming platform with over 400 million users. The majority of its traffic comes from Asian countries such as Singapore, Turkey, and South Korea.
Unlike other platforms, Bigo Live didn't begin its journey with conventional chat rooms and file-sharing functions. It steamrolled in the market by making it easier for users to broadcast themselves and share personal experiences with the world. Because the app was easy to use and packed with interesting features, it became a household name in most Asian countries within the three years of its launch.
BIGO Technology soon integrated proprietary artificial intelligence and machine learning algorithms into the app, which further enhanced user engagement and experience during live streaming.
Today, millions of talented singers, dancers, comedians, and foodies live-stream in Bigo Live. You can follow the people you like, and watch great live streams such as live music, live chatting, and live gaming, similar to Periscope.
Bigo Live also gives you an option to support your favorite broadcasters with in-app gifts. Some people use it as full-time employment.
Key Features 
Create a live video room with up to 8 people
Start a live voice chat and drop-in audio conversations
Watch gamers play Fortnite, Minecraft, PUBG, and much more
Create your own audience and receive virtual gifts
Overall, the app is extremely user-friendly and works well on all mid-range devices. You will find plenty of content on this app, including movie and book reviews, make-up tutorials, and tons of entertaining videos.
But since it has no proper filter to stop adult content or cyber-bullying, it shouldn't be used by children or teenagers below 17.
8. Owncast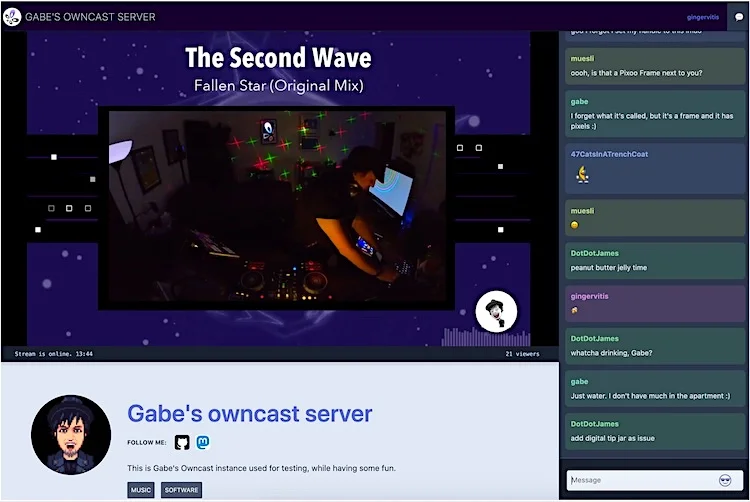 Platform: Web browser
Price: Free
5,700+ Stars on GitHub
Owncast is a self-hosted live video and web chat server that allows you to run your own live streams on your own server. You get complete ownership of your content, interface, and audience.
Unlike Facebook and YouTube, or any other big live streaming services, Owncast is open-source and ad-free. This means instead of uploading your content on a centralized corporate entity, you can self-host your channels as instances. There is no centralized authority to take down your content and no centralized agency to run ads in the middle of your video.
Pros
Open source and Ad-free
Plenty of customization options
Build chatbots to encourage engagement
Perfect for those who don't want to rely on big companies
Cons
Setting up a channel is quite complicated
No mobile app
Broadcasters have to buy and maintain their own server
Limited audience
Setting up Owncast requires some technical skills, but watching live streams on the platform is fairly simple. Owncast has a directory featuring public channels. Just open the website and watch as many channels as you like on your web browser. Although developers haven't built application for smartphone, it works well on mobile browsers.
Streaming videos or broadcasting yourself is much like developing your own website. You need to have your own server and pay its maintenance costs. However, it gives you the flexibility to create a custom URL for your broadcast, such as music.hub.ninja.
7. BlueJeans Virtual Events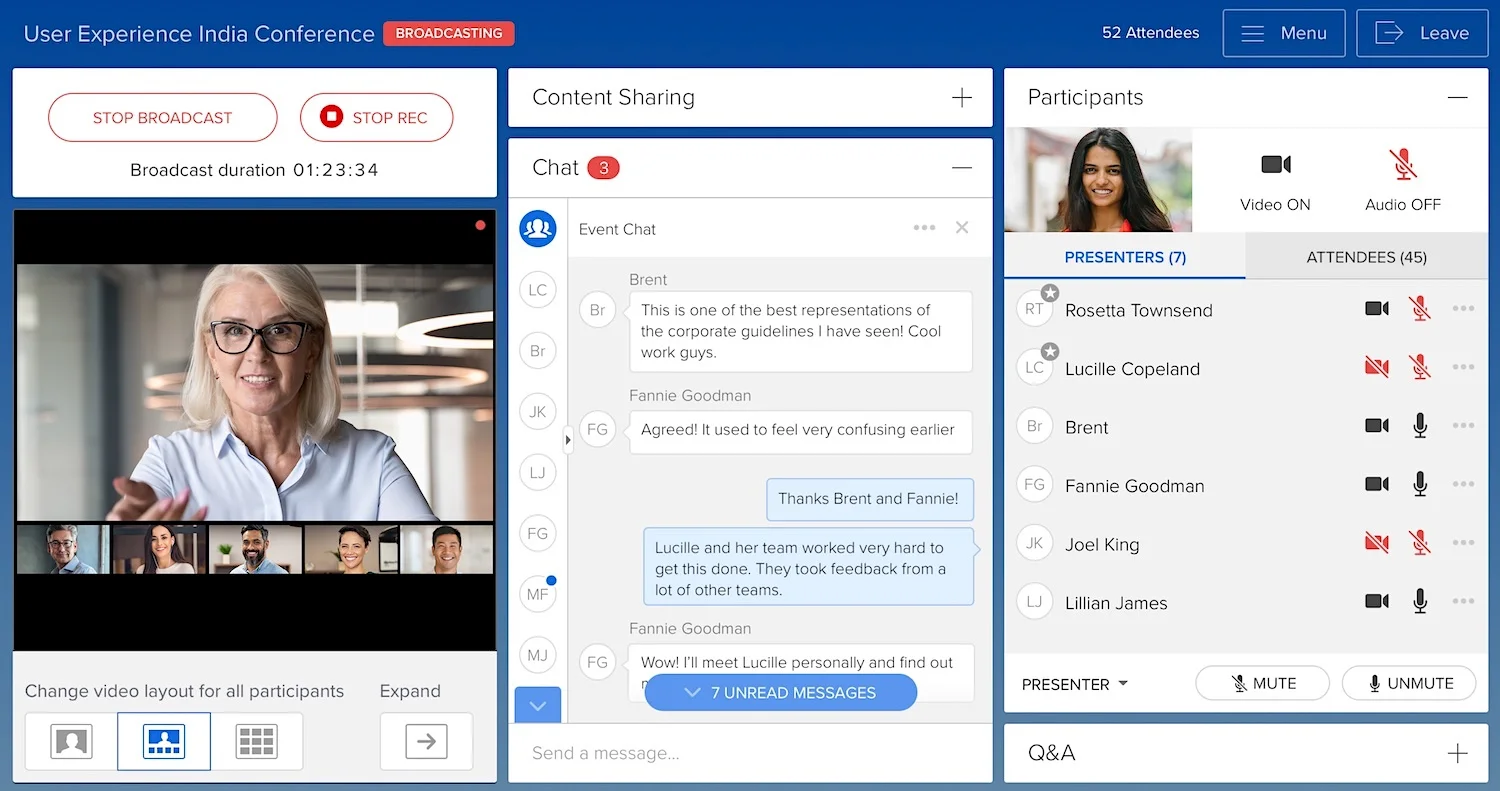 Platform: Windows | Mac | Linux
Price: Starts at $40 for up to 100 attendees or $50 for up to 500 attendees | 14-day free trial available
Rating: 4.4 from 500+ users
BlueJeans Virtual Events platform is built for organizations that often conduct highly interactive, production-grade virtual events. It makes it easier for companies to host virtual training, distance learning, all-hands meetings, interactive seminars, and in-person conferences.
The platform combines the best of live content sharing, video conferencing, and streaming capabilities into a single service that connects and engages everyone.
To make everything easy, BlueJeans shows you three interactive screens: the first one is to start/stop broadcasting, the second screen shows chats and shared content, and the third screen shows the list of participants.
Participants can join events from any browser. There is no need to download any app. Plus, the moderator gets full control for Q&A, polling, and enabling/disabling audio and video.
Key Features 
Host large events with up to 150,000 attendees
Brand events with custom landing pages and waiting room music
Live stream your event on popular platforms like YouTube Live and Facebook Live
Automated, real-time closed captioning
Record and save live streams for future playback
BlueJeans also offers breakout sessions at just the touch of a button. It allows moderators to break large groups into individual project teams for various exercises, such as education and training sessions. They can easily create separate virtual breakout rooms and move attendees in and out.
Metting hosts can jump from one room to another. And once the breakout session ends, hosts can call all attendees back to the main meeting room with one click.
The platform is used by thousands of industry leaders to host webinars, conferences, live streams, product announcements, and other virtual and hybrid experiences.
6. StreamYard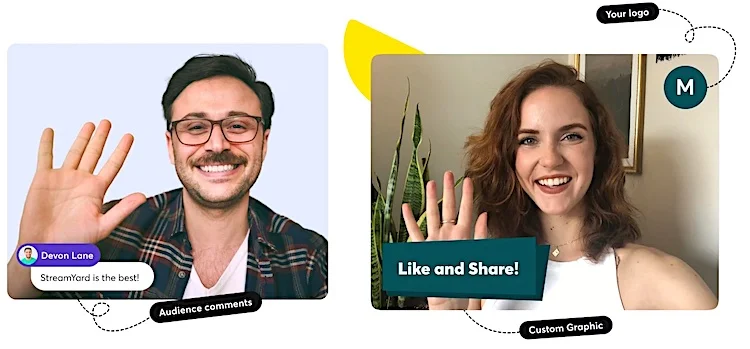 Platform: Browser-based
Price: Free for up to 6 onscreen participants | $20 per month for up to 10 onscreen participants and additional features
Rating: 4.7 from 400+ users
StreamYard is built on three pillars: ease of use, stability, and professional-looking streams. It allows you to create engaging content with other members, show onscreen comments, and brand your broadcasts with overlays, themes, and backgrounds.
Up to 10 participants are allowed in a stream. You can share the broadcast on all your social channels at once with just a few clicks. StreamYard works with YouTube, Twitter, Twitch, Facebook, and custom Real-Time Messaging Protocol (RTMP) outputs.
Key Features 
Multistream to several platforms at once
Individual audio recordings
Add overlays, logos, and backgrounds
7 video layout templates
Go live with guests without downloading any app
The platform is perfect for conducting live interviews. You can quickly respond to questions and comments, type out a call to action, and record your streams.
Plus, StreamYard gives you plenty of options to make your videos more attractive. For example, you can add different images, custom graphics, GIFs, videos, and logos within minutes. The tool takes care of all complex things so you can focus on creating great content and building your brand.
5. YouNow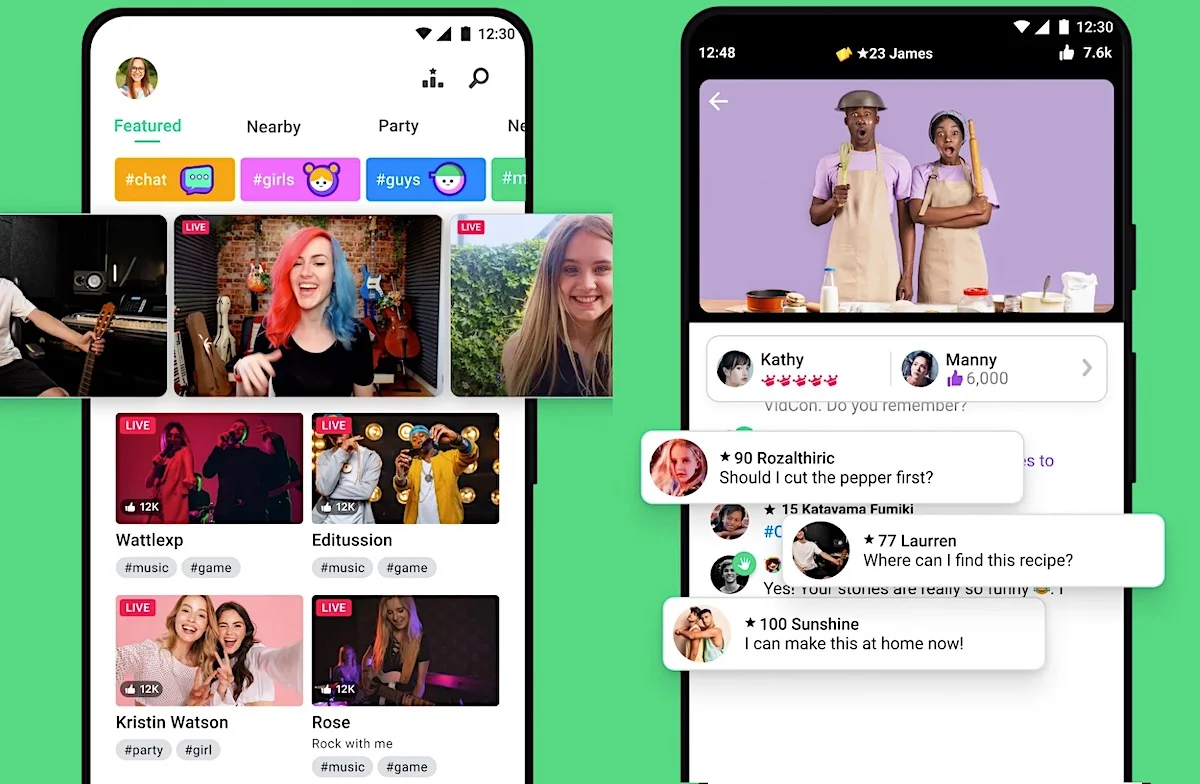 Platform: iOS | Android | Web-based
Price: Free | In-app purchases from $0.99 to $199.99
Rating: 4.1 from 360,000+ users
YouNow fuses the experience of gaming, social networking, and broadcasting, allowing users to discover and create new kinds of interactive content in real-time.
The interface of the app looks amazing. You can instantly start a live video stream by tapping the green "Go Live" button on your profile, browse live video broadcasts, and catch up on your favorite topics in the Moments feeds.
The platform has users from all across the world who post on topics like gaming, music, dating, cooking, and more. Join a community or create one of your own and set your own rules.
Key Features 
Ad-free live streaming
Catch up on what you missed in the Moments feed
Find your favorite personalities and chat with them
Receive support from followers in the form of applause, fan mail, and gold bars
You can earn money through this app once you get enough audience. The best way is to make and sell your merchandise, add affiliate links, or set up a subscription model where viewers pay you to get access to unique content.
YouNow uses automated systems to continuously monitor broadcasts and takes strict action on people who violate their guidelines. They have added some safety features too, including the ability to flag inappropriate content, block individuals, and silence users in the chat room.
4. BigMarker
Platform: Browser-based
Price: Starts at $99 per month (for 100 attendees and 1 host license) | 7-day free trial available
Rating: 4.7 from 2,500+ users
BigMarker combines powerful video technology with robust marketing and interactive experience to help you conduct immersive webinars and virtual and hybrid events. It offers APIs and tools that enable hosts to integrate video experiences into their marketing and learning stacks.
Many organizations use this all-in-one platform to grow their audience, engage customers, and generate demand for their products and services.
Key Features
Offers 15+ virtual event modules
Customizable to your brand
Scalability of up to 50,000 attendees
Includes engagement tools to help you captivate your audience
Its live video platform allows you to create a one-of-a-kind virtual event. Control every aspect of the event, from designing the main stage's interactive panel to creating productive Q&A sessions.
Unlike most other platforms that limit the ways users can participate, BigMarker makes it easier for you to host a vibrant chat, gather data with polls, invite attendees onscreen to engage with presenters face-to-face, and create more value for each sponsor.
BigMarker is also packed with powerful analytics. It tracks each participant's activities, including their clicks and responses, and shows them in easy-to-understand reports.
Overall, a single BigMarker account provides you with a complete toolkit to build an audience and drive them down the tunnel using webinars and hybrid events.
3. Tango-Live Stream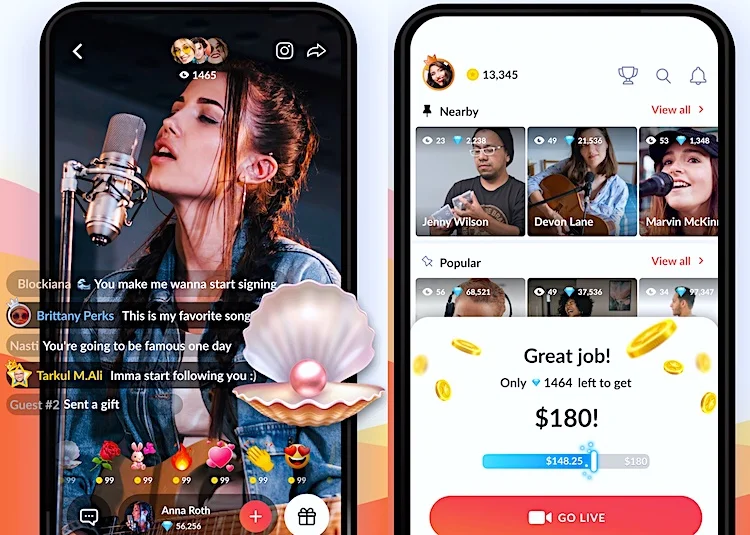 Platform: iOS | Android
Price: Free | In-app purchases from $0.99 to $29.99
Rating: 4.4 from 4,080,000+ users
Began as one of the first providers of voice calls, video calls, and photo sharing on a 3G, Tango is now known as the leading video live-streaming platform for content creation, social connections, and audience monetization.
It allows you to live-stream your daily activities and show off your talents to millions of people across the world. The platform has a huge audience base, and it adds over 2.1 million new users every month.
Key Features
High-quality video streaming
View broadcasters' top moments and live reactions
Participate in online stream events like singing contests and dance challenges
Helps streamers turn their hobby into a profitable business
Tango Live gives you plenty of options to make your live-streaming more fun. For instance, you can collaborate with friends and other streamers, use special interactive features like Live Battles and Exclusive Posts to grow your audience, and much more.
Once you gain a decent number of followers, you can start monetizing your talent and earn money through virtual gifts from viewers. These gifts can be redeemed for real cash.
Even if you don't have something to share with other users, you can use the app to discover new talents and find interesting stuff around you. It has an active global community of millions of broadcasters: singers, gamers, dancers, artists, and bloggers.
2. Vimeo Livestream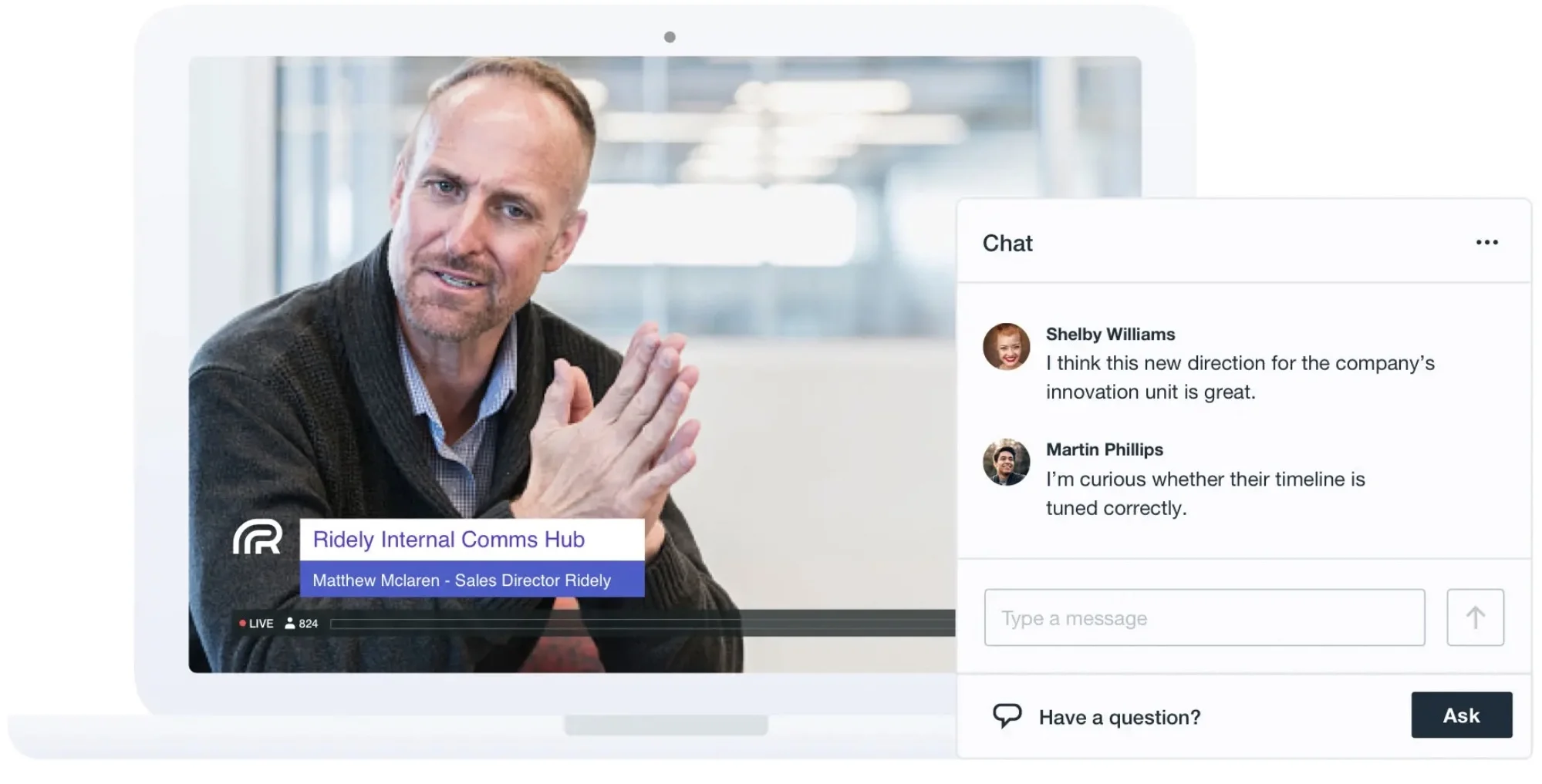 Platform: Mac | Windows | Browser-based
Price: Starts at $75 per month | 30-day free trial available
Rating: 4.5 from 3,000+ users
Vimeo Livestream allows streamers to broadcast live video content, and viewers to play that content via the web, Android, iOS, and Apple TV. It has everything a broadcaster needs to engage followers, employees, or customers across the world.
The platform gives you options to create registration forms for your events and add customized logos and onscreen graphics to your live streaming content. You can also add lower-thirds, transitions, and engage the audience with moderated chat, live polls, and Q&A.
For professional-grade controls and advanced customizations, download the Livestream Studio. It will allow you to mix audio, adjust color settings, switch between feeds, and more.
Key Features 
Best video quality (1080p) across devices
Brand control for your player and apps
Auto-archiving and video management
Live production graphics and tools
Viewers can search by caption to find specific moments in archived streams
You can embed permissions, set passwords, and add Single Sign-On to keep private streams secure. The platform continuously monitors the performance of your stream and gives you real-time feedback.
All in all, it's a great platform for agencies that require advanced content delivery management, dedicated technical support, and advanced privacy features for critical communications.
Thousands of organizations have used (or are using) Vimeo Livestream to broadcast their video content. The National Academy of Television Arts & Sciences, for example, used Livestream to broadcast the 2020 Daytime Emmy awards. Nasdaq and New York Stock Exchange use it to stream their opening and closing bells.
1. Twitch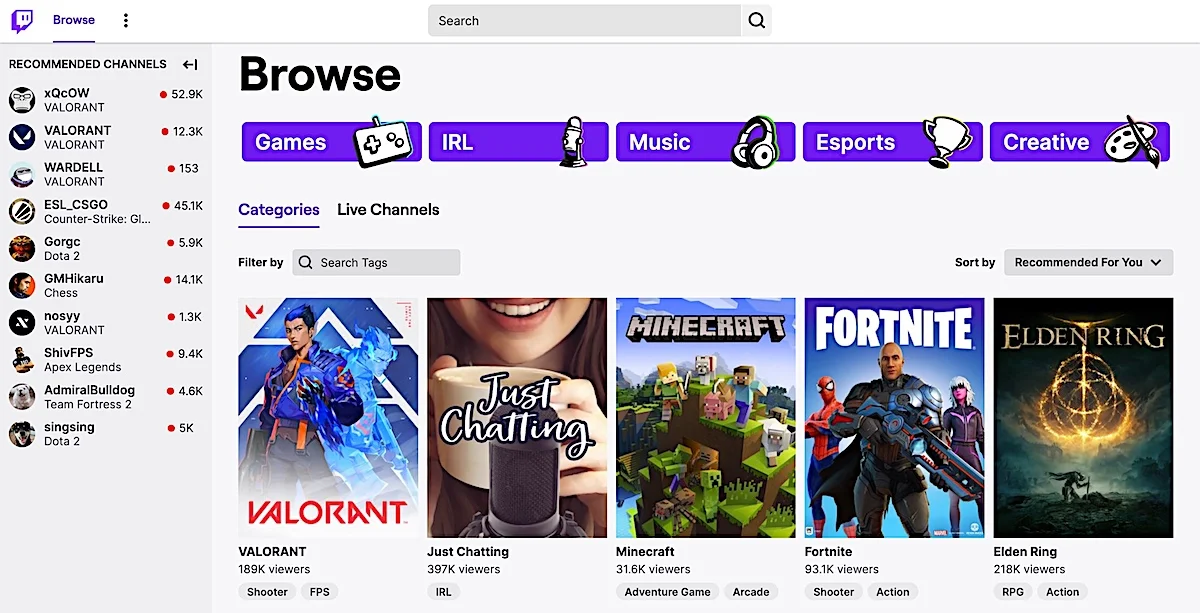 Platform: Mac | Windows | Browser-based | Android | iOS | Apple TV | PlayStation | Xbox
Price: Free | Prime subscription starts at $4.99 per month
Rating: 4.6 from 6,350,000+ users
Twitch is live streaming and chat service specially designed for gamers. It allows streamers to broadcast their video game sessions and gain followers. For viewers, it's an interesting alternative to conventional streaming services like Netflix. In addition to video game sessions, they can watch esports competitions, music broadcasts, and creative content either live or via video on demand.
Launched in 2011 as a spin-off of streaming platform Justin.tv, Twitch has now become the most popular platform for video game broadcasts. It has more than 15 million daily active users, 1.4 million average concurrent users, and 3 million monthly broadcasters.
Key Features 
Viewers can watch live broadcasts without logging in
Connect with other gamers in real-time with full-featured live chat
Can be used for video game tutorials
Plenty of presentation tools to enhance video stream
Content creators can earn money through ads, affiliates, and subscription
The front page of Twitch has improved a lot in recent years. It now does a better job of highlighting a wider range of games and genres. You can find content by typing a keyword in the search box, see the full list of live shows, and check out short clips of cool gaming moments.
Twitch has become so popular that you can find anything on the platform, from beauty tips and cooking shows to Thursday Night NFL games. Even politicians stream on Twitch these days. Follow and subscribe to your favorite streamers (just like you follow people on Twitter and Instagram) to receive more personalized recommendations.
Twitch also has the Partner Program (similar to YouTube Partner Program) for popular content creators to share the ad revenue generated from their streams. Plus, viewers can subscribe to specific channels to get access to live chat privileges, unique emoticons, and other perks.
Read: 12 Best Video Chat Apps
Other Equally Good Periscope Alternatives
10. Youtube Live
Connect with a large audience without paying any charges 
YouTube's live streaming feature allows content creators to interact with their subscribers in real-time via video and chat. Viewers can watch trending live streams, such as live sports, live news, live gaming, and live music, in their country.
Hosting a live virtual event (like webinars, workshops, or product launches) gives individuals and companies a great opportunity to engage with the online community in real-time and answer their questions instantly. It's a great way to teach a subject, solve problems, and answer questions about a product or service.
Interesting Stats 
The platform has more than 2.3 monthly active users
YouTube Music and Premium together have more than 55 million subscribers worldwide
A viewer sticks to the platform for about 11 minutes and 30 seconds on average
About 70% of the audience use YouTube to watch online replacements of live events
Users watch live streams for 10-20 times longer than pre-recorded videos
These stats are more than enough to convince any content creator about the potential of using YouTube Live for engaging with a broader audience and growing brand awareness.
11. Facebook Live
Connect with your friends and followers with the camera in your pocket
In 2016, Facebook released a new feature Facebook Live. It allows users to live stream to their Page, Group, or Profile via the app or laptop. For professionals using higher-end production equipment and streaming software, Facebook has developed an advanced live streaming tool called Live Producer.
By using various live interactive tools, content creators can gain more control over how they engage with friends and followers.
Live Interactive tools 
Live polls

: Create polls before starting a broadcast and receive real-time feedback

Featured links

: Share as many external links as you like

Live in stories

: Add the broadcast to Facebook Stories to extend the reach

Live comment moderation

: Manage comments yourself or allow a specific user to do the job on your behalf

Front row

: Highlight your top/favorite followers

Badges

: You fans can earn multiple badges depending on how they engage with your content
The platform gives priority to longer videos (usually over 3 minutes). This means the longer you do live streaming, the more likely users are to discover and share your videos. You can broadcast for up to 8 hours.
Furthermore, qualified Pages (charitable or non-profit organizations) can add a donate button to their live streams. Facebook's payment platform does not levy any transaction charges, and 100 percent of the donations go to the charity.
12. LinkedIn Live
Drive more engagement with your professional audience 
LinkedIn allows its users to broadcast live video content on their profile and page. Their statistics show that live videos get 7 times more reactions and 24 times more comments on average than pre-recorded videos made by the same broadcasters.
Consider it as a fresh platform for your existing content ideas. You can use it to demonstrate a product, showcase the people behind your brand, or share your opinion.
Best for
Promoting an event
Sharing information with employees
Interviewing a guest
Demonstrating expertise
Showcasing new products and services
Unlike other platforms, LinkedIn allows only approved members to broadcast live video content. The criteria for getting approved, however, is not too hard. You need to have more than 150 followers or connections and original content on your profile page.
Broadcasting a live video is fairly simple. First, select a streaming tool (third-party broadcast tool or a custom real-time messaging protocol) depending on the level of your experience, and then connect the tool with LinkedIn. You can visit the Resource Hub for all instructions and documentation you might need.
13. Omlet: Live Stream & Recorder
Live stream popular mobile games 
This app can take your gaming experience to new heights. It allows you to live-stream your best moments in the game, squad up with other members, and use customized tools to enhance your gameplay. The app supports almost all popular games, including Fortnite, PUBG Mobile, Roblox, Minecraft, and more.
Key Features 
Unique multiplayer mode for Minecraft players
Meet other streamers and play together
Colorful live streaming messages
Special animated profile frames
Real-time chat to coordinate in-game attacks with your team
The app gives you the option to record your gameplay and edit clips of exciting gaming moments. You can also share gameplay with other players and broadcast it to YouTube, Twitch, Facebook, and other platforms that have RTMP live streaming capabilities.
14. CameraFi Live
Broadcast high-quality video with mobile 
CameraFi Live makes it easier for users to live stream on YouTube, Facebook, and Twitch. This Android app supports a wide range of camera connections and real-time video editing features, so you can stream your moment whenever you want.
Key Features 
Multiple camera and screen modes
Add multiple overlays while streaming
Eye-catching video filters and motion effects
Free background music for your live sessions
Broadcast to over 30 streaming platforms using Restream
While live-streaming from your smartphone, you can add multiple overlays like texts, audios, images, videos, and filters. Use advanced settings to get a clear video at night or in a dark place, adjust zoom, white balance, exposure, and many more parameters with just a few taps.
What's more impressive is CameraFi Live works with devices such as drones, DSLRs, and wearable cameras. This means you can shoot videos hands-free, stream Full HD videos with a DSLR, or record with a wearable or an action camera.
Read: 13 Best YouTube Alternatives To Watch Videos
Frequently Asked Questions
How to go live on Twitter?
You can broadcast yourself directly from the Twitter app. Just tap the camera icon from the composer and swipe right to "Live" to start a live recording.
Can you make money from live streaming?
Yes. Once you get enough followers, you can earn through advertisements, affiliates, and promotion deals. Some platforms allow streamers to charge for their premium content.
But how much will you earn? There is no exact figure. Online earnings are primarily based on the number of views, content niche, and audience location.
Read: 18 Best Video Editing Software | Both Free and Paid
Are live streaming apps risky?
Most live streams applications are safe as long as you use them safely. But since live streaming cannot be cut or edited, you need to take care of several things while broadcasting yourself or watching someone else live.
There are many factors that make creating and watching live videos risky, especially for children. For example, young viewers could be exposed to age-inappropriate content, offensive comments on feeds, or impulsive reactions of other people.
Furthermore, if live streamers mistakenly share personal details or make an offensive comment, they are doing so in public. Since it's easy for viewers to record a live stream, their mistakes can be posted online or shared more widely. So one needs to be cautious while watching or broadcasting live video content.