Founded in 2005 by a 15-year-old student, Quizlet has gained tremendous popularity as an online learning platform. It has over 60 million active users and a massive repository of 500 million+ study sets covering various subjects and topics.
However, it is not the only platform to study, create, and share study materials. There are plenty of good options that nurture a community of learners, encouraging collective exploration and elevating your understanding of complex concepts.
In this captivating exploration, we have featured the best apps like Quizlet that promise to invigorate your study sessions and ignite your passion for knowledge.
These tools (including websites and iOS and Android apps) cater to learners of all levels — they offer support for various languages and gamified techniques to improve your linguistic prowess.
If you are aiming to achieve academic excellence or preparing to conquer standardized exams, these tools will equip you with comprehensive study materials and tailored strategies for acing assessments.
9. Chegg Study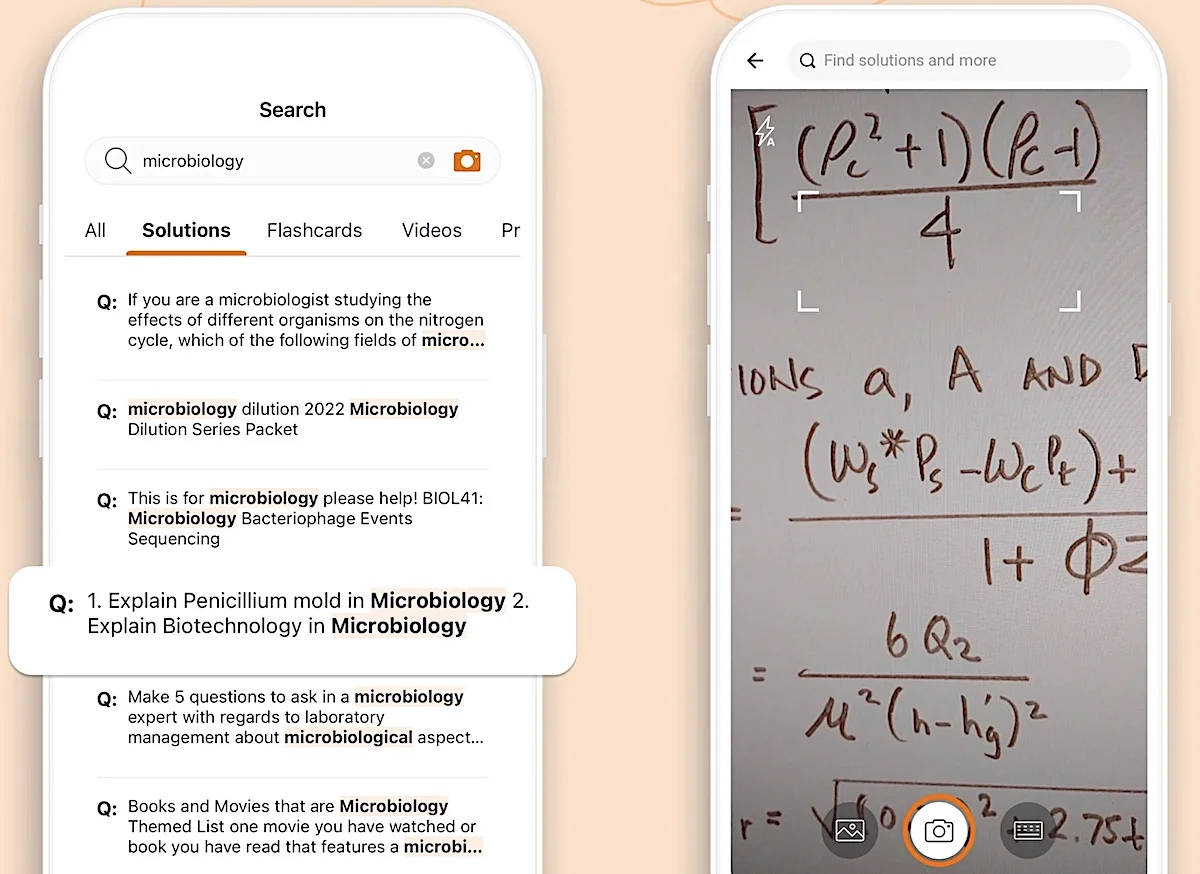 Provides academic assistance to students
Rating: 4.6/5 from 220,000+ users
Chegg Study is an online educational platform designed to help students with their homework, assignments, and exam preparation. It offers thousands of valuable study materials and resources in various subjects and fields of study. This includes
More than 85 million step-by-step solutions to homework problems
Q&As with subject experts who provide detailed answers to your questions
Math resources, including practice problems and tutorials
Exam preparation resources, including study guides and flashcards, and practice exams
Writing assistance services, such as grammar and plagiarism checkers, to produce high-quality papers
In addition to these resources, Chegg Study also offers a personalized dashboard that shows where you are in the course and recommends helpful materials.
Pricing
Chegg Study is a subscription-based service, and this is the biggest drawback of this platform. While they do offer a 4-week trial, there are no free packages.
| | |
| --- | --- |
| Plan | Price |
| Step-by-step solutions, math help, exam prep resources | $14.95 per month |
| Everything above, plus practice problems, math solver, guided videos, and writing tool | $19.95 per month |
8. Quizizz: Play to Learn
Offers customizable quizzes and competitive game modes
Rating: 4.7/5 from 180,000+ users
With Quizizz, you can participate in fun and engaging quizzes, games, and assessments. It aims to make learning enjoyable while helping educators analyze their students' understanding of various topics.
The platform has tens of thousands of pre-made quizzes on various subjects, including history, language arts, science, math, and more. It uses elements of competition and rewards to motivate students to participate actively.
Key Features
Uses gamified approach to learning
Teachers can conduct live quizzes in the classroom
Quizzes can be personalized to the individual student's needs
Students can compete against each other on leaderboards
Unlike most other platforms, Quizizz seamlessly integrates with multiple learning management systems like Microsoft Teams and Google Classroom, making it easy for educators to assign quizzes and track student performance within their existing education workflows.
Pricing
Quizizz is a freemium app, which means it offers both free and paid versions. The free version gives you access to a library of public quizzes and the ability to design quizzes and compete on leaderboards.
The paid version, on the other hand, comes with additional features like advanced analytics, custom branding, question types, and the ability to export quiz results and track student progress.
All paid plans have a 14-day free trial.
| | |
| --- | --- |
| Plan | Price |
| Public quizzes, compete on leaderboards | Free |
| Private quizzes, track student progress | $9.99 per month |
| Create custom quizzes for the classroom, get priority support | $19.99 per month |
7. Brainly: Math Solver
Get help with your math homework
Rating: 4.2/5 from 3,200,000+ users
Brainly focuses on solving math problems in algebra, geometry, and trigonometry with correct and expert-verified answers. You can use the built-in math scanner, ask the expert community, or chat with a teacher for one-on-one help.
To use the automated solver, scan or type the math problem you are having trouble with. The AI-powered solver will try to solve the given problem and provide a step-by-step explanation for the solution. It ensures that you not only get the right answers but also gain essential knowledge and problem-solving skills.
It can deal with word problems, complex equations, and geometry-related challenges.
Benefits of using Solver
It's a free resource
Accurate and easy to use
Provides step-by-step explanations
Available in 50+ languages, the solver is used by more than 350 million students. According to Brainly, it has a 95% accuracy rate.
The company goes the extra mile by offering specific solutions created by subject experts and teaching professionals. This personalized approach takes into account textbook variations and different curriculum requirements, allowing you to align your learning with educational materials.
Pricing
While AI-powered math solver is a free feature of the app, its premium version offers additional features like access to unlimited questions, zero ads, and early access to new features and content.
| | |
| --- | --- |
| Plan | Price |
| Math solver, study guides, quizzes | Free |
| No ads, unlimited questions, | $2.99 per month |
| 1:1 tutor, on-demand personalized help | $29.99 per month |
6. Socratic by Google
Get help with homework and learn new concepts
Rating: 4.8/5 from 630,000+ users
Powered by Google AI, Socratic assists you with your homework and study questions. It can answer questions about various subjects, preferably science, math, history, and literature, at a high school and university level.
It utilizes machine learning models to provide step-by-step explanations, answer queries, and offer resources to help you better understand your academic subjects.
Key Features
Includes study guides created by subject experts
Generates explanations of concepts, including step-by-step solutions to math problems
Supports image recognition and text-based query
In addition to providing direct answers and simple explanations, it also offers additional resources to deepen your understanding. These resources may include related web links, videos, and other educational materials from trusted sources.
Pricing
The best thing about Socratic is it allows you to access all its features without any cost. It doesn't require any subscription fees, and there are no in-app purchases.
5. Duolingo: Language Lessons
Learn languages in a fun, interactive, and gamified manner
Rating: 4.5/5 from 17,800,000+ users
Duolingo is one of the most downloaded language-learning apps, with more than 575 million users and 56.5 million monthly active users.
It lets you learn over 40 languages through small, quick lessons. Practice listening, reading, speaking, and writing to build your vocabulary and grammar skills.
The lessons are divided into short, bite-sized modules that focus on specific vocabulary words or grammar concepts. Each module consists of multiple exercises, such as fill-in-the-blank, multiple-choice, and translation.
Key Features
Utilizes a science-based teaching technique that fosters long-term language retention
Includes interactive stories to help you practice your listening and reading skills
Duolingo Live offers a live language learning experience
Track your progress
The difficulty levels of these modules are automatically adjusted according to your progress. As you advance, the app tailors the content to challenge you appropriately and reinforce your language skills effectively.
As you progress through the lessons, you earn points and unlock new functions, such as tracking your progress and competing with friends. Furthermore, the platform uses a "streak" system that rewards you for completing lessons on a daily basis.
Pricing
The platform has a freemium pricing model. Its free version includes access to all the core language learning features, including lessons, stories, and Duolingo Live.
The premium version, called Duolingo Plus, has no ads, progress tracking reports, and unlimited hearts, which means you can complete as many lessons as you like, regardless of how many mistakes you make.
| | |
| --- | --- |
| Plan | Price |
| Stories, lessons, Duolingo Live | Free |
| No ads, unlimited hearts, progress tracking | $6.99 per month |
4. Kahoot
Online game-based learning platform
Rating: 4.7/5 from 620,000+ users
Kahoot offers a fun and gamified approach to education. It has tens of thousands of interactive and engaging games that incorporate elements like points, timers, and leaderboards to enhance your learning experience.
The platform is widely used by students, teachers, corporate trainers, and individuals of all ages to play, create, and share learning games, quizzes, and surveys. Quizzes, for example, use a variety of question types, such as true/false, multiple choice, and fill-in-the-blank.
Key Features
Includes various types of questions
Compete against other players on leaderboards
Receive immediate feedback on your answers
Provides detailed reports and analytics to educators
One of its unique features is live Kahoot sessions. During a live session, the content creator (educator) displays the game on a shared screen, and participants (students) join the game using their devices (smartphones or computers)
Participants answer the question in real-time, and the leaderboard shows the standing as the game progresses. This encourages healthy competition and active participation among the learners.
The platform also allows players to proceed individually at their own pace. It's a great option for users who want to review the material and study independently.
Pricing
Kahoot offers a freemium pricing model. The free version gives you access to core features like creating and playing games and hosting live games with limited participants.
It has two premium versions: Kahoot Plus and Kahoot Pro. The Plus version offers more advanced reporting, collaboration features, and branding options, while the Pro version is tailored for institutions and businesses with advanced training tools and enhanced security.
| | |
| --- | --- |
| Plan | Cost |
| Basic | Free |
| Plus | Starts at $3.99 per month |
| Pro (Business) | Starts at $12.99 per month |
3. Memrise: Speak a New Language
Effective methods to learn new languages
Rating: 4.6/5 from 1,690,000+ users
Memrise is a popular language-learning app that uses various techniques to help you learn new languages in an engaging and effective way.
For example, it uses memorization techniques (speed repetition, mnemonics, and games) to help you remember new words and phrases. It also uses immersion techniques, which include listening to native speakers, watching videos, and reading texts in the target language.
The platform is packed with numerous features and interactive lessons. They are all designed to improve pronunciation, build vocabulary, and enhance overall language skills.
Key Features
Select specific conversations you want to master
AI language tutor for speaking practice
30,000+ videos of conversations between real natives
Download lessons for offline learning
One of its most useful features is the spaced repetition system. It optimizes the learning process by intelligently scheduling the review of words and concepts. It ensures that you reinforce your memory of words at the right intervals for better retention.
Pricing
Memrise has both free and paid plans. Most of its content is free, and it's good quality. The premium version gives you access to a vast library of courses and advanced stats.
| | |
| --- | --- |
| Plan | Cost |
| Learn a limited number of words and phrases from each course | Free |
| Unlocks all courses, zero ads, advanced stats, and priority support | $14.99 per month; $89.99 a year; $199.99 for a lifetime |
2. Brainscape: Smarter Flashcards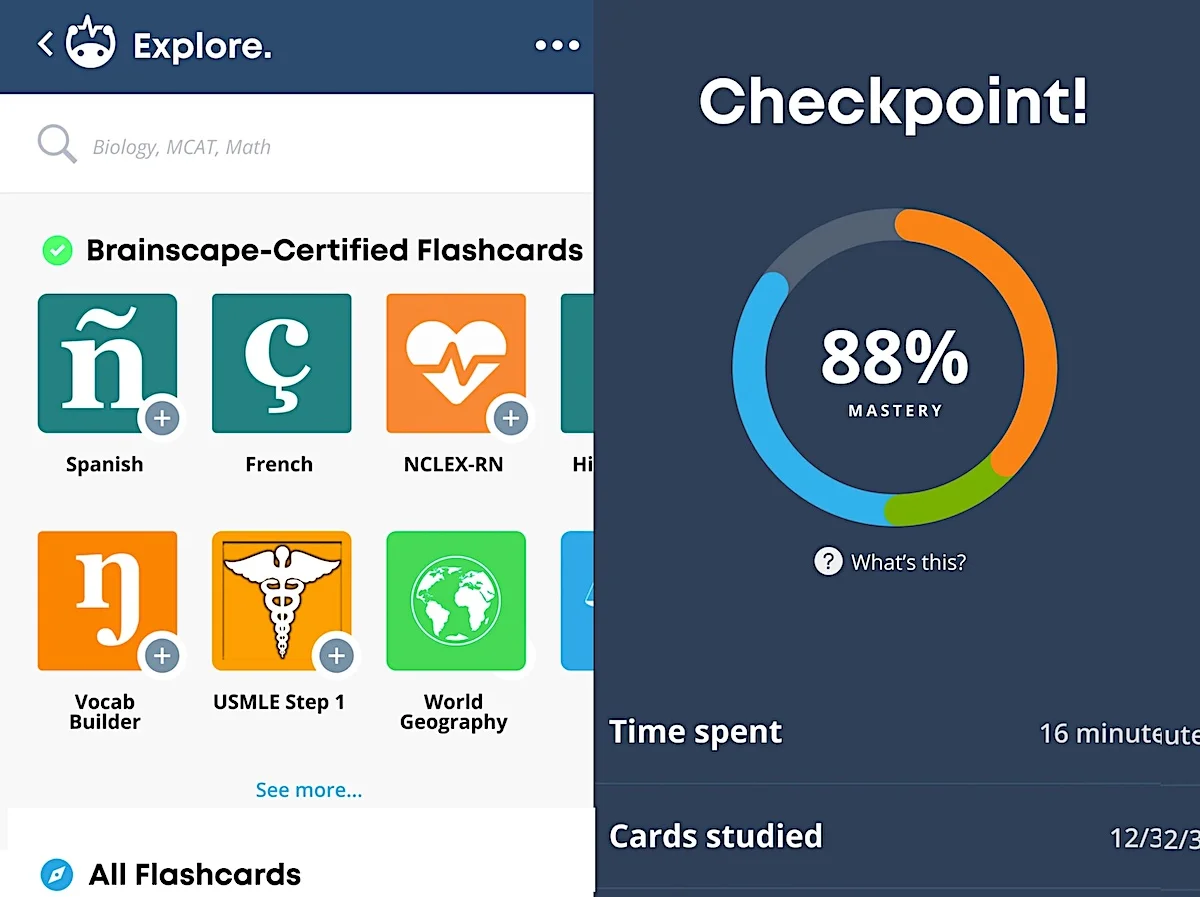 Utilizes a smart flashcard algorithm for optimal learning
Rating: 4.7/5 from 20,000+ users
Brainscape provides a dynamic and effective approach to learning through digital flashcards. It aims to improve memory retention and learning efficiency by utilizing a scientifically optimized flashcard system.
The app uses space repetition and various mnemonics (memory aids), such as acronyms, rhymes, and images, to reinforce retention and promote long-term learning.
It also uses the interleaving technique that prevents learners from simply memorizing the order of the information — it helps them understand the relationship between different concepts.
Key Features
Includes a library of over 20 million flashcards
Flashcards can be personalized as per individual learner's needs
Distills any subject down into bite-sized facts
Tracks learning progress, showing detailed statistics and performance insights
You can create your own sets of flashcards or access numerous decks created by other users. The app supports multimedia elements in flashcards, including formatted text, images, and audio, providing a more immersive and engaging study session.
Furthermore, it covers a wide range of subjects and topics, from science and history to language learning and standardized test preparation. You can find flashcards relevant to your interests and learning goals.
Pricing
Brainscape uses a freemium pricing model. While the free version allows you to access and create flashcard decks, the premium version offers a structured and comprehensive learning experience.
| | |
| --- | --- |
| Plan | Cost |
| Access to millions of flashcards | Free |
| Download flashcards for offline use, advanced stats, no ads, and priority support | $19.99 per month |
1. AnkiDroid Flashcards
An open-source and highly customizable flashcard app
Rating: 4.4/5 from 100,000+ users
AnkiDroid Flashcards utilizes the spaced repetition technique to improve the retention of information over time. This involves presenting flashcards at carefully timed intervals, which is a scientifically proven approach to enhancing memory retention.
The app allows you to create and customize flashcards as per your preferences. You can add text, images, audio, and even LaTeX equations to flashcards. This will make the learning experience more comprehensive and personalized.
Key Features
Includes 6,000+ premade decks
Offers several learning modes
Progress widget and detailed statistics
Cross-platform syncing
The app is based on the Anki flashcard software, originally developed for macOS and Windows. It supports synchronization across multiple devices.
This means you can access your flashcards and learning progress on smartphones, laptops, and tablets, ensuring seamless learning no matter which device/platform you use.
Pricing
AnkiDroid is a completely free app. There are no in-app purchases or subscription fees involved. And since it's an open-source app, you can view and modify its source code.
Other Equally Good Quizlet Alternatives
10. StudySmarter
Price: Free | Premium plans start at $5.49 per month
Rating: 4.5/5 from 22,000+ users
StudySmarter comes with various functions to help you learn more effectively. It includes flashcards, quizzes, practice exams, and a learning journal.
Create your own flashcards by adding text, images, and audio. Or access the vast library of user-generated flashcards and quizzes that cover a wide range of subjects.
The app also includes several features to help you stay motivated, such as progress tracking, streaks, and rewards.
Key Features
Access millions of flashcards and study materials shared by other users
Includes quizzes and practice exams, covering a wide range of subjects
Create study plans and timetables
Track progress and identify areas for improvements
While the free version allows you to take quizzes, practice exams, create a learning journal, and track your progress, the premium version gives you access to unlimited flashcards and an advanced learning journal with zero ads.
11. EMS Pocket Prep
Price: Free | Paid plan costs $14.99 per month
Rating: 4.8/5 from 13,500+ users
EMS Pocket Prep is designed to help you prepare for emergency medical service (EMS) certification exams. It includes 500+ practice questions for each of the six EMS exams, as well as detailed answer explanations and performance tracking.
The app offers multiple study modes, including practice exams, timed quizzes, and a 'weakest subject' mode to help you focus on the areas where you need the most improvement.
Key Features
Six different quiz modes
Questions are carefully crafted to cover different aspects of EMS knowledge
Access your performance
Sort by flagged or incorrect questions
The free version of the app gives you access to 60 practice questions and 3 study modes. If you want to access the full question bank and all six study modes, you will need to purchase the premium version, which costs $14,99 per month or $89.99 a year.
12. Pearson+
Price: Free | Premium subscription costs $10.99 per month
Rating: 4.7/5 from 5,900+ users
Pearson is a well-known educational publishing company that provides a broad range of educational products and services. This app gives you access to all those products and services, including video explanations, practice questions, and flashcards.
You can browse their textbooks by subject or search by title or author. The app also includes flashcards for Pearson Textbooks. These flashcards make it easy to memorize important topics and concepts.
Key Features
Video explanations of complex topics in Pearson eTextbooks
Search across all the content in the eTextbook
Listen to your eTextbook being read aloud
Take notes, highlight text, and sync your progress across devices
While the app is free to download and use, some features, like practice questions and video explanations, are only available with a premium subscription. A 14-day free trial is available.
13. Top Hat – Better Learning
Price: Free | $33 for a 4-month subscription
Rating: 4.6/5 from 27,600+ users
Top Hat is designed for both students and educators. It helps students connect with their teachers and peers and learn more effectively.
What makes this educational platform unique is its suite of interactive learning tools. These tools allow educators to create engaging course content, such as presentations, quizzes, polls, discussions, and lecture materials.
Students can actively participate in these activities and access study materials using their laptops or smartphones. An attendance tracking system enables educators to take attendance digitally during lectures or class sessions.
Key Features
Create polls and discussion prompts to increase student engagement
Interactive textbooks with images, videos, and audio clips
Collaborate on assignments and projects
Analytical insights into student engagement
Students can use this platform for free. However, some features, like live polling, are only available to students who purchase 4-month or 12-month subscriptions (which costs $33 and $53, respectively).
Frequently Asked Questions
What makes Quizlet so popular?
At the core of Quizlet's functionality are digital flashcards. You can choose from millions of flashcards covering a broad range of topics, or create your own sets.
Each flashcard contains a question/term on one side and its corresponding answer/definition on the other. This is probably the easiest way to learn things.
Quizlet also has interactive study modes to help you reinforce your knowledge. For example, the
Learn mode

displays the flashcard you struggle with more frequently, helping you memorize the content effectively

Test mode

simulates a quiz or test, and

Gravity mode

is a game-like mode where you must choose/type the correct answer before asteroids hit a planet
On top of that, Quizlet encourages collaboration through study groups and fosters a vibrant community of learners and educators. Many teachers use it to create study resources for their students, which makes it a popular tool in classrooms and schools.
And since all its essential features are available at no cost, it can attract a wide audience of students and learners.
Are these Quizlet alternatives free to use?
All the mentioned alternatives offer free versions with limited features. You can upgrade to their premium versions (which usually cost $2-$10 per month) to get access to additional benefits, such as personalized study plans, rich text formatting, and the ability to scan documents.
Are the study materials created by users reliable and accurate?
While all the mentioned platforms have guidelines to maintain quality content, you should verify the information from reputable sources (if necessary).
Always approach user-generated study materials with a critical mindset. Whenever possible, cross-reference the content with reliable academic sources, textbooks, or materials from trusted educators.
What's the future of eLearning (online education)?
The global eLearning market size is expected to exceed $848 billion by 2030, growing at a CAGR of 17.54%.
The major factors behind this impressive growth include advancements in technology, particularly in internet connectivity and mobile devices, the availability of a diverse range of engaging content, and the platform's ability to offer personalized services as per the learner's need.
Moreover, online education can be more cost-effective than traditional classroom-based learning. It eliminates the need for physical infrastructure and decreases travel expenses, making it an affordable option for students, teachers, and educational institutions.
Why you can trust us?
We thoroughly analyzed over 25 quizlet alternatives that are available for iOS and Android platforms. It took about 20 hours to do the complete research. Finally, we decided to shortlist 13 apps based on their comprehensive study materials, user reviews, and ease of use.
Our "Rating" is the average of all ratings given by genuine users on the App Store and Play Store. In order to show you the true picture, we haven't considered reviews and testimonials featured on the app's official website.
We DO NOT earn commission from any of the featured apps. Furthermore, we have two independent editors who have no influence over our listing criteria or recommendations.
Read More
12 Best Language Learning Apps
13 Best Anatomy Apps For Medical Students