TextNow is a well-known app that allows you to make calls and text over the Internet using Voice over Internet Protocol (VoIP). It has been downloaded by more than 100 million people who use it to talk and text freely from anywhere in the United States.
TextNow is quite different than other calling/texting apps such as WhatsApp and Facebook Messenger. To use WhatsApp, for instance, you need to have a mobile number, and you can only text/call people who are already on WhatsApp.
TextNow, on the other hand, doesn't require an existing mobile phone number and allows you to text/call any number. The receiver will see your texts and calls just like regular texts and calls. The best thing about TextNow is you don't need to have a sim card to use this app; all you need is an email address to get a new, private cellphone number.
Why to look for alternatives?
However, TextNow is far from being a perfect app. The major disadvantage is it shows a lot of ads, which sometimes gets really annoying. Also, if you don't use the app for an extended period, they will assign your cellphone number to someone else.
Luckily, TextNow is not the only texting/calling app in the market. There are plenty of apps like TextNow that offer more features and better services. Let me introduce you to the best alternatives available out there.
9. Dingtone
Platform: iOS | Android
Rating: 4.5/5 from 680,000+ users
Dingtone allows you to make unlimited free phone calls to any phone number using WiFi or cellular data network. The voice quality is usually better than that of a normal phone call.
The app brings together free texting, free phone calls, and voicemail into one clean interface. For example, if someone doesn't receive your call, you can send a live voicemail through the dialing panel.
Additional Features
Call forwarding:

Forward calls to any number

Call blocking

: Stop fraud and unwanted calls

Caller ID

: Select which of your number to be displayed when calling

Custom voicemail

: Make your own voicemail greeting

Call recording

: Record your calls for future reference
You don't have to go through a long registration process — there is no username or password to remember, and no friend or family list to create. Just download the app and start sending free SMS and making free international calls. You can add up to 8 people in a group conference call and 100 people in a group chat.
Price
You have to pay a subscription fee to get your unique number. The fee varies from country to country. In the US, UK, and Canada, it's $4.99 per month. In Poland, France, and Sweden, it's $9.99 per month.
Once you get a phone number, you can call any landline or mobile number in more than 200 countries at super-low rates. Calls between Dingtone users, however, are completely free.
Dingtone also has a credit program system in which users can earn credit by completing different tasks within the app. Earned credit can be used to send texts and make phone calls.
8. SmartLine
Platform: iOS | Android
Rating: 4.3/5 from 46,000+ users
SmartLine gives you a second phone number for your business calls and texts. This app is developed by GoDaddy, one of the largest internet domain registrars and web hosting companies facilitating online businesses.
When you text or call via SmartLine, the receiver sees it as coming from your new business phone number. And when your customers call you, your phone displays it as a business call. Thus, you can distribute your business number to all customers while keeping your personal number private.
Unlike most other calling apps (listed here), SmartLine uses your cellular connection (instead of VoIP) to provide the voice clarity and reliability you need to sound professional.
SmartLine is more than just an alternative number. It comes with a customizable voicemail box, so you know if you have missed anything important. All your texts, calls, and voicemails are well-organized. Plus, you can set timings when you are available to take business calls and send customers to voicemail after hours.
The app can also block spam calls and transcribe your business voicemail to text so you can scan through them and prioritize callbacks. Overall, you get multiple features of a big company phone system without having to purchase expensive equipment.
Price
It costs $9.99 per month for a local number and $19.99 per month for a toll-free number. You can try it free for seven days with no long-term contract. There is also an option to port your existing cell number to use with SmartLine.
7. LinkedPhone
Platform: iOS | Android
Rating: 4.4/5 from 1,000+ users
LinkedPhone is designed to serve startups, small businesses, communities, and mobile teams. It offers local and toll-free business numbers that work seamlessly across landlines, cell phones, office phones, and laptops.
You get thousands of local and toll-free numbers to choose from. Or you can simply port your existing phone number to LinkedPhone. The platform supports unlimited texts, calls, call notes, voicemail, and contacts. If you have a large team, create an extension number for each team member.
Key Features
Route business calls to other phones
Create professional call menu options
Set business hours
Keep track of client conversations
You can have all professional-grade features that were once only available to big enterprises, such as team extension, call routing, voicemail transcription, and lightweight CRM. Plus, you can create a welcome greeting that reflects the unique identity of your business, create a secondary call menu for team members, and allow callers to search for colleagues by name or extension.
Pricing Structure
The company offers three pricing plans:
1-person business

: $14.99/month for a local number or $24.99/month for a toll-free number

Up to 3 team members

: $19.99/month for a local number or $39.99/month for a toll-free number

Up to 8 team members

: $49.99/month for a local number or $99.99/month for a toll-free number
Each plan comes with an instant dashboard, unlimited business call minutes, and a multi-tier phone menu configuration. Use a 7-day free trial before making any decision.
6. KeepCalling International

Platform: iOS | Android
Rating: 4.6/5 from 23,000+ users
As the name suggests, the app allows you to make international calls and send SMS at cheaper rates. It has everything you need — whether you want to make calls from the USA or any other country, KeepCalling International guarantees the best prices on the market.
The app doesn't charge any hidden fees. You only pay for the minutes you use. All you have to do is create an account, buy a voice credit, and start calling from any phone. The platform utilizes the latest telecom technologies to provide great call quality.
At-a-Glance
PINless Dialing and Speed Dial
Users are charged for calls by 1-minute rounding
Balance never expires
24/7 customer support
Recently, developers added an offline calling feature, which means you can make calls without WiFi or cellular data.
Price
Before you make your first call, you need to buy some credit. The standard options include $5, $10, $20, or $50, but you can manually enter any amount between $2 and $200. Payment can be made either via PayPal or Credit Card, so you won't face any issues during transactions.
The platform also offers a monthly subscription with unlimited minutes, which depends on the country you are calling. For example, making calls in Mexico would cost you $2.99 per month. For Canada, it's $4.99 per month.
KeepCalling International is completely transparent about its pricing structure. You can check call rates of all countries before buying credits. This will give you an idea of how much you can save on international calls by using this platform. Moreover, if you want to receive [unlimited] calls from abroad, you can get a virtual number for $9.99 per month.
5. Hushed
Platform: iOS | Android
Rating: 4.2/5 from 50,000+ users
Hushed is a great platform for private calls and texts. It gives you access to a private number, which never interferes with your existing cell phone number. Unlike most other calling apps, you can get dedicated local numbers from more than 300 area codes in the United States, United Kingdom, and Canada.
The app can be useful for online dating, traveling, and classified ads. For example, you can get a temporary phone number to post on your ads and communicate through Hushed instead. Delete the number when your job is done. It's a great way to maintain your privacy. Or you can use the temporary number while traveling, so you don't have to pay long-distance or roaming charges.
The app is extremely easy to use. It doesn't require any verification during the signup process, and there are no contracts involved. You are free to add and manage as many numbers as you like. Each number comes with essential features, such as call forwarding, call routing, auto-reply text messages, and customizable voicemail greetings.
When you text or call through the app, the receiver sees only your Hushed number (which looks like any regular number). The app doesn't share your personal information — your regular phone number remains completely hidden so that no one can track you. Also, your name is not linked with the Hushed phone number at all.
When travelling abroad, save money by using a travel eSIM with phone number: mobile data, calling, and texting, all for a *very* affordable price.

NEW POST: https://t.co/NXtpAlW2WF#Travel #TravelHacks #eSIM #VoIP pic.twitter.com/xkh7B9pTt6

— Hushed App (@HushedApp) February 23, 2023
Price
The company has three subscription plans:
Prepaid plan starting at $1.99
Unlimited subscription starting at $3.99 per month
Pay-as-you-go international plan, starting at $4.99 per month.
A one-year subscription can save you up to 20% of the cost of the unlimited plan.
4. Talk Home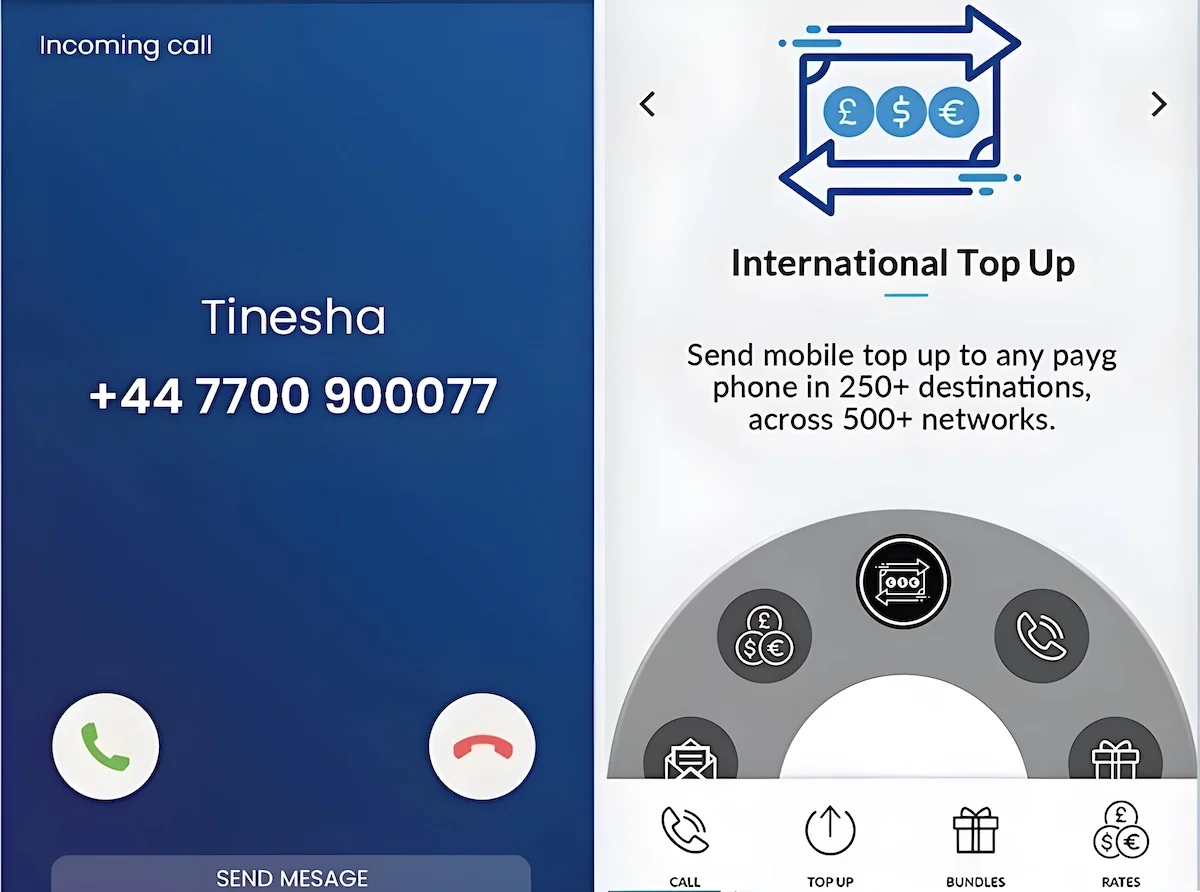 Platform: iOS | Android
Rating: 4.3/5 from 17,000+ users
Talk Home is one of the fastest-growing international calling apps that connects you with your loved ones anywhere in the world. It offers several value-for-money international bundles, so you can talk longer for less.
The company has more than 25 years of experience in the calling industry. Over the past decade, they have focused on building long-term relationships with leading network operators and key suppliers. Now, they have reached a stage where they can offer better calling rates and services across the world.
The platform aims to provide superior-quality calls. It connects you through local lines so that you don't have to worry about poor internet connections or frequent call drops. Local lines provide more stable connections (than cellular data) for international calls.
Talk Home currently handles over 12 million international calls per month. This includes free app-to-app WiFi calls.
At-a-Glance
More than 1 billion calls have been made through the app
Offers best international calling rates for 210+ countries
In-app credit transfer to other Talk Home users
Complete transparency and zero hidden fees
What's more? You can send international mobile top-ups to over 500 Networks worldwide securely. Auto-renew bundles and Auto top-up ensure you always have enough credit to make calls. You can switch them off or adjust the top-up limit; for example, renew when credit falls below $5.
All in all, the app is packed with great features and functionality that ensure you have total control over your calls, messages, and actions.
Price
Calling rates vary from country to country. For the USA and Canada, it's 2 cents per minute; For the UK, it's 25 cents per minute; For India and China, it's 2 cents per minute. The complete pricing list is available on their official website. There are no hidden charges or unfair contracts.
3. TextMe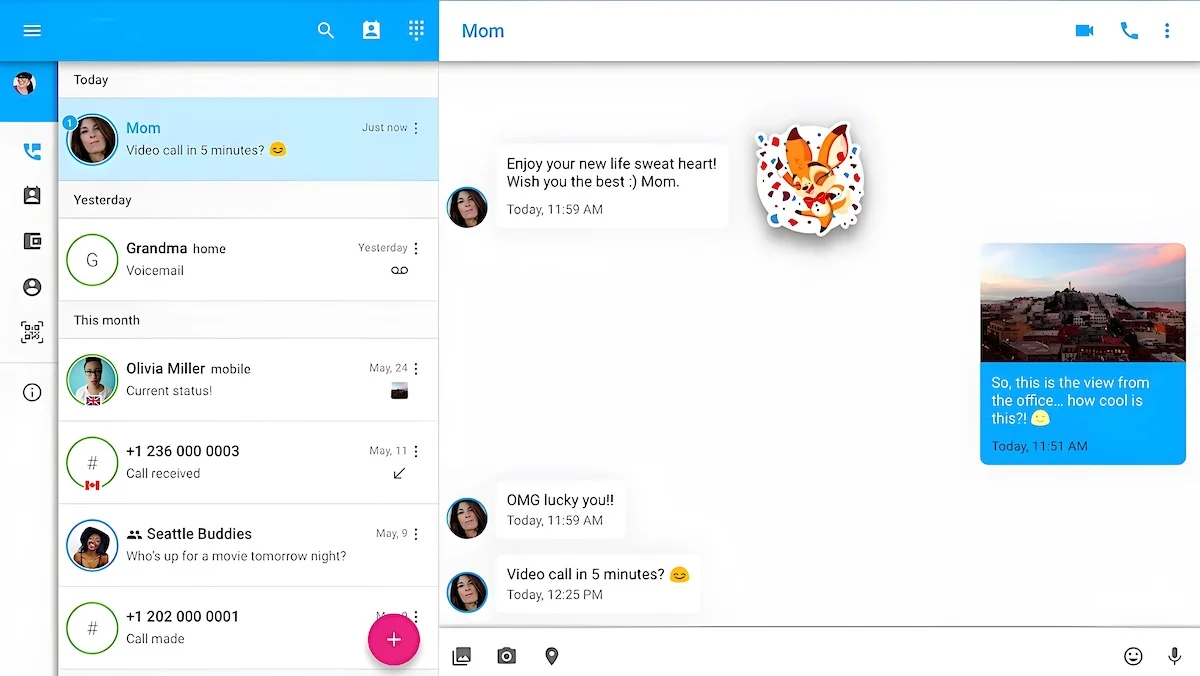 Platform: iOS | Android
Rating: 4.5/5 from 917,000+ users
With TextMe, you can text and call any number in the United States and Canada for absolutely free. There is no hidden cost, no catch. It's an all-in-one solution for people looking for a second phone number.
The app features group chat messaging, where you can send unlimited videos, pictures, and audio messages. Customize text tones, use emojis and stickers, preview text messages on the lock screen, and keep your message private with Passcode Privacy Lock.
You can have multiple private numbers. This is useful if you are working on two or more side projects and want to keep them separated. Access it from anywhere, just like your email. Make a phone call from your tablet or laptop, check messages by logging into your computer, or customize the look of the app on iPhone or Android devices.
As far as data usage is concerned,
A 30-minute phone call consumes 3.5 MB,
100 text messages consume 30 KB,
Shaping a 2-minute video takes 1.5 MB, and
Sharing a location takes 2 KB of data.
TextMe was initially launched as a cross-platform messaging app that allowed users to send unlimited text messages and photos to phone numbers in the US, UK, and Canada. Developers gradually extended its reach to over 150 countries for calls and messages, enabling low-cost communication across the globe.
Your essential guide to effortless communication

We're excited to announce that the release of TextMe Guidebook for Android users Part 1 & 2 will be coming out soon!!!

Check the full version at textmeapp instagram and video tutorials https://t.co/FpSMC6cPJz for more… pic.twitter.com/GFjFzE6XA8

— Text Me (@textmeapp) September 30, 2023
Price
You can either purchase credit or acquire them for free by completing simple tasks. For example, you can earn 1 or 2 credits by watching a short video commercial, or up to 100 credits by participating in a survey. Or you can buy 100 credits for $1.99. These credits can then be used to make international calls.
A unique international phone number would cost you $4.99 per month. Furthermore, if you want to use the ad-free version of the app, you need to pay $7.99 every month.
2. textPlus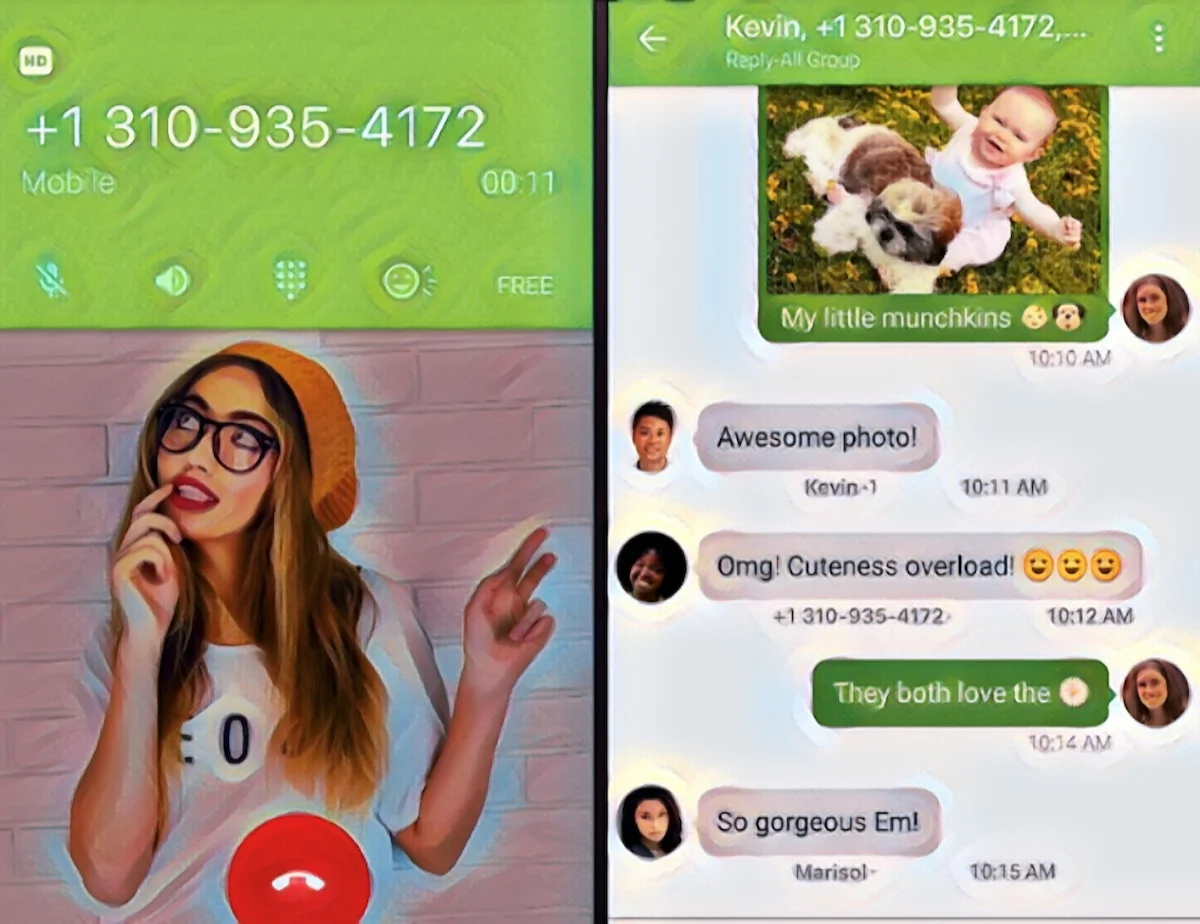 Platform: iOS | Android
Rating: 4.2/5 from 511,000+ users
textPlus is a well-known phone number app used by tens of millions of people. It offers unlimited free texting, free calling, and more savings on international calls while ensuring a better phone experience.
You don't need to have a phone service to call or message your friends with a real phone number. Send unlimited SMS and MMS to any US phone number, and make international calls at reasonable rates.
textPlus can connect you to any landline or mobile number in thousands of destinations around the world. The most popular destinations are Canada, the UK, Mexico, and China.
Additional Features
Toll-free calling with no restrictions
Free Voicemail for missed calls
Free cloud hosting gives you access to the entire chat and call history
No hidden charges
In summary, it's a decent phone alternative for anyone who requires a second number for privacy, or anyone who is looking to save money on cell phone bills.
Price
While calls to other textPlus users across the world are entirely free, the app charges you a small fee when you make international calls to mobile and landline numbers. This fee varies from country to country. Calls to Canada or Mexico, for instance, would be charged at 2 cents per minute. You can see the latest calling rate for your destination by entering the number (you want to call) on the app's dial pad.
For those who don't want to spend money, they can watch short video ads or complete offers to earn free calling credits.
Like TextNow, textPlus runs a lot of ads to support its free calling feature. However, removing ads is comparatively cheaper — it would cost you $0.99 to remove banner ads for one month or $5.99 for one year.
The platform also offers a few subscription plans:
Unlimited free calls to Mexican landline and mobile numbers: $6.99 and $29.99 per month, respectively
Unlimited free calls to US And Canada: $19.99 per annum
1. Google Voice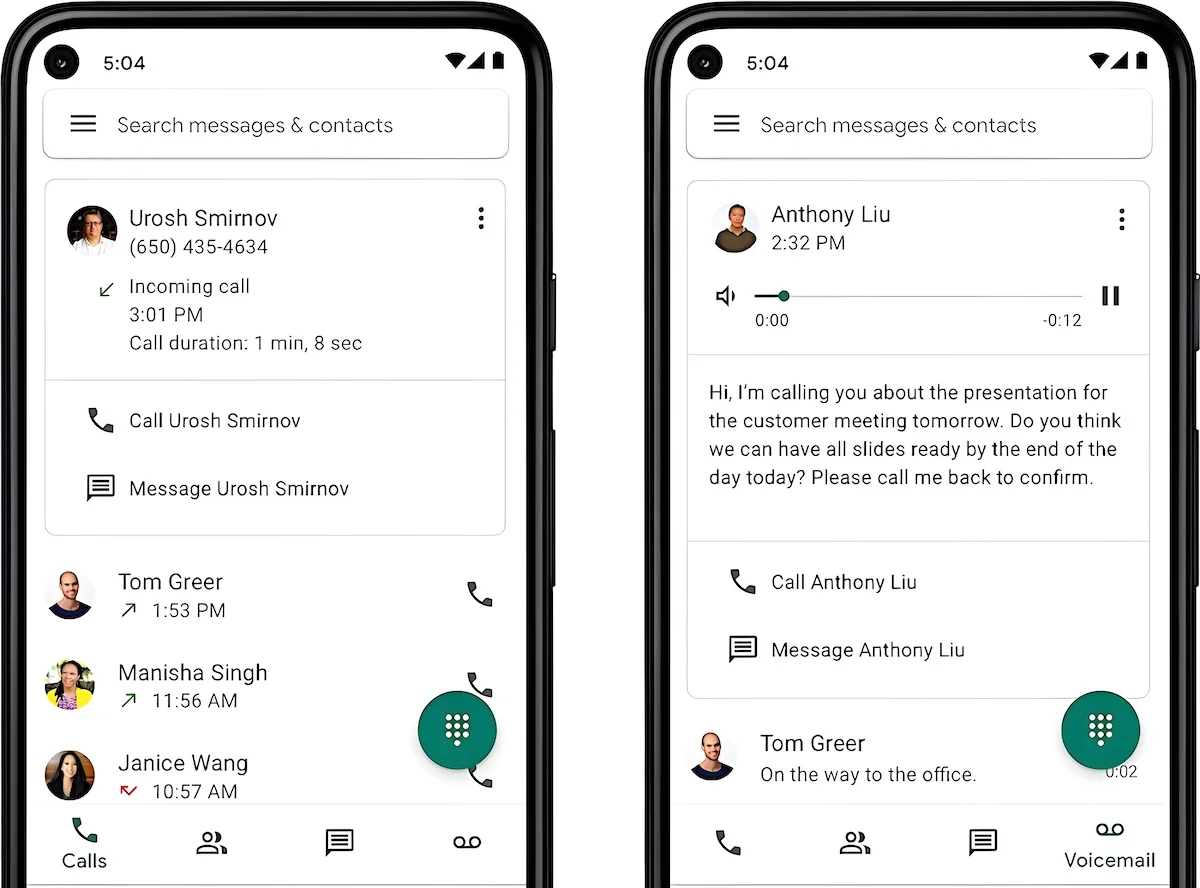 Platform: iOS | Android | Web
Rating: 4.4/5 from 310,000+ users
Google Voice is, without a doubt, a perfect alternative for anyone looking for a VoIP phone number for personal or business use. It works on all platforms, including smartphones and laptops, so you can make and receive calls from anywhere.
Like all VoIP business numbers, Google Voice numbers are more affordable than traditional telephony and provide several features like call screening, call conferencing, and third-party integration.
It allows you to decide who can reach you and when. There are options to forward calls to different devices and block spam calls silently. The app uses Google's AI to automatically block spam calls and transcribe voicemails to save you time.
Key Features
Personalized settings for text messages, forwarding calls, and voicemail
Send/Receive group SMS from all devices
Advanced voicemail transcriptions
The platform can be easily customized to fit your daily workflow. Assigning numbers, porting, and billing are well consolidated in the Google Workspace Admin console. You can also integrate it with Google Calendar and Meet to extend its capability and focus on important things.
Price
Unlike TextNow, Google Voice doesn't have any ads. While you can pay to remove the ads from TextNow, Voice doesn't have any in the first place.
For professional users, Voice offers many top-notch features for a price as low as $10 per month. More specifically, it has three pricing plans —
Starters (up to 10 users): $10 per user per month
Standard (unlimited domestic users): $20 per user per month
Premier (unlimited users from international locations): $30 per user per month
All plans support free calling to the US from any location and free calling to Canada from the US.
Read: 15 Best WhatsApp Alternatives
Other Equally Great TextNow Alternatives
10. Numero eSIM
Why settle for one #WhatsApp account when you can have two? With multiple ways to create dual accounts, use a second number from Numero to create your second account and keep the original for your personal private life.
Get your second number nowhttps://t.co/GesycRSgXt pic.twitter.com/77zP8dKYS6

— NumeroeSIMApp (@NumeroEnglish) February 27, 2023
Platform: iOS | Android
Rating: 4.2/5 from 80,000+ users
With Numero eSIM, you can get unlimited phone numbers from over 80 countries and 4,000 cities across the world. USA numbers can be obtained for free by collecting coins within the app. Each virtual number comes with a personalized voicemail.
Once you get a second number, you can receive and make international calls at attractive rates. If you have a business, this second number can help you improve customer support service and maintain a work-life balance.
The platform also offers international mobile data for eSIM devices from 150+ countries. Do check your device and country before buying a data plan.
The price of international calls is based on the destination you are calling. If you want to check the rates, dial the number you want to call or choose the number from your contact list, and the app will show you the call rates per minute.
11. White
Platform: iOS | Android
Rating: 4.1/5 from 30,000+ users
The White Calling app allows you to call any landline and mobile number globally. It has excellent connectivity across the United Kingdom and in some European territories.
The app gives you three options to make a call:
Use its local access number — it automatically routes your call to the destination number, giving you the best call quality and reliability. However, this option is not available in all countries, especially the developing ones.
Call over WiFi — this is perfect if you are on a Pay-as-you-go plan or when you are traveling.
Call over cellular data — it's a great option if you have a big monthly data pack.
The international calling rates are quite reasonable. For the US and Canada, the app charges 1.5 cents per minute.
You get free credit when you install the app, and more free credit when you invite friends to use the app. These credits can be used to make calls. Or you can share credits with other White Calling users.
12. FCCHD
Platform: iOS | Android
Rating: 3.9/5 from 2,000+ users
FCCHD (short for Free Conference Call HD) offers an easy-to-use platform for making conference calls without having to remember dial-in credentials. It allows your callers to quickly join the call conference from any location using a dial-in number and access code.
You can see who has joined the call, mute or unmute individual participants, manage question-answer sessions, and broadcast pre-recorded calls or audio files. Create multiple accounts, send invitations, and dial into a conference call via regular mobile carrier or WiFi.
Each conference call can last up to 6 hours, and there is no limit on how many calls you wish to conduct every month. The platform doesn't charge anything for these calls. However, carrier charges apply to each caller depending on the cellphone service they are using.
With more than 3.9 million registered users making over 25 million connections every month, FCCHD is one of the most popular collaborative communications solutions among businesses, communities, and organizations around the world.
13. TalkU
Platform: iOS | Android
Rating: 4.5/5 from 375,000+ users
With TalkU, you can make free and cheap phone calls via cellular data or WiFi. It gives you a virtual phone number, which you can use to receive/send unlimited texts and make free phone calls to the US and Canada. There are no roaming costs involved, even when you are making calls from abroad.
The app offers free unlimited texting and calling between TalkU users. It also allows you to send free text messages to any phone number worldwide. Your voice calls are routed through TalkU's dedicated VoIP network, so you always get superior clarity.
The premium version of the app offers some additional features, such as visual voicemail, spam blocker, call recording, and call forwarding. Moreover, you can make free group conference calls and add up to 8 people.
Like most other apps, TalkU does run ads. But you can remove them for $1.99 per month. Getting a virtual phone number would cost extra (depending on your location). For the US, UK, and Canada phone numbers, TalkU charges $4.99 per month.
14. FreeTone Calls & Texting
Platform: iOS | Android
Rating: 4.2/5 from 190,000+ users
FreeTone offers unlimited calls and texts to all phone numbers in the United States and Canada. There are no hidden costs or trials; it's absolutely free.
Unlike many other free phone apps, you don't need to earn or pay for calling credits. You can simply dial any US or Canada number and talk for free, whether it's a landline or mobile phone.
The app also supports international calling. However, there are certain restrictions on texting to Latin America based on fair usage policies. Incoming calls have an initial complimentary limit, with an option to extend for a minimal fee.
If you purchase the premium version (which costs $5.99), you get your own phone number and voicemail. You can take advantage of group texting features and a wide sample of stickers that add fun to your conversations.
Read: What Is WiFi Calling? How Does It Work?
Frequently Asked Questions
What are the key features you should look for in calling apps?
Although requirements vary from person to person, there are definitely some useful features that you shouldn't go without:
Free calls and texts within the local region
Unlimited SMS and group messages to anyone in the local region
Affordable international call rates (should be less than 2 cents per minute)
Should be cheaper to maintain your virtual phone number, even if you don't use it for a month
How Does a VoIP Phone System Work?
As the name suggests, Voice over Internet Protocol uses the Internet to make and receive phone calls instead of the traditional landline network. It uses packet-switching technology to transform analog voice signals into digital data.
When a VoIP device receives digital data, it splits the data into small information packets and adds a destination address on every packet. These packets are then transmitted to the receiver via multiple routers. The router efficiently determines the shortest path to the packets' destination.
As soon as packets arrive at the destination, the receiving VoIP device puts all packets in the correct order and converts the data into voice signals (recognizable speech).
How VoIP benefits small businesses?
VoIP has become more popular in recent years, especially among small and medium-sized businesses in the US, UK, and Canada. It offers several advantages over traditional landline networks:
It is easy to set up, operate, and maintain
It can reduce business expenses significantly
Standard encryption protocols make it more secure than conventional analog telephone connections
It can be scaled to meet demands and compete with bigger companies
Plus, VoIP technology has numerous call features, such as call forwarding, conference calling, auto-attendant phone menus, number portability, and more.
Which alternative app is best for group chats and multimedia sharing?
When it comes to group chats and multimedia sharing, several alternative apps to TextNow stand out for their robust features. The most popular ones include:
WhatsApp

: It is an excellent choice for multimedia sharing among groups.

Telegram

: It gives you the ability to send high-quality photos, videos, and documents

Signal

: It prioritizes security and privacy while offering group chat and multimedia-sharing features.

Facebook Messenger

: If you're already immersed in the Facebook ecosystem, this app could be more convenient.

Discord

: Designed for gamers, Discord is ideal for creating dedicated servers for different interests.
Read More
9 Best Call Center Scripting Software
18 Best Apps For Small Business