Turo, previously known as RelayRides, is a peer-to-peer carsharing platform that allows you to book any car you want or rent your vehicle to earn some extra cash.
It is a great option for those who need a car for just a few days, and it can save you significant money compared to conventional rental stores.
Turo operates in more than 56 countries. It is often referred to as the Airbnb of car rentals, mainly because of the way the platform works.
Whether you are flying from a different city or looking for a vehicle down the street, Turo has hundreds of vehicles to offer you — from vintage Volkswagen camper vans to Teslas and Lamborghinis. Currently, 350,000+ vehicles are listed on the app.
But what if Turo is not available in your area or your preferred car is not listed on the app? Luckily, there are plenty of good options available in the market. Below, we have curated a list of the 13 best apps like Turo that allow travelers to choose from a unique selection of nearby vehicles while helping car owners earn extra money.
9. National Car Rental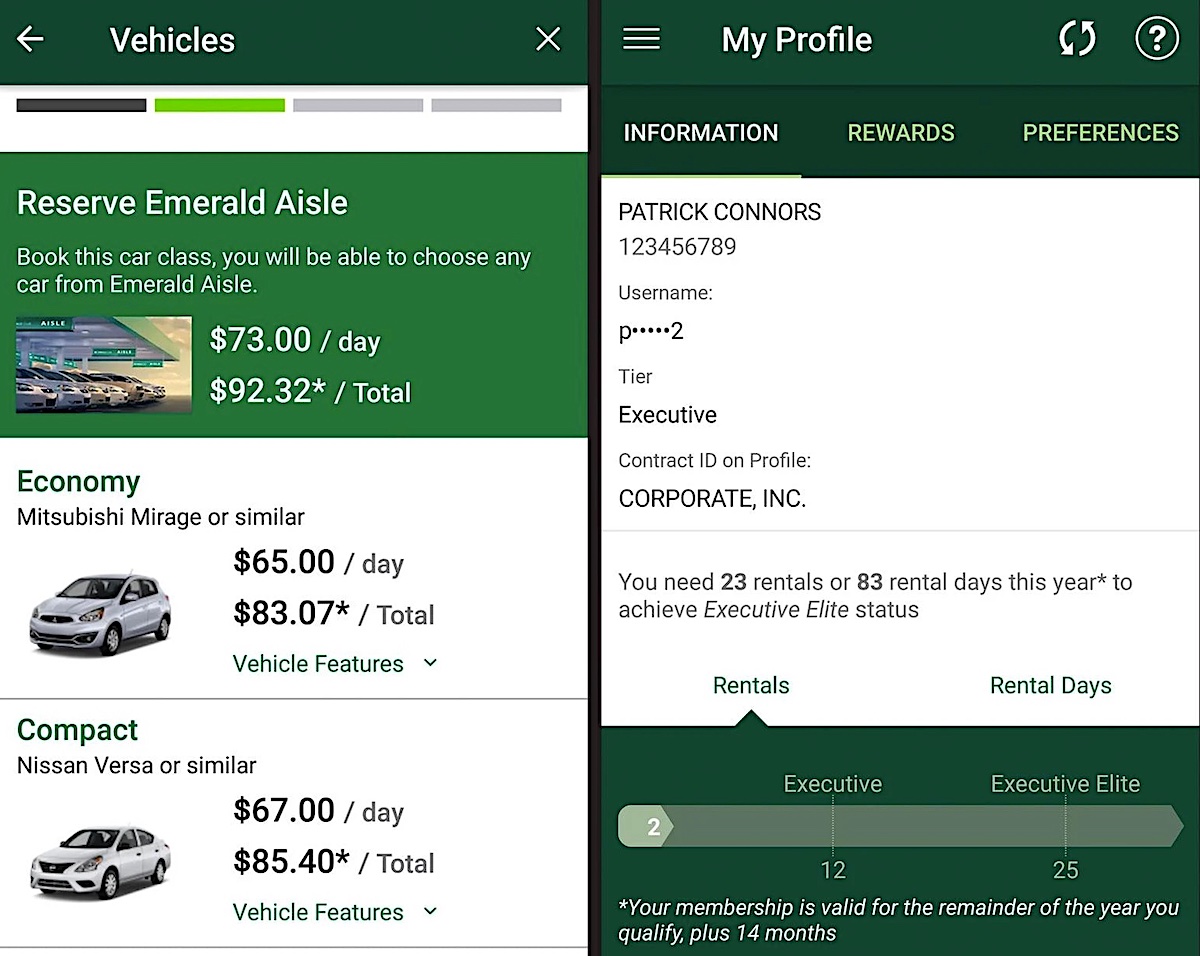 Platform: iOS | Android | Web-based
Area served: America, Europe, Australia, Africa
National Car Rental is built for business travelers. It offers a loyalty program called Emerald Club, which allows regular users to choose their own vehicles without filling out any lengthy forms or dealing with customer representatives.
Since the company stores details of all Emerald Club members, they don't need to sign up or fill in their details every time they rent a car. The app gives instant access to past, current, and upcoming trip information. It also makes it easy to search locations across the world, get directions to the lot, and contact roadside assistance.
Key Features 
1,500+ rental locations across the world
Offers flexible one-way car rental
Select a from hundreds of options
Scan the vehicle in the aisle (view details like mileage and features)
The app includes a Rental Tracker, which provides you with crucial data about your rental when you need it. You can extend your rental within a few taps (by selecting a new return date).
Emerald Club members get additional credits and rewards every time they book a vehicle. They can easily manage their profile, view their progress to the next Emerald Club level, and earn credits to unlock free rental days.
8. Avis Car Rental
Platform: iOS | Android | Web-based
Area served: 165 countries
Avis operates popular car rental brands in 5,500+ locations in over 165 countries. Owned by Avis Budget Group, the company has a long history of innovation in the car rental industry.
Avis platform gives you access to all features you need to quickly rent a car. You can even exchange or upgrade your car upon arriving at the rental location.
It's easier to make, change, or cancel reservations anytime. The app will show your nearest rental locations, hours of operation, vehicles available at that moment, and estimated prices.
Key Features 
Exchange/Upgrade the vehicle from the carpark
Customize rental on the go
Locate nearest gas station for quick refueling
View receipts and review past rentals
Roadside assistance for emergency
The company claims they were the first car rental business to be located at an airport. Today, their Avis platform serves hundreds of thousands of business travelers at major airports worldwide. The majority of the off-airport locations are franchised operations (instead of company-operated or -owned).
7. KAYAK: Flights, Hotels & Cars
Platform: iOS | Android | Web-based
Area served: Global
KAYAK is an all-in-one app that organizes your travel plans in one place. It shows you flight status updates, airport terminal maps, security wait times, vehicles available for rent, and unique stays from thousands of sites.
The app searches for car rentals on dozens of platforms to help you find the cheapest option. Compare discounts and features and find the best deals for your trip. You can filter companies that offer different types of vehicles,  unlimited mileage, better cleaning, and free cancellation policy.
Key Features 
Search from 70,000 locations to get the right vehicle at the right price
Filter your search by vehicle types, such as hybrid or electric car
See how far you traveled and your most visited locations
Price Forecasting tool tells you whether you should wait or book now
Set price alerts to find out when prices drop
KAYAK also features a Flight Tracker that lets you monitor the flight's progress through an intuitive map and track family and friends with the flight number.
Overall, it's your free personal travel assistant. Whether you have $500 or $5,000 to spend, KAYAK will help you set a budget and decide where in the world you can travel.
6. SIXT
Platform: iOS | Android | Web-based
Area served: 105+ countries
SIXT offers high-quality mobility services with 2,000+ locations in more than 105 countries. With a range of products such as SIXT ride, SIXT rent, SIXT share, and SIXT+, the company provides uniquely integrated mobility services across the fields of car renting, sharing, and subscriptions. It operates over 240,000 vehicles.
SIXT has designed its smartphone app to be simple and easy to use. You can sign up and book a rental vehicle within a few taps. It shows you the nearest stations, hundreds of vehicles to choose from, and exciting car rental offers.
Whether you need a vehicle with a lot of cargo space for your trip or a luxury car for any special occasion, SIXT has got you covered. Use the app's in-built filter to choose a vehicle as per your requirements. It allows you to filter cars by type (coupe, minivan, etc.) and sort by price or popularity.
Key Features
Manage two or more profiles with just one login
Flexible rental from one minute up to 27 days
Hourly bookings for city tours and shopping trips
Customize each reservation with the extras
SIXT is one of the oldest car rental companies out there. Besides hundreds of thousands of vehicles, it also integrates services from 2,500+ mobility partners, creating a sustainable, future-proof alliance for mobility. Moreover, the company is always trying new things to make car rental industry better.
5. Expedia: Hotels, Flights & Car
Platform: iOS | Android
Area served: Global
Expedia is a fast-growing online travel platform offering a large selection of hotels, activities, and travel services at competitive rates. It allows you to explore 500,000+ hotels worldwide, including airport hotels, luxury hotels, boutique hotels, B2Bs, vacation rentals, and resorts.
Expedia app makes it very simple to book anything you like, from rooms and activities of every kind to travel services. As soon as you land at your destination, you can book round-trip car rentals from the airport. Select from a range of luxury sedans, SUVs, and more.
The app also gives you the option to reserve rental vehicles up to 30 minutes in advance and add AIG's Travel Guard for collision damage protection. There is no cancellation fee.
Key Features 
Explore flights, hotels, and car rentals for your trip
View trip details anytime, anywhere
Price tracking and prediction
Alerts for flight delays, gate changes, and more
Expedia Members get exclusive deals every time they book a hotel through the app. For example, they may be eligible for a 10 percent discount, double reward points, and in-trip extras like free room upgrades and late checkout.
Overall, it's a well-designed platform to provide quick and reliable services.
4. Zipcar: Cars on-demand
Platform: iOS | Android
Area served: United States, Canada, United Kingdom, Germany, France, Spain, Taiwan, Turkey
Zipcar is a car-sharing network that brings flexibility and convenience to urban regions and university campuses. It's a subsidiary of Avis Budget Group, an American car rental agency.
Using the Zipcar app, you can find a wide range of self-service cars available by the hour or day. And if you are a member, you can reserve cars in advance and unlock them. It covers gas, parking, maintenance, as well as insurance options.
When you are done, park the vehicle at the same location you picked it up from, and then end the trip.
Key Features 
Reserve a car by the hour or day
Easily locate your reserved car by honking it horn
Extend or cancel reservations on the go
Includes insurance options
To become a premium member of Zipcar, you have to pay $7 per month or $70 a year. Then each car rental costs a daily or hourly rate that varies based on the vehicle your choose. Usually, driving rates start from $10 per hour and go up to $60 per day.
The company also offers discounted subscription plans for college students. They claim their platform saves you up to $600 per month over car ownership.
3. Getaround
Platform: iOS | Android | Web-based
Area served: United States, Canada, United Kingdom, Germany, France, Spain, Austria, Norway, Belgium, and the Netherlands
Getaround is an online peer-to-peer car sharing service connecting drivers who need to reserve vehicles and vehicle owners who want to share their vehicles in exchange for payment. The platform has more than 5,000,000 users and 20,000+ connected cars.
Once you sign up, you can instantly rent and drive cars of your choice. It lists a range of cars, from a Honda to a Tesla. Rent them by the hour or day, with a $1 million insurance policy and 24/7 roadside assistance included.
Key Features 
Book and unlock the car with your phone
Trips are covered by insurance
Cars owners get personalized earnings reports
24/7 customer support
Unlike most car-renting platforms, Getaround doesn't have any paid subscription plans. You can search and book a vehicle for any occasion for as low as $5 an hour. The company operates in over 950 cities across the world.
2. Hertz
Platform: iOS | Android | Web-based
Area served: 160+ countries
The Hertz Corporation operates the Hertz, Thrifty Car Rental, Firefly Car Rental, and Dollar Rent A Car brands in 9,700+ locations throughout North America, Europe, Latin America, Australia, New Zealand, Asia, and the Middle East.
It is one of the largest vehicle rental companies (by locations, sales, and fleet size), holding a 36% market share in the United States.
Their mobile app makes reserving, modifying, and reviewing your reservations very simple. Book any car within a few seconds — it includes a variety of vehicles, from Mazda and Toyota to BMW, Mercedes, and Land Rover.
Key Features 
One-touch login
Book rental cars using saved searches
Book any car you want, including Tesla and Polestar electric vehicles
Modify upcoming car rentals with a few taps
Hertz also features Gold Plus Rewards, which gives you access to exclusive offers and content. Earn reward points every time you book a car and use them to unlock free car rental days, free upgrades, and more. Or you can simply exchange rewards points to pay for your trips directly from the app.
1. Enterprise Rent-A-Car
Platform: iOS | Android | Web-based
Area served: USA, Canada, Europe
Enterprise Rent-A-Car is the flagship brand of Enterprise Holdings, which also owns National Car Rental and Alamo Rent a Car. It operates in 9,500+ locations, allowing you to easily book a vehicle across the United States, Canada, Europe, and Latin America.
Browse thousands of vehicles, including luxury sedans, SUVs, vans, and trucks, with various technology and features. Modify upcoming reservations to extend your trips, get directions to your rental vehicle branch, or call assistance in case of emergency — all from a single, intuitive app.
Key Features 
Narrow your search with vehicle filters
Book long-term car rental for extended plans
Earn reward points on every dollar spent
24/7 roadside assistance
They have also designed customized rental programs to fulfill your business's requirements. These programs give you access to over 1.85 million vehicles across 90+ countries and a dedicated account manager for your business.
As a commitment to customers' safety, the company follows industry-leading procedures to clean and sanitize every rental car.
Other Equally Good Turo Alternatives
10. Alamo
Platform: iOS | Android | Web-based
Area served: 70+ countries
With Alamo, you can make a reservation instantly or modify upcoming reservations. Narrow your search using vehicle filters and save rental details to reference them later.
The app has a special feature called Accelerated Check-In, which saves you time at the counter. Just upload your driver's license and contact information, and you are good to go. Your vehicle will be ready when you arrive at the pickup location.
When you are on the trip, you can use the app to find routes to the closest gas station, directions back to your rental branch, and more.
Stay signed into your Alamo account to get better discounts and reward points.
11. Outdoorsy – RV Rentals
Platform: iOS | Android | Web-based
Area served: United States, Canada, United Kingdom, Australia
Outdoorsy is a perfect platform to rent RVs. It connects RV owners with other campers who want to experience RVing without ownership.
The platform is safe, easy-to-use, fully insured, and contains a great vehicle selection, ranging from Class A, B, and C of RVs to fifth-wheelers and vintage airstreams. You can filter down your results by vehicle type, sleeping capacity, travel dates, prices, or dog-friendly vehicles. Read reviews from real renters to make informed decisions.
Unlike most other platforms, Outdoorsy doesn't have membership fees of any kind. It's completely free to join, discover RVs to travel in, and rent your rig to verified drivers.
12. HyreCar Driver – Gig Rentals
Platform: iOS | Android | Web-based
Area served: United States
HyreCar is yet another peer-to-peer carsharing marketplace where you can choose from thousands of delivery-ready rental vehicles for your perfect ride.
Whether you are a seasoned professional or it's your first time trying gig work, the platform can help you get on the road. It gives you the flexibility to drive cars for anything from food or package delivery to luxury services. Furthermore, every rental vehicle comes with comprehensive commercial rideshare insurance in your name.
Vehicle owners can list their vehicles to earn some extra cash. HyreCar offers dedicated assistance (from marketing and technology teams) to help owners grow their businesses quickly.
13. Virtuo
Platform: iOS | Android | Web-based
Area served: UK, Germany, Italy, France, Spain, and Portugal
Virtuo allows you to book and unlock a variety of cars, all through your smartphone and the Virtuo digital key. It's quite easy to use. First, you need to sign up and upload a selfie and driver's license.
Once your account is approved, you can choose from various car models, including Audi, BMW, Mercedes, Nissan, Renault, Tesla, and Volkswagen. You get the pricing upfront, so there are no nasty surprises.
Unlock the car through Virtuo digital key and enjoy a seamless experience. When your trip ends, return the car to the car park, analyze a final damage report, lock the car, and go. That's it.
The company also offers great customer service to help you with any issues you may have.
Frequently Asked Questions
How much does Turo cost?
The prices depend on what vehicle you want to rent and when and where you want to rent it. You need to pay a security deposit amount, which varies depending on the type of vehicle and your location. For example, if you're renting a Super Deluxe Class car in the US, you will have to pay $750. They will refund the amount 80 hours after your trip ends.
How much can car owners earn with Turo?
The earnings depend on what vehicle you are renting and where and when you are renting it. The company takes a 10-35 percent commission from each rental. This means if you charge $100 per day for your vehicle, you can make anywhere between $90 and $65 a day. If you rent it for 15 days a month, that's $1350-$975 per month.
You can use Turo's in-built calculator to accurately estimate how much income you could earn with different vehicles.
What's the future of the car rental industry?
According to the Fortune Business Insights report, the global car rental market size will exceed $137.25 billion by 2029, growing at a CAGR of 7.5% from 2022 to 2029.
Key factors responsible for the significant growth in this sector include rising demand for better and sustainable modes of transportation among the growing urban population, increasing internet penetration across developing countries, and advances in dedicated mobile applications built for customers' convenience.
Read More
13 Best Apps Like Possible Finance