Archos announced the Android powered electric scooter, Citee. 

It has a 5-inch display in the middle of handlebars. 

The Android Oreo OS runs on a quad-core processor, has 1GB of RAM and 8GB of flash memory, and supports 3G. 
A French multinational electronics company, Archos has announced the first electric scooter powered by Google Android Oreo. They've named it Citee, and it comes with a multimedia dashboard that embeds almost all functions of a smartphone.
The scooter features a 5-inch display that sits in the middle of handlebars. Although the company doesn't mention all of its functionalities, but they do show the Google Maps running on the display.
Archos
Established in 1988, Archos manufactures smartphones, tables, portable data storage devices and media players. The company entered the smartphone market by launching a series of models, including Archos Titanium, Archos Plantinum, Archos Diamond and more. Recently they've developed tablet computers using Android and Windows.
Its subsidiaries are located in the United Kingdom, United States, Spain, Germany, Italy, China, Switzerland and Hong-Kong. As of 2012, the company had a total revenue of $189 million, and over $162 million in 2016 fiscal year.
Android Scooter
The Android 8.0 Oreo OS integrated to the vehicle runs on a quad-core processor, has 1GB of RAM and 8GB of flash memory, and supports 3G. There are some additional options to download companion applications that can remotely manage a reel lock integrated into the chassis. And yes, the screen can perform well in bad weather and strong enough to absorb shocks.
Body and Engine
The overall body of the scooter is made aluminum, and consists of 250W motor and 36V battery that give it a range of about 25 km in urban areas. It has a large puncture-proof and dimpled wheel (8.5 inches) for better suspension.
It's equipped with a non-slip coating, disc brakes and back light. The 5-inch screen displays speed and battery level. Since it has a dedicated latch, the scooter can be quickly folded. The overall body weighs between 12 and 13 kilograms and can carry up to 100 kilograms.
The company claims that their Android-powered scooter have been built keeping in mind the current traffic regulations in Europe, and can be customized to meet requirements in other countries.
Source: ARCHOS Citee
Performance
It has two speed levels – fast and slow, and provides maximum adequacy to traffic conditions. The scooter can reach a maximum speed of 25 km/h for a range between 18 to 22 kilometers. And yes, it can go uphill (15 ° coast).
The scooter can be charged via a docking station. Also, there is an energy recovery system that automatically charges the battery every time you apply brakes. This could increase the battery level up to 15 percent.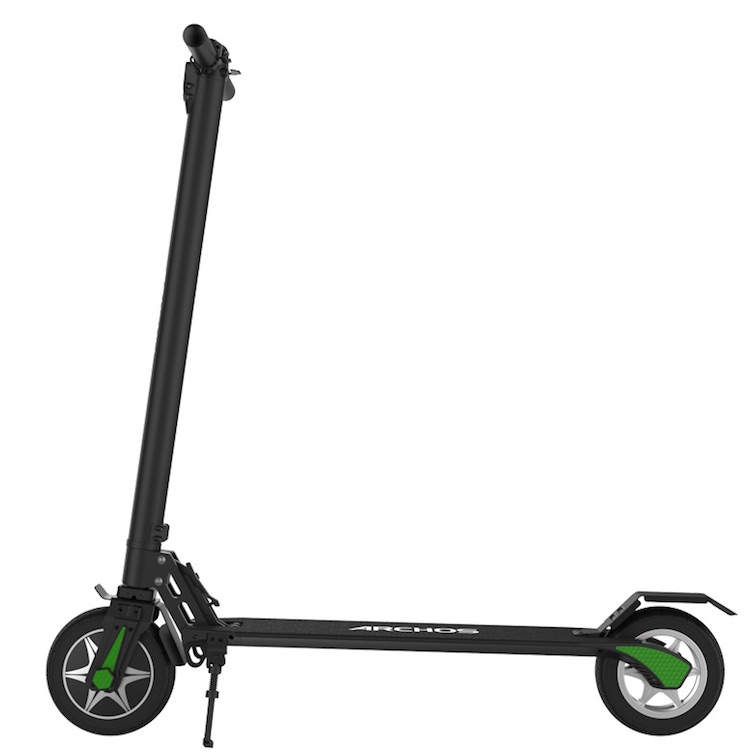 Version
The scooter has three variants – Citee, Citee Power and Citee Connect. The top model comes with a dashboard, weighs 13 kilograms, and has 6,000 mAh lithium battery that takes 3 hours to charge from 0 to 100 percent. All versions come with a power adapter and a quick start guide.
Read: Depth Sensors In Self-Driving Car Are Now 1000 Times Better
Price and Availability
According to the company, the scooter will be available from 2nd quarter of 2018, starting at $491 (€399.99). The higher model will be on sale in the summer of 2018 at $613 (€499.99).