A good pattern can make a big difference. Also, the selection of colors matters the most, they represent your brand and sometimes they leave a psychological impact on your readers. For example, Pinterest is red, Facebook is blue etc.
Designers and developers have to keep so many things in mind that it often becomes very hard to manage their work. The one thing that can accelerate your workflow is online generator. They can be extremely handy in saving time and creating small details. Fortunately, there are many tools available on the internet that can help you make beautiful patterns quickly. Presenting a few of online background and pattern generators that will make your task quite easier.
31. CSS Gradient Background Maker

This is a simple tool for creating CSS background image gradients (linear, circular and elliptical).
30. CSS3 Pattern Gallery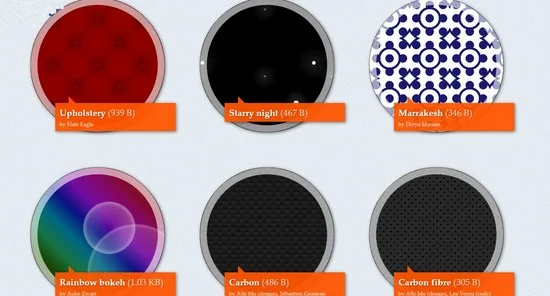 A collection of few background patterns, available with CSS3 code. You can also submit your own work here.
29. GeneratePattern
It's a simple web tool to create images (png or ico) for background mostly. Just select the pattern size, draw and get embed (HTML/CSS) code or download the image.
28. BgMaker
BgMaker is titled background generator that lets you create a solid line pattern which can be exported as PNGs.
27. ColorMunki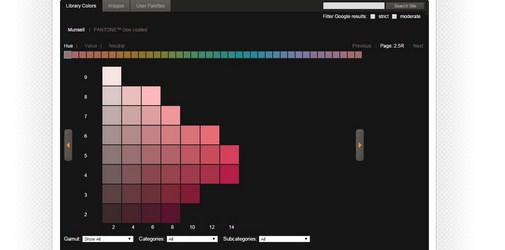 ColorMunki lets you generate color palettes from advanced color library, images and browse other user palettes.
26. Design Seeds
Design seeds offer amazing color style and palette. It is packed with tons of color schemes and you can search them by color value or by theme.
25. Guilloché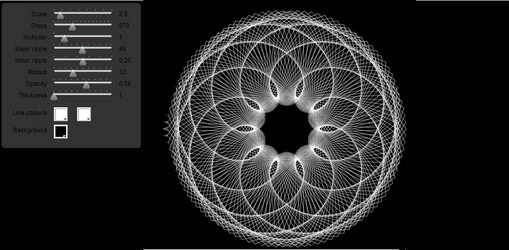 Guilloché is a quick pattern generator which can either be used as background or decorative element. You just need to adjust the scale, multiplier, ripple, radius, opacity and thickness.
24. Noise Texture Generator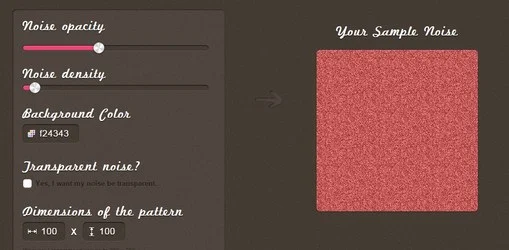 Incredibly easy to use online tool that allows you to generate noise background pattern within a minute.
23. Stripe Generator
Stripe generator helps you to unleash your personal style, experiment and download the tile. You can use it directly in CSS file or as pattern in Photoshop.
22. iWantHue
iWantHue lets you generate unlimited color palettes by setting the range of hue, chroma and lightness. The algorithm automatically optimizes the perspective distance in the color subspace for optimal readability.
21. Colllor
Colllor allows you to dive into the color details and see the vast amount available for each one. You need to enable adobe flash to browse the huge set of color scheme.
20. Stripemania
Stripemania is free web 2.0 tool to create seamless diagonal stripes for your design. You can add color gradient effect, select the size of the stripe and spacing between them.
19. TartanMaker
TartanMaker is a free tool for web community by Alex 'Pit' La Rosa and Fabio Fidanza. Create tartans with up to 10 bands and download them as PNGs.
18. Pictaculous
Pictaculous is a color palette generator brought to you by MailChimp. You just need to upload an image to get the desired palette for your project. However, it supports images less than 500k and JPEG, PNG, GIF format only.
17. BgPatterns
BgPatterns is a small and lightweight web app for creating attractive backgrounds within few clicks. You can also use PNG custom images with transparent background. The tool is mostly designed for fun and experiment, by Sergii Lavorskyi.
16. Dotter
Create stylish dotted backgrounds with either 1 or 2 colors.
15. COLOURLovers
COLOURLovers provides simple editing tools to resize, rotate, add shapes, lines, text to canvas and add tiles etc. in order to design seamless patterns. You can also put your own backgrounds to modify them.
14. COPASO
COPASO is an advanced color palette application by COLOURLovers. It includes some pro features like blend, complement, triad, tetrad, split complementary colors and more.
13. CSS3 Generator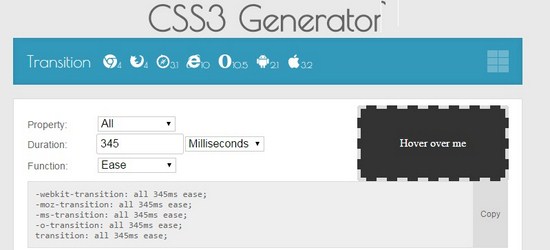 CSS3 generator allows you to play with multiple CSS3 properties to create border radius, RGBA, box/text shadow, font face, outline, transition, gradient, box sizing, multiple columns and more.
12. CSSWARP
CSSWARP allows you to create "warped" text (text following irregular path) with pure CSS and HTML.
11. GeoPattern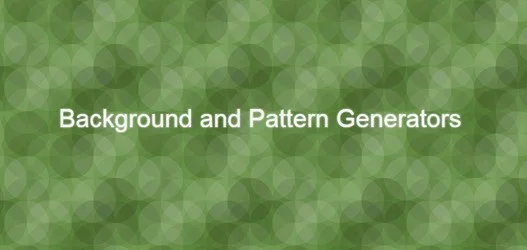 GeoPattern is a JavaScript port with a live preview page which provides a unique and random way to generate background pattern automatically. Just enter the text and see the tool working. Every character you type will form a different image based on 16 pattern types.
10. Delaunay Triangle Pattern
A unique and beautiful triangle pattern maker by Msurguy. Adjust the render, mesh value and press space to drop or pick up the light.
9. Adobe Color CC
Color CC is a web application for generating color themes for your project. No matter what you are creating, you can experiment quickly with color variation and tons of pre-designed themes.
Read: 25+ Fresh Examples of Timeline in Web Design & Infographics
8. Paletton
Paletton is an online color scheme designer that lets you create various color patterns and export them as HTML/CSS.
7. Zen BG
Zen BG allows you to create beautiful backgrounds for desktops and websites. It has a big collection of textures – rust, concrete, paper, wood and more, which can be combined with gradients to build a wide assortment of themes.
6. Gerstnerizer
Gerstnerizer creates a colorless pattern. Here you can set the line thickness, curvature of the line, opacity, select pattern shapes through left sidebar panel of web app. When done, you can save your pattern in SVG format.
5. Patternify
Patternify is a CSS pattern generator (web app) that allows you to draw pattern pixel by pixel. It's a perfect tool for creating small sized icons. You can also design some cool graphics by utilizing color and transparency option. Use the CSS code or your final work or download it in PNG format.
4. PlaidMaker
It's a free online tool for making plaid patterns for websites and desktops. There are tons of pre-designed patterns available for download or you can make your own by selecting horizontal plus vertical colors, twill, size and mirror effect.
3. Background Image Generator by SiteOrigin
With over 300 patterns, unlimited colors and several blend modes, this siteorigin web tool allows you to create perfect background patterns.
Read: 55+ Beautiful Fonts for Modern Design Trends | All Free
2. Patternizer
Patternizer is a simple yet powerful web app that makes it easy to get your own pattern. It also includes some pre-designed patterns to help you get started. Pick a color, width, rotation angle, gap and offsets to get the CSS code of your desired pattern.
1. PatternCooler
Recommended: 35+ Useful HTML and CSS Frameworks For Web Designers
PatternCooler is packed with hundreds of in-built designs. You can apply colors, texture effects and size to them and download your final work as seamless background images.