The Chinese space administration (CNSA) is neither the oldest nor the biggest space agency in the world but it's about to achieve a feat that has been accomplished only by few in the past; establishing a fully functional global navigation satellite system or GNSS.
A GNSS is simply a satellite navigation system that provides various geospatial services on a global stage. As of now, the American built GPS and Russia's GLONASS are the only two such systems operational.
I am almost certain that most of our readers are well-informed on GPS or Global Positioning System and its slightly less popular competitor GLONASS but does the name BeiDou ring any bells for you? For those who are unaware, BeiDou (BDS) is China's premier satellite navigation system which is solely managed by CNSA.
It's believed that the idea of such an extensive project was first conceived in the 1980s by the Chinese government in a response to American advancements in military-space technologies. BeiDou took its name from the Big Dipper asterism, a group of bright stars located in the constellation of Ursa Major.
Like GPS, GLONASS, Galileo and other navigation systems currently in development, BeiDou's ultimate goal is to provide its services globally with more accuracy (relative to other GNSS).
In order to achieve that, the entire project was carefully organized into three phases; the first phase (BeiDou-1) started in the year 2000, the second stage in 2007, and the third final stage in 2015. The BeiDou Navigation Satellite System is expected to operate globally sometime in 2020.
Simply put, BeiDou is China's version of GPS but on a regional scale (at least for now). It is only the second regional navigation system operational in Asia, the other being NAVIC (owned by INDIA). If all goes well, China's BeiDou will rival GLONASS and GPS on global levels.
BeiDou-1 and 2
Orbit comparison of different satellite systems including BeiDou-2 (COMPASS)
The first and exploratory phase of the BeiDou Navigation Satellite System kick-started on October 30, 2000, with the launch of BeiDou-1A satellite. It was followed by BeiDou-1B and BeiDou-1C, which were launched on December 20, 2000, and May 25, 2003, respectively.
The successful deployment of all three BeiDou satellites marked the initial success of the project. A backup satellite (BeiDou-4D) was also launched later on in case of an emergency.
It's interesting to note that all four of BeiDou-1 satellites were stationed in geostationary orbit (GEO) and not in medium Earth orbit (MEO) as the case with GPS and GLONASS.
By using its satellites in the geostationary orbit, BeiDou-1 eliminated the need for a large constellation of satellites, however, it also restricted the maximum area (on Earth) it can cover. Its effective coverage area was from 70°E to 140°E longitude and 5°N to 55°N latitude. BeiDou-1 was entirely phased-out in 2012.
On a different note, back in 2008, a single BeiDou-1 receiver cost around US$2,929 (CNY 20,000RMB), nearly 10 times more expensive than a GPS terminal at that time. The price was insanely high, reportedly due to expensively imported microchips. Once they started manufacturing chips domestically, their prices came way down.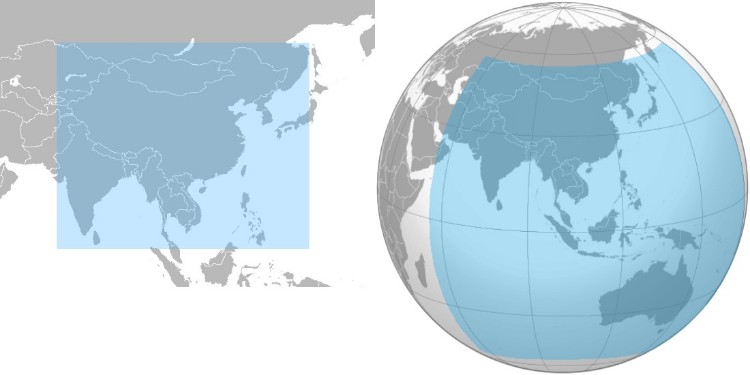 Comparison of the area covered by BeiDou-1 and BeiDou-2  Image Courtesy: BeiDou.gov.cn
The second phase of the BeiDou Navigation System, BeiDou-2, also known as COMPASS, was introduced in 2007 as a significant upgrade over the previous system. Until 2008, the Chinese navigational apparatus provided its services only to the military and other related Chinese government agencies but was made available for civilian and commercial use.
Under this phase, a total of 19 satellites are deployed (two of which are now retired) with one satellite due for launch in 2019. During its initial stage, COMPASS offered a reported positioning accuracy of 25 meters but was substantially improved after more satellites became operational.
The new system becomes fully operational in December 2011 and by the end of 2012 opened its positioning and navigation services to other nations in the Asia-Pacific region. The current extent of BeiDou's coverage is between 55°E to 180°E longitude and from 55°S to 55°N latitude.
Read: Top 10+ Space Research Organisations in the World
Accuracy and Frequencies
Much like GPS and Galileo, BeiDou provides its services on two different levels — a freely accessible service for civilian use and a restricted version for the military. The civilian service has a location tracking accuracy of 10 meters and a clock synchronization accuracy of 10 nanoseconds.
On the other hand, its restricted services have a much higher tracking accuracy of 10 centimeters and have advanced data transmission capabilities. Access to BeiDou's restricted channel, to date, is granted only to the Chinese and Pakistan Armed Forces. BeiDou's ranging signals are based on Code-division multiple access (CDMA) method.
Frequency allocation of GPS, Galileo and BeiDou 2 (COMPASS)
BeiDou-2 has four recognized frequency bands; E1, E2, E6, and E5B (shown in red bars in the figure above). As you can see, all four of its bands overlap with Galileo's bands. While these types of overlaps are beneficial to a certain extent (it can sort out problems associated with receiver or ground terminal design), they mostly create serious problems like signal interference.
There is a strong likelihood that if both navigation systems are up simultaneously under similar circumstances, they will experience heavy signal interference especially within E1 and E2 bands, which are currently allotted to Galileo's public service.
However, in order to avoid these types of conflicts, the International Telecommunication Union (ITU) has a universal 'first come first serve ' law in place that allows rights of a particular frequency to a nation who starts broadcasting in it first. Any subsequent user nation, willing to utilize that frequency, will have to take permission from the owner nation prior to its use. This way both parties can ensure there is no interference with their broadcast.
Now, it's almost certain that the Chinese BeiDou-2 will start transmitting in above mentioned disputed bands before the Galileo satellites and thus gain the primary rights to these frequencies.
BeiDou-3
The Chinese National Space Administration (CNSA) initiated the third phase of BeiDou Navigation Satellite on March 30, 2015, with the maiden launch of BDS-3 satellite from the Xichang Space Center located in Sichuan province. A total of 35 satellites are scheduled to be commissioned under this phase, out of which 19 are already in their respective orbits.
The BeiDou-3 is set to introduce new frequency bands; B1C/B1I/B1A, (1575.42 MHz), B2a/B2b (1191.795 MHz), B3I/B3Q/B3A (1268.52 MHz) including a test frequency Bs (2492.028 MHz).
Out of the total 35 satellites, 27 are medium earth orbit (MEO) satellites, 5 Inclined Geosynchronous Orbit (IGSO) satellites, and 3 Geostationary Orbit (GEO) satellites. These satellites also have SAR (synthetic aperture radar)and SBAS (Satellite-based Augmentation System) capabilities similar to GPS and GLONASS.
Commercial Use of BeiDou
The BeiDou Navigation Satellite System has been a commercial success in China. According to China Daily, BDS helped various private and state-owned firms like China Aerospace Science and Industry Corp and AutoNavi Holdings Ltd generate well over $31 billion (200 billion yuan) in revenues in 2015. The article also pointed out this figure could reach up to 400 billion yuan by the year 2020.
Since 2013 many mobile phone manufacturers in China have made their products compatible with the BeiDou navigation system. Millions of commercial vehicles, thousands of fishing vessels (in China) have also been equipped with the BDS and it's more likely to gain customer base in the coming years.
As you may know, more and more mobile devices now come with both GPS and GLONASS technology for better coverage and location services, so it's probably a matter of time when BeiDou will also get into the mix.
How It is Different From GPS
A Satellite Navigation System is without a doubt one of the important pieces of technology that any country can have today, and it's even more valuable for China considering its current geopolitical and economical stance with the United States.
With GPS under their control, the US Army can effectively deactivate its services over any region of the globe that's why many nations are developing their independent GPS-like systems.
There is not much of a difference between the two other than accuracy. GPS has a constellation size of 31 satellites, whereas the new BeiDou will have about 35 of them. When fully operational (by 2020), BeiDou Satellite Navigation System is expected to provide more accurate location services than the GPS.
Read: Creating A Temporary Hole In The Cloud To Boost Satellite Communication
Back in 2016, it was claimed that the Chinese system will attain millimeter-level accuracy (after post-processing), which means it will be ten times more accurate than the most precise GPS levels.
Area covered by WAAS (Wide Area Augmentation System)  Image Courtesy: US Federal Aviation Administration
Over the United States, Canada, and Mexico GPS is often used with a navigation aid known as Wide Area Augmentation or WASS system that substantially increases GPS' accuracy over the North American continent.
According to gps.gov, the US-based system will be able to provide real-time positioning accuracy within a few centimeters and measure distances at millimeter levels with the help of high-end receivers and advanced techniques like Real-Time kinematics. Currently, the US Air Force along with Lockheed Martin is working on GPS III, the seventh generation of GPS satellites.
While it's a common knowledge that GPS' vertical accuracy is much worse compared to its service on a horizontal plane, its accuracy levels on both components are still higher than that of BeiDou (25 meters horizontally and 30 meters vertically).
However, according to an article on the Chinese Journal of Aeronautics, the BDS can achieve an accuracy of better than 1 cm in horizontal and 3 cm in vertical, which according to the current standards is far better than the global positioning system (GPS).
Other Satellite Navigation Systems
Apart from BeiDou, there are few other satellite navigation systems currently under construction or already functioning. The most notable of those systems is Galileo. European Union's Galileo is a multi-billion dollar project which was initiated in order to provide a highly accurate and independent positioning system to European nations keeping the geopolitical factors in mind. The entire Galileo constellation consists of 26 satellites with six further deployments over the next decade.
The IRNSS (short for Indian Regional Navigation System) or NAVIC is another autonomous navigation system consisting of a constellation of four satellites (three more satellites are scheduled). NAVIC is independently developed and maintained by the Indian Space Research Organization.
Apparently, IRNSS provides positional accuracy of 10 m (open service) and 10 cm (restricted service). Unlike GPS, GLONASS, and Galileo, the Indian navigation system doesn't have immediate plans to provide global service.
An animation depicting QZSS' satellite orbit  Image Courtesy: Hiroshi FUKUDA 
Next in line is Japan's Quasi-Zenith Satellite System or QZSS. It's a GPS compatible satellite-based augmentation system that will basically increase GPS' accuracy and reliability over Japan and its surrounding areas. Currently, the QZSS system consists of four satellites, but will gradually extend to seven satellites by the year 2023 (estimate).
Three of its four satellites are placed in highly inclined geosynchronous orbits, about 120° apart from each other. This high inclination allows them to orbit in a unique asymmetrical pattern known as analemmas and have a presence over Japan at all times. The signals transmitted by QZSS satellites are identical to old and modernized GPS signals (L1C/A, L1C, L2C) making it easier to collaborate with the American navigation network.
Read: SpaceX Internet Satellites | 10 Things You Need To Know
While it's almost certain that we don't have to rely entirely on GPS for our economic and political needs, it will be quite interesting to see how China's BeiDou fare against its American, Russian and European counterparts in the future.