3d Modeling is the process of designing any 3d dimension (x, y, z) surface in mathematical representation.  The final 3 dimensional piece created via specific computer software is known as a 3d model. It involves 3 processes i.e. 3d Modeling, 3d Animation and 3d Rendering. Before proceeding to the list, let me tell you some usage of these softwares.
Industries where 3d Modeling applications are used
Advertising and marketing
Science and Geology
Architecture
Entertainment
Gaming
More and more people are choosing this career because it has very wide scope in future and of course it involves a lot of money too. But most of them faces a common problem at startup which is selecting the suitable and right software. Well, if you are one of them we can help you. Below is the list of best 3d modeling software for PCs that are available free of cost. Use them before jumping to any expensive software.
15. Zmodeler
Image credit: zmodeler
Zmodeler (also known as Zanoza modeler) is powerful 3d modeling application which is used in developing popular games like Need for Speed,  18 wheels of steel,  Midtown madness, Grand theft auto and more. It has filters to import and export meshes. The scene rendering can be made by taking screenshots only. Zmodeler is packed with standard primitive objects such as sphere, cones, cylinder and tubes. This is light software, that's why you don't need very high RAM or processor to run it. However, it depends on scene complexity and graphic card plays an important role here.
14. TopMod
Image credit: wikimedia
TopMod is 3d topological mesh modeling system that allows you create high genus 2-manifold meshes. This is free, open source, portable and cross platform software. You can design the complex model easily and print them using 3d printer. Moreover, subdivision operations can be performed alternately during model construction.
13. SketchUp (Freemium)
Image credit: wikimedia
SketchUp is 3d modeling software suitable for game design, landscape architecture, interior design, light construction and remodeling. The software includes drawing tools, allows surface rendering and 3rd party plugins. It also enables placement of its model within Google Earth. It also supports extensions written in Ruby. At present, it is owned by Trimble Navigation.
SketchUp pro version comes with additional features for professional use that will cost you around $600.
12. AutoQ3D Community
Image credit: wikimedia
AutoQ3D Community is cross platform software 2d drafting and 3d modeling. It is free open source software written in C++ using Qt framework.
Key features
Various image format support
Multiple color and texture option
Normal shade and Wireframe Rendering
Modification, snapping and grouping tools
Extensive graphic tools like UCS icon, triangle, zoom, stretch, mirror and much more
11. K-3d
Image credit: k-3d
K-3d is powerful and versatile 3d animation software that features plugin oriented procedural engine. It has basic tools for patches, curves and animation.
Key features
Arbitrary data flow
Interactive tutorials
Boolean modeling operation
Unlimited hierarchical undo/redo
Detailed selection of visible features/tools
Powerful scene graph procedural modeling
Animate any value and modeling operation
Support for other rendering engine and model
10. Art of illusion
Image credit: artofillusion
Art of illusion is free open source modeling and rendering engine. It is powerful enough to build serious and high end animation projects.
Key features
Graphical language for procedural texture
Subdivision surface based modeling
Object list and animation score
Various extensions as plugin
Skeleton based animation
Customizable grid view
Real time display mode
9. BRL-CAD
Built on BRL-CAD
BRL-CAD is cross platform solid geometry solid modeling system under LGPL version 2.
Key features
Signal processing tool
Interactive geometry editor
Network distributed framebuffer support
Ray tracing for rendering and geometric analysis
8. Anim8or
Graphic built on Anim8or
Anim8or is character animation and 3d modeling program with multiple tools which normally expected in paid software.
Key features
3d font support
Built-in 3d object browser
Mesh edit and subdivision
Import and modify 3d object files
Plugins for shape and object export
OpenGL shaders for realistic previews
Anti-aliased render for high quality images
7. Seamless3d
Built on seamless3d
Seamless3d is an open source 3d modeling software designed for artists who has both time and patience.
Key features
Morphing and scripting
Single skilled mesh animation
Specialized tree view interface
Sound synthesis using NURBS
Multi user 3d chat web browsing
Partition and seamless texture mapping
Import and export various 3d object format
6. K3DSurf
Image credit: sourceforge 
K3DSurf is a program to visualize and manipulate mathematical model. It supports Isosurfaces and parametric equations.
Key features
Interactive visualization with mouse event
Real time animation and morph
Generate mesh file and create movie scene
Supported formats are Povscript, VRML2 and OBJ
5. DrawPlus
Image credit: ilovefreesoftware
DrawPlus is free graphic software that allows you to draw, design, edit and create high quality graphics.
Key features
Quick and easy logo designer
In-built photo studio
Easy to use graphic design tool
Realistic looking brushes and effects
Simple vector tools to add lines and curves
4. 3DCrafter
Image credit: amabilis
3DCrafter is real time 3d modeling and animation tool that allows you create complex model either by 3d primitives or object building tools.
Key features
Large number of export and import format
Easy to use Drag Drop interface
Tutorial included
Create model and animate their shape and color in real time
3. Quake Army Knife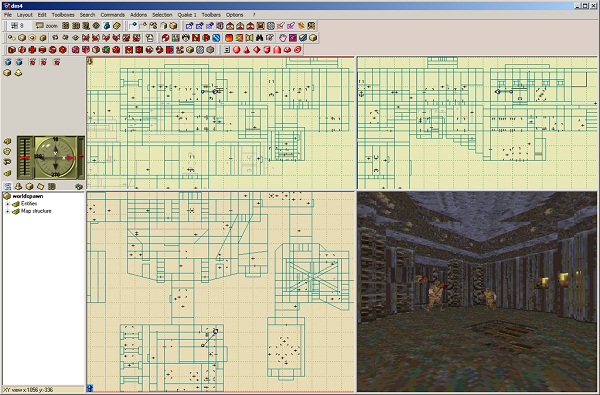 Quake Army Knife (or QuArK) is free and open source software for developing 3d objects especially for digital games. It runs on Microsoft Windows and mostly used in first person shooter game.
Key features
Textured view edit in map-editor
Colored lights in OpenGL 3D preview
Unique and editable tree view display
Eye camera handle in 3d mode for easy navigation
Move and change dynamic game object without recompiling
Customizable keys, colors, mouse-buttons and much more
2. Wings3d
Image credit: wings3d
Wings3d is the advanced subdivision modeler which is both powerful and easy to use. This is a cross platform and open source software inspired by Mirai and Nendo from Izware.
Key features
Quick adjustment to a mesh
Customizable hotkeys and interface
Various modeling and selection tools
Ngon mesh support and AutoUV mapping
Import and export in many popular formats
Modeling tool for magnets and vector operations
1. Blender
Also read: 10 Most Expensive Software
Blender is free and open source computer graphic software used for creating 3d animated films, games and applications.
Key features
Fast UV unwrapping
Photorealistic Rendering
Realtime viewport preview
Fast modeling and rigging
Camera and object tracking
Powerful animation toolset
Simple and flexible interface
Awesome simulation and game creation
Accurate shades like glass, transparency and SSS