3D printing technology has significantly improved in the past decade. And now it is taking more and more branches of the economy by storm. So far, it has been successfully utilized in a variety of fields, ranging from medical and manufacturing to sociocultural sectors.
However, 3D modeling is not easy to learn. Sometimes it becomes frustrating to work with 3D modeling tools, and if you are a beginner, designing and printing a simple structure could take days or even weeks.
Below you will find easy-to-use 3D printing tools that feature innovative design, extraordinary capabilities, and seamless integration with computer hardware. We have provided all information on proficiency levels and where they can be downloaded.
14. Sculptris
Price: Free
Platform: Windows | macOS
Plus Point: Lightweight and easy to pick up.
Sculptris is a virtual sculpting tool that primarily focuses on the concept of modeling clay. It will be a great choice if your project revolves around creating statues or characters from comic books and video games.
While the tool is targeted toward novice, it is still packed with many incredible features that make 3D sculpting very simple. In Sculpt mode, for example, you can edit the mesh geometry with simple brush strokes. In Paint mode, you can easily paint textures (with brushes) wrapped onto the surface of the mesh.
Sculptris regularly analyzes the model surface to ensure the details are properly projected and automatically adds polygons when required.
All in all, it provides an impressive gateway into the 3D world. You can create basic models and then refine them on other sophisticated software programs, such as ZBrush. In fact, Sculptris is made compatible with ZBrush, so users can import their work into advanced 3D tools when they are ready to take their designs to the next level.
13. Wings 3D
Price: Free  
Platform: Windows | macOS | Linux
Plus Point: Features AutoUV mapping; customizable hotkeys and interface.
Wings 3D is an open-source software program that uses a winged-edge data structure internally to store coordinates and adjacency data. There are four different selection modes to modify the geometry of a model: Edge, Vertex, Face, and Body. Each has its own set of mesh tools that offer both basic and advanced functions.
Standard tools (like move, scale, rotate, bevel, bridge, cut, and weld), a virtual mirror (for symmetrical modeling), and a smooth preview will make it easier for you to create a 3D model.
Although it doesn't support animations, you can use it to create mid-range polygon models and add textures and materials using AutoUV mapping and OpenGL rendering facilities. Once done, you can export the file to external rendering programs such as YafRay and POV-Ray.
12. Vectary
Price: Free | Premium version starts at $9 per month
Platform: Web browser
Plus Point: Has five different levels of render quality; each design is safely stored in the cloud.
Vectary provides a simple and intuitive way to start with 3D and AR (augmented reality) content creation. It comes with a large fast-growing library of free scenes and models, so you don't have to spend a long time getting up to speed in 3D.
There are plenty of high-quality pre-rendered and lit scenes for product shots, abstract graphic backdrops, and a wide variety of fully textured materials, ranging from wood and fabric to frosted glass and pavement.
Vectary also features viewport navigation, subdivision modeling, composition abstractions, lightning, and rendering. They all are configured to streamline your creative expression. You can create your first short just by drag-and-drop and get a realistic output in minutes.
11. Slic3R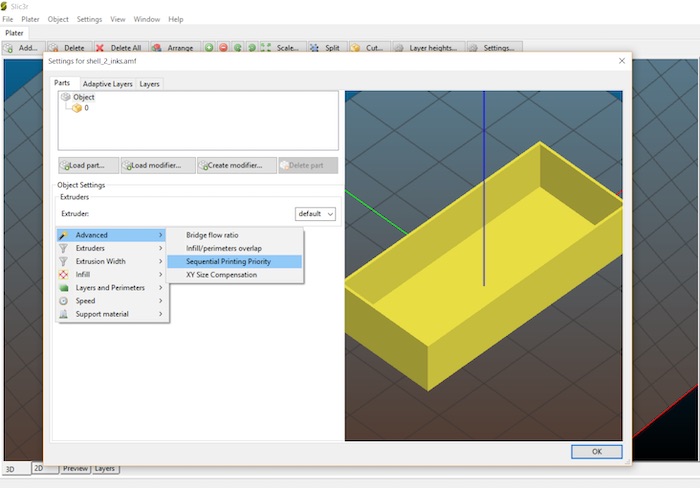 Price: Free
Platform: Windows | macOS | Linux
Plus Point: Exports slices in SVG; auto-repairs non-manifold meshes.
Slic3r is an open-source 3D slicing engine that produces G-code from 3D CAD files (OBJ, STL, AMF, and 3MF). It is capable of handling complex models, generating infill patterns, and estimating G-code printing time.
The software is equipped with many configuration options that allow users to fine-tune and take full control of their projects. One can integrate Slic3r with server-side applications or use it from the shell (via powerful command-line interface).
Users can opt to print a thicker infill to benefit from low layer heights on perimeters and still keep the print time within an appropriate amount. Slic3r will control the print speed to ensure every layer gets enough time to cool down before the next one is laid on it.
10. PrusaSlicer
Price: Free
Platform: Windows | macOS | Linux
Plus Point: Supports multi-material FFF (fused filament fabrication) printing.
PrusaSlicer comes from a forked version of Slic3r. It has everything you need to create a 3D object: an intuitive interface, handy keyboard shortcuts, and various manipulation controls that make scaling, rotating, cutting, and moving objects easier.
When you install the software, you will find several modes for configuring parameters based on your skill level. With built-in Support Enforcer, you can selectively apply supports to individual objects. You can even pick the layer height for each part of the object separately.
PrusaSlicer automatically takes care of smoothing, so the output looks best as it can, and printing time remains acceptable. It can be used to slice model for both FDM (fused deposition modeling) and resin printers.
9. OnShape
Price: Starts at $1500 per years per user | Free for teachers and students
Platform: Web browser | iOS | Android
Plus Point:  Built-in version control and release management tool; edit design simultaneously with other users.
OnShape is an all-in-one product development platform that connects all your stakeholders in one unified and secure cloud workspace. It makes extensive use of cloud computing, with CPU-intensive processing and rendering performed on Internet-based servers.
It is specially designed for professional-level users who want version control and better collaboration options. Team members can manage designs without saving copies or tracks of different file versions. Perhaps, the most impressive feature of this tool is its ability to help executives make better business decisions with real-time analytics.
The tool has been proven effective in many industries, including 3D printing, mechanical machinery, machine parts, medical devices, consumer electronics, industrial equipment.
While the standard version costs $1,500 per year, it is free for educators and students. If you are a hobbyist, you can use also use it for free for non-commercial projects in an open-source, public workspace.
8. PTC Creo
Price: 30-day trial | $2,390 for one year license  
Platform: Windows
Plus Point: Supports augmented reality design visualization, advanced simulation, and metal printing.
Creo is a suite of CAD applications, specially designed to address the challenges faced by organizations as they create, analyze, and share information with downstream partners. It is developed by Parametric Technology Corporation, an American computer software company headquartered in Boston, Massachusetts.
Creo introduces a new Generative Topology Optimization extension that lets you build high-quality designs, which perform better in the real world. It is also packed with tools for 3D direct modeling, 2D orthographic views, technical illustrations, schematic design, and Finite Element Analysis and simulation.
The premium version features production machining, options Modeler, topology optimization,  metal printing, tolerance analysis, and much more. All in all, it's an excellent tool for advanced users and small businesses.
7. Rhinoceros 3D
Price: Free trial for 90 days | $995 one-time fee 
Platform: Windows | macOS
Plus Point: Very powerful and reliable software; integrates a visual programming language, Grasshopper.
Rhinoceros is a versatile 3D modeler that uses NURB (a mathematical model) to allow users to manipulate points, curves, surfaces, meshes, and solids the way they want. There are literally no limits on complexity, degree, or size beyond those of your hardware.
It has got an extremely detailed interface that can display countless viewports, perspective working views, floating views, clipping planes, two-point perspective, and 3D stereo view modes. The built-in enhancement tools make sure that 3D models used throughout the process are the highest possible quality.
As far as drafting and rendering are concerned, the software makes it easier to develop 2D and 3D drawings for every discipline in every notation system and visual style. You will be able to manipulate the render and change shadows and light pretty quickly.
The 64-bit support and enhanced support for graphic co-processors have made it possible for Rhinoceros to work with large point clouds. The latest version is compatible with hundreds of different CAD, rendering, and animation products.
6. MeshLab
Price: Free
Platform: Windows | macOS | Linux
Plus Point: It doesn't hog computer resources and makes point-to-point measurements to a 3D model really easy.
MeshLab is an open-source program for editing and processing 3D triangular meshes. It is packed with many functions for inspecting, editing, texturing, rendering, and transforming meshes.
With the visualization feature, you can graphically present the tiniest detail of a 3D model, control the camera perspective, and use inbuilt canonical views. Move different meshes into a common reference system, reconstruct the shape of any object, and manipulate its scale, position, and orientation with ease.
There are many Photoshop-like filters to configure the vertex and face colors, such as brightness, contrast levels, gamma, saturation, sharpening, and smoothing. Supplementary filters are also there to calculate Volumetric Obscurance and Ambient Occlusion and map them to vertex and face color.
Work done on MeshLab can be interchanged with other popular third-party tools, including SketchFab, Autodesk, and Blender. This makes it easy to expand your project and work across multiple 3D software.
MeshLab has been used for rapid prototyping in orthopedic surgery, desktop manufacturing, as well as in many academic and research contexts, like surface reconstruction, cultural heritage, and microbiology.
5. MatterControl
Price: Free
Platform: Windows | macOS | Linux
Plus Point: Step-by-step guide is incorporated into the workflow; tracks 3D print progress so you can pick up right where you left off.
MatterControl is an all-in-one software package that allows you to design, slice, and manage your 3D prints. You can either browse existing projects (by visiting Design Apps) or build objects from scratch using the Design Tools.
MatterControl is packed with advanced 3D design capabilities, which make it easier to create quality models with higher complexity than conventional CAD tools. For example, it features a real-time modification of Z-offset and integrated controls for dual extrusion using powerful 64-bit processing.
If you have a dual extrusion 3D printer, the software makes it easy to select which extruder will print certain parts. Once the model is imported or created, you have the ability to delete or replace parts, align them to their origin, and direct the printer on what extruder to use for particular regions of the design.
4. SolidWorks
Price: Available on a request basis
Platform: Windows
Plus Point: Easy to model ideas; a lot of learning and helping materials are readily available.
SolidWorks is a computer-aided engineering (CAE) and computer-aided design (CAD) software for Microsoft Windows. It is used by millions of designers and engineers at more than 100,000 companies.
Written on Parasolid-kernel, the software utilizes a parametric feature-based technique to develop models and assemblies. It is pretty easy to get acquainted with and comes with lots of functionality.
While 3D sketches are available for professional users, most people start with a 2D sketch. The sketch contains geometry like points, arcs, lines, conics, and splines. You can add dimensions (to define the location and size of the geometry) and relations (to define attributes like perpendicularity, parallelism, tangency, and concentricity).
The software automatically generates views from the solid model. You can easily add notes, dimensions, and tolerances to the drawing at any time. Your work is saved in the Microsoft Structured Storage file format so that you can open and modify it on other platforms from other vendors.
3. Fusion 360
Price: 30-day free trial | $495 per year
Platform: Windows | macOS
Plus Point: Assemble design with a top-down, middle-out, or bottom-up approach and analyze assembly motion.
Fusion 360 is a cloud-based 3D CAD software developed by Autodesk. It handles the entire process of designing, testing, and executing a 3D structure.
The software offers complete control over shape design and provides robust features to build clean and highly detailed modes. It allows you to create prototypes and validate designs before manufacturing quickly.
You can even simulate your products digitally to ensure that they will survive the real-world conditions. The Static Stress and Shape Optimization options let you determine stresses caused by static loads on parts and identity unnecessary regions in your design for light-weighting. This could significantly reduce the cost of prototyping.
All in all, Fusion's comprehensive set of modeling tools makes it one of the preferred choices of products for designers, mechanical engineers, and machinists.
Read: 15 Tools to Instantly Convert 2D Images to 3D Ones
2. CATIA
Price: Available on a request basis
Platform: Windows | Unix
Plus Point: Perfect for designing engines, electrical parts, thermal and hydropower systems.
CATIA is probably the best 3D printing software for professional users. It stands for Computer-Aided three-dimensional Interactive Application.
Developed in 1977 by the French company Dassault Systemes, CATIA provides the unique ability to model complicated products. Over the years, it has developed into much more than a CAD software package: it is now a software suite that incorporates the capabilities of computer-aided design, engineering, and manufacturing tools.
The software has a fully-loaded library with all materials required for designing projects on different scales. Unlike other 3D modeling tools of its kind, which require a powerful PC, CATIA can be run on low-end desktops and laptops.
It efficiently manages all the data during product development. It has been applied to many industries, including automotive, aerospace, defense, life sciences, consumer goods, and industrial equipment.
1. Cura
Price: Free
Platform: Windows | macOS | Linux
Plus Point: Has a super quick learning curve and more than 400 settings for granular control.
Cura is an open-source slicing application for 3D printers. It is available under the LGPLv3 license so you can integrate it with third-party CAD applications.
Like other 3D printing software, it slices the model file into multiple layers and generates a printer-specific g-code. Its super clean interface and minimalist layout allow you to add in any extras or parameters you might need. Once done, you can send this G-code to the printer to print the physical object.
Cura is compatible with almost all desktop 3D printer and supports common 3D formats, including OBJ, STL, 3MF, X3D. It also works with image file formats like PNG, JPG, GIF, and BMP.
Read: 12 Best Free CAD Software
The software is fast, simple, and straight to the point. If you want to explore more, you can find plenty of educational resources on tutorials on Ultimaker's community forum.
Frequently Asked Questions
What is STL for 3D printing?
STL is the most widely used format file for 3D printing. It stands for STereoLithography or Standard Tessellation Language. Since it is light and simple, it can be easily handled by various 3D machines and software.
STL only describes the surface geometry of a 3D object. It doesn't include details like color, textures, and other model attributes. The format uses a series of connected triangles to recreate the surface geometry of a 3D model. The more the number of triangles, the higher the resolution of the 3D model.
What are some open-source 3D printing tools?
The good news about 3D printing resources is that there are several open-source and cloud-based solutions that allow you to start small and scale as your requirements increase. Following are the three most effective opens source tools for printing complex 3D models.
OctoPrint: allows you to control and monitor every aspect of your 3D printer and printing jobs right from the browser
Gmsh: come with a CAD engine and post-processor. It provides a fast and easy-to-use meshing tool with parametric input and advanced visualization capabilities.
Dust3d: is a cross-platform tool that can help you create 3D watertight models within minutes and export them in FBX and glTF formats.
What is the best 3D printing software for Mac?
Blender works great on Mac machines. Although it is not the best choice for beginners, it is ideal when you are familiar with all basic concepts and want to develop skills and design sophisticated 3D models.
The best thing about this free tool is it supports the entirety of the 3D pipeline, including modeling, animation, video editing, motion tracking, simulation, and 2D animation pipeline.
Is there a good 3D printing tool for kids?
Yes! TinkerCAD is a free 3D modeling software that runs in a web browser. It is mostly used by kids, teachers, and hobbyists to design simple as well as complex shapes. The platform regularly releases new features. Recently it introduced Codeblocks – a simple way to create 3D models using draggable blocks of code.