A 65% keyboard contains alphanumeric keys, modifiers, and navigational keys, but doesn't have Numpad and Function row. These keyboards are a perfect middle ground between compact (60%) keyboards and full-sized (100%) keyboards. In other words, they straddle the line between functional and compact.
The 65% keyboards take up less space and are often matched to the size of laptop keyboards. Since they are typically mechanical, they have a more precise and consistent feel.
This form factor has seen tremendous growth over the past few years, probably because it looks good on a computer table and is ideal for working on the go.
As an experienced writer, I have had a long obsession with keyboards. My work involves extensive research and writing a thousand words every day. For this article, I have spent two days searching through specifications and users reviews. I looked for a wide range of options that would suit both professionals (like programmers and gamers) and general users.
Below is the list of the best 65% keyboards based on design, accuracy, and typing experience. I have tried to include the finest options at different price points.
9. Ducky X Varmilo MIYA Pro Panda

Price: $185
Best for: Gaming
This is a collaboration keyboard between Ducky and Varmilo. It comes in numerous aesthetics, and you have options to select among a lot of different Cherry MX switches (black, blue, brown, green, red, etc.) while placing the order.
The build quality of the keyboard is great. With a sturdy plastic frame, stable keys, and relatively zero flex, the board feels like a brick and offers an excellent typing experience. Plus, its side profile is slightly angled, which helps you with typing ergonomics and ease of use.
Pros 
Excellent build quality
Customizable PBT keys
Detachable USB Type-C cable
Cons
Since keycaps are made of one of the most durable materials called Polybutylene Terephthalate (PBT), they will not fade over time. Each key is individually backlit, and there are plenty of options to customize the lighting. You can map macros on all keys or set profiles and save different lighting effects to that profile.
8. Snpurdiri
Price: $17
Best for: Gaming and office work
Snpurdiri is a membrane keyboard with a mechanical feel. It is relatively easy to use and compatible with PC, MAC, PlayStation, and Xbox. The USB Type-C connection provides a stable and high-speed data connection — plug and play directly. 
Unlike other mechanical keyboards, some treatments are made for the Snpurdiri's PCB board. It contains tiny drainage holes, so you don't need to worry about the water in the shaft.
Bevel high and low keys ergonomic design allows you to work easily without muscle tension. It also has a foot stand to further reduce the discomfort.
Pros 
Perfectly blends pragmatism and minimalism
Portable ergonomic design
Waterproof
Cons
Very limited customization options
Since the keyboard uses UV coated and injection laser carving ABS keycaps design, the characters do not fade over time. Plus, it offers different RGB settings to enhance the overall look of the board. There are six backlight mode effects, eight single backlight color switching, and transparent backlight options. You can adjust the lighting speed and levels as per your needs.
7. Durgod Hades 68
Price: $120
Best for: Gaming
You might not have heard of Durgod Hades, but this keyboard is getting more attention within the gaming community. It comes with various switch options —
Cherry

: black, red, brown, blue, silent red, speed silver

Gateron

: black, red, yellow, blue, silent brown

Kailh Box

: box jade, box red
Using the DURDOD Hera Complier software, you can customize the keyboard as per your preferences. Each key is remappable and accompanied by support for up to four layers of keys.
You can either choose from 12 in-built backlit modes (such as Radar, Wave, Star, Nebula, Ripple, etc.) or create your own lighting mode from 16.8 million color combinations.
Pros 
Full aluminum chassis and superb build quality
Doubleshot PBT Keycaps
Support backlit control and macros editor
Cons
Not a hot-swappable board
Since the keyboard boasts a 1,000 Hz polling rate for instantaneous recognition of every keypress, it is perfect for gamers. The keystrokes do not cancel each other and register without fuss.  Moreover, the Hera software allows you to store up to three profiles of keymaps for all of your macro needs.
Overall, Durgod Hades 68 is a clean, non-stenciled keyboard.
6. LTC NB681 Nimbleback
Price: $50
Best for: Office work and gaming
LTC NB681 Nimbleback has a 68 keys portable layout. It is geared with the practical arrow, control and navigation keys, and hot-swap PCB, which allows you to replace 3 or 5 pin switches freely. It supports MX-style switches (brands like Gateron, Cherry, Outemu, and Kailh). You can choose from three different types of switches —
Blue switches

: Tactile and clicky

Brown switches

: Tactile and quiet

Red switches

: Linear and quite
They all are made to last up to 50 million keystrokes.
The keyboard features 19 RGB backlight modes with gorgeous color schemes and reactive effects. Brightness and flowing speed levels are fully adjustable.
Pros 
Ergonomic design
Detachable frame
18 RGB Lighting modes
Two USB 2.0 ports and Type-C wired connection
Cons
No per key RGB programmability
There are two built-in USB passthrough ports that let you connect more devices like a flash drive and mouse directly into the keyboard for easy access and faster productivity. These ports can also be used to charge smartphones and accessories. Plus, there is a Type C port that ensures stable and high-speed data transmission.
5. Razer BlackWidow V3 Mini HyperSpeed
Price: $180
Best for: Low-latency wireless gaming
Razer BlackWidow V3 Mini HyperSpeed is perfect for smaller or minimalist setups where desk space is a premium. Its mechanical switches are designed for gaming from the ground up and have been optimized to deliver professional-level performance and durability.
It is packed with advanced wireless technology for hyper-responsive inputs and low-latency gaming. The incredible performance is achieved through ultra-fast radio frequency, optimized data protocol, and seamless frequency switching even in the data-saturated, noisiest environments.
It has three connection modes:
Hyperspeed wireless

: For seamless, low-latency gaming

Bluetooth

: Connect and toggle between three devices

USB-C

: Via detachable cable (comes with the keyboard)
The board comes with either green mechanical switches (clicky and tactile) or yellow mechanical switches (smooth keystrokes with a low sound profile). Both offer up to 200 hours of battery life and can be charged from 0 to 100% in 5 hours.
Pros 
Bluetooth and 2.4GHz wireless support
Connect the keyboard and mouse to a single dongle
Incredibly low latency
Cons
No wrist rest
Steep drop in battery life with RGBs on
The Doubleshot ABS keycaps have extra-thick walls so that the labeling never wears off, and each key can withstand prolonged, repeated use. With over 16 million colors and a suite of effects, these keycaps bring out the full brilliance of Razer RGB. Moreover, the keyboard dynamically reacts (changes color) with more than 150 integrated games.
4. RK Royal Kludge RK68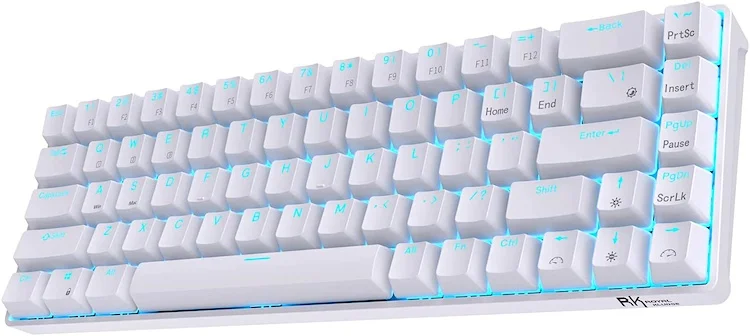 Price: $53
Best for: Office work and casual gaming
This wireless keyboard boasts both practical and compact features while retaining a minimalist layout. It can be paired with up to three devices over Bluetooth, and there is blue backlighting in case you need to use it in a dark room.
The white design really makes the light pop in a vibrant way that is sure to impress onlookers. Not to mention the wireless connectivity is quite uncommon on such affordable options.
The 1450mAh battery runs for 15 hours if you turn off the backlight. It can be fully charged within 4 hours via a USB-C charging power port located in the middle of the rear side of the keyboard.
Pros 
Hot-swappable tactile Brown switches
DIY keybinding shortcuts
Wireless and detachable Type-C connection
Budget-friendly
Cons
No feet risers for tilting the keyboard upward
Perhaps the best thing about the board is that you can easily replace the RK68 stock keycaps with other types, such as PBT keycaps. Unlike ABS keycaps, PBT keycaps are made of better material that doesn't develop 'greasy shine' or degrade over time.
3. ASUS ROG Falchion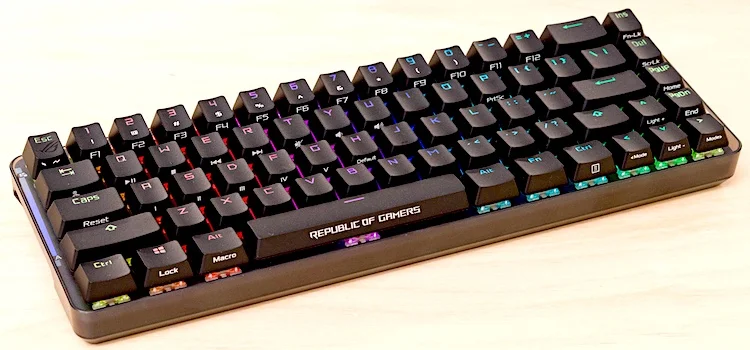 Price: $131
Best for: Gaming
Asus is taking a more focused approach with ROG Falchion. Unlike other premium wireless gaming keyboards that use Bluetooth, Falchion features an RF-only wireless USB connection. More specifically, it offers dual-mode connectivity via wired USB and one millisecond at 2.4 GHz RF.
The keyboard is very well-built and has impressively low latency and customizable RGB backlighting. It allows you to set macros to any key (either directly from the keyboard or by using the Armoury Crate software program). 
The board has a configurable touch panel on its left side, which you can use to switch applications or control volume, or you can customize it to do a specific task.
ROG Falchion is available with different types of switches, including Cherry MX RGB Red, Blue, Brown, or Speed Silver switches. All models provide a smooth typing experience — you won't notice any input lag.
Pros 
Wireless Aura Sync RGB lighting
Programmable touch panel on left side
Up to 450 hours of battery life
Cons
It comes with a transparent polycarbonate cover that provides superb protection. You can also place the cover under the keyboard to give the underside RGB lighting a diffused look.
As far as battery life is concerned, the company claims that the keyboard should last 53 hours with the RGB lighting on and up to 450 hours with the lighting off.
2. Fnatic Streak65

Price: $115
Best for: Gaming
Fnatic Streak65 has all the fine touches that you would want in a stylish, compact keyboard. Measuring 31.75*10.84 centimeters, Streak65 takes up little desk space. And it weighs only 0.86 pounds.
The keyboard is equipped with linear, ultra-fast switches that offer 1 mm actuation distance and reduced total travel for faster typing.
The custom-molded stabilizers are pre-lubricated to minimize rattle and inconsistency and improve keyboard acoustics. The USB-C port is positioned in the top-left, so it cannot obstruct your mouse movements.
Pros 
Aluminium metal build
RGB with 16.8 million colors
Comfortable, low-profile switches
Cons
Doesn't support per-key light controls
The keys are designed in such a way that they can expel more light from all sides, spreading it across the entire keyboard to brighten your desk set-up.
You can customize the RGB lighting the way you want. There are more than 16.8 million colors to choose from. The keyboard can store up to four profiles to hold your key bindings, macros, and custom lighting modes.
1. Drop ALT Mechanical Keyboard
Price: $180
Best for: Gaming and Programming
Drop ALT keyboard is made with a solid aluminum frame with a built-in switch plate. It allows you to swap switches easily (without soldering), thanks to the hot-swap switch sockets.
The keyboard has a total of 67 keys. Each key can be programmed using QMK firmware, which means you can assign macros or custom keybinds to individual keys.
The board also features fully customizable RGB backlighting and underlighting. You can choose from millions of colors for every single key and light it up with a rainbow wave pattern. The LEDs operate at 100 Hz, so you don't see any flickering. There is also a built-in translucent LED diffuser to minimize hotspots.
Pros 
Streamlined aluminum build
Fully customizable RGB backlighting
Swap switches in seconds
Removable magnetic feet
Cons
This keyboard has multiple models featuring different types of switches. Whether you like lightweight and linear or heavy and tactile, you can buy as per your requirements.
Read: 18 Super Stylish PC Keyboards with Amazing Design
Other Equally Good 65% Keyboards
10. Keychron K6
Price: $70
Keychron K6 is designed to maximize your workspace with a compact, ergonomic design while giving you access to function keys and essential multimedia keys (through the combination of keypresses). It includes keycaps for both macOS and Windows — you can hot-swap every switch (without soldering) to personalize your typing experience.
The keyboard can be connected with up to three devices (laptop, smartphone, and tablet) via Bluetooth, or you can use a wired Type-C connection. It is best to fit home, office, and light gaming use.
With 4000 mAh battery capacity, it can last up to 72 hours when RGB lighting is on, or up to 240 hours when the backlight is off.
11. Leopold FC660M
Price: $110
The Leopold FC660M is a professional-looking mechanical keyboard with a few highly sought-after features such as a sturdy build, Cherry MX switches, and PBT keycaps.
The case is made of high-quality plastic and is brick-shaped with a slight typing angle. It doesn't make weird creaking noises when twisted. At the back of the keyboard, there are two rubber feet to keep it from sliding.
In the box, you get one detachable power cable, plastic keycap puller (to remove keycaps effortlessly), dust cover, and some extra keycaps. The switches are your standard Cherry MX options (Blue, Brown, Black, Red, Silent Red), all of which are designed to withstand at least 100 million keystrokes.
12. Varmilo VA68M
Price: $140
The latest version of Varmilo is well suited for typing and gaming. It features RGB LED backlighting that really enhances the overall look of your set-up.
The keyboard is equipped with Cherry MX switches for tactile feedback without the noise of a clicky switch. There are four sturdy rubber pads and two rubber feet at the bottom. This offers better stability and helps you keep your hands from getting fatigued.
Overall, if you are a programmer or writer, you won't regret spending $140 on this keyboard.
13. Ducky One 2 SF
Price: $109
Ducky One 2 SF is considered a premium mechanical switch gaming keyboard. Its built quality is top-notch with literally no keyboard flex.
With multiple Cherry MX mechanical switches to select from, you can't possibly go wrong. The board has a full RGB backlight with individually-lit keys. Plus, each key is macro-programmable. Despite the small size of the board, keys do not feel cramped and offer a great typing experience.
Ducky One 2 SF connects through a USB C port with the highest frequency of 1,000 Hz. This means the keyboard can send data to your desktop 1,000 times per second.
Read: 12 Best Keyboard Apps For Android With Advanced Features
Frequently Asked Questions
How many keys does a 65% keyboard have?
The 65% keyboards typically have 66 to 68 keys. They don't have function row and Numpad. These keyboards offer plenty of switch options (such as Cherry MX Blue, Brown, Red, Silver, etc.), allowing users to configure the board as per their preferences.
Is a 65 keyboard good for gaming?
Yes. 65% keyboards feel great to type and game on. Compared to a full-sized keyboard, they tend to have less rattling, creaking, and wobbliness. Plus, the compact size encourages better ergonomics by allowing the gamer's hands to stay closer together.
Read: 13 Different Types Of Computer Keyboards
What are the most reliable keyboard brands?
There are certain brands that you can always rely on when it comes to gaming, coding, and general office work. For example, keyboards manufactured by Logitech, Razer, HP, Microsoft, and Acer are best in quality and provide good value for money.