Alarm clocks are an important piece of technology used by humans for hundreds of years to get on with various day-to-day activities. It can help you in several situations, whether you want to wake up early in the morning or take a nap in the middle of the day, but wary that you might not wake up in time.
Gone are the days when you have to slap your mechanical alarm clocks to stop them from making noise after you are awake. Their place is now taken by smartphones where you can install smarter alarm clock apps that can be used anytime, anywhere you want.
Yes, smartphones do come with a pre-installed alarm clock application that may be enough for ordinary use. But advanced third-party apps can fulfill the need of users who want something more than just a simple alarm clock.
Below, we have compiled the 15 best alarm clock apps for both iOS and Android users that will make your life a bit easier.
15. Alarm Clock Xtreme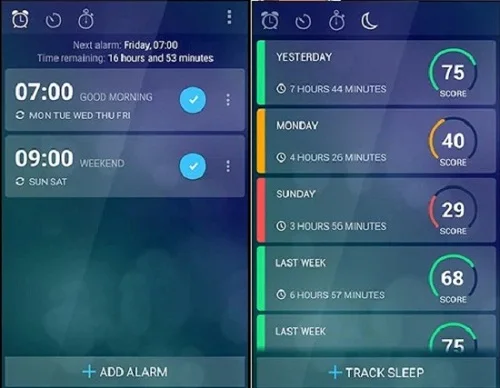 Platform: Android
Price: Free, Up to $4.99
If you are looking for a simple alarm clock app, then you can try Alarm Clock Xtreme. It has almost every necessary feature that a competent alarm clock should have. The app makes sure you don't snooze or dismiss your alarm easily with the help of math problems that you have to solve in order to stop the alarm to keep bugging you.
Its crescendo feature gradually increases the volume of your morning alarm so that you have a pleasant morning, but not so pleasant, which may make you lazy. Apart from the alarm clock, the app can also be used as a stopwatch and countdown timer.
After a short review of the app, the only major problem I found was its annoying ads. You can choose its paid version to get rid of them.
14. Good Morning Alarm Clock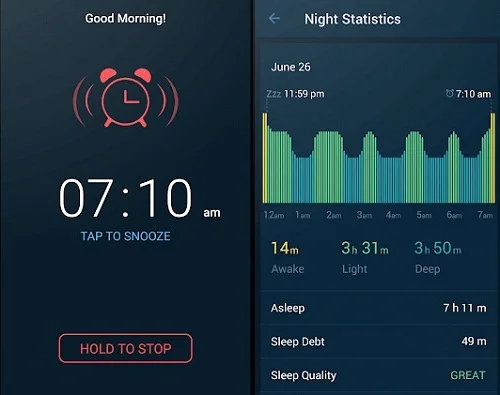 Platform: Android
Price: Free, $0.99
Don't let its simple name fool you; Good Morning is a powerful alarm clock application for the Android platform that can help you with your oversleeping problem. The app lets you choose your own music and make an entire playlist. It also keeps you updated with weather forecasts.
But perhaps the best feature of this app is its clever monitoring function that intelligently tracks your sleeping behavior and figures out the optimal time for you to wake up from sleep. Just place your smartphone closer to you while sleeping. If you don't want to gather any sleep-related data, then you can use the app as a simple bedside alarm clock as well.
13. Google Assistant
Platform: Android, iOS
Price: Free
For Android users, this app provides a shorter alternative to launch and use ever so powerful Google Assistant. Apart from doing things like playing your favorite music and making calls, Google Assistant can also act as an effective alarm clock. Just command the application to set the alarm any time, and it's done.
Since it's a Google product, it can be easily integrated with Google Calendar and other products of the Google family. Overall, Google Assistant might not be a dedicated alarm clock app, but it is as simple as they come.
12. Freaky Alarm
Platform: iOS
Price: $1.99
Freaky Alarm will try its very best to stop you from going to sleep again after shutting off the alarm, and it's extremely effective. This iPhone alarm app comes with loud, frustrating sounds, and on top of that, you have to scan predetermined objects and complete a series of games to stop the alarm.
There are 10 such games in total with five priority levels to choose from, which determines the difficulty level of your alarm. It also comes with a notification center widget.
11. I Can't Wake Up!
Platform: Android, iOS
Price: Free, $2.99
I Can't Wake Up can be an effective tool in your quest to wake up on time. The app includes eight wake-up challenges ranging from math tests to matchmaking, which you have to go through in order to turn the alarm off. The app is fairly easy to use, with almost every basic alarm clock feature and multiple customization options.
10. Early Bird Alarm Clock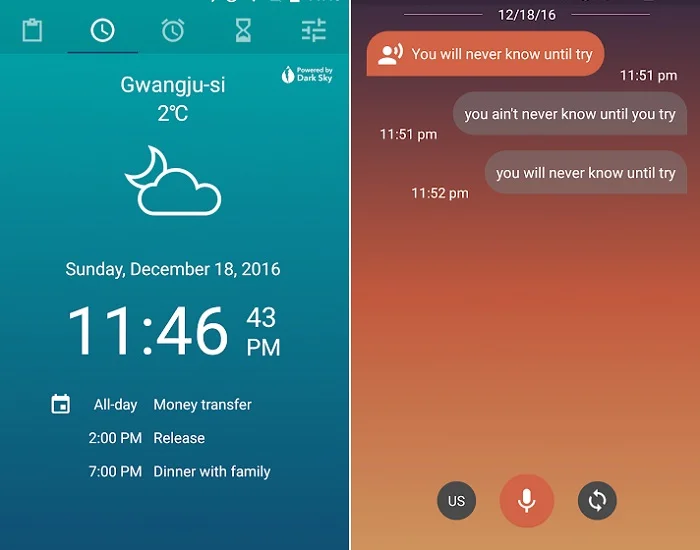 Platform: Android
Price: Free, $1.99
One can get a great many things done by waking up early in the morning. And now, with the help of this app, you can be an early bird too. It is packed with many powerful features that make it better than other similar services.
The app provides you with various themes and alarm sounds to customize your alarm clock regularly, so you don't have to wake up to the same old sound every day. Of course, there are different sets of challenges to force you to wake up. If you want, you can use it as a weather app as well.
9. Walk Me Up
Platform: Android, iOS
Price: Free
Unlike almost every other alarm clock app in this list, Walk Me Up! won't stop bugging you with its loud alarm until you take a considerable amount of steps away from your bed. Yes, you heard it right; you have to walk in order to satisfy the app that you are fully awake.
The app also has an evil mode, which will disable the snooze function of the alarm. Then there is a voice assistant feature. With in-app purchases, you can limit the maximum snoozes and enable slightly gentle alarm sounds. Although the app is quite decent, there are certain loopholes that one may easily exploit to sleep longer.
8. Carrot Alarm Clock
Platform: iOS
Price: $2.99
Carrot Alarm Clock is, without a doubt, one of the popular alarm clocks among iOS users. It's a simple and innovative app that will wake you up every morning in its own style. You can get on with it just by choosing the alarm time and dragging the alarm widget (CARROT) to either side of your smartphone.
The app will do whatever it takes to wake you up; play different songs, some humorous dialogues; it will even try to bribe you with a tasty breakfast or ice cream. It will also threaten you in her own way if you are lazy and hit the snooze button again and again.
In order to shut its alarm off, you have to go through a set of mini-games.
7. AlarmMon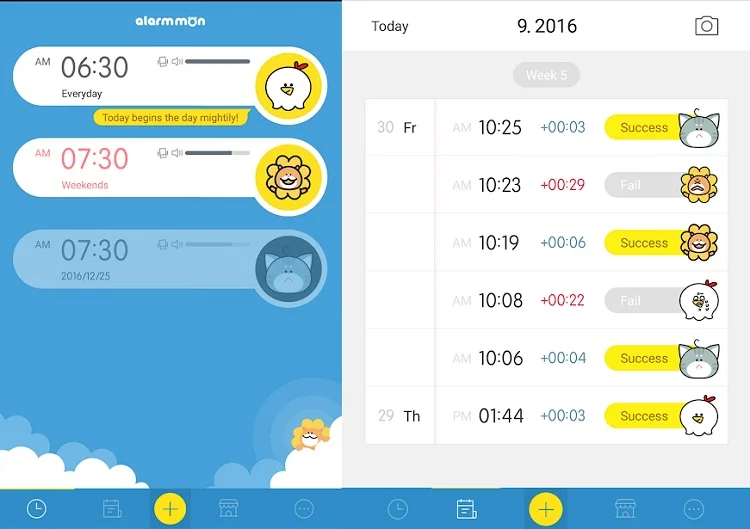 Platform: Android, iOS
Price: Free
AlarmMon is one of the most popular alarm clock apps in the world. Not only does it make sure that you wake up on time, but it also stays awake after the alarm goes silent. With AlarmMon, you get a variety of options, from a loud alarm to one featuring video, which you can choose according to your mood.
There is an option for a silent alarm game, and you can customize alarm clocks with various funny characters. The app can also broadcast daily weather news after the end of the alarm.
A useful feature of the app is a history tracker, with which you can track your sleeping pattern and sleep-related habits more closely.
6. Timely Alarm Clock
Platform: Android
Price: Free
Timely Alarm Clock is an easy-going and perhaps one of the most elegant apps present in the app store. It can be easily customized: there are a variety of themes, sounds, and alarm clock styles to select from.
Timely comes with different challenges to make sure you stay awake after shutting off the alarm. It also has a cloud integration backup feature, with which you can synchronize your alarms across multiple devices.
5. Sleep Cycle Alarm Clock
Platform: iOS
Price: $1.99
Sleep Cycle Alarm Clock can be your savior in case you have to wake up in the morning to attend a meeting or have some other important job. It's a powerful app that intelligently tracks your sleeping patterns to tell you when is the right time to wake up so you don't feel tired and everything goes smoothly onwards.
It actually analyzes vibrations or sounds during your sleep to track different sleep phases. Once you reach a light sleep phase in the morning, it will automatically go off.
4. Sleep As Android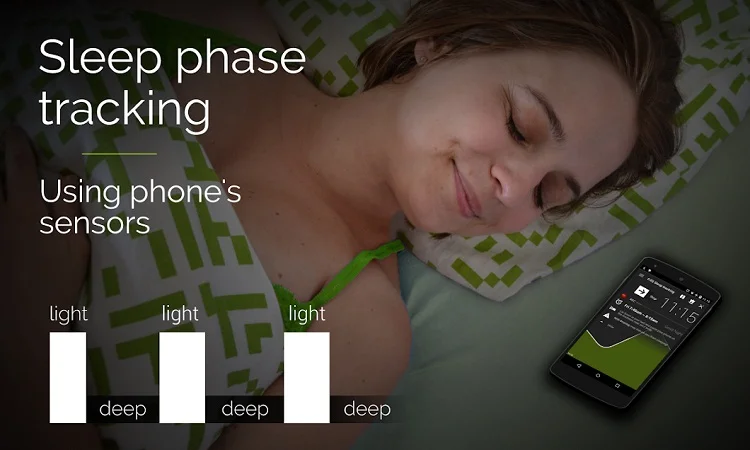 Platform: Android
Price: Free
In principle, the app is similar to Sleep Cycle but for Android. It takes a strong scientific approach to learn about your sleep habits, patterns, and tell you the best time to wake up. Like Sleep Cycle, this app also detects sounds and vibrations during sleep.
The users can integrate the app easily with devices like Google Fit and Galaxy Gear smartwatch. You can also access statistics to observe your sleep deficit, deep sleep phase, and snoring habits.
Furthermore, it can monitor and prevent several sleep-related conditions such as Oximetric Sleep Apnea and Jet lag.
3. Alarm Clock by Double Twist
Platform: Android
Price: $2.99
Alarm Clock by Double Twist is an extremely popular app among Android users, which can wake anybody up on time no matter how deep a sleeper they are. For starters, the app features two types of clock modes; analog clock and flip clock.
Then there are four different types of alarm modes that you can choose from, namely Sleep Cycle, Quick Nap, Sunrise, and Time. Needless to say that you can either choose one of the pre-installed sounds or use your favorite song on the alarm, though it needs an additional app. Moreover, the app lets you adjust volume and snooze time with ease.
Read: 16 Best Smart Notification Apps for Android Users
2. Alarm Clock for Heavy Sleepers
Platform: Android
Price: Free, $1.99
It is a simple, smart, and heavily customizable app that wakes you up in a more pleasant and natural way. While this app can be used by almost anyone, it serves best for heavy sleepers who usually sleep more than they should. As mentioned earlier, users can customize alarms according to their needs.
For example, you can use your favorite song as an alarm and alter snooze time. You can also integrate the app into your virtual calendar. To ensure you stay awake long after the alarm, the app force you to complete a number of challenges, including math problems, Barcode, or QR codes.
The app is ad-supported, but you can buy the paid version to go completely ad-free.
Read: 17 Best Countdown Apps
1. Alarmy
Platform: Android, iOS
Price: Free, $1.99
Popularly known as the "world's most annoying alarm," Alarmy actually boasts of its innovative features, which help people like me, who find it difficult to get up in time. Before you start using the app, you have to choose a mode to shut off the alarm. This includes photo mode, math-problem mode, and shake mode.
In photo mode, users have to take a photo of a target location, which can either be near your bed or any other place in your room (coffee maker or bathroom sink serves the best). Once the alarm is set off, it can only be shut by taking a picture of that location. This will force you out of bed, and there is no way around.
In other options, you can either shut the alarm by solving a math problem, which can be an eye-opener, or by shaking the device several times. The default alarm sound is loud, but you can also add your own pleasant music if you want.
Read: 20 Fitness Apps For Both Android and iOS
Frequently Asked Questions
What is the best alarm sound to wake up to?
According to a study at RMIT University, harsh alarm tones are linked to increased levels of morning grogginess, whereas melodic and soft alarms could improve alertness levels. That's why you should use stress-free and gentle tones that can help you wake up gradually. For instance, if you have an iPhone, you can use:
Harp

: Simple, classic, and scales up gradually

Ripples

: Sounds watery and dreamy; you'll float into consciousness

Slow rise

: Peaceful overlapping chimes
How do I set the alarm on an Android phone?
There are multiple ways to set an alarm time, and they are all very simple. Just open your phone's default Clock app, tap Alarm, and then add or edit the time on existing alarms. Or you can simply use the Google Voice command (Siri on iPhones) to add, snooze, or dismiss an alarm.
Read: 13 Best Productivity Apps You Can Use This Year
Will the alarm work if your phone is Switched Off, Silent, or Do Not Disturb?
The Silent or Do Not Disturb mode does not affect the alarm. Your alarm will sound if your smartphone is in Silent or DND mode. However, if you switch off your phone or it runs out of battery during the night, the alarm you've set for the morning won't sound.