We all have a few annoying people in our contact list who constantly call you and you don't want to answer. Fortunately, Android app ecosystem provides different applications to block unwanted calls and messages. You will not receive any calls or texts from the blocked number. Some high-end Android phones do offer this feature built-in, but many don't. In this article, we will show you the best of 3rd party apps that help you block spam calls and SMS from telemarketers, phone scammers and unknown numbers.
16. Blacklistcall – Block numbers
Blacklist Call is a firewall-like app, which gives you complete control over who can call you while protecting you from spams. You can block all hidden or restricted numbers, and turn an unknown caller to silent. It will automatically hang up on unwanted callers added to the blacklist.
The app also allows you to send an automated reply message after rejecting a call as per your configuration. You can schedule to silence or block texts and calls during specific times, like while working, watching movies or sleeping.
15. Whoscall – Caller ID & Block
Just like Truecaller, Whoscall shows a contact information card on the call screen. The ShowCard functionality lets you create your personalized business-like card. It's a feature-filed application to identify and block calls and texts with precise controls.
The app blocks spam, scams, robocalls, telemarketers and SMS intelligently to ensure a harassment-free calling experience. It searches the global database of over 700 million phone numbers.
14. Call Filter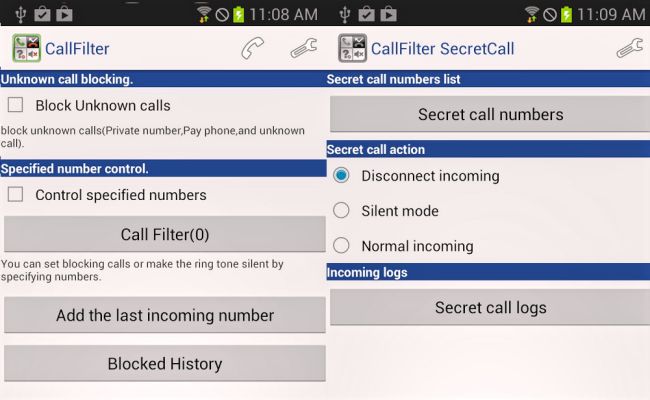 As the name suggests, CallFilter offers some useful functions like "blocking unwanted calls" and "SecretCall function" that prevent outgoing or incoming calls and messages from certain numbers.
The app protects your privacy by keeping secret incoming and outgoing call logs that you don't want to be opened. It can automatically delete missed call icons on the status bar as well as from the phone standard log. You can switch between blocking and receiving mode whenever you want.
13. Blacklist Plus
Blacklist Plus is an easy to use call blocker that doesn't only block numbers from contact list, but also the whole range of any alphanumeric phone format that begins with particular digits/alphabet. There is also a scheduling option that lets you set the hours you want blocking to be activated.
All data regarding blocked calls are saved in the log. You can make calls without even leaving the program, and turn off the call blocking at any time, by selecting the suitable block mode.
12. Call Control – Call Blocker
Call Control will automatically block calls from robocallers and spammers. Till now, more than one billion call has been blocked by this app. Just download and you are protected. It supports blocking calls from any phone number as well as the area code. You can easily schedule when you don't want to receive calls.
The app features Caller ID feature that lets you know who is calling you even if you don't have the number saved in your device. This makes it easy to block calls from violators of the FTC or FCC Do Not Call list.
11. Master Call Blocker
Master Call Blocker deals with all those pesky callers while you are busy. It keeps spammer away by blocking numbers from your favorite or contact lists. The app will automatically reply the blocked callers by sending a custom message. Moreover, calls can be blocked at certain times during the day, and this time-blocking feature can be configured for specific numbers.
The app is 100 % ads-free and requires no unnecessary permissions. It takes care of your battery by performing all these tasks using less power and memory.
10. Safest Call Blocker
This app keeps things simple and quick, you won't need to dig deep into settings to block calls. You don't have to specifically search your call logs or enter the number manually. You can block the last call with a single tap. Also, you can use the character "#" to create wide ranges of blocked number. For example, 1600-###-### will block all 1600 numbers.
The app will give you notifications of blocked calls to keep track of who called at what time. You can check who ringed your phone from history log.
9. Call Blocker
Call Blocker has many core features that together provide strong protection against annoying calls. It allows you to import and export blacklist numbers from or to a file. By using "Begins with" option, you can block a range of numbers with particular first digits.
The app lets you create a Whitelist, in case if you never want to block calls from a certain number. It saves all blocked calls in the "Log" tab, and notifies you about blocking at every crucial event.
8. Mr. Number – Block calls & spam
Mr. Number is a powerful call blocker app which can be used for both blocking calls and text messages, especially from telemarketers and debt collectors. You can either block one person, an area code, or bunch of private numbers.
The app automatically compiles all callers from your recent call logs and text messages. You can hang up on caller or send them to voicemail. Keep the messages of blocked number or trash them. The caller ID feature provides information about business callers along with their name and location. You can also browse comments from other users when you get a spam text or call.
7. Should I Answer?
Should I Answer is a free mobile security application that protects you against expensive, unsolicited, unknown or unwanted calls. The notification feature displays phone number rating immediately when phone starts ringing. It uses an offline rating database, so internet connection is not needed.
The app lets you block calls from hidden numbers to premium rate numbers. It is also capable to block all calls from numbers which are not in contact list.  You don't need to touch any number from your contact list.
6. Kaspersky Antivirus & Security
Kaspersky does a lot more than just blocking messages and calls. It offers protection against spyware, viruses, trojan and other online dangers. It automatically removes viruses and other threats from mobile devices, and safeguards all the apps and files you download.
Along with blocking calls and messages, it protects privacy of your contacts. It detects non-numeric number spams, and quarantines digital threats in real time. Moreover, it helps you find your lost Android device remotely.
5. Phone
This app is developed by Google and it's an upgraded version of Android's native dialer. It aims to improve your calling experience and gain control over calls with features like spam protection, call blocking and caller ID.
With Phone, you can check messages without having to call voicemail – view, playback and trash them right from the app. Also, it makes it easy to find and call nearby places like restaurants, hotels, and more, from Phone search bar.
4. Truemessenger – SMS Block Spam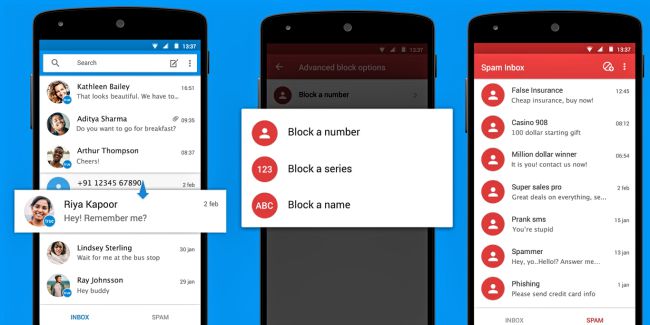 Truemessenger is developed for blocking spam SMS. It tells you who sent you that SMS, even if they are not in your contacts list, and automatically blocks spam texts, keeping your inbox clean and safe. There is an advanced filter option that lets you create custom filter with known spam keywords and number series like area codes or country codes.
3. Call Blocker Free – Blacklist
This is a basic, easy-to-use call blocker app from NQ Mobile Security. It prevents unneeded calls and messages and supports multiple blocking modes at your choice. You can create blacklist of unwanted numbers by adding them via your contact list, call history or recent messages.
The app automatically detects 'one ring' phone calls that are usually associated with telemarketers and phone scams. It sends a notification to update you after blocking a text message or a call.
Read: 30+ Stunning Lock Screen Apps for Android & iOS
2. Truecaller: Caller ID & Dialer
Truecaller is the most popular dial app with the ability to identify unknown callers and block them. You can block calls and spam texts that are reported spam by other users, or enter manually. It also allows you to make calls from the app using name search within its database, even if the contact is not saved in your phone.
There is an "Availability" indicator to tell if the person you are about to call is free to talk or not. Overall, the app connects your contact list within its own global network. And, of course, it requires the internet connection to work.
1. Calls Blacklist – Call Blocker
Call Blacklist is a lightweight app that lets you easily block calls and messages from any private or unknown number. You can either block number from contact lists, call log, or message log, or add the number manually. In order to save you from robocalls, the app supports call blocking from a range of numbers using the "Begins with" option. Moreover, alphanumeric numbers that send promotional messages can also be blocked.
Read: 16 Best Smart Notification Apps for Android Users
If you are busy for a day or for some hours, you can use "Schedule" function, which allows you to set time window when you want to block messages and calls to your phone. The app performs all these functions using as minimum CPU resources or memory as possible.