If you are dealing with slowness or lack of memory on your Android device, clearing the junk files from the system cache can fix the problem. But how does this works exactly?
Over time, your device piles up tons of browser history, ads, notifications, temporary files in the system cache. The more the junk files, the slower your device gets. Deleting unused apps and clearing these lingering files can free a lot of storage space and make your device run faster.
Although there are plenty of apps that remove junk files and provide a host of other utilities, most of them are insecure and filled with annoying ads and malware.
Below, we have listed the best android cleaner apps you can count on to get your device clean and back to its original, speedy self. They all are safe and reliable. 
14. Phone Cleaner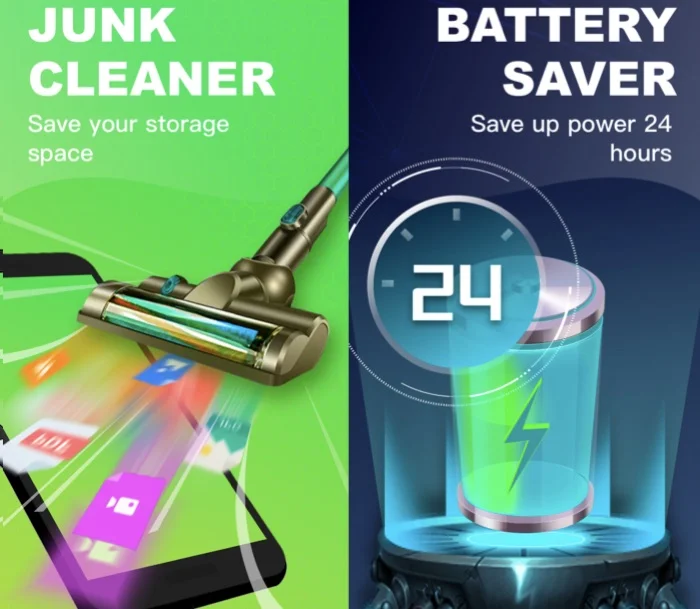 Plus Point: Free up RAM and clean background tasks with one tap.
It is a simple and excellent app to get the job done in seconds. Phone Cleaner is packed with three tools: Junk cleaner, App manager, and Phone booster.
It can analyze your device to delete cache, residual, obsolete applications, and temporary files. With App manager, you can easily control apps and remove large and less-frequency used apps to save more space. It also has an app lock feature to lock down applications that contain sensitive data.
13. Super Clean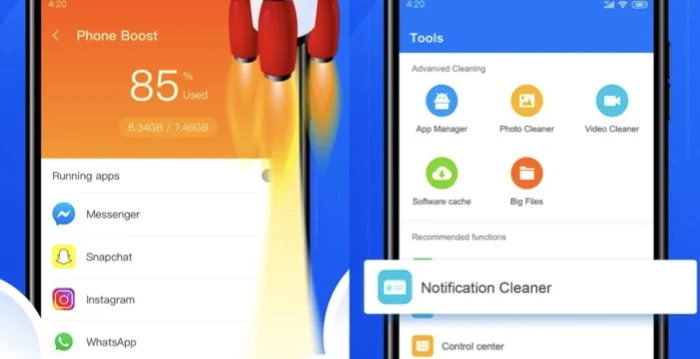 Plus Point: Features a powerful virus detection engine that protects your device against threats.
Super Clean is more than just a cache-deleting app. It comes with several useful tools, such as notification cleaner, CPU cooling, app manager, battery saving, antivirus, and app lock.
With just one tap, you can remove junk files that take up your memory and storage space. There is an option to remove duplicate images, documents, music, and unnecessary apps to free up some extra space. You can also analyze battery usage, and quickly find battery-draining applications.
12. Norton Clean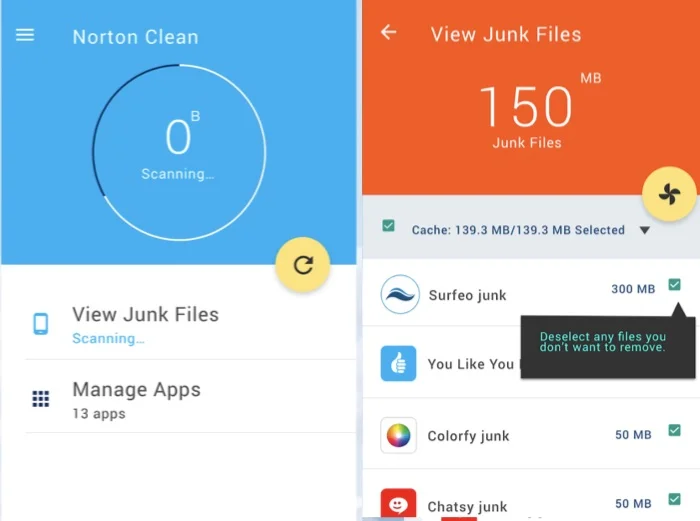 Plus Point: Developed by one of the top-tier security firms.
Created by a cybersecurity software provider, Norton Clean identifies and removes junk, APKs, and residual files to optimize memory space. The company has analyzed the behavior of millions of apps so it can effectively clean junk files with amazing accuracy.
It allows you to manage apps and get rid of bloatware. You can clean cache data for individual apps and move them to your SD memory card.
11. Systweak Cleaner For Android
Plus Point: Options to backup or achieve files and remove space-hogging apps.
This app is packed with several modules that optimize and boost the performance of your device in different ways. Among them are junk file cleaner, duplicate file remover, battery saver, and on-tap booster.
Besides clearing cache data, the app also enhances your gaming experience by closing unnecessary background processes and freeing up RAM. Furthermore, there is a unique Whatsapp module that lets you manage all your Whatsapp media at a single place.
10. Fast Booster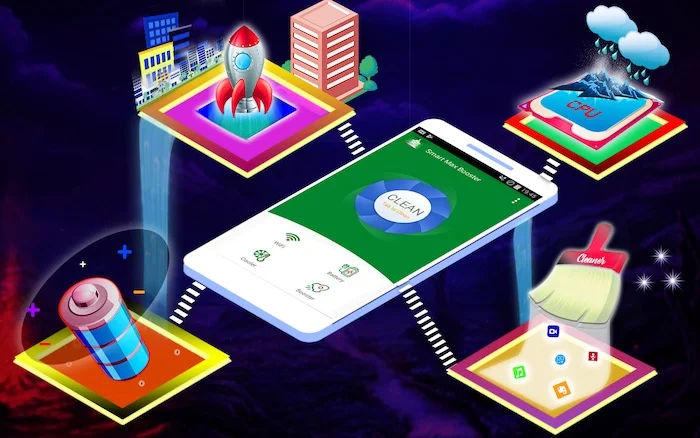 Plus Point: Quickly find/halt resource-draining apps and extend battery life.
Fast Booster is an all-in-one cleaning app for maximizing your device performance. It is packed with a super-fast cleaner, advanced battery master, device cooler, and signal booster.
With one tap, you can cool down your device temperature, reduce CPU and RAM usage, and increase the battery life. Compared to other apps, it is quite fast, but you may find more than usual ads.
9. 1Tap Cleaner
Plus Point: No notification ads
If you are looking for something simple and straightforward, you cannot go wrong with 1Tap Cleaner. It allows you to clean cache, search histories, call/text log, and default system settings with one touch.
It also provides an option to delete junk files from the SD card, and a home screen widget that shows cache and available size. All in all, the app is useful for everyone who has memory management issues.
8. SD Maid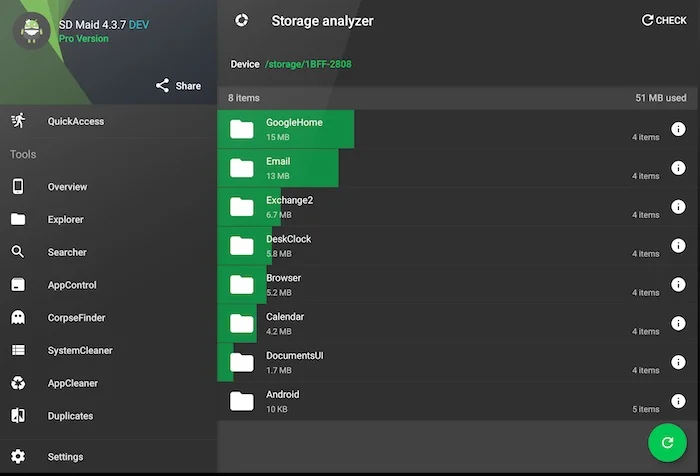 Plus Point: Provides a detailed overview of the device storage.
SD Maid is an in-depth app that specifically focuses on deleting files that are hidden in your device for a long time. It allows you to browse your whole device and modify files through a full-fledged file explorer.
You can find old files created by uninstalled apps, optimize databases, and obtain a detailed overview of your device's storage. The app is capable of removing duplicate images, documents, and music, irrespective of their name and location.
7. Phone Cleaner – Master Antivirus
Plus Point: It can dynamically analyze and optimize CPU usage.
Phone Cleaner makes your device run faster and smoother by implementing two mechanisms: junk cleaning and security. The first one deals with cache and memory to improve the performance of the device, while the second one takes care of your privacy and keeps your files safe from malware.
The app provides real-time protection against viruses and a secure browser that protects browsing history and privacy. It can even detect fake WiFi and unauthorized connections.
6. AVG Cleaner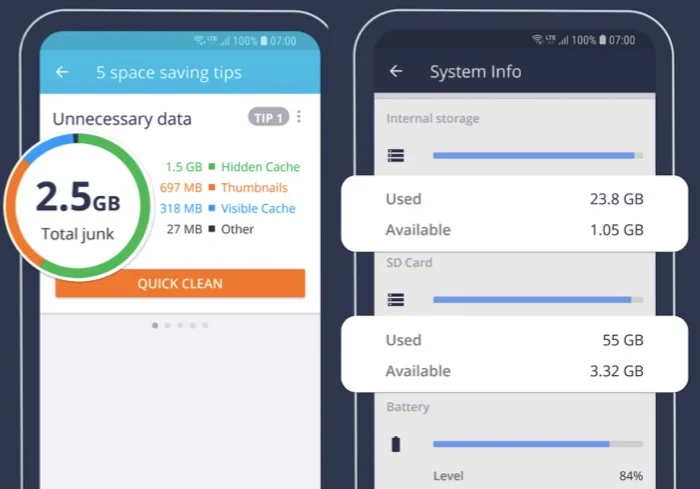 Plus Point: Packed with image optimization tool, and notification and app size growth analyzer.
AVG Cleaner is a smart manager and optimization tool that makes your device faster and smoother by cleaning up junk files and freeing up more space. A simple and clean interface lets you analyze what apps are using more CPU resources and draining more battery.
It's like a plug-and-play app: just install it and it will take care of everything with so many added utility tools. For example, the RAM and cache cleaner boost performance, Battery optimizer improves the device's battery life by 2-3 hours. There is also a quick boost feature to clean your device with a single tap of a button.
5. Droid Optimizer
Plus Point: Fewer ads; terminates unnecessary foreground and background apps automatically.
Droid Optimizer boosts your device and frees memory at the click of a button. To make this process interesting, the app offers a 'ranking system', which rewards you points every time you clean up cache data. It can disable features such as mobile connectivity or WLAN during preset periods to extend the device's battery life.
Stats (free space, RAM, and rank score) are shown at the top of the screen. And yes, it does come with a dark theme.
Read: 19 Best Smart Notification Apps for Android Users
4. Avast Cleanup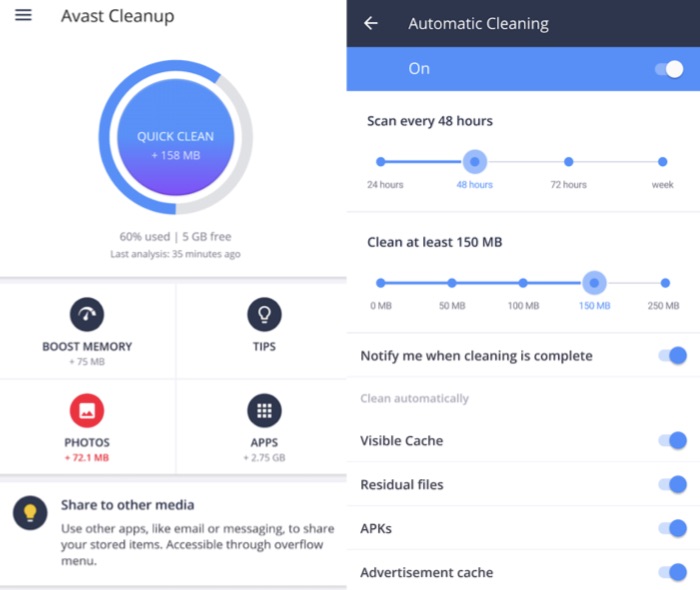 Plus Point: The smart Safe Clean feature quickly deletes system caches, unimportant data, gallery thumbnails, APKs, and unused files.
Avast Cleanup is a highly efficient cache and junk cleaner app that automatically deletes unnecessary files, including temporary leftover data. It has a simple interface where you can see which apps are taking the most space and which ones are no longer in use.
The app is also capable of detecting and deleting poor quality photos, or it can optimize them to save space. With the premium version ($70/year), you can auto-adjust battery usage and schedule regular cleaning that won't interrupt you.
3. All-In-One Toolbox
Plus Point: More than 30 useful tools packed in one small-size app.
As the name suggests, the app comes with several handy tools for enhancing device performance. This includes junk cleaner, history eraser, memory optimizer, CPU cooler, app manager, battery optimizer, mini launcher, and many more.
The app is compatible with a lot of plug-ins like game booster, app lock, manage notification, and volume settings. In addition to freeing up CPU resources, it can make your device startup faster by blocking unwanted applications during booting.
Read: 13 Best Productivity Apps
2. Files by Google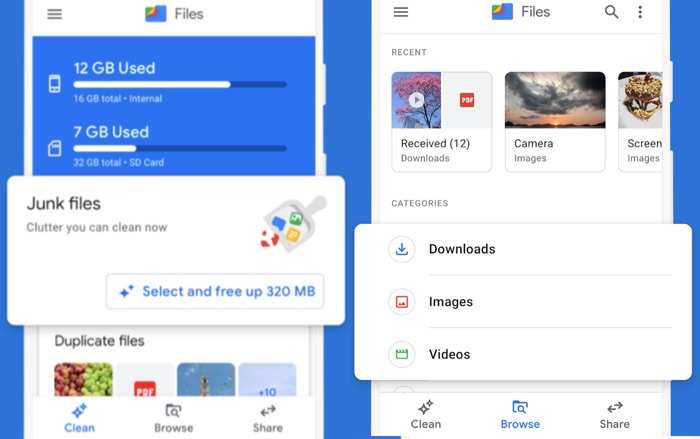 Plus Point: Free up space with smart cleaning recommendations; encrypted file sharing.
Files by Google is a trustable device cleaner app that helps you find files, free up space, and back up files to the cloud. It regularly prompts you to delete junk or temporary files to optimize the device performance.
The app provides useful recommendations about which files you should remove. The more you use this feature, the smarter it gets. The inbuilt file manager allows you to navigate through categories and filters, share files without the internet connection, and simply transfer large files to the SD card.
The offline file sharing is secured with WPA2 encryption, so you don't have to worry about privacy and security. If you want to keep the file forever, select it from the File menu and back it up to Google Drive.
1. CCleaner
Plus Point: Quickly stop background processes with Task Killer
With more than 50 million downloads on PlayStore, CCleaner is one of the best performance boosting applications. It has a simple and easy-to-use interface that lets you optimize your device in just a few clicks.
Not only can you clean obsolete and residual files, but also analyze and optimize storage space by quickly installing multiple unwanted apps. There is an App Hibernation feature to stop apps from running in the background and App Stats feature to determine the impact of individual apps on the device.
Read: 12 Best Android PDF Reader Apps 
The free version displays ads, but it has enough useful functions that you won't feel the need to purchase the premium version.