A powerful file manager app is very important for any Android device. It helps you locate folders and downloads, manage your device's storage, transfer files, make changes to internal files and much more. In other words, a competent file manager lets you take command of your device entirely.
However, due to some obscure reasons, they are not a standard for every Android based device. Although most smartphones come with a factory file manager, they still lack the speed and other necessary features. That leaves users with only one choice: third party apps.
It would be easy if there were 10 or 15 apps, but choosing the right one from hundreds of file manager apps is definitely not a piece of cake. Don't worry, we have you covered. We have gathered some of the latest and most useful file manger, file explorer, and file browser apps for Android OS. Select wisely.
15. Amaze File Manager
Amaze File Manager is for users who appreciates open source applications. The app is smooth, lightweight and have all the basic features that a capable file manager should have. You can search their files on multiple windows at the same time. A shortcut tab is also included for quick, easy navigation for your favorite songs, movies, etc.
There is a feature to bookmark particular folders. Amaze also provides cloud integration with a paid plug-in. Furthermore, it comes with a competent app manager that lets you directly control your apps and create backups. You can also choose multiple themes for better experience.
14. ES File Explorer File Manager
ES File Explorer File Manager is a simple, efficient and intelligent way to manage all your files. With this app you can easily send other applications, music, movies and documents wirelessly to other devices. Apart from the basic cut/paste and compression features, the app allows you to create encrypted ZIP files in case you need more secure files.
A handy sidebar carries shortcuts to different storage locations for easy navigation. It also supports cloud service like Google Drive and Dropbox as well as services like WebDAV and FTP. It also comes with a note editor with syntax support for 30 different languages and a cache cleaner. A cool remote manager feature enables you to access all your android files from your desktop.
Root users can use this file manager app to gain full access to the entire file directories, and change their permissions. While the app is useful, too many annoying ads is a major negative point that's worth mentioning.
13. Solid Explorer
Solid Explorer is an excellent file manager featuring dual pane file explorer, i.e. two windows at the same time, for easy file relocation. With this you can create encrypted compressed files in Zip, 7Zip, Tar formats. It also supports FTP, SFTP and WebDav services.
Few other features are available via plugins. Lastly, the app is highly customizable with a number of icons, themes and color schemes to choose from.
It's a 2 week trial version; You can purchase the full version for $1.99, which is quite a bargain.
12. FX File Explorer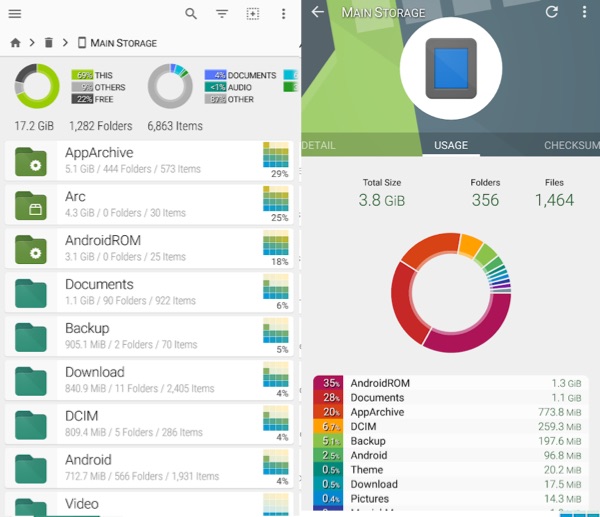 FX File Explorer is a robust android file management app that comes with plenty of awesome features and a Material Design UI. The app takes out almost all the pain from managing media files and folders on your smartphone. It enables you to transfer documents and files to another android device via Wi-Fi.
You can also transfer and manage your media files right from your desktop browser. That brings me to the next feature that allows you to drag-drop files and folders from desktop to your smartphone. Other features include dual window mode, storage health status view and a cool Home Screen.
11. Android File Manager
Android File Manager is a free, efficient file management application for any Android device. The app has a clean and simple interface and almost every file management features. Its simplicity is remarkable: no extra fancy features that you don't need. You can access your device's files and folders directly, scan installed apps and delete them if you want.
10. Root Explorer
Are you a rooted android user and looking for a file manager specifically created for your device? Then you must try Root Explorer. The app lets you access the entire file system of your device. It supports cloud storage services like Google Drive, Dropbox and SMB network.
Furthermore, you can create compressed Zip and tar files, perform quick searches and tons of other things. A new feature prevents your device from falling asleep while in the middle of long operations.
9. MiXplorer
MiXplorer is a complete file management app for your device. It lets you manage all your files and folders easily without any headache. Not only does it offers basic file management features such as copying and moving files, customizing individual folder, a whole set of advanced features are also available.
You can create and extract compressed files in almost every popular archive file formats, including ZIP, 7z, TAR, RAR and ISO. Moreover, it can easily be connected to your cloud storage accounts. While the MiXplorer file manager is perfect for almost every Android device, it's an absolute beast for the rooted ones.
8. GM Files
GM Files is a free, fully capable file manager app for your Android. It's packed with useful features that help you manage all your device files much better. Apart from basic file operations, you can perform advanced operations such as transferring data over Wi-Fi, analyze internal memory for junk or unused apps and files.
It allows you to create, remove, backup and share installed application on your phone. The app makes it easy to store your stuffs directly to the cloud (multiple account support). Moreover, it supports FTP, FTPS, SFTP services and media formats including GIF files. The best thing is it's completely free and you won't see any ads in there.
7. Astro File Manager
Astro file manager is popular, highly capable and totally ads free file management tool. The app lets you take full control of your device, you can create, move, copy, compress files and folders. Its advanced storage analyzer feature can notify you of all the junk apps and files that are sitting on your phone so that space can be freed.
With its smart cloud manager capabilities you can create backups and relocate files from device's local storage to SD card and cloud easily. It also has a built-in media player to open images and videos.
6. Asus File Manager
While this is the default file manager app on ASUS ZenUI smartphones, it's compatible with almost any other Android device. The app has simple, clean user interface along with cloud storage support.
It comes with a number of useful disk tools, storage analyzer for examining your device storage and a recycling bin to recover any deleted files. You can browse your files easily from the File Manager home screen. Apart from few compatibility issues, the app works just fine.
5. File Expert
With File Expert, you can take over the full control of your device in true sense. It lets you manage folders and files located internally, on sdcard or on cloud storage. You have an option to view your files by categories, classic tree hierarchy or by modified date.
The app features a recycle bin, from where you can recover deleted files, a safebox to keep your sensitive files locked down. Rooted device users can manipulate file permissions and modify system files. One really cool feature of File Expert is that you can create your own personal home based cloud storage and access it anywhere, anytime.
4. Ghost Commander File Manager
Ghost Commander File Manager is an open source tool designed specifically to address all your file management needs. It employs a dual pane system that makes file management easy, whether you're controlling files locally or remotely from another device.
The app also supports FTP and SFTP servers as well as cloud storage services such as Google Drive and Dropbox (through a plugin). Other features include, a built-in-text editor and ZIP archive support. Last but not the least, the app is highly customizable, means you can change its appearance according to your preference.
Read: 24 Substratum Theme To Give Your Android A New Look
3. File Manager
Don't let yourself get fooled by its simple name, File Manager is a powerful and one of the popular file manager apps for Android devices. All the basic features are there; copy, paste, move, delete, rename and compress/decompress files. And yes, it does support cloud storage.
The app lets you access and manage every installed application on your device. You will be able to access your device's internal storage straight from your desktop. An internal media player is also there from which you can preview images and play music.
2. X-plore File Manager
Are you looking for a powerful file management app with a clean and classic interface? If yes, then X-plore File Manager is what you want. The app features a dual-pane file explorer and hierarchical tree view of folders for easy switching and file transfer.
All the basic file manager features like copying, pasting and uninstalling other applications are there. You can access your files from a Desktop browser. It also supports FTP and FTPS servers. Users with rooted device can explore and make changes to sensitive device data.
You can also opt for in-app purchases ($1.35/ $21.60) in order to get features like SSH file transfer, file sharing over WI-Fi and media players for your music and videos.
1. Total Commander
Finally, Total Commander is an ideal file manager for every Android smartphones. The app has a comprehensive file management system in place, which allows you to copy, paste, delete and create new files/ folders. You can also create compressed files and manipulate permissions.
Read: 22 Useful Android Build Prop Tweaks For Better Experience
You can use this app as FTP and SFTP client and have LAN access with the help of separate plugins. It also comes with a built-in text editor and media player which allows you to play your favorite videos directly from the LAN. Moreover, the app supports more than 30 international languages and dialects.