The mobile gaming industry is growing at an unprecedented rate and it's now bigger than ever. While there is no doubt that iOS has a better selection of games, Google Play Store has evolved drastically from its infancy in the last few years. The number of gaming apps available in the Play Store in 2018 (first quarter) was more than 677,000.
With the release of advanced hardware, it's just a matter of time when more powerful, impressive breed of Android games will be available. Below, we have compiled a list of exciting Android games from all the popular genres that you can play in 2018.
18. Evoland 1 and 2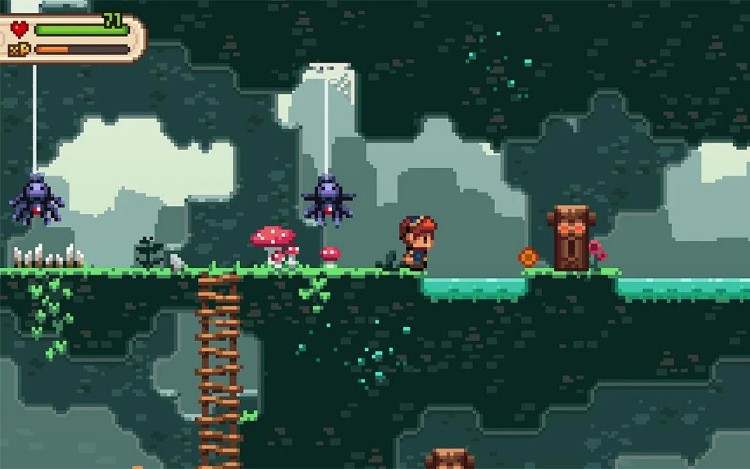 Price: $0.99 and $7.99
Evoland is a popular and rather unique role-playing game that will take you to an action-packed journey through the history of RPG and classic adventure gaming. The game starts with simple pixels, 2D characters, basic colors and all the retro gaming elements you can think of. You will be able to unlock new technologies, higher graphics, and gameplay models as you move on.
Evoland 2 shares its predecessor's game-play style; how graphics changes as the player travel through time, from 2D RPG, through 3D vs fight to a shooter, etc. Both games have a good amount of nostalgia around them and are perfect for those who want to relive the history. The apps are ads free and without any in-app purchase options.
17. Pokemon Go
Price: Free
Pokemon Go became an international sensation back in 2016, breaking almost every record previously set in the app industry. Developed by Niantic, an American software development company in collaboration with Nintendo, Pokemon Go gained a worldwide popularity even among the users who were not hardcore Pokemon fans.
The game is almost perfect in many gaming aspects and is praised for the advanced real-world concept. However, it is ridden with technical problems, frequent server outages, and common authentication errors.
16. Riptide GP: Renegade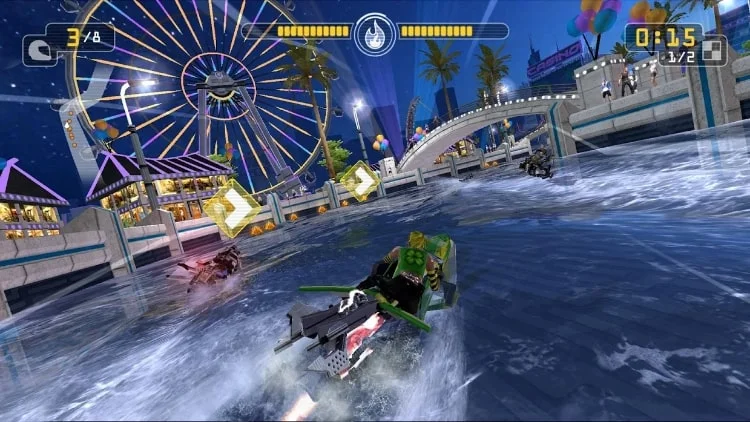 Price: $2.99
The racing game genre is all about thrill, excitement and I am sure most of our readers have their own favorite car racing game(s), but what if you're looking for something fresh and different from ordinary car racing for your smartphones: you can try Riptide GP: Renegade.
As a hydrojet rider, who is barred from the prestigious Riptide GP league, you're forced to take part in illicit races through flooded ruins and local city waterways in order to regain your title and lost reputation. New and more powerful vehicles, different characters along with other features can be unlocked as you make progress in the single-player mode. You also get to build your own crew.
The game has almost every ingredient in the right balance; above-average graphics, good controls, and boost system making it an ideal gaming app for race lovers.
15. Portal Knights
Price: $0.99/$4.99
Portal Knights somehow disrupted the Android world in 2017. As a hack-and-slash game with RPG progression, sandbox elements the game features local multiplayer (over the same WiFi), controller support, boss fights, private servers, a crafting system, random events, and other similar stuff. Game's animations and graphics may be a let down for many, but it's sure not bad in any sense.
14. Vainglory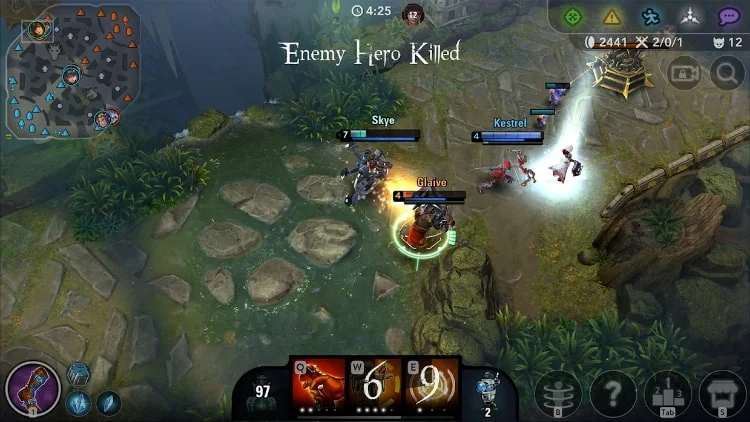 Price: Free
Vainglory is a highly rated multiplayer online battle arena game available of the Play Store. It features a huge cast of characters and a traditional MOBA experience. The game is almost perfect in every department, especially performance-wise. There are well over two dozen unlockable characters, numbers of energy bars or other features which you can buy through in-app purchases.
13. Life is Strange
Price: Free with in-app purchases
Life is Strange: Before the Storm is an episodic adventure game where you simulate the character of Chloe Price, a teenager who develops an unusual relationship with her schoolmate Rachel Amber and tries to escape her troubled personal life.
Unlike its original game, Before the Storm features a 'backtalk' conversation mode that allows the player to engage with other characters. Most of the game-play and endings depend on your dialog choices and sometimes even on your outfit.
12. Super Mario Run
Price: Free with in-app purchases
To be honest, Super Mario was one of my favorite games growing up and there is a good chance that you have had a similar experience. Super Mario Run is a slightly different take on the classic Mario titles, without ditching some core elements of the series. The game was initially released on iOS in 2016 and later launched on Android.
One of the best things about this game is that you can play it with a single hand. You can pull off jumps and fancy mid-air spins just by tapping the screen while he (Mario) continuously runs forward. Though the game is free-to-download, you need to purchase different game modes in order to play them without any restrictions.
11. Pro Evolution Soccer 2018
Price: Free with in-app purchases
PES has a special place in the heart of football fans around. While the game has traditionally been played on the PlayStation and PC, in recent years it's been available on mobile as well. The game is free, though if you do pay money you may be able to get extra players.
10. Happy Glass
Price: Free
Happy Glass is an addictive, yet simple puzzle-oriented game in which your mission is to cheer up an empty, sad glass by filling it with liquid, but there is a twist. In order to achieve your goal, you have to ensure that the liquid, from one set point, actually makes it to the glass. You can do it by drawing lines and filling gaps.
At first, the task might look pretty simple but it gets more difficult with every increasing level. It even has room for you to be creative and think out of the box. On the downside, the game can be frustrating at times mainly due to adverts.
Read: 10 Fun Math Games That Will Make You Smarter
9. Asphalt 9: Legends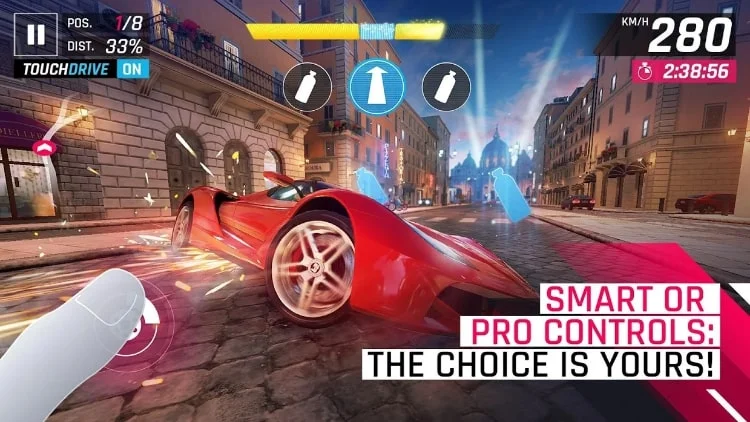 Price: Free
Asphalt 9: Legends is the ninth installment in the Asphalt series. As expected, the game has several improved features including new race modes, additional cars, and control schemes. Nitro shockwave ability is also reintroduced from Asphalt 6: Adrenaline and Asphalt 7: Heat.
There are three different playing modes; Events, Career and Multiplayer. The career mode features "chapters" each consist of a series of races based on a single car manufacturer. In Multiplayer, you compete against each other (online players) in real time. Events mode is similar to the multiplayer mode where you can participate in a daily or weekly competition against other players.
8. Plants vs Zombies 2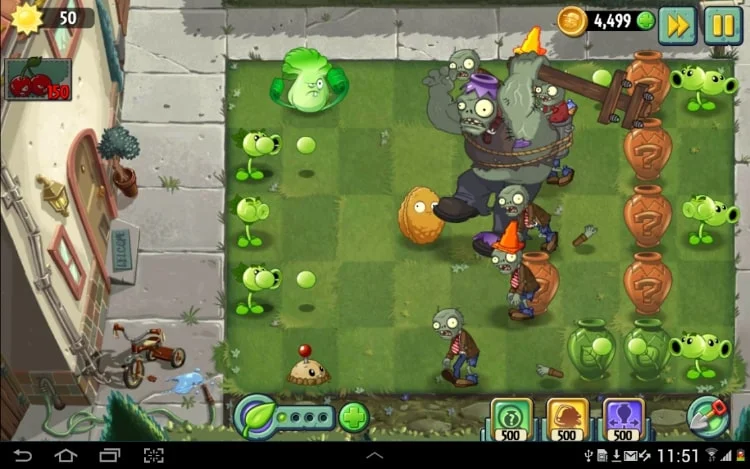 Price: Free
Plants vs Zombies 2 is the sequel to the popular Plants vs Zombies which is developed by PopCap Games. The game will test your resilience and presence of mind more than anything. Carefully plan and build your line of defense(s) in order to take down hordes zombies before they eat your brain.
However, unlike its predecessor, the app does support in-app purchasing of game coins which you can use for gaining power-up abilities for plants: Plant Food that allows plants to supercharge for varying amounts of time. On August 20, 2013, PopCap Games officially announced the game had been downloaded 15 million times, making it the most successful EA mobile game launch.
7. Fallout Shelter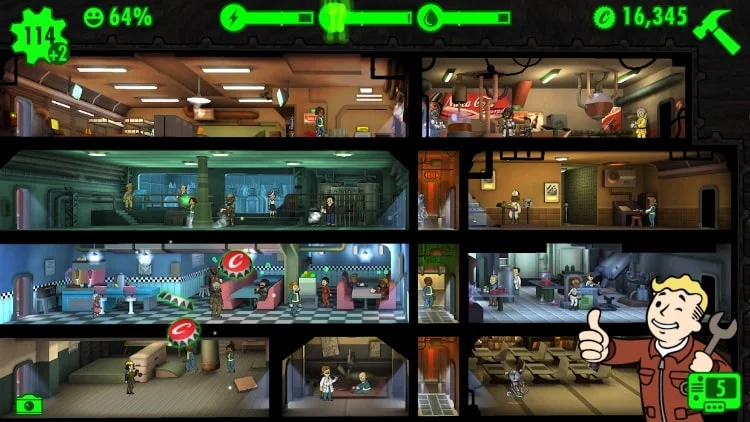 Price: Free
Fallout Shelter is a free-to-play, cross-platform simulation game in which you undertake the responsibility of a vault manager. Your job is to build and oversee a thriving community of underground dwellers. You also need to provide them with jobs and necessary supplies including clothes and weapons.
Important supplies can be retrieved from scouting missions conducted on wastelands, but be wary as these missions can turn out to be fatal. While Fallout Shelter is not the ideal post-apocalyptic game many of us crave for but it sure is entertaining especially when you're looking for something casual.
6. The Room Series
Price: Starts from $1
The Room is a series of four intense and addictive puzzle games that will take you to a mysterious journey inside a 3D world. Each game is divided into different stages or rooms. These rooms carry a number of mysterious puzzles which you need to solve in order to proceed to the next room. You need to repeat this process over-and-over until you reach the end, but keep in mind that both the quantity and complexity of puzzles will increase with every passed room.
The latest addition; The Room: Old Sins carry features like cloud saving, Google Play Games achievements, and an exploration element which sets the game apart from the previous three installments.
5. This War of Mine
Free: $14.99
This War of Mine is a unique survival game in which you will guide a small group of civilians who are trying to survive in an obliterated neighborhood. Your job is to ensure the availability of food, medicine, and other essential supplies for the hideout. You also need to make tough decisions.
The game features night and day cycle which adds more to the game dynamics, forcing you to take tactical decisions; whether to hide and protect your survivors from external threats or scavenge for supplies that will help you live longer. The creators have done a pretty good job on graphics and content availability but for a much higher price. There are no further in-app purchases.
4. BADLAND
Price: Free with in-app purchases
BADLAND is a popular side-scrolling adventure game set in the captivating, yet deadly forest inhabited by various traps and obstacles. Here you will control a small black creature which you have to guide through the jungle. It revolves around four stages; Dawn, Noon, Dusk, and Night, each with the different difficulty level, theme and color combination.
The game is a fine blend of clever design and impressive graphics/sound effects. It also has a local multiplayer mode (for up to four players), level editor and cloud support. BADLAND won multiple gaming awards including the prestigious Satellite Award for Outstanding Mobile Game in 2013.
3. Minecraft
Price: $.6.99
The phenomenon called Minecraft was introduced to the gaming world back in 2011. Since then it has made a smooth transition from the realm of consoles and computers to smartphones allowing fans like us to explore, gather, built and fight our way to the "Cave Game" anywhere we want.
Read: 35 Best GBA Games OF All Time | Bring Your Childhood Back
For those who have never played Minecraft, it takes you to a virtually infinite world where you mine resources, built (from a simple home to a grand castle) and survive by fending off monsters. It's a sandbox game so you don't have any specific goals and do almost anything you want. Although it's a paid game, few in-app purchases are also their mostly for customization; skin packs, etc.
2. Crashlands
Price: $4.99
Crashlands is perhaps one of the most popular Android games ever created. The game begins with a situation where your character, Flux Dabes an 'intergalactic trucker' somehow ends up in a totally unknown planet named Woanope. Here, you also discover an evil plan of world domination that's currently under process.
Your job is not only to survive on the planet while building all the necessary steps to confront the heinous plot. Crashlands won three separate gaming awards in 2016 and was named one of the 50 best games of that year by the Time magazine.
1. PUBG Mobile/Lite
Price: Free with in-app purchases
PUBG became an instant hit soon after it's release in mid-2017. The game already has over one million active users with more than 10 million downloads. It features quality graphics, a little awkward but effective controls. The game-play sets in an island littered with various realistic weapons, combat gears, and vehicles.
Read: 15 Best FPS Games For All Platforms 
You'll take on 99 other players with the same objective to survive. The playing area is constantly reduced which keeps matches from going too long. It receives game elements and other updates at regular intervals.