Animation is an illusion of motion generated through a series of still photos, drawings, or poses. Images are captured, put together in a sequence, and then displayed at fast speeds, one after another.
Animation has become quite popular over the past couple of decades. Movies like Finding Nemo, Kung Fu Panda, Frozen, and Trolls have generated hundreds of millions of dollars in revenue. Did you know the first fully computer-animated film was Disney-Pixar's Toy Story? It was the second-highest growing movie of 1995, generating over $373 million at the box office.
Digital rendering revolutionized the animation industry in the mid-1990s. It set a new standard for what machines can do and how much time and resources they could save.
Today, we have thousands of software that create motion on a frame-by-frame basis, where each frame is equivalent to a single photo or drawing. They all can be divided into two categories:
2D animation software represents everything in a block as having a particular width and height. In simple terms, everything is flat. The Simpsons and The Lion King, for example, are created with 2D animation tools.
3D animation software represents everything in a block as having width, height, and depth. It adds shadows, shading, and perspective. The Lego Movie and Ice Age: Collision Course, for example, are 3D animations.
Modern animation platforms can be easily integrated with video editing software, drawing tools, or 3D modeling software.
Below is the list of some of the best animation software for beginners who have just started their careers. The list includes free, open-source, and paid tools.
9. Pencil 2D
Platform: macOS | Windows | Linux | FreeBSD
Price: Free
Rating: 8.6/10 from 100+ users
Pencil 2D is an open-source 2D animation that allows you to make cartoons using conventional techniques such as tracing drawings and onion skinning.
You can create four layers: vector image, bitmap image, audio, and video. Put the corresponding elements in every layer to create a stunning animation. And since you can seamlessly switch between vector and raster workflows, it's easier to sketch, ink, and paint on the go.
Everything made on this platform is completely free to use, even commercially. It can be a great tool if you have just started your animation journey.
Key Features
Minimal, easy-to-use interface
Seamlessly switch between vector and raster workflows
Pixel tracker and recoloring
Sound scrubbing
Pencil 2D saves your work in its own native file format, or you can export it as a video file (in MP4, WebM, APNG, and AVI formats) or as a sequence of images (in TIFF, BMP, JPEG, and PNG formats).
8. Harmony
Platform: macOS | Windows
Price: Starts at $25.50 per month | 21-day free trial available
Rating: 8.9/10 from 200+ users
Harmony is a 2D animation software developed by a Canadian company Toon Boom Animation Inc. This end-to-end animation software allows you to create art and emotion in various styles. Whether you prefer cutout or paperless animation, Harmony can help you make compelling animations.
It comes with a suite of tools, which include a built-in compositor, pencil lines with textures, morphing, inverse kinematics, deformation tools, and 2D/3D integration.
Use a graphics tablet to draw animation directly into the software. Add shading, lighting, special effects, and details to your scenes. Leverage advanced rigging and master controller options to make creative expressions while saving time.
Key Features 
Advanced brush engine
Color and sound management
2D/3D integration for countless possibilities
Deformers for more depth, texture, and realism
Harmony comes in three versions: Essential, which costs $25.50 per month; Advanced, which costs 64.50 per month; and Premium, which costs $117 per month. They all support multiplane, parallax effects, and Qt scripting environment to automate operations.
7. Synfig Studio
Platform: macOS | Windows | Linux
Price: Free
Rating: 8.1/10 from 450+ users
Synfig Studio is an open-source 2D animation program that allows you to create high-quality films with fewer resources. You don't have to make animation frame-by-frame; just enter the key positions, and the software will automatically calculate in-between frames.
It also simulates soft-shading through curved gradients within a specific portion, so you don't have to create shades on each frame. You can add more than 50 layers to create highly detailed animation and artwork.
Select from multiple types of layers: fractals, transformations, distortions, gradients, filters, and many more. You can even connect elements of different layers, either directly or through mathematical expressions. This helps you create complex scenes and dynamic structures.
Key Features 
50+ layers to create complex animations
Vector tweening
Apply numerous real-time effects
Supports HDR imaging
The software stores your project in an XML file format, usually compressed with gzip. This file contains vector graphics data, external bitmap images, as well as a revision history of your work.
There are two versions of this software available for download: The Stable version (which has proven and well-tested features) and the Development version (which gives you the opportunity to try out experimental features).
6. Moho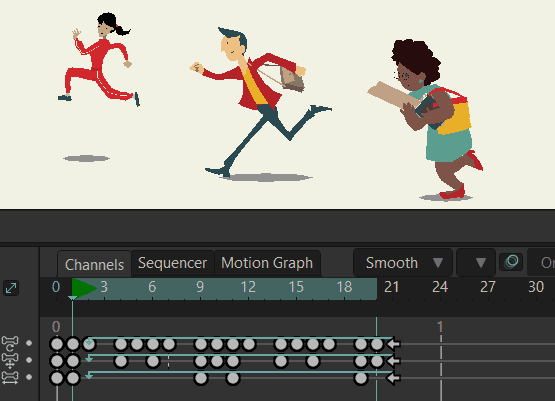 Platform: macOS | Windows
Price: Debut version costs $60 | Pro version costs $400 | 30-day free trial available
Rating: 8.2/10 from 100+ users
Moho is a comprehensive 2D animation platform that combines advanced animation technology with state-of-the-art professional animation programs. You can either start from scratch or import Photoshop files or images.
Its vector system is optimized for creating and editing animations, keeping the structures always consistent while they move. You can animate almost anything, from paths and masks to linewidth and curvature. Add various brushes and effects to achieve natural outcomes.
Key Features 
Import Photoshop files
Automate animation with physics and dynamics
Smart Bones and Vitruvian Bones technology
Precise lip sync
Moho's rigging feature is amazingly fast. You can easily make skeletons of any creature or object within minutes. Work with forward and inverse kinematics, add target bones, set pin bones for unique control, and apply the same animation features to different characters.
And since it's a quite well-known platform, dozens of add-ons are available in the market to extend its features. The Brushes Content Pack, for example, contains 100 unique brushes for everyone.
5. Adobe Character Animator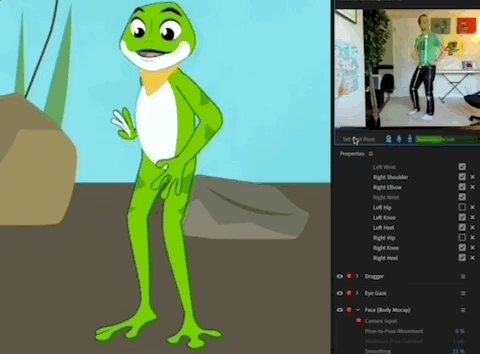 Platform: macOS | Windows
Price: $55 per month | 7-day free trial available
Rating: 8.6/10 from 100+ users
Adobe Character Animator is a motion capture and animation software. Unlike other tools, you can use your expressions and body movements to animate characters in real-time.
The software captures your audio (voice) and video (expression and body movements) via a microphone and webcam. It is equipped with a powerful artificial intelligence tool called Adobe Sensei AI that precisely tracks your eyes, pupils, ears, and jaws, and maps their movements into the characters. It also syncs your voice (or recorded audio) with the character's mouth.
All in all, you have complete control over the look, movements, and voice of your character. Adjust how the objects in the scene respond to the laws of physics. You can also easily configure gravity and wind and add various VFX.
Key Features 
Includes numerous colorful characters called puppets
Precisely tracks your body movements
Add transcripts for better lip sync
Add realistic details like hair movement and gravity strength
Adobe Character Animator gives you a head start with pre-designed templates and seamless integration with other Adobe applications.
Unfortunately, Character Animator is not available separately and can only be purchased as a part of the Adobe Creative Cloud Suite.
4. Powtoon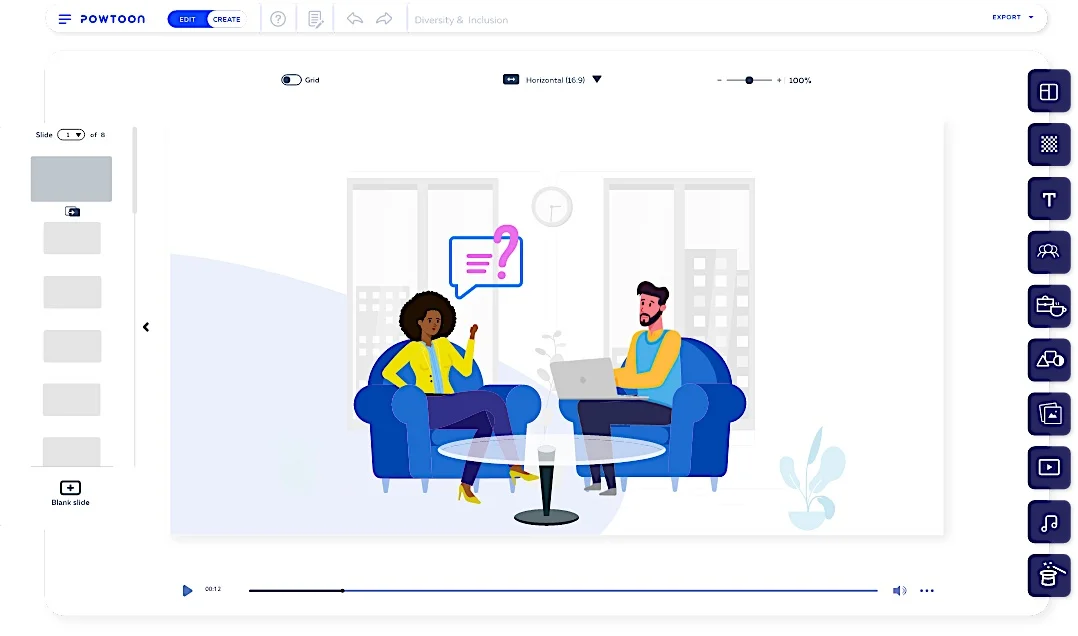 Platform: Web-based
Price: Starts at $89 per month | 7-day free trial available
Rating: 8.8/10 from 700+ users
Powtoon allows you to make professional-looking, engaging presentations and videos within minutes. The name 'Powtoon' is made by combining two words 'PowerPoint' and 'Cartoon.'
You don't need to have design or technical skills to create animated videos. Powtoon comes with a drag-drop feature that lets you easily add text, characters, effects, music, and other tiny elements.
There are hundreds of animation styles to choose from, including presentations, infographics, 2D, 3D, and whiteboard animation styles. Plus, you get a full library of pre-designed animation templates created by professional storytellers.
Key Features 
Make any type of animation, from explainer videos to infographic reports
Hundreds of ready-made templates, characters, and footage
Supports rich text editing
Share animations to any channel
As per its official website, Powtoon has more than 30 million users, including over 90% of the Fortune 500 firms, who use the platform to engage their audience. Most customers build animation videos for marketing, sales, corporate training, and teaching.
Their pricing structure is quite aggressive: the Pro version (which allows you to create full HD videos of up to 10 minutes and store up to 2 GB of data) costs $89 per month or $228 per year; the Pro+ version (supports 20 minutes of full HD video and 10 GB of storage) costs $197 per month or $708 per year.
You can start with the free version that has plenty of royalty-free objects and soundtracks. However, you can only make HD videos of up to 3 minutes, and all exports will have Powtoon branding.
3. Animaker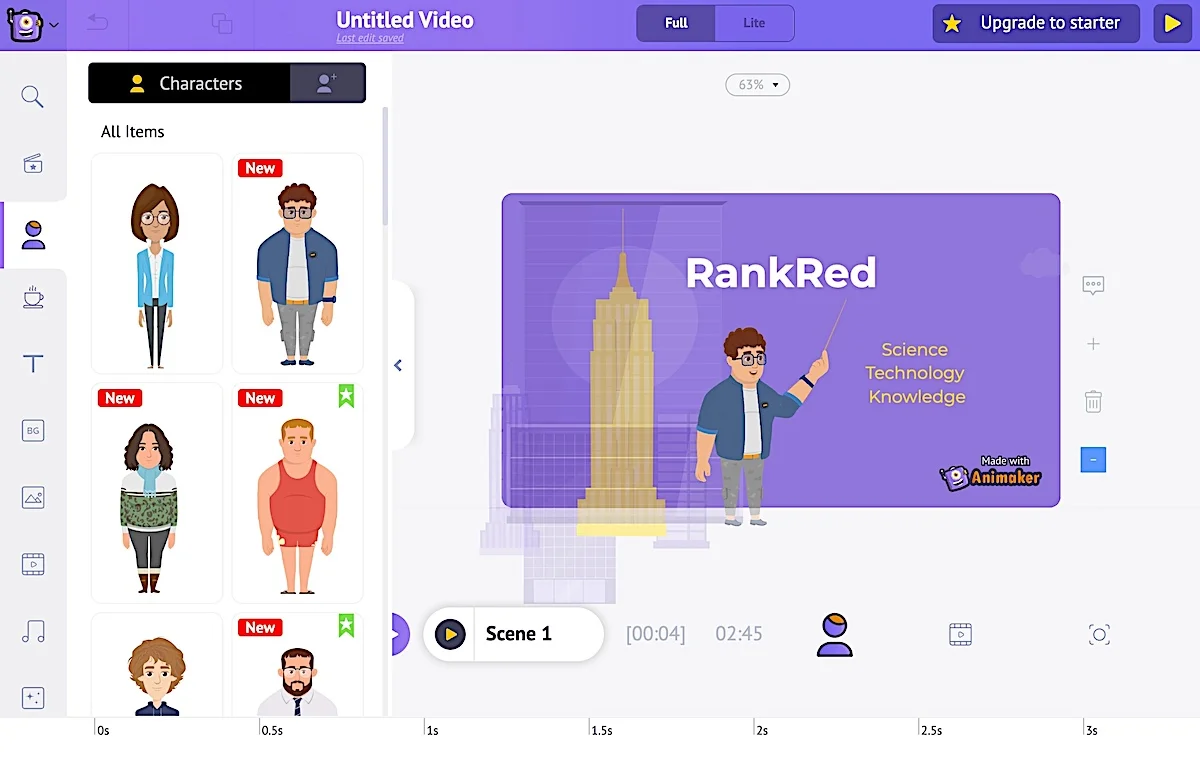 Platform: Web-based
Price: Starts at $10 per month | Free version is available
Rating: 8.2/10 from 300+ users
Animaker is designed for beginners to make simple animations and live-action videos (such as logo animation, YouTube intro, commercial, video marketing, etc.) within minutes. It runs on a powerful HTML5 engine, offering seamless performance on updated browsers.
Pick a template, add elements using a drag-drop system, and customize every part of it. Animaker has a huge library of images and videos. You can find almost anything and build unique characters by customizing facial features and adding accessories.
Animator has thousands of royalty-free sound effects and music tracks. It allows you to record your own voice and sync it with your videos. Or you can use its text-to-speech converter to create human-like voices. This converter supports more than 25 languages, 50 distinct voices, and countless customization options.
Key Features 
One click-resizing
Multi-user collaboration
Includes text-to-speech software to create human-like voices
More than 100 million stock assets
The platform is also equipped with an intelligence tool called Smart Move, which allows you to create complex animations with just the click of a button. You don't have to waste your time moving objects from one spot to another; Smart Move takes care of that, saving your time and effort.
You can start with the free version, which allows you to download up to 5 animations per month in HD quality. However, to remove their brand watermark, you need to purchase their premium version. With the Starter version, for example, you can make 15-minute long videos, build 5 custom characters per month and download them in full HD quality. 
2. Moovly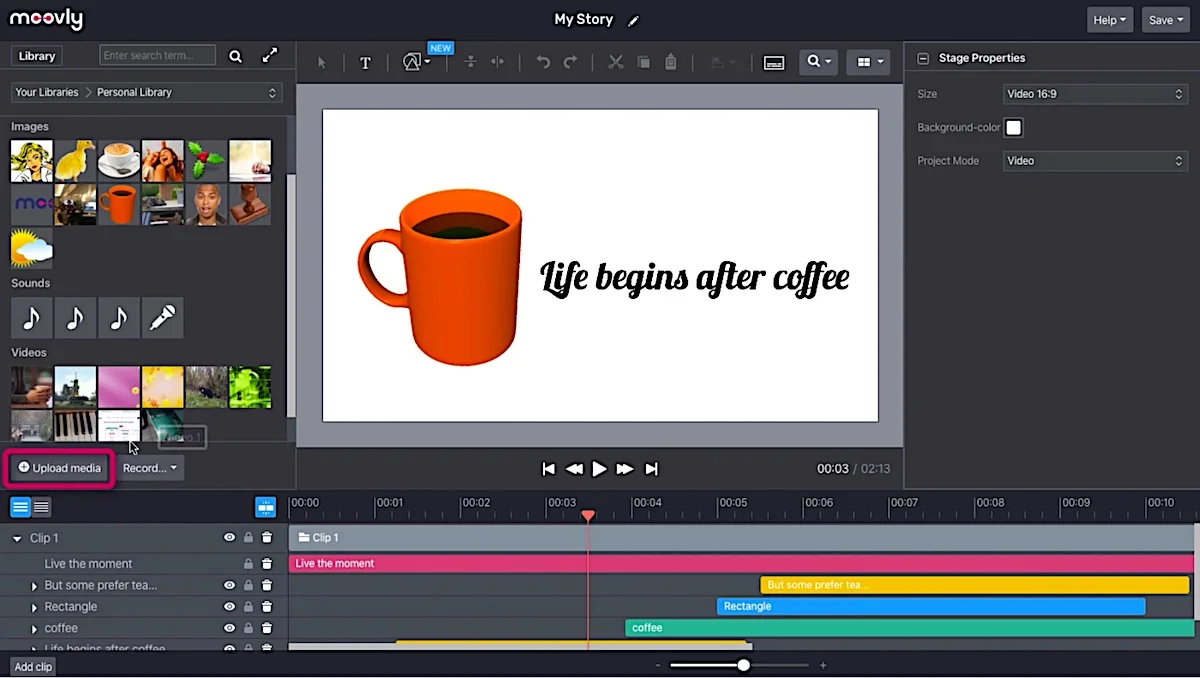 Platform: Web-based
Price: Starts at $49 per month | Free version is available
Rating: 8.4/10 from 550+ users
With Moovly, anyone can create animations of different styles: whiteboard videos featuring hand-drawn elements, cartoon-style videos, animation illustrations, motion graphics, documentary-style footage-based videos, and much more.
If you can make presentations on PowerPoint, you can make animations on Moovly. Use its drag-drop interface to combine thousands of different objects from extensive libraries.
Moovly has a massive library of free audio, photos, and stock videos. You can use them in your animations without having to worry about copyright issues. If you still can't find any suitable item, you can search the iStock library of Getty Images directly from the Moovly Studio. The iStock library contains over 100 million royalty-free stock photos and videos.
The platform also has 100,000+ free audio tracks, including background music and special sounds. You can use as many parallel tracks as you like and apply audio effects like fade-in/out and split tracks.
Key Features 
Transcribe audio to subtitles
Over 1.3 million media objects
Easily group content into clips
Screen and webcam recording
Green screen removal
Unlike most other animation tools, Moovly allows you to edit almost all visual objects independently, including banners, transition and overlay effects, and hand-drawn elements. Plus, you can structure animated items in a group. These groups are called Clips. You can copy, paste, move, or save Clips for later reuse.
The platform includes some pre-designed clips to give you a head start. It also offers an API and WordPress plugin, making it easier to automate and scale your animation creation process.
The free version of Moovly Studio is great for beginners. It gives you access to over 1.3 million free photos, audio, and footage. The Pro version gives you access to premium stock assets and templates and lets you export up to 25 animations in full HD quality.
1. Blender
Platform: macOS | Windows | Linux
Price: Free
Rating: 9.2/10 from 1,000+ users
Blender is one of the most comprehensive, open-source graphics software that supports the entire 3D pipeline, from modeling and animation to simulation and rendering. Besides animation, it is widely used for video editing and 3D game development.
With Blender, you can draw directly in a 3D viewport. Its built-in path-tracer engine (called Cycles) provides smooth viewport preview and ultra-realistic rendering. It also supports HDR lighting and VR rendering.
The platform is packed with an impressive set of rigging tools, such as skeleton and automatic skinning, custom bone shapes for quick input, B-spline interpolated bones, and mirror functionality.
Another useful function, called Shape keys, is used to deform objects into new shapes (morph or blend shapes) for animation. It is mostly used to draw facial expressions and tweak and refine a skeletal rig.
Simple interface; great for both beginners and advanced users
Merge 2D with 3D in the viewport
3D painting and advanced sculpting tools
Export into various file formats
Like any other commercial animation software, Blender supports non-linear animation, inverse kinematics, vertex weighting, and curve- and lattice-based deformations.
And since it's an open-source tool, it is fully customizable. Advanced users can download the API for Python scripting to customize the layout, size, color, and fonts of the software.
Read: 18 Best Avatar Maker Apps
Other Equally Good Animation Tools
10. Stop Motion Studio
Platform: iOS | Android
Price: Free | Pro version costs $4.99
Stop Motion Studio is a simple yet powerful app for creating stunning stop-action movies like Wallace and Gromit. It includes an intuitive timeline, a frame-by-frame editor, and a cool sound editor to make the animation creation process easy and enjoyable.
The Overlay mode accurately shows the differences between frames, making it easier to cut, copy, paste, and insert frames at any spot. There are plenty of built-in audio tracks, video clips, background images, and text cards to choose from. Or you can draw objects from scratch and put your own voice in the video to give a personal touch.
11. Cartoon Animator
Platform: macOS | Windows
Price: Pro version costs $79 | 30-day trial available
Cartoon Animator is a 2D animation tool packed with full-rigged characters, scenes, accessories, and stunning effects and motions. It allows you to organize numerous animated elements, mix animated characters with real video clips, and export them into transparent footage.
The best thing is you don't need to have any prior experience to get started. The tool has pre-animated motion clips to help you create complex animations. Add character motions from a massive library, blend and edit various motions in the Timeline, and apply color correction. You can even transform 3D motions into 2D animations for more creative possibilities.
12. SVGator
Platform: Web-based
Price: Free | Lite version costs $14 per month | Pro version costs $25 per month
SVGator is a carefully designed SVG editor that runs smoothly in all browsers. Its intuitive interface allows you to take your SVG to the next level without writing a single line of code.
Power up your SVG with different filters, effects, and color animations. Drag, duplicate, or delete keyframes; precisely adjust the path, timing, and speed of your SVG animations within minutes. You can create anything by selecting an animator and adjusting the keyframes on a timeline. SVGator automatically generates and wraps the code into a single animated SVG file for export.
The free version allows you to export up to 3 animations per month. The Lite plan unlocks advanced features, such as morph and skew animator, and allows up to 10 exports per month. With the Pro plan, you can create interactive animations and export as many files as your like. 
13. Biteable
Platform: Web-based
Price: Free | Pro version costs $49 per month
With Biteable, you can turn your important messages into impactful animations and share and track those animations with a single link. It is mostly used to create infographics, explainer videos, advertisements, and presentations.
The platform contains thousands of customizable templates, stock footage, and a built-in animation library that includes 2D and 3D cartoon characters and special effects. If you are feeling creative, you can also make animations from the ground up. Mix and match elements and merge your own clips and images until you have got the perfect animated video.
While you can use the free version as long as you like, upgrading to the pro version will give you access to more than 20 million video clips and images from Unsplash, Storyblocks, and Shutterstock.
14. Wideo
Platform: Web-based
Price: Free | Basic version costs $19 per month | Pro version costs $39 per month
Wideo is built for users who do not have previous designing or video-making experience. The platform makes it easy to create animated presentations, video e-cards, short explainer videos, and more. All you need to do is:
Choose from hundreds of in-built templates.
Drag-drop graphics and stock footage from the free video library.
Personalize your animated video with various shapes, text arts, and background images.
When you are done, export the file in MP3 format, or share it directly to popular platforms like YouTube and Facebook. The free version gives you access to 10 video templates. The Pro version, on the other hand, gives you access to the complete template gallery and unlimited storage.
15. FlipaClip
Platform: iOS | Android
Price: Free | Premium feature bundle costs $10
FlipaClip is a frame-by-frame 2D animation application for creating different styles of animation. Most creators use it to make stick figures, stop motion videos, animated cartoons, gaming characters, and memes.
The application is packed with an intuitive Timeline and practical drawing tools, such as brushes, erasers, shapes, rulers, lasso, and paint buckets. You can add up to three layers (the Pro version lets you add up to 10 layers) to create amazing animations.
Easily add and edit up to 8 audio tracks, drag-drop photos on your canvas, and save your work as MP4, GIF, or PNG sequences. It also gives you an option to directly share your animations on Facebook, Instagram, TikTok, YouTube, and Tumblr.
16. PixTeller
Platform: Web-based
Price: Free | Pro version costs $9 per month | Diamond version costs $19 per month
PixTeller is an easy-to-use online animation maker that allows you to create gifs and short video clips within a few clicks. It is smart enough to generate a video motion between two instances.
PixTeller is equipped with all essential features, including a smart resize system, gradient colors, custom fonts, multipage attributes, and unique filters. You can choose from over 100,000 pre-designed templates, 100,000 shapes, and 1,500,000 images to create amazing animations.
Once you have finished editing, save and render it. The rendering process takes 3 to 30 seconds, depending on the length, resolution, and complexity of your animation.  And once the rendering is complete, you can save the file on your local machine or share it on social media platforms.
17. OpenToonz
Platform: macOS | Windows | Linux
Price: Free
OpenToonz is an open-source animation production software that allows you to create artwork of any complexity. It automatically scans paper drawings and paints them in a color-consistent digital environment. It supports four types of scanning: black and white, color, and with or without binarization.
The platform has a complete set of tools for conventional frame-by-frame animation with configurable onionskin. Like most other software, it automatically creates in-between frames for vector shapes. There are hundreds of effects like blur, warp, mask, and lighting to create composite scenes seamlessly. Animate characters through Bones (supports mesh deformations) and use motion paths to create complex movements.
Advanced users can utilize an ECMA-compatible scripting engine to automate routine tasks. And since it's free, open-source software, animations made on OpenToonz can be used in non-commercial projects.
18. Renderforest Intro Animation
Platform: iOS | Android
Price: Free | Lite subscription plan costs $15
Renderforest is a perfect app for making professional-looking animated videos on your smartphone. Browse through hundreds of video templates in the category of your choice, add text and logos, pick a font style and color palette, and select or upload your own voice. The app will put all these together into a polished animation.
If you like the video, you can export it in high quality through available options: either pay per single video or subscribe for multiple video exports. The subscription plan starts at $15 and goes all the way up to $180.
Read: 12 Best Animation Software For Chromebook
Frequently Asked Questions?
How to become an animator?
Animation is an exciting career for people who are passionate about conceptional design and drawing; people who love to create expressive characters portraying a range of emotions. If you want to start a career as an animator:
First, define your interest and start analyzing different kinds of animated media
Use free tools to create mockups for products and content
Sharpen your skills and invest in good educational courses
Collaborate with groups of designers and content creators
Help professionals optimize their creativity while ensuring they complete projects before deadlines
How much do animators earn?
In the United States, the average salary of an animator is $65,500 per year. Junior employees make about $50,000 per annum, while most experienced animators get up to $110,000 per year.
Your pay also depends on your location. Animators in New York, for example, make $35 per hour, while animators in Oakland make about $15 per hour.
What's the future of 3D animation?
As per the Grand View Research report, the global 3D animation market size will exceed $45 billion by 2030, growing at a CAGR of 12% from 2022 to 2030. The major factors behind this growth include the increasing demand for 3D mobile apps and games, increasing acceptance of VFX in movies, as well as growing trend of digital marketing.
Furthermore, 3D scanning and 3D mapping systems (that assist researchers in geophysical, geological, and geospatial, and mining environments to visualize and map coordinates) are also gaining traction.
Read More