3D animation tools are used for creating digital animation, special effects, motion graphics, VFX, and artistic projects. They are essential for any digital media creation and graphics company.
In the recent decade, many different types of animation applications have been developed for macOS and Windows platforms. Adobe After Effects, for example, allows artists to add visual effects and motion graphics elements to videos, presentations, online content, and more.
But what about the users who own a Chromebook. Unlike conventional laptops, Chromebooks run on the Linux-based operating system called Chrome OS. Most of the files and data created through the apps are stored in the cloud (instead of being kept within the device).
Recent Chromebook models cannot just be used to perform basic tasks, but they are powerful enough to run data-intensive and resource-hungry applications such as full-fledged video editors.
For artists and animators alike, Chromebooks can be extremely helpful in the creation of both simple and complex animations. All you need to do is download the right application for your work.
Below, we have listed some of the most reliable animation software for Chromebook that can help you develop anything, from simple objects and shapes to intricate 3D models and videos.
9. WeVideo
Price: Starts at $5 per month | Free version available
Rating: 3.9/5 from 160,000+ users
WeVideo is designed for beginners to create high-quality videos. It has tons of animated text, templates, images, music tracks, and video effects to make content more attractive.
WeVideo allows you to import almost any type of footage, edit up to 4K clips, and freely mix and match with over 600 graphics media formats. Plus, you get unlimited cloud storage for your media.
Pros 
Unique video themes and video enhancing filters
Use blurred background and add fun emojis
Publish directly to YouTube, Vimeo, Dailymotion
Cons
The Layout of the editing window is not straightforward
If you have a team, you can collaborate with all team members in real-time and seamlessly work on the same project. When done, publish the finished videos directly to YouTube, Vimeo, Dailymotion, or share them on popular social media platforms like Twitter, Facebook, and Instagram.
8. Toontastic 3D
Price: Free
Rating: 4.2/5 from 48,000+ users
With Toontastic 3D, you can turn your imagination into a 3D cartoon. It lets you draw, animate, narrate interstellar adventures, news stories, and all your other wacky ideas.
The tool is geared towards students below 12. They can select their characters and scenery or draw their own from scratch, record dialogue, and select appropriate background music. Stories can be entirely imaginative, or they can take inspiration from scientific discoveries, historical events, and other learning topics.
Pros 
Design your own 3D characters
No login or password required
No ads or in-app purchases
Cons
Hasn't been updated for a very long time
The 3D drawing tool gives you an option to add yourself to your adventures with photos and custom-colored characters. It takes less than a minute to make a 30-second scene, and you can add up to six scenes per cartoon.
7. SimpleShow
Price: Starts at $6 per month | Free version available
Rating: 4.6/5 from 100+ users
With SimpleShow, you can create eye-catching and informative animated videos. It is very easy to use. You can create short videos within minutes, even if you have zero experience in creating or editing videos.
The platform will guide you through a four-step process:
Structure

: Select a video topic and a suitable narrative structure of your topic.

Write

: Write a video script and paste it or upload the PowerPoint presentation.

Visualize

: This is where the magic happens. The "Explainer Engine" takes over and converts your text into an animated clip. The Engine utilizes artificial intelligence to visualize, animate, and add soundtracks to make your video more attractive.

Finalize

: You can customize the video by putting your own images, personalized colors, and sound.
Pros 
AI-supported automated animation and visualization
Suitable narrative templates to help explain various topics
Easy to use
Cons
Lacks animated characters
This video maker is suitable for all types of audiences. Whether you aim to promote your produce or service, train your employees, or summarize a topic for students, a SimpleShow explainer video will help you shine.
6. Vyond
Price: Starts at $49 per month | 14-day free trial available
Rating: 4.5/5 from 700+ users
Vyond is a cloud-based tool that allows you to create professional animated videos for all industries in job roles like training, eLearning, and marketing. It makes it easy to build character-driven stories or compelling data visualizations that leave a lasting impact.
Vyond comes with a huge library of images, videos, and templates. It is packed with thousands of characters, props, animation styles, complex actions, and royalty-free music.
In fact, it is the first online animation platform to introduce lip-syncing. Characters created on Vyond can lip-sync to recorded voiceover. Or you can utilize the text-to-speech function to automatically convert written sentences into spoken dialogue.
Pros 
Choose from many different styles of videos
Mix multiple styles, create custom characters
Characters can lip-sync to recorded voiceover
Excellent customer support
Cons
More voices and audio tracks would have been great
As far as pricing is concerned, Vyond costs a bit more than other listed tools. However, when it comes to animated content, you get what you pay for. You get excellent customer support, robust data security, rich customization features, and everything you need to create a perfect animation for your target audience.
So far, Vyond has served more than 12 million users who have created over 22 million high-quality videos on the platform.
5. Animaker
Price: Starts at $10 per month | Free version is available
Rating: 4.1/5 from 500+ users
Animaker is one of the fastest-growing SaaS product firms in the content and video creation space. It has helped more than 10 million customers make awesome videos by themselves without any technical expertise.
Animaker runs on an advanced HTML5 engine that provides seamless performance on optimized browsers. It allows you to create 4k quality animations (videos and GIFs) in minutes.
The platform contains more than 100 million assets for your use. It has a huge library of animated characters, images, icons, videos, and royalty-free music. This library is integrated with Giphy and Getty for ease of finding the perfect image or GIF for your project.
Pros 
Extensive facial expressions to bring characters to life
100 million+ stock assets
Super quick to learn
Cons
Free version has very limited features
Plus, Animaker has tons of useful features (including drag-drop elements, screen effects, camera effects, and transitions) that help you create stunning animated content and stay ahead of your competition.
This platform also has a lighter version named Animaker Lite. It offers only essential tools and an intuitive interface to create simple animated presentations within minutes.
4. FlipaClip
Price: Free | Premium version costs $10
Rating: 4.2/5 from 507,000+ users
FlipaClip makes frame-by-frame animation fun and easy. It has everything you need to start animating, including a video tutorial that introduces you to various drawing tools and walks you through how to use the application.
FlipaClip comes with numerous drawing tools like Brushes, Ruler shapes, Lasso, Eraser, Fill, insert Text with multiple options, and many more. In the free version, you can add up to three animation layers and six audio tracks. You can put your own voice recordings to make things interesting.
The video animation tool features an intuitive animation timeline, online skin animating system, frame viewer, overlay grids, and more. Everything is easy to learn and powerful enough to bring your imagination to life.
Pros 
Animating frame-by-frame is super easy
Each frame can have up to 10 separate layers
Dark and light mode
Cons
Free version has too many ads
Whether you are creating a short clip, sketching, storyboarding, or learning, FlipaClip can offer the best drawing and animation experience on both Android and Chromebook devices.
3. Scratch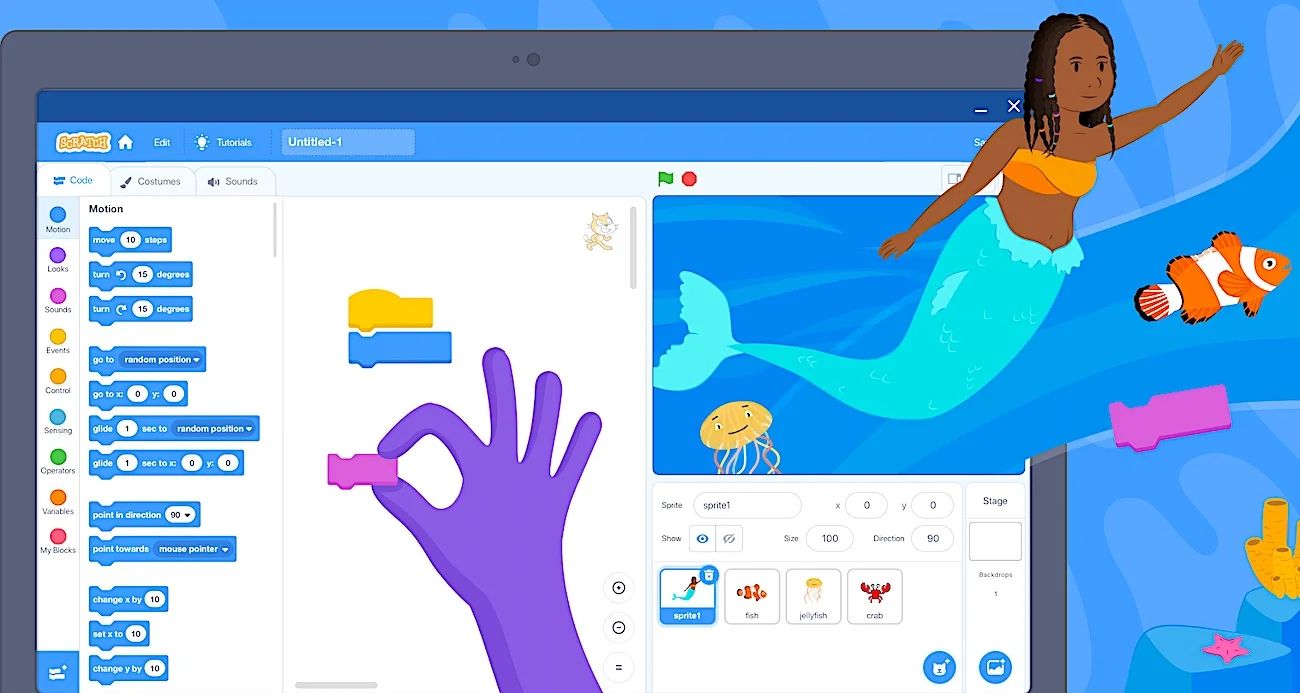 Price: Free
Rating: 4.2/5 from 4,900+ users
Developed by the Lifelong Kindergarten Group at the MIT Media Lab, Scratch is a programming language with a simple visual interface that allows users to create digital stories, animations, and games.
You can create scripts by dragging and dropping graphical blocks that attach together like building blocks. Choose from a library of characters and soundtracks or create anything from scratch. The platform has plenty of tutorials and guides to help you get started.
Pros 
Encourages users to code their own games and animations using block-based programming
Create and save projects without an internet connection
Free resources for educators
Cons
No bridge to real programming
Although Scratch is built especially for ages 7 to 15, it is used by people of all ages. Hundreds of thousands of people use this software in homes, schools, libraries, museums, and community centers.
According to its developer (Scratch Foundation), the software promotes computational thinking, problem-solving skills, creative teaching, self-expression, and collaboration. It is completely free, with the latest version available in over 70 languages.
2. PowToon
Price: Starts at $19 per month | Free version available
Rating: 4.4/5 from 600+ users
Powtoon is a web-based animation platform that lets you create animated presentations and edit existing videos by adding images, music, voiceovers, and pre-designed elements.
The term "Powtoon" is made by combining two words: "PowerPoint" and "Cartoon." The company released a beta version in 2012 and has seen rapid user growth since. Today, it has become one of the leading visual communication platforms for creating informative videos and presentations. And the best thing is it doesn't require any graphics or technical skills — anyone can create professional-looking videos in minutes.
Pros 
Simple and easy to use
Multiple templates and theme options
A huge library of background music
Cons
Free version includes a watermark on all published content
Many Fortune 500 companies use Powtoon for business presentations, explainer videos, corporate training, product launches, digital advertisements, educational materials for classrooms, and much more.
Powtoon comes with in-built templates, royalty-free footage, soundtracks, characters, props, and other elements that can you help you get started. You can either start from scratch or upload your own content and start editing. It has everything you need to get your audience to connect, care, and act.
1. Blender
Price: Free
Rating: 4.6/5 from 1,000+ users
Blender is the most comprehensive, open-source 3D computer graphics software available in the market. It is widely used in creating animated videos, 3D printed models, interacting 3D applications, and computer games.
Its built-in powerful unbiased path-tracer engine (called Cycles) provides stunning ultra-realistic rendering while supporting many features such as real-time viewport preview, PBR shaders, HDR lighting, and VR rendering.
Blender is packed with many tools that allow you to turn still characters into impressive animations. For example, Non-Linear Animation (NLA) makes it easy to add independent movement points, and Forward/Inverse kinematics facilitates fast poses.
Pros 
Open-source platform
Great for 3D modeling, sculpting, and complex animations
High-quality rigging and animation tools
Cons
Steep learning curve
Plugins and scripts are required for more expansive work
You will find plenty of useful rigging tools, including skeleton and automatic skinning, mirror functionality, bone layers, and B-spline interpolated bones. You can use multiple drivers to control values of properties by means of a mathematical expression, function, or small script. Plus, the motion path lets you visualize the motion of points as paths over a specific number of frames.
And since Blender also includes powerful camera reconstruction and object tracking technology, VFX professionals can import raw footage, track the footage, mask regions, and see the camera movements live in a 3D scene.
Other Equally Good Animation Tools
10. Moovly
Price: Starts at $13 per month | Free version available
Rating: 4.3/5 from 200+ users
Whether you prefer motion graphics, cartoon, doodle style, or footage-based videos, Moovly is a great online platform to get things done. It is designed to help businesses and individuals create educational or promotional content using a combination of text, voiceover, soundtracks, images, visuals, and customizable templates.
The drag-and-drop interface makes it very easy to create professional-looking videos. Just pick a template or start from a blank canvas, add voiceover using hundreds of artificial voices, apply stunning animations and effects, and your video will be ready within minutes.
You can download the finished video in different resolutions or publish it directly to your channel on YouTube, Vimeo, or Facebook.
11. Pencil2D
Price: Free
Rating: 4/5 from 100+ users
Pencil2D is an open-source animation tool that allows you to create 2D drawings using bitmap and vector graphs. You can easily manage raster and vector workflows, automate tasks, and export videos via the command line.
It is developed for beginners who are looking for a simpler design. Unlike advanced software, Pencil2D lacks a lot of drawing and painting functions. However, it can perform basic functions very well, such as adding/removing layers and duplicating keyframes on a unified platform.
You can utilize the onion skinning functionality to view next or previous frames at once, create simple animation clips, and edit videos. The tool also gives you options to enable/disable the audio layer, adjust the size of the tool panel, and simultaneously view multiple drawings and set their transparency level.
Overall, Pencil2D is very easy to use and gives you the flexibility to create simple yet perfect animations.
12. Animatron
Price: Starts at $15 per month | Free version available
Rating: 4.4/5 from 100+ users
Animatron is a powerful video maker built on HTML5 technology. It helps small businesses, marketing agencies, and educational institutions create stunning animated videos using a drag-and-drop interface.
Animatron Studio features a free marketplace with hundreds of videos, pre-animated characters, props, and backgrounds. However, unlike many online platforms, Animatron doesn't have a template library.
There are no predesigned templates that can be simply dropped into the timeline. The most resembling element you will find is the animated sets. These sets are groups of objects that can be put in a scene together. They are actually more flexible than templates because you can choose what to include or exclude.
You get absolute freedom to customize anything you want. From simple objects to fully-animated characters, edit every piece of your marketplace assets.
Read: 15 Tools to Instantly Convert 2D Images to 3D Ones
Frequently Asked Questions
What apps can you get on a Chromebook?
Chromebooks were initially developed to rely on web apps for tasks using the Google Chrome browser. However, in the past few years, these devices have been expanded to run Android and full-fledged applications.
At present, the Google Play Store is only available for some higher-end Chromebook models. All supported applications can be installed and run alongside each other.
Does Google have a free animation tool?
Yes! Google has developed Toontastic 3D, which allows you to draw, animate, and narrate your own cartoons. However, it hasn't been updated for a while.
There is one more app that smartly puts a bunch of similarly-looking photos together to create a collage. It's called Google Photos, and it comes pre-installed on every Android device. With this app, you can create animations and collages by multi-selecting photos from your Gallery.
Read: 8 Perfect Video Editing Software For YouTube Creators
Which is the best animation software for Linux?
Blender, Synfig, and Pencil2D are open-source animation tools that work great on Linux. They all are free to use, even commercially. Blender, in particular, is a very reliable 3D creation suite that supports animation, modeling, rigging, video editing, simulation, rendering, motion tracking, and even game development.