QuadPay (now acquired by an Australian financial technology company, Zip) gives you a smarter way to shop and stretch your funds. It is based on a Buy-now Pay-later (BNPL) model, which has become more popular in the credit industry in recent years.
QuadPay app gives you more freedom and flexibility to pay later anywhere. It serves more than 6 million customers and 45,000+ merchants.
What makes this platform more attractive is it doesn't perform a hard credit check, so there is no impact on the user's credit score. Users can divide their purchases into 4 easy installments and pay over 6 weeks.
The Buy-now Pay-later has a global market share of about 2.2%, and it is getting more popular every year. According to the Mercator Advisory Group, the BNPL market size will reach $114 billion by 2024 (from $55 billion in 2021).
Since the industry is growing at a phenomenal rate, multiple companies can thrive in this market. There are plenty of payments companies that allows you to buy products on credit and make payments later. We have picked some of the best apps like Quadpay to widen your options and help you get the best deal from different vendors.
9. Zebit
Founded in 2015
Marketplace includes 1,500+ top brands
Zebit is an online marketplace where you can find anything from smartphones and laptops to jewelry and kitchen appliances. It includes the latest trends in Samsung, Apple, Nintendo, Sony, and other famous brands.
The platform offers interest-free payment plans of up to 6 months on most purchases. You can get a maximum of $2,500 in credit (based on your income and previous payments) without any annual fee or introductory rate over time. Approved users receive $1,000-$2,500 for initial spending.
Zebit verifies your identity and income statement to allocate an initial spending limit as conditional credit for you to shop. It verifies information using specific credit reporting agencies that do not affect your FICO score.
Pros 
Application won't impact your credit score
Pay for purchases over 6 months
Marketplace has a wide selection of products
No hidden fees
Cons
You need to show income proof to get higher credit
The price at the checkout is what you will pay and not a penny more. For example, if you buy an item worth $100, you need to make a $25 down payment, and the remaining $75 is financed at 0% APR for 6 months. You can use the Zebit app (available for both iOS and Android devices) to track your orders and spending limit balance.
8. Perpay
Founded in 2015
Shop 1,000+ brands
Perpay is a fintech-enabled eCommerce marketplace that combines quality brands with flexible financing, making it easier for customers to buy their favorite products and pay over time.
The platform acquires basic information about you during signup, based on which it assigns you a certain spending limit. It doesn't run a hard credit check.
You can use the assigned limit to shop top-rated brands across many different categories in the Perpay marketplace. If you are buying an expensive item, you can split the payment into 8 (interest-free) installments.
Pros 
$1,000 average spending power
Make automatic payments
A simple way to increase credit score
Cons
Typically, installments are deducted at the same time as your job's biweekly, weekly, or monthly pay cycle. However, you can make additional payments at any time.
Each payment helps you build a credit history. It has been found that customers increase their credit score by an average of 39 points with Perpay.
7. Klarna Bank AB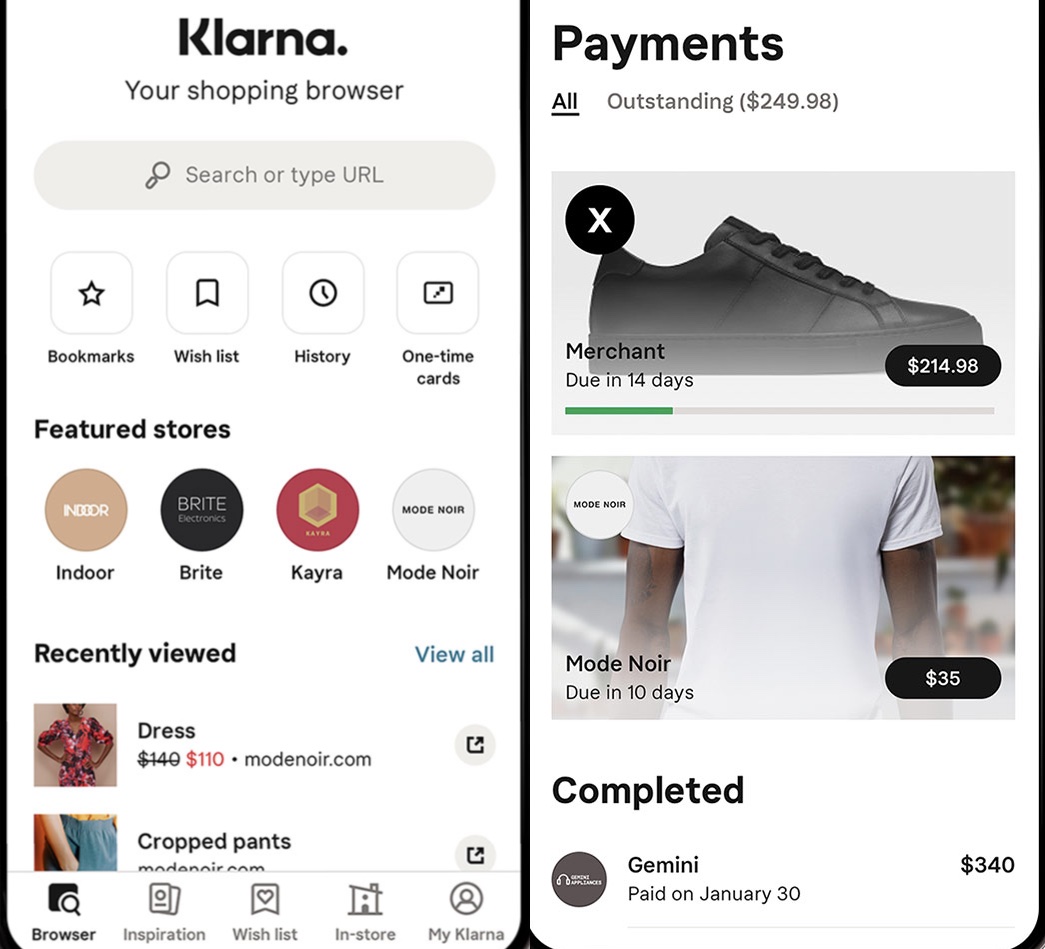 Founded in 2014
Partnered with 250,000 retailers
Klarna is a famous Swedish fintech company that provides multiple financial services, including post-purchase payments for online storefronts. While the company manages thousands of store claims and millions of payments, its core service is to provide customers credit on their purchases as part of the checkout process.
This all-in-one shopping app has a wide range of product collections, from fashion and beauty to electronic devices. You will find carefully curated suggestions for deals and editorials tailored to your shopping. You can save your favorite items and share them with friends.
Pros 
Split purchase into 4 interest-free payments
Set price alerts for selected items
Earn rewards for every purchase
Full transparency
Cons
Reminders are quite annoying
Once you decide to buy something, you get to choose from multiple payment options: pay the full amount, pay after the delivery, or convert your purchase into four payment installments. The app offers a smooth one-click purchase experience, no matter how you pay.
As long as you pay your dues on time, you will never pay more than the actual purchase price. Otherwise, there is a $7 late fee each time you miss the last date of the payment. Longer-term loans have higher late fees.
6. Splitit

Founded in 2012
Accepted by 2,000+ e-commerce merchants in over 30 countries
Splitit allows you to use your existing credit card to divide purchases into small installments with selected merchants. You don't need to go through the complex application process or credit checks.
You can divide your purchases into 3, 4, 6, or up to 24 installments. The first installment should be paid at the time of purchase, and the remaining balance is held on the credit card until the full payment is made.
After every weekly/monthly payment, the amount held from the available balance will be decreased to the new remaining balance. The held amount is shown as a 'pending transaction' on your credit card statement.
Pros 
Use your existing credit card to pay over time
Transactions are approved wherever the credit card is accepted
Zero-interest fee
Can be easily integrated into e-commerce sites
Cons
According to the company, the easy onboarding process leads to 78% higher checkout conversions, and 85% of customers use Splitit more than once.
Overall, the platform benefits both customers who want to split the cost of goods and businesses that offer it. Both get the benefit of safeguarded payments, while Splitit manages all of the risks.
5. Sezzle
Founded in 2016
Partnered with 44,000+ brands
Sezzle offers interest-free installment plans at selected online stores. You can use it as an alternative payment method when shopping at participating retailers.
With Sezzle app and website, you can discover new stores, manage existing orders, change payment modes, reschedule future payments, and get notified ahead of your upcoming payment.
The platform allows you to split the purchase into 4 equal installments. You need to pay the first installment at the time of purchase and the remaining three at regular intervals over the following 6 weeks.
Pros 
No interest fee when you pay on time
Zero impact on your credit
Free payment reschedules
Shop and find stores through app and website
Cons
Only works online not in-store
Unlike other payment platforms, Sezzle gives you an option to reschedule the payment once for free. The late fee is capped at $10. Plus, customers who regularly pay on time are allowed to finance the purchase of more expensive items.
4. Tabby
Founded in 2019
Partnered with 3,000+ global brands
Tabby integrates with retailers to allow their customers to shop online and at physical stores with interest-free installments. Using the Tappy app, customers can purchase their favorite brands and pay later with no interest fee or hidden costs of any kind.
It is very simple to use. Browse thousands of global brands and small businesses (including SHEIN, IKEA, Centrepoint, and Adidas), add what you want to your cart, and select tabby at checkout.
The platform offers you multiple ways to pay: either split your purchase into 4 equal payments billed every month at no interest, or skip paying upfront and complete your purchase within 14 days.
Pros 
Get approved instantly and link any card
Track all your expenses and payments in one place
Suggests you the best deals
Earn cashback at selected stores
Cons
Tabby will notify you before any due payments. If you don't pay on the last date, you will no longer be able to make purchases with the app until the dues are paid.
3. PayPal Credit
Feature added in 2008
Accepted at millions of stores online
PayPal Credit, previously known as Bill Me Later, is a proprietary payment method offered on thousands of online stores. It's not exactly a credit card, but a revolving line of credit provided by Synchrony Bank. It comes with the same security and flexibility you trust from PayPal. Just like any conventional credit card, the bank will charge late payments if necessary.
You need to fill an application to get a credit decision. If approved, PayPal Credit is instantly added (with no card numbers or expiration dates) to your account with PayPal. You can then shop at any store where PayPal is accepted.
It works for purchases of $99 and more. Individual products that are less than $99 qualify for financing when added for a total of $99 or more in a single transaction. However, you cannot combine multiple separate transactions of less than $99 to meet the minimum purchase amount.
Pros 
No interest if you pay the bill within 6 months
Buy wherever PayPal is accepted
No card numbers or expiration dates
Prevent and protect you against fraud
Cons
Doesn't offer financing on purchases of less than $99.00
PayPal Credit gives you the flexibility to pay your bill in 6 months. You can divide the bill into 6 equal installments and pay every month. If you fail to do that, you will be charged interest at a 20% APR starting from the original purchase date. For new accounts, the annual interest rate can get as high as 23.99%.
2. Affirm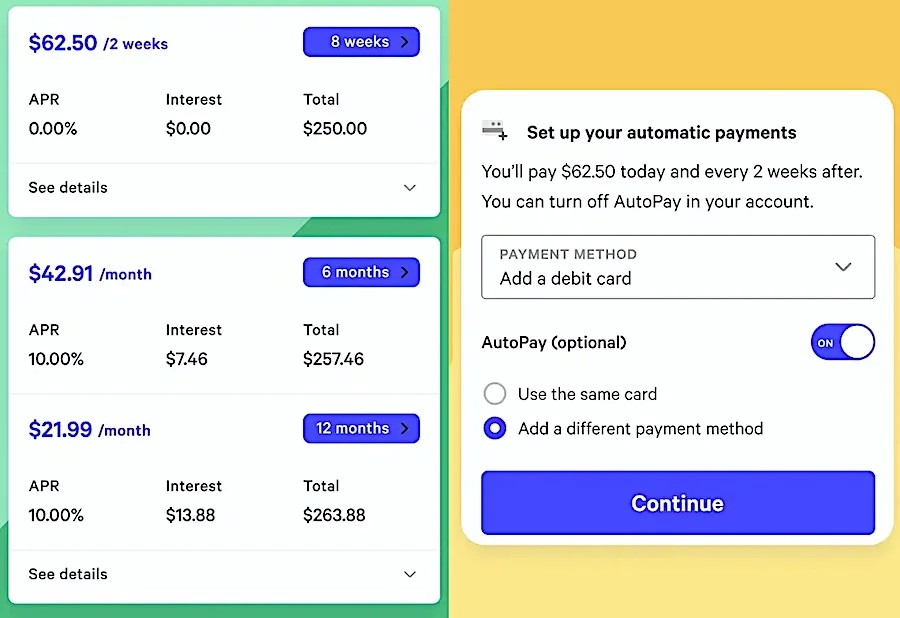 Founded in 2012
Partnered with 12,000+ brands
Based in San Francisco, Affirm operates as a financial lender of installment loans. Unlike credit card companies that lure customers in with perks and end up costing a lot, Affirm ensures that you will never owe more than you agree to upfront. You will always get a convenient, transparent, flexible way to pay over time.
You can choose between two payment options as per your budget. Either go with 4 interest-free payments every 2 weeks or select monthly installments.
Pick the payment option that works for you and your budget—from 4 interest-free payments every 2 weeks to monthly installments. The latter is a great option for expensive purchases.
Speaking of expensive purchases, Affirm is the only trustable platform that gives you a credit limit of up to $17,500. Your ability to make such an expensive purchase depends on your credit, and it may require a down payment.
Pros 
Flexible payment options
Gives you access to great deals across many stores
Finance larger purchases
No hidden fees
Cons
High-interest rates (up to 30%)
Creating an Affirm account and checking whether you prequalify will not degrade your credit score. Some customers (with good credit scores) quality for zero interest, which means they have to pay nothing for split payments over a specific time period.
1. Afterpay
Founded in 2014
Partnered with 75,000 brands

Afterpay has millions of customers and tens of thousands of merchant partners across the United States, Canada, United Kingdom, New Zealand, and Australia.
The app became popular in so much less time because of the features it offers. You don't have to go through a long application or complicated terms & conditions to get your application approved. Just put your phone number, email, address, DOB, and your application will be approved within minutes.
The platform has a shop directory where you can browse all retailers and get all the inspiration and shopping deals you need. New products, ranging from clothing and homecare to games and electronics, are added every week.
Buy any product, split the price into 4 installments, and pay it off over 6 weeks. There is no interest fee if you pay on time. If you miss a payment, your account is paused until you are back on track.
Pros 
No fees when you pay on time
No long applications for sign up
Analyze your spending limit and manage payments
Cons
Late fees are capped at 25% of the 
purchase price and do not accumulate over time. Unlike most credit card companies, Afterpay won't trap you in revolving debt and ridiculous interest.
About 75% of Afterpay's customers are millennials, and 15% are university students, of which one-third use the platform for short-term borrowing.
Read: 10 Best Financial Services Compliance Software
Other Equally Good Alternatives
10. LatitudePay
Founded in 2015
Partnered with 1,100+ brands
LatitudePay is a flexible payment platform that allows customers in Australia and New Zealand to shop for up to $1,000 and spread the payment over 10 months.
Its parent company, Latitude, offers a variety of services including unsecured personal loans, personal insurance, car loans, credit cards, and interest-free retail finance.
With LatitudePay, you can convert eligible purchases into a 10-week installment plan. The first installment should be paid at the time of purchase, which means you pay 10% upfront and the rest of the purchase is paid in 9 weeks. If you pay on time, it won't cost you a penny more than the purchase price. However, if you miss a payment, there is a flat $10 fee.
The new version of LatitudePay allows some customers (who have good credit scores and payment history) to shop for up to $5000 and split the purchase price over 6 to 24 months.
11. Four
Founded in 2018
Partnered with 1,000+ brands
Four Technologies focuses on Buy now, Pay later and purchase specific financing options. It allows you to buy what you want (from selected online stores) and make 4 equal payments every 2 weeks, without paying any interest.
The app makes it easier to view your orders and track your payments. It notifies you on time, so you never miss a due date. As far as application approval is concerned, users receive an instant decision with no impact on their credit score.
The platform also focuses on retailers and helps them drive more revenue by giving detailed insights and analytics on shoppers' spending behavior.
12. ViaBill
Founded in 2014
Partnered with 1,100+ brands
ViaBill focuses on providing affordable and fully transparent financing to consumers. It allows you to buy now and pay in 4 equal monthly installments without any interest or fees.
Their approval process is quite simple. All you have to do is enter email, phone numbers, credit/debit card information, and your application will be approved within minutes. The app remembers your card details, so you don't have to fill in the same information again for future purchases.
The platform is also useful for retailers. It seamlessly integrates into the eCommerce website's checkout flow and improves conversion and revenue. According to the company, ViaBill system increases the average-order-value by over 32% while handling credit risk and fraud.
13. OpenPay
Founded in 2013
Partnered with 1,000+ brands
OpenPay is an Australian fintech company that allows customers to pay for products they brought through interest-free installments. Unlike other platforms, it offers longer payment plans with terms up to 2 years.
All you need to do is download the app, make an account, and apply for a fast credit decision. The app gives you full control over your financial plan. You get to choose how to pay and when to pay. Make your first payment, pay a plan establishment fee, and spread the remaining purchase balance over time.
The platform is available across the United States, United Kingdom, and Australia in various industries, ranging from retail and home improvement to medical and automotive.
14. Earnest
Founded in 2014
Provides services in 48 states (excluding Nevada and Kentucky)
Headquartered in San Francisco, Earnest offers various educational financing services, including private student loans and student loan refinancing. In addition to focusing on conventional measures like credit scores, the company also gives equal weightage to students' income potential, spending, and saving habits while evaluating borrowers' profiles.
When you apply for the loan, you will receive a response within 3 days. If approved, you can select an installment plan or defer repayment for 9 months post-graduation.
Undergraduate and graduate loans are available at both variable and fixed rates. Variable rates start at 0.99% APR with AutoPay. You can select a loan term of between 5 and 20 years.
Earnest provides an interactive dashboard, which allows you to customize your repayment plans according to amount and time. So far, the company has refinanced more than $15 billion in student loan debt.
Read: How Much Money Is There In The World?
Frequently Asked Questions
Does QuadPay hurt your credit?
QuadPay never pulls a hard credit check, so your credit score won't be affected when you sign up. However, the company does report your spending behavior and payment history. If you don't make payment on time, your credit score will decrease over time.
How do you get approved for QuadPay?
To open an account with QuadPay or any other BNPL company, you need to
Be at least 18 years old
Be a US resident
Have a verifiable mobile number
Have a good credit score or be able to make purchases with a US debit or credit card
What's the difference between QuadPay and AfterPay?
Both are great BNPL companies that allow customers to split the purchase amount into multiple interest-free payments. However, AfterPay has better usage coverage in more websites categories, including Home & Garden, Sports, Lifestyle, E-commerce & Shopping, and 20 other categories.
Read: 13 Best B2B SaaS Companies
In terms of market share, Quadpay (now Zip) is clearly lagging behind in all segments. While AfterPay is leading in most countries — including the US, UK, Canada, New Zealand, and Australia — Quadpay is leading only in Burkina Faso and Benin.