Wattpad is a free storytelling platform that connects a global community of over 94 million readers and writers through the power of story. Readers can discover unique stories in over 50 languages, while writers can share original content and establish a global fan base (as their content gains readership and momentum).
So far, more than 670 million stories have been uploaded to this platform. A few of them have been transformed into movies and TV dramas, for example, The Kissing Booth and After.
However, Wattpad lacks in several areas. First, it doesn't offer great opportunities for writers to monetize their content. Second, writers have to invest a lot of time and effort in marketing their books. Third, the platform seems to focus on the young crowd — you won't find older or more conservative readers and writers.
Fortunately, there are many decent alternatives available on the internet. We have listed the 14 best apps like Wattpad that will connect you with an international community of story-lovers and allow you to support writers as they create and share their original content.
9. Readict -One Click Away Novels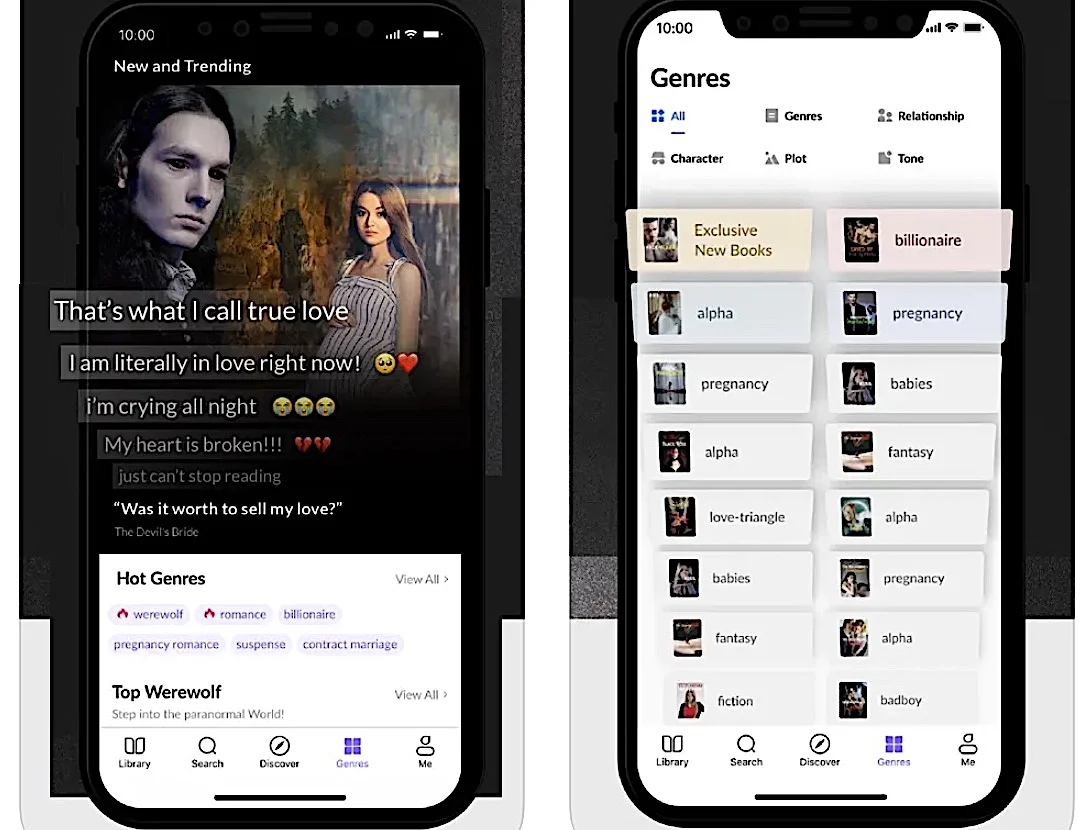 Platform: iOS | Android
Rating: 4.6/5 from 63,000+ users
Readict is a community of novelists and reading addicts. Whether you are a paranormal enthusiast, a romance fanatic, or just looking for something interesting, you will always find a story to read.
The app delivers an excellent user experience. There are plenty of pages and menus to help you find your next story, such as Hot Genres, What's Popular, New and Trending, and Editor's Choice.
Once you start reading, the app saves your progress in a personal library. It even suggests more stories based on what you have read.
Key Stats
More than 1.2 million readers worldwide
3,000+ stories at users' fingertips
Users have spent over 76 million minutes reading stories
If you want to print your own book but don't know where to begin, Readict can help you throughout the process, from design and editing to promotion. They even help you explore different contract options.
For example, Exclusive Contracts offer a one-time signing bonus and a licensing fee, while Non-exclusive ones offer a licensing fee. Most writers apply for Hire Agreements, which pay per word written (with bonuses for specific milestones).
8. NovelToon: Read & Tell Stories
Platform: iOS | Android
Rating: 4.6/5 from 80,000+ users
NovelToon is packed with many kinds of unique, fun stories — comedy, time travel, school life, romance, fantasy, and much more. You can download them for free and read them anywhere, even when you are not connected to the internet.
There is a WebNovel community where thousands of readers discuss trending stories. You can join the community as soon as you sign up, and share your thoughts. It's not uncommon for readers to talk with novelists and suggest new storylines.
Key Features 
Read offline
Discuss stories with other readers and authors
Publish stories to get noticed among millions of readers
The platform is always looking for talented writers. It offers a few monetization features for small writers so they can earn real money while following their passion. If the story is good enough and loved by readers, it may be adapted into comics.
7. MangaToon – Manga Reader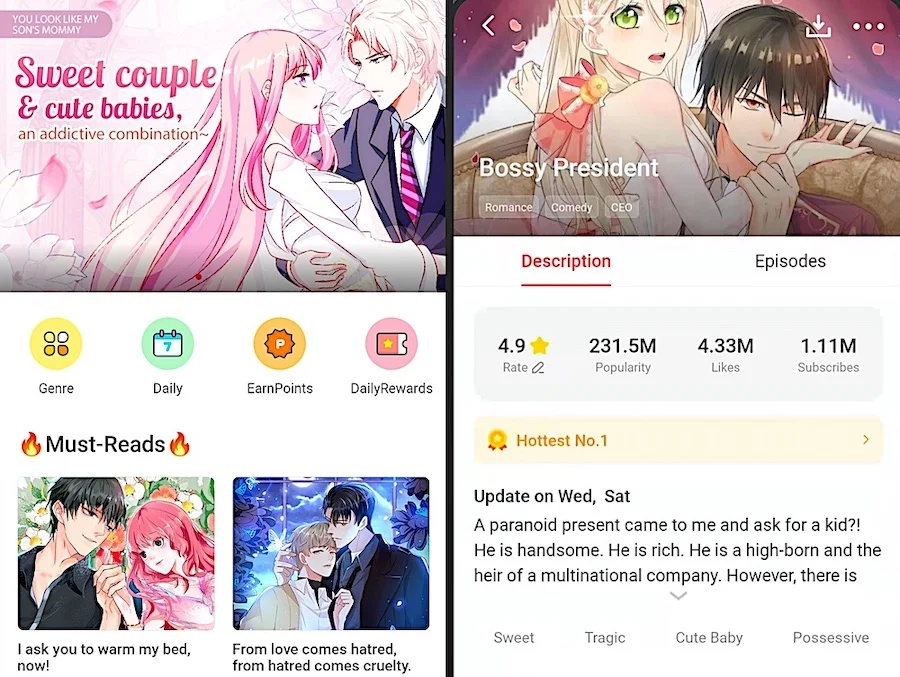 Platform: iOS | Android | Web-based
Rating: 4.2/5 from 640,000+ users
MangaToon is a reliable platform to enjoy all kinds of comics, manga, novels, and chat stories. Discover the hottest collection in genres like sci-fi, time travel, adventure, comedy, horror, supernatural, and many more.
The collection is updated regularly, with some comics being updated daily. This means you get 7 new chapters every week. The app also gives you free access to dozens of Korean comics.
Key Features 
New comics are released every week
Read comics offline
Multi-language support
An exclusive community for manga lovers
While most comics are free to read, MangaToon also offers pay-per-view content. Subscribe to your favorite stories to get all updates.
Writers can publish their own stories on the platform. If readers like it, the story will get featured on the front page. The more people read your stories, the more followers and better monetization opportunities you get.
6. WEBTOON
Platform: iOS | Android | Web-based
Rating: 4.8/5 from 3,100,000+ users
Webtoon — a type of digital comic — is meant to be read on smartphones and PCs. With more than 90 million active monthly users, the WEBTOON™ app is home to the world's largest webcomics community.
It includes tens of thousands of short stories, epic sagas, comic strips, and creator-owned comics across 20+ genres, including fantasy, horror, action, comedy, and romance.
Key Features 
Diverse creator, vibrant community
Endless choices for readers
Dive into every genre
Canvas connects readers and creators
Stories published on Webtoons have been adapted for HBO Max, Netflix, and other screens across the world. Webtoon Entertainment Inc. has also worked with numerous entertainment brands, including Marvel Entertainment, DC Comics, and HYBE.
The company is owned by Naver Corporation, a South Korean internet conglomerate. In 2021, Navar bought the Wattpad, aligning the largest digital comic platform (Webtoon) with the leading web novel platform (Wattpad). Together, these storytelling platforms reach a combined audience of 180 million people.
5. Radish Fiction
Platform: iOS | Android
Rating: 4.5/5 from 135,000+ users
Radish publishes a broad range of premium and original stories in bite-sized installments. This includes thousands of romance, thriller, and fantasy fiction stories.
You can dive into all romance sub-genres, from love triangles and age-gap relationships to shape-shifting werewolves and romantic tales with billionaire bosses. Whether you like suspense or dark romance, there is a story for everyone.
Key Stats 
Over 10,000 stories have been published to date
2,000+ writers have published stories and pre-release content exclusively on Radish
500 million episodes read
Unlike most other apps, Radish provides useful tools to help writers publish, monetize, and market their content.
If you are planning to write a romantic story and grow your fanbase, this is a great platform. According to the company, their writers make an average of $1,000 per month, while the top publishers make about $40,000 a quarter.
4. Spirit Fanfiction and Stories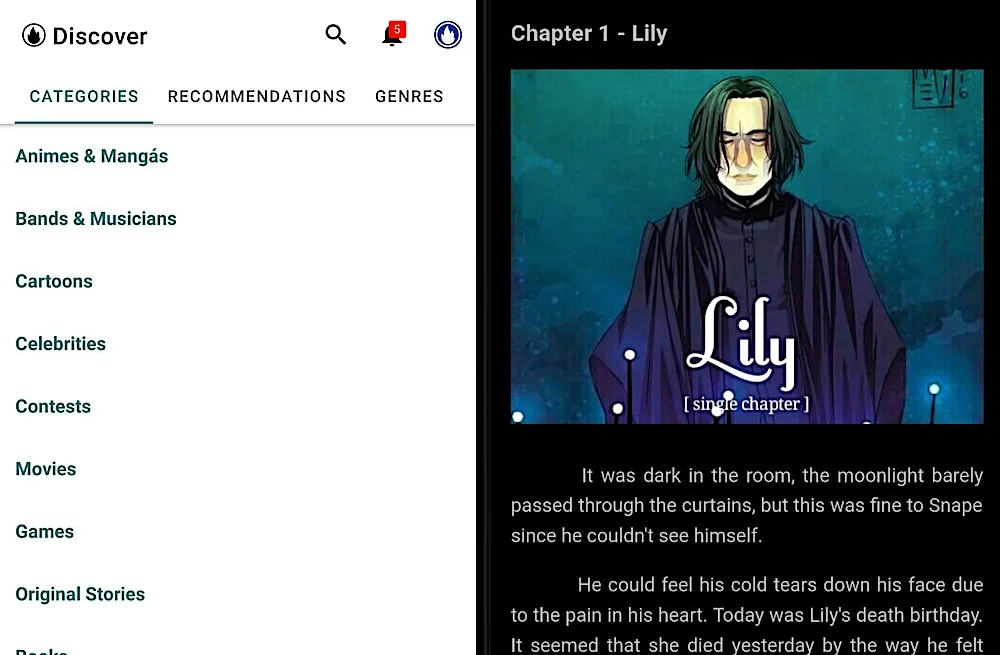 Platform: iOS | Android | Web-based
Rating: 4.2/5 from 215,000+ users
The app is specifically developed to provide the best reading and book publishing experience. It is well-optimized and consumes fewer resources than the website itself.
It makes it easy to organize your favorite stories in the library, select text color and font for more comfortable reading, and follow your favorite authors to get notified when they publish new stories and chapters. You can also leave comments and interact with authors.
Key Features
Includes thousands of stories and fanfictions
Customize reading settings
Save and read stories offline
Write stories and share them with the world
Although all stories are free to read, the app displays ads to generate revenue. You can block these ads by subscribing to their premium plan (which costs $0.99 per month or $9.99 a year).
3. Inkitt
Platform: iOS | Android | Web-based
Rating: 4.5/5 from 70,000+ users
With Inkitt, readers can discover hidden talents and turn them into successful authors. The platform consists of thousands of interesting novels in various genres, from action and adventure to romance and drama.
As soon as you get started, Inkitt offers personalized reading suggestions based on your favorite fiction genres. It makes sure you will always have something to read.
Key Features 
Contains 100,000+ novels
Shows readers' top-picks
Customizable reading interface
Offline reading
Their app is well-optimized for iPad, iPhone, and Android devices. It lets you browse upcoming novels, customize fonts and background colors, and tap & hold to auto-scroll when reading a story.
No matter what device you are using, the app delivers a great user experience. More than 700,000 people use it to read fantasy, sci-fi, thriller, mystery, romance, and other fictional stories.
2. FanFiction.Net
Platform: iOS | Android | Web archive
Rating: 3.9/5 from 45,000+ users
Founded in 1998, FanFiction.Net is the world's first and largest fanfiction archive. It is split into several categories, such as comics, games, cartoons, anime, manga, musicals, movies, and TV shows.
Unlike other platforms, FanFiction features an artificial intelligence engine that translates the stories into users' native language. It also has a text-to-speech option for users who prefer listening than reading.
Key Features 
Multi-language dictionary lookup
Downloaded are synchronized between devices
Browse and manage your favorite stories
Communicate with other users via private messages
The site has more than 14 million stories published to date.
Writers can publish stories as either 'fanfiction' under one sub-category, or as 'crossover' under two subcategories. The top fandoms (with the most stories submitted) on the platforms are Harry Potter, Naruto, Twilight, Supernatural, and Inuyasha.
You can access them all for free, follow your favorite writers, and leave reviews after reading stories. The best thing is you can write reviews without even creating an account. Since the site doesn't have any screening or editorial team, your reviews won't get deleted.
1. Bookmate
Platform: iOS | Android
Rating: 4.2/5 from 75,000+ users
With more than 3 million readers and 500,000 books in 14 languages, Bookmate is one of the largest digital libraries. You can browse, subscribe, and receive smart suggestions based on your preferences. The more you spend time reading or listening, the more accurate and better recommendations you get.
You can save everything (books, notes, and quotes) in one place and access them later in one click — even when you are not connected to the internet.
The app also informs you what your friends are reading or listening to. Share what you like the most and find new friends with similar interests.
Key Features
Smart suggestions based on users' preference
Audiobook listeners can set a timer and adjust the audio speed
Begin on one device and pick up where you left off on another
Bookmate's premium subscription (which costs $9.99 a month) gives you complete access to the full library of ebooks and audiobooks. This includes a great selection of genres, authors, and languages.
Moreover, the company has partnered with various distribution houses, including  Diversion Books, Faber Factory, Bloomsbury, HarperCollins, Legend Press, and Ingram.
Other Equally Good Wattpad Alternatives
10. Penana
Platform: iOS | Android | Web-based
Rating: 3.9/5 from 1,000+ users
Exclusively built for young and aspiring writers, Penana allows you to convey your ideas through fictional stories in serial or collaborative formats.
Besides stories in various genres, you will also find short pieces of content like commentaries, poems, and lyrics.
The app is packed with all the necessary features to provide seamless on-to-go mobile experiences. For example, users can write and edit stories on the fly, follow writers, and join mini-writing contests using their tablets or smartphones.
It also gives you the option to like, comment, and review stories to help writers improve. Or, you can simply join the 'Writing Society' to discuss ideas with like-minded people.
11. Booksie
Platform: Web-based
Rating: 3.8/5 from 100+ users
Booksie is a free social publishing website that connects readers and writers across the world. It provides writers with various tools to unlock their imagination and post short stories, poems, books, and podcasts.
For readers, it's a great platform to discover unique stories and writers, discuss episodes with other users, and support the next generation of creative authors.
Over the decades, tens of thousands of people have published interesting articles, novels, stories, poems, and more.
12. Webfic – Fantastic Reading
Platform: iOS | Android | Web-based
Rating: 4.3/5 from 105,000+ users
Webfic contains a large number of original English stories in different genres, including fantasy, romance, classic, thriller, and more. Both the app and website have a great user interface — you can instantly search for any book, adjust the background and font as per your reading preference, and save your favorite stories in the library.
It gives you smart recommendations based on what stories you have searched for and how much time you have spent reading them. Overall, the platform makes sure that you will always have something to read.
The only downside about this platform is it could become costly over time.
Not all stories are free to read. You may need to spend coins to read the next chapter. Although these coins are easy to earn, it feels quite frustrating. The other option is to pay $9.99 for a monthly subscription. 
13. Tappytoon Comics & Novels
Platform: iOS | Android | Web-based
Rating: 4.2/5 from 54,000+ users
Tappytoon puts top-notch books and stories at your fingertips. Just scroll to read.
It features exclusive series from top creators. You can access the latest chapters of fantasy comics (like Daughter of the Emperor and The Adventures of a Demon King's Daughter) and action comics (like Dungeon Reset and Solo Leveling). 
You don't need to sign up to read free chapters. And when you do sign up, the app will grant you special deals and more stories.
Subscribers get access to premium content and bonus perks, which enhance their reading experience. For $4.99 a month, they can read premium comics, manhwa, webtoons, and graphic novels.
14. GALATEA: Audiobooks & Novels
Platform: iOS | Android
Rating: 4.3/5 from 205,000+ users
GALATEA is a large collection of ebook novels, immersive fiction stories, and audiobooks, which span multiple seasons (with new chapters added every day). You have the option to choose from fantasy, thriller, paranormal, sci-fi, shifter romance, forbidden love, bad boy billionaires, arranged marriages, and many more genres.
Unlike other platforms, Galatea delivers an immersive and engaging reading experience. It allows you to turn on or off music and sound effects. This means you can hear the approaching villain's footsteps, the Alpha King's growl, or the fox howling at the moon.
You can either read books for free or purchase individual items and chapters. The other option is to purchase a monthly subscription plan (costs $7.99), which gives full access to all stories.
The platform also has a vibrant Book Club community, where you can meet like-minded people and share your ideas.
More To Know
Wattpad's key statistics
Launched in December 2006, Wattpad has achieved numerous milestones —
94 million users
Over 670 million stories uploaded
About 60 million users are Gen Z or millennials
23 billion minutes spent on Wattpad every month
Is it safe to put your story on Wattpad?
Yes. Whatever you publish on the platform is protected by copyright and trademark policies. When you upload an original piece of content, you get the option to customize the copyrights.
You can either retain all rights to your work or distribute it for free commercial use. Wattpad ensures that your stories are protected by copyright laws in areas like creation, performance, and distribution.
Online Reading Platform Market
According to the Emergen Research report, the global online reading platform market size will exceed $6.75 billion by 2028, growing at a CAGR of 7.6% from 2022 to 2028.
The major factors behind this growth include the increasing number of people who use tablets and smartphones to read books, as well as the increasing number of users getting used to the idea of paying for content online. Plus, more and more writers have started realizing that they need to have an online presence to stay competitive.
Why you can trust us?
We tested 33 Wattpad alternatives and read users' reviews. It took more than 20 hours to perform all the tests. Finally, we decided to shortlist the 14 apps/websites based on the number of stories featured, reading experience, and ease of use.
Our "Rating" is the average of all ratings given by genuine users on the App Store, Play Store, and trusted review websites. In order to show you the true picture, we haven't considered the reviews and testimonials featured on the app's official site.
We DO NOT earn commission from any of the featured applications. Moreover, we have two separate reviewers who have no influence over our listing criteria or recommendations.
Read More