The word 'Avatar' has different meanings in different contexts. In the Hindu religion, it refers to the descent of divinity from heaven to Earth, and is mostly used to describe God's incarnation.
In a UNIX environment, an avatar is used to describe the role of a special user who has the authority to access/edit all files and directories under the root directory. In chat forums and virtual reality games, an avatar is the visual 'handle' or the display appearance of a user.
Cartoon avatars have become popular these days, especially on social networking sites. We have gathered some of the best apps and websites that allow you to create a stunning avatar of yourself.
The best thing is you don't need to have any kind of photoshop skills to use these tools. Just pick your best avatar maker and test your creativity and imagination in various ways.
18. The Character Creator
Platform: Web-based
The Character Creator aims to provide an easy and fun way to help you find a look for your character. Like other web applications, you can customize various elements of your avatar, such as head, body, legs, and feet. There are some inbuilt accessories that will make your avatar-creation process a lot more interesting.
The final avatar can be exported (downloaded) in SVG format and used in commercial websites, games, and comics. According to its developers, the tool is free to use and will always remain that way.
17. MojiPop
MojiPop allows you to make your own funny cartoon stickers and add a pinch of humor to your chats. With just two taps, you will have access to various animated stickers, which you can customize the way you want.
The app uses advanced facial recognition algorithms to make stickers look alive and very much like you. The premium version (starts at $5.99 per month) gives you more features, but there are enough free ones that you can get a lot out of it.
16. Factory for Avatar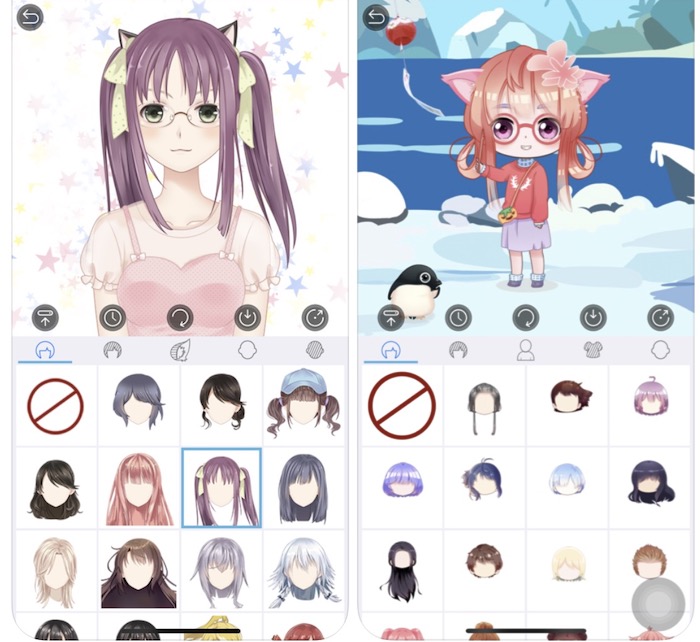 With this app, you can edit your anime avatar photos, profile pictures, and head portrait photos, using tons of cool stickers and adornments. Dress up your cute, fancy avatar, adjust the facial expression, and customize the background the way you want.
The app comes with a single classification resource bundle. That means you have to download elements every time you want to use a different bundle. It takes a few seconds to download, but the good thing is all elements are available for free.
15. Doll Maker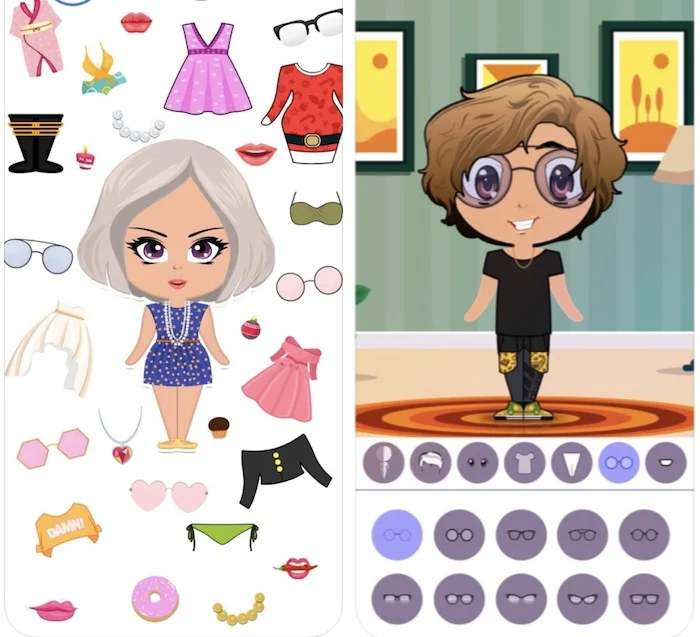 Do you know what's cute and adorable in Japanese? It's KAWAII. This app lets you bring your imagination into life and build stunning Kawaii characters with numerous items of kawaii fashion.
There are more than 150 items, ranging from skin and hair color to facial expressions. You can customize every tiny detail from top to bottom and create anime that are childlike, shy, charming, or vulnerable.
14. Zmoji
Platform: iOS
Zmoji is your personal avatar and emoji creator that makes your chat more exciting by creating a mini version of you. There are many facial features available to get your appearance just right.
Its easy-to-use interface lets you instantly create a lively cartoon avatar that looks as cool as you are. It is also packed with Emoji Keyboard, which you can use to send emojis in iMessage and third-party apps directly from your keyboard.
13. Second Life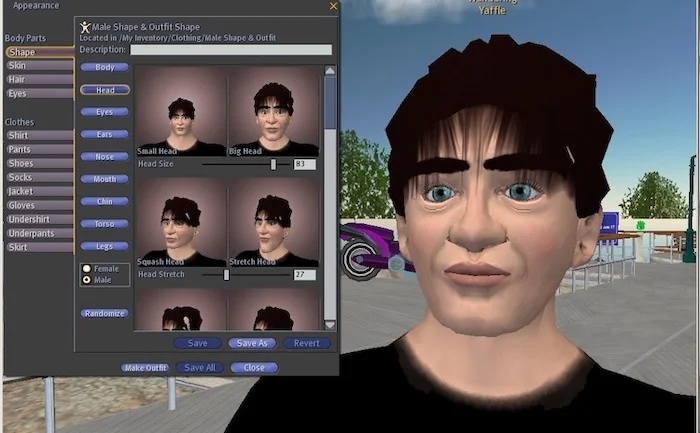 Platform: Windows | Mac | Linux
Second Life is an online virtual world, similar to other multiplayer online role-playing games. It allows you to create and customize a 3D version of yourself.
The virtual world can be accessed via the company's own client software. Users can create and control their avatars while exploring and interacting with the Second Life world. They can also communicate with other avatars (created by other Second Life players) via voice chat or global instant messaging.
12. SuperMe
SuperMe is specifically designed for girls. It consists of thousands of moe materials to add expressions on the face. What's unique about this app is you get to share your avatar with the world and chat with other people and make new friends.
There are more than 100 animation roles, which you can apply randomly or one-by-one by shaking your phone. It is pretty simple to use. However, some functions are still in their original language (Chinese) that may annoy you.
11. My Blue Robot
Platform: Web-based
My Blue Robot is a multi-media agency that aims to deliver memorable work through identity, video, and digital experiences. To get the job done, they bring the right technology to the website, enabling users to create their avatars with contemporary, professional-looking graphics.
The interface is extremely easy to use: you can select from different combinations of face, hair, eye, clothes, and background. There are options to undo, magnify, and put unlimited colors on your avatar. When done, you can download the mid-size (800*800 pixels.) PNG file for free.
10. Avatar Maker: Anime
The app offers numerous fragments to mix and match and create your original character for any type of story: fiction, fantasy, contemporary, romantic, knights. There are more than 10,000 characters, flexible color options, and a great variety of accessories to choose from.
You can also add your characters to comics, manga, and anime to make up your own kawaii stories. Once you are done creating your avatar,  you can save it in your phone gallery, use it as a profile picture, or share it with your friends to showcase your skills.
9. FaceQ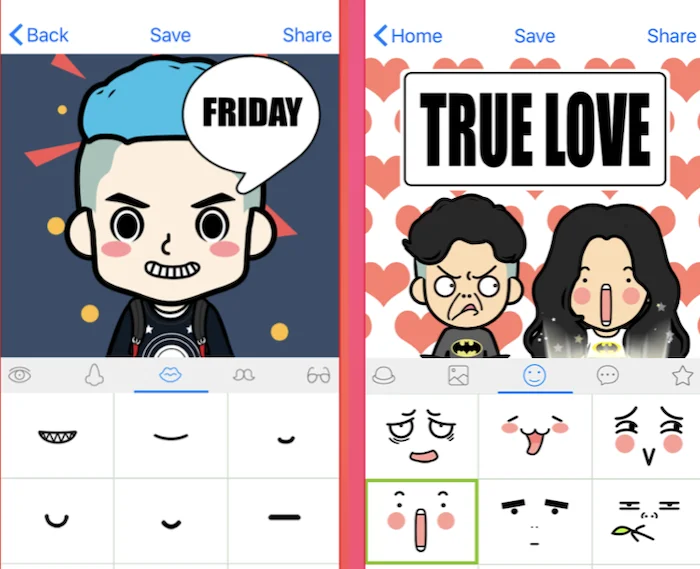 Platform: iOS | Android
FaceQ provides a variety of facial features along with a massive wardrobe of fashion styles for your upper body. It has dozens of tabs to customize your avatar, from the obvious face shape, hairstyle, and outfit, to the minute details like eyebrows, beauty marks, and facial hair.
Text bubbles, hand gestures, and hair accessories let you add a lot more life and character into your avatar. Overall, the possibilities are countless. It all boils down to how creative your mind can get.
Read: 15 Things That Were Surprisingly Predicted By Cartoons
8. Bitmoji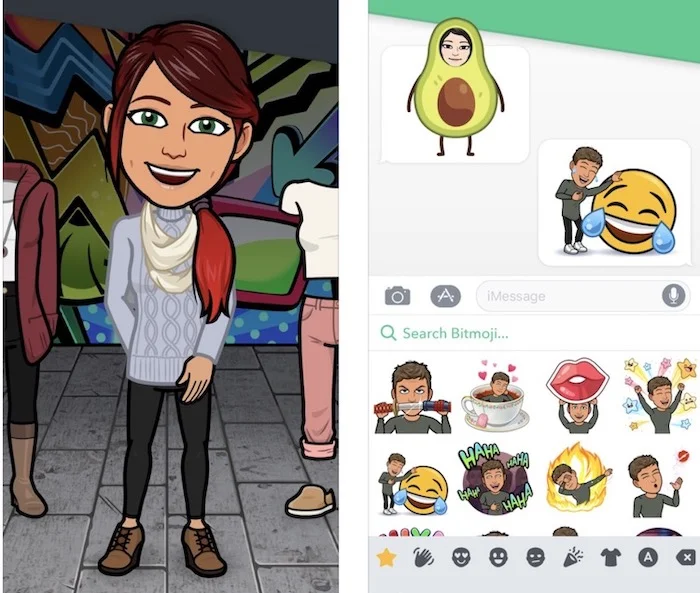 Platform: iOS | Android | Desktop
With Bitmoji, you can create avatars and send them to your friends in any app. There is a massive library of stickers to help you create a realistic depiction of yourself, without losing any of the appeals of emoji.
Although Bitmoji works great with Snapchat, it is also available on Facebook, iMessage, Gboard, and even business-oriented apps like Slack. The company also provides various themes and updates, like special options for holidays or sports events, that users can occasionally switch between as they desire.
7. Boo – Your 3D Avatar Emoji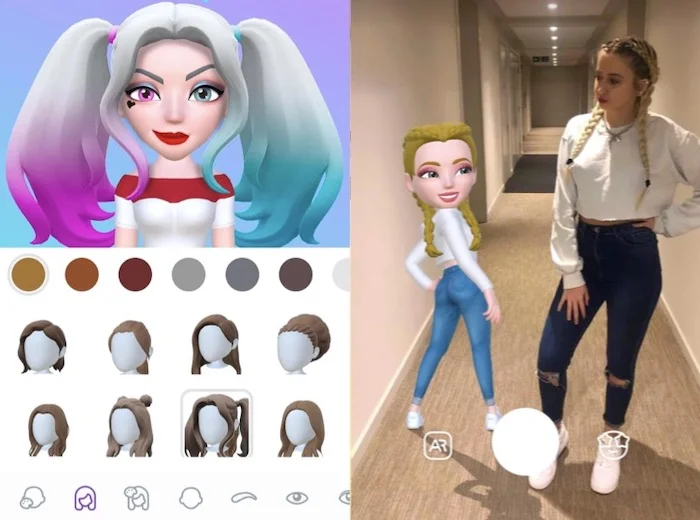 Platform: iOS | Android
Boo allows you to create your own 3D characters (that look just like you) within minutes. It offers various skin tones, eye colors, hair colors, and hairstyles to give you a unique look. There are plenty of custom outfit options to change whatever you want to match your daily fashion. New items are added weekly.
Besides using your avatar emoji to chat with friends in iMessage and messenger, you can put your avatar in the real world to make creative AR (augmented reality) videos. All in all, it's a fun app to escape reality for a while.
6. Avatar Maker: Couple of Cats
Platform: Android
As the name suggests, this app allows you to draw two cats at once. It includes tons of accessories to draw a real feline family. Every character can be either a girl or a boy cat.
You can easily customize the character's mouth, eyes, color, outfits, add wings, and much more. Unlike most other apps, it works without the Internet. Set the resulting picture as your wallpaper or share it with your friends. The anime-style will make a unique impression and definitely draw attention to you.
5. Star Idol
Star Idol takes you to a virtual world where you can create your ideal character and meet new friends. It allows you to role-play your virtual life the way you want — get wild, get weird, it's all you!
With this app, you can create a 3D avatar from top to bottom. Design your dresses, suits, shoes, and make your own unique apparel. Show off your outfit, click photos with your friend's avatar in different poses, and share them on Instagram or Facebook.
4. Dollify
Dollify makes it easy to create the cutest-looking avatar. It gives you various options to choose from. Just pick your favorite items out of 14 categories (such as hairstyle, outfit, color accessories, etc.), and get beautiful results.
The premium version of the app costs $7. It comes with more elements like skin tones, hairs, and eyes. Plus, it allows you to customize your avatar without any interruptions (ads).
3. ZEPETO
ZEPETO is an avatar platform with more than 150 million registered users. It gives you a unique experience of the virtual world where you can create your own likeness and have your avatar interact with your friends' avatars.
The app is packed with countless items, from trending hairstyles and clothing to branded collabs from companies like Nike and Disney. Using these items, you can express yourself in any way you can imagine. You can also design items for other users and sell them to make money from home.
2. Dollicon: Doll Avatar Maker
Platform: Android
Dollicon is a powerful app for creating/customizing cute doll avatars in no time. Edit your character's hair, eyes, lips, clothes, and add a little bit of magic by selecting a glitter background. Create thousands of different combinations from a wide variety of hair colors, skin tons, and other facial features that make your avatar look happy, satisfied, sad, or shocked.
You can also come up with interesting story plots and make comics and memes. When done, download your character in any format or share it on social media platforms.
Read: 18 Best Photoshop Alternatives
1. Avatoon
Avatoon comes with more than 600 outfits, 300 shoes, 300 accessories, and 2,000 customization options to create a personalized avatar. It allows you to use either real-life photos or in-app background to modify your avatar's expression, poses, and background.
Its facial recognition technology is advanced enough to make your avatar look almost as good as the real thing. After uploading/clicking your photo, the app gives you options to customize facial features like eye color and hairstyle. You can also create personalized stickers and emojis and share them on any social media platform you can think of.
Rea: 16 Tools to Instantly Convert 2D Images to 3D Ones 
Frequently Asked Questions
What are digital avatars?
A digital avatar is a graphical representation of a user's persona. It can be a 2D icon (mostly used in internet forums and social media platforms) or a 3D figure (as in games or virtual worlds).
Digital avatars are also used for video calls or chats. Many services like Skype, through some extensions, allows you to use your talking avatars during video calls. These extensions capture your facial feature in real-time to accurately mimic your movements and expressions.
Another form of use for avatars is virtual embodiments of embodied agents, which act as automated online assistants.
Is there any quick tool to create avatars online?
Yes. There are plenty of online tools to create avatars in no time. The most effective ones are —
Adobe Creative Cloud Express includes various icons and images to create an avatar that conveys your personality online.
Voki is a fun tool designed for teachers and students. It has a free collection of customizable avatars that enhance class engagement.
Cartoonify has more than 300 graphic parts so your avatar looks as special as you are.
Placeit allows you to make different styles of avatars, including cartoonish avatars, anime-like characters, and illustrations, for your gaming channels and social media.
Read: 8 Best Deepfake Apps and Tools
How do I make an avatar on my phone?
Modern smartphones have made it very easy to turn yourself into an avatar. Some phones have a dedicated application, while some provide this feature in the camera app itself. You can adjust your avatar's fine details before saving and sending it to your contacts in Messages.