In order to grow business, companies across industries rely on products and services created by other firms. This kind of business model — called Business To Business (B2B) — allows organizations to form strategic partnerships and operate efficiently. In fact, it helps entire industries to thrive while fulfilling specific company objectives.
Unlike B2C companies that expect customers to buy products or services the first time they visit the website, B2B brands hardly expect any sales transactions within one or two website visits. B2B sales cycles are relatively long, and the client journey usually consists of multiple interactions across various mobile devices and media channels.
That's the reason B2B websites are simple and more detailed. They are designed as per the audience's specific needs and expectations. Most B2B sites are easy-to-navigate and SEO-optimized, so they can attract more organic traffic from search engines and convert those traffic into quality leads.
B2B eCommerce platforms, in particular, have witnessed phenomenal growth in the past few years. The decline in physical stores, coupled with an increasing number of online orders, has positively impacted these platforms.
Plus, the advances in machine learning and cloud technology have enabled B2B sites to offer an enhanced customer experience. However, they are quite more complex than B2C eCommerce, specifically in terms of high order volumes and fluctuating prices.
If you are thinking of launching a B2B website and looking for some inspiration, we have gathered a few best B2B websites out there. This article will help you analyze what other businesses are doing and how they are targeting their audience.
To make the list more insightful, we haven't included popular platforms like Amazon Business, Alibaba, Salesforce, Microsoft, and other obvious options.
9. BigCommerce B2B Edition
Industry: eCommerce platform with in-built hosting
Founded in 2009
BigCommerce is a publicly-traded eCommerce company that provides Software as a Service (SaaS) products to retailers. Its B2B edition is designed for retailers who run a complex setup with wholesale orders.
BigCommerce B2B Edition comes with out-of-the-box features that make it easier for retailers to create a website and start selling products and services to other businesses. The B2B-optimized themes, for example, give customers a great buying experience. Versatile APIs allow retailers to seamlessly integrate their websites with essential systems like CRM, ERP, and PIM.
Key Features 
Options for custom pricing and bulk buying discounts
Corporate account management
Restricted log-in
Sales representative quoting
Moreover, the company has hundreds of app partners to complement its B2B eCommerce platform in areas like product information management, advanced search, invoice, shipping, inventory management, and more. It also offers numerous platform extension solutions with partners like JMango360, B2B Ninja, and Ebizio Checkout.
8. MailChimp

Industry: Marketing automation and email marketing platform
Founded in 2001
MailChimp offers various marketing and commerce tools to launch, build, and grow your business. It allows you to create an engaging website with a custom domain, launch an online store, and let your customers book appointments directly from the website.
The company is known for its email marketing services. Unlike most other tools that tell you how your campaigns perform, Mailchimp analyzes billion of emails to give you personalized recommendations for improving content and targeting the right audience.
You can set up automations that trigger emails based on customer buying behavior, survey responses, and chat interactions. These emails have been proven to drive more traffic and sales.
Key Features 
Custom-coded and pre-built email templates
300+ app integrations
Free social media management. and survey tools
Multivariate and A/B testing
MailChimp's proprietary intelligence engine combines the power of artificial intelligence and data science to help you create better marketing campaigns, compare top-performing campaigns in your industry, and generate customer journey maps that deliver unique experiences and increase conversion rates.
7. Asana
Industry: Work management platform
Founded in 2008
Asana gives you an easy way to manage individual tasks and team projects. From small tasks to large projects, the platform neatly organizes work, so everyone in your team knows goals and expectations.
It gives you real-time insight into the progress across projects and lets you see how much work each member has done– all from a single dashboard, which can be accessed from both desktop and mobile.
The platform is also packed with an automation tool to simply workflow, minimize errors, and save time for working on more important things. All in all, it makes your team run wild with ideas, not deadlines.
Key Features
Drag and drop tasks into Asana's built-in sections
Set strategic goals and track progress
Build Gantt chart in minutes
Troubleshoot problems instantly
View the team's work in one shared calendar
More than 131,000 organizations across 190 countries rely on Asana to manage product launches, company goals, marketing campaigns, and more. About 18,040 of those pay $5,000+ per annum for Asana's premium services.
6. Unity
Industry: Game engine
Released in 2005
Originally built for developing video games, Unity has entered a new era. It has opened up incredible opportunities in various industries, from animation and architecture to automotive and construction.
The software is known for its Android and iOS game development. It allows developers to create games for multiple platforms, including PCs, smartphones, consoles, tablets, and virtual and augmented reality devices.
For 3D games, Unity offers advanced features like texture compression, mipmaps, reflection mapping, bump mapping, parallax mapping, dynamic shadows, full-screen post-processing effects, and resolution settings for each platform that the game engine supports.
Key Stats
Games developed on Unity are downloaded 3 billion times per month
15,000+ new projects are launched every day
Dominates the mobile market with over 50% of all gaming applications
Smartphone games developed with Unity account for 70% of the top 1,000 titles on the market. With a user base of more than 2.7 billion people (including players and developers), Unity is currently the most popular game engine in the world. Its Asset Store — a marketplace for selling and purchasing user-generated assets — features over 65,000 assets and tools.
Its biggest competitor, Unreal Engine, on the other hand, powers more than 2 million games. Unreal Engine's marketplace features over 16,000 assets and has a developer community of 7 million people.
5. Docusign
Industry: Electronic signature software
Founded in 2003
DocuSign helps companies connect and automate how they create, sign, manage, and act on agreements. It allows businesses to prepare and send documents for signature and payment collection and track the status of documents via a web-based portal or smartphone signature app.
But is it safe to use electronic signatures? Actually, e-signed documents are more trustworthy than physical signatures. DocuSign saves the document and signature in an encrypted format. Each encrypted file uses a unique hash. If a signed document is later altered, the hash will not match the data stored by DocuSign.
Moreover, data and e-signs processed by DocuSign are compliant with the European Union's eIDAS regulation and the US ESIGN Act.
Benefits 
Route documents to multiple users
See who signed when and where
Everything is stored in DocuSign Cloud
Integrates with Google Drive, Dropbox, and more
The company has more than 1 million customers with hundreds of millions of users across 180+ countries. So far, they have saved over 30 billion pieces of paper and 1 million barrels of oil by avoiding the wasted printouts for signatures.
4. Zendesk
Industry: Customer relationship management and support service
Founded in 2007
Zendesk develops software that focuses on improving customer experience. It is known for its SaaS products related to sales, customer support, and other customer communications. All products are flexible and scalable to meet the requirements of any business.
The Support Suite, for instance, allows businesses to have natural conversations with their customers on any channel (including chat, email, voice, and social messaging apps). It keeps all interactions and relevant data in one place, so agents can provide a faster, more personal experience to customers.
The platform also uses artificial intelligence and bots to give customers instant replies, reduce agents' workload, and save your business time and money. And you always have the option to monitor, analyze, and act based on what your customers need.
Key Features 
Create one comprehensive view of your customer
Routing based on agent status and capacity
Pre-built dashboard to analyze service and sales performance
1,000+ apps and integrations
Zendesk currently serves over 160,000 customers across various industries in 30+ languages. According to the company, businesses that use Zendesk see up to a 20% reduction in support costs and a 25% increase in agent productivity.
3. Dynatrace

Industry: Software intelligence platform based on AI and automation
Founded in 2005
Dynatrace combines deep observability, application security, and AIOps in one open, unified platform to help companies do more with less in the cloud. It leverages AI technologies and purpose-built data to monitor applications and microservices and deliver precise answers.
The platform can efficiently map billions of dependencies to get a detailed view of your business infrastructure. One that includes logs, metrics, traces, entity relationships, code-level details, user experience, and behavioral information — all in context.
This helps your team innovate faster with less risk, operate proactively, make data-informed decisions, and drive better business outcomes.
Key Features 
Integrates with 600+ cloud platforms and solutions
Full-stack observability of microservices, applications, and infrastructure
Runtime application vulnerability detection
AI-Assistance with anomaly detection and root-cause determination
Dynatrace is a key investor and contributor to various open-source projects. Examples include OpenFeature (an open standard for feature flag management), OpenTelemetry (a suite of tools to analyze apps' performance and behavior), Dynahist (a dynamic histogram library for Java), and Barista (a license and vulnerability management system).
Moreover, Dynatrace is a founding member of co-chair of W3C Trace Context.
2. BlackLine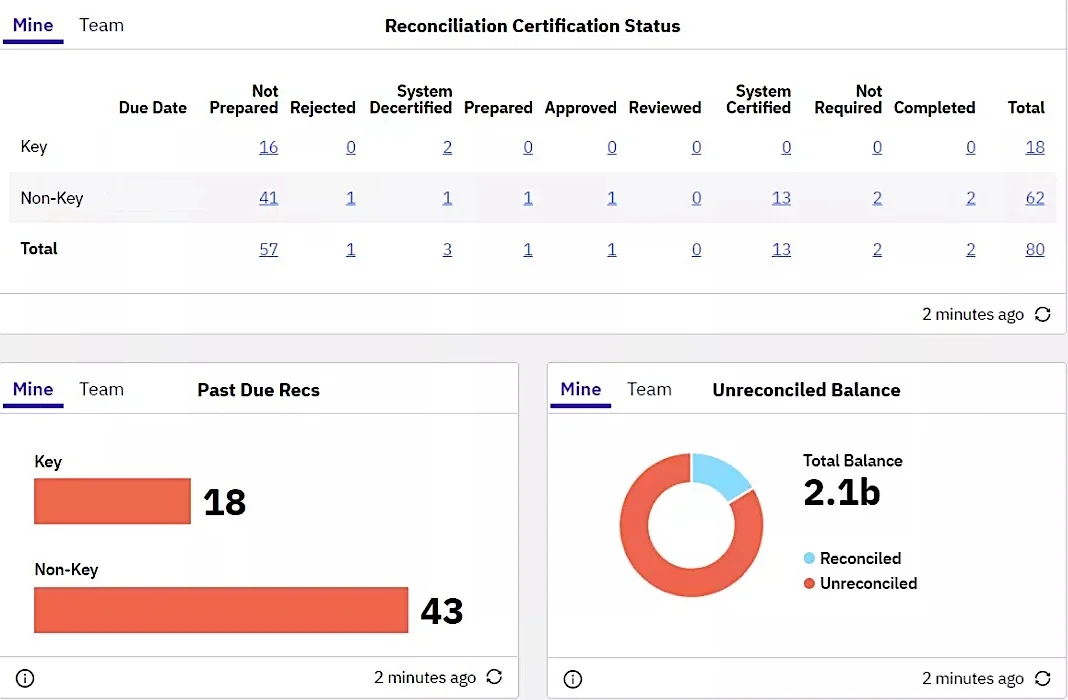 Industry: Software intelligence platform based on AI and automation
Founded in 2001
Organizations choose BlackLine to update their conventional manual accounting processes. It offers advanced cloud-based tools that automate and control financial close and accounting processes.
BlackLine tools, which are specifically built for medium and large-size businesses, help companies unify their data and processes, automate repetitive work, and do accounting work better and faster.
More specifically, the platform helps organizations across all industries standardize, accelerate, and centrally manage accounting processes, from PBC checklists to month-end close tasks. The real-time dashboard shows account balance and activity fluctuations, so admins can continuously monitor potential risks and ensure the timely execution of critical operations.
Instead of focusing on basic general ledger applications, BlackLine develops enhanced financial controls. It can efficiently manage financial data, reconcile balances from subsystems, and monitor regulatory controls through the Continous Auditing System.
This Continuous Auditing System properly distributes tasks across the close, analyzes errors and frauds, and eliminates non-value-adding activities.
Key Stats 
More than 4,000 customers, including almost half of the Fortune 500
More than 335,000 users in 130+ countries
Invests $40 million per year on R&D
75+ strategic partners and 14 international offices
BlackLine tools primarily run on the Google Cloud Platform and meet ISO 27001 standards. Their biggest clients include Netflix, Costco, Google, Under Armor, Kraft Heinz, Coca-Cola, Sirius XM Holdings, and JetBlue Airways. 
1. Datadog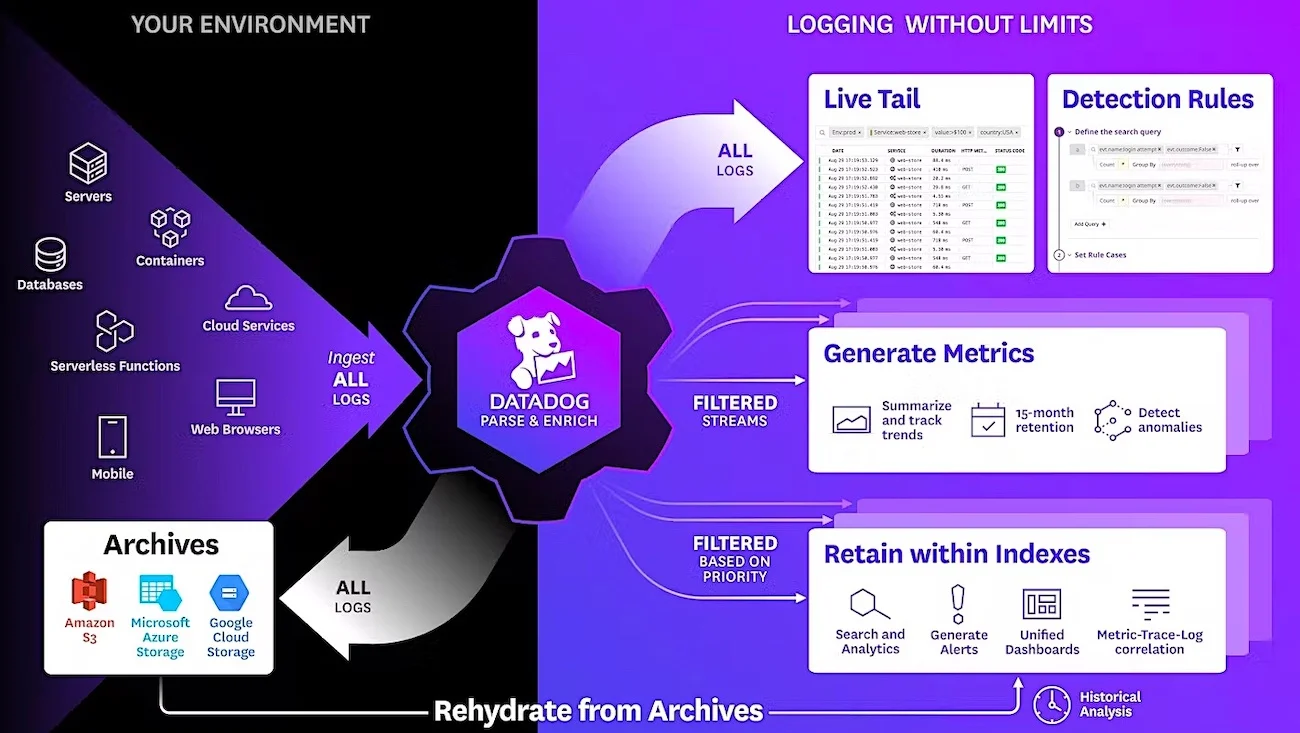 Industry: Cloud-based system monitoring
Founded in 2010
Datadog focuses on analyzing machine-generated data. Its products, delivered as SaaS, allow you to monitor services like databases, servers, applications, and tools.
The platform is capable of analyzing massive amounts of data in real-time. It brings together information from containers, databases, and third-party tools, making it easier for you to resolve performance issues, avoid downtime, and deliver the best user experience.
You can deploy its monitoring tools on-premises or as a SaaS. It supports Mac, Windows, and Linux operating systems. Support for cloud service providers includes Google Cloud Platform, Microsoft Azure, AWS, and Red Hat OpenShift.
The backend of the software is written in the Go programming language and is built on several open and closed-source technologies like PostgreSQL, Kafka, D3, and Apache Cassandra.
Key Features 
Automatically collect logs from all apps, services, and platforms
Sensitive data scanner
Slice and dice data using custom attributes
Visualize resources, load times, and frontend errors for every user session
Gives alerts on any metric
Datadog went public in 2019 — it diluted 24 million shares in the market to raise $648 million. Their shares have performed well since then.
In 2021, the company hit $1 billion in annual revenue. Today, it provides services to a range of industries, from manufacturing and eCommerce to healthcare and life sciences.
Headquartered in New York City, the company has operations in the United States, the United Kingdom, Germany, Australia, Switzerland, Sweden, France, Spain, Japan, Singapore, South Korea, and the United Arab Emirates.
Other Equally Good B2B Platforms
10. eWorldTrade
Industry: Wholesale B2B marketplace
Founded in 2006
eWorldTrade is a user-friendly, B2B trading platform that connects buyers and sellers across the world. It is specifically designed for wholesalers, retailers, and suppliers.
The platform is integrated with all the essential features that help traders develop the voice of their business and expand worldwide. Unlike traditional B2B portals, eWorldTrade is safe, fast, and reliable.
In order to ensure security and to satisfy customers by all means, eWorldTrade has earned ISO 2700 Information security system certification and ISO 9001 quality management system.
Moreover, the company has more than 15 years of experience in web development and digital branding. Their B2B platform currently handles 500,000 registered users, and they are strategically expanding their database of companies, manufacturers, and suppliers.
11. Themeforest
Industry: Marketplace for UI designs and web themes
Founded in 2008
ThemeForest is a subsidiary of Envato Market, one of the largest online marketplaces to buy and sell creative assets, learn new skills, and hire freelancers.
At ThemeForest, users can buy and sell HTML templates and themes and plugins for popular CMS platforms like WordPress, Drupal, and Joomla. It features the latest website templates for all popular eCommerce solutions, including Shopify, Woocommerce, Magento, and more.
There are more than 100,000 items to choose from. Each item is priced based on its quality, complexity, and use of the file. PSD templates, for example, cost as low as $4, and premium themes can cost over $1,000.
All in all, Themeforest is home to a large community of developers and web designers, and is the vast marketplace of its kind.
12. SeeBiz
Industry: B2B wholesale platform
Founded in 2015
SeeBiz is an online sales portal that enables manufacturers, retailers, wholesalers, and distributors to connect with each other and exchange products in a single place.
Unlike other popular wholesale platforms that focus on only one or two industries, SeeBiz targets over 10 different industries, which means users can connect to a large number of wholesalers.
Signing up and uploading items on this cloud-based inventory management system is incredibly easy. You can instantly identify investor leakage, keep stock levels in check, manage several warehouses, create instant invoices, and get low stock notifications on your mobile.
SeeBiz also acts as a social networking platform. Businesses can share updates, view items listed by other vendors, and stay in touch with their regular customers.
13. Hootsuite
Industry: Social media management service
Founded in 2008
Hootsuite offers a set of social media tools to simplify your marketing, grow your sales, and streamline your customer service. It allows businesses to efficiently manage their social media channels, reach a wider audience, and gain deeper analytics and consumer insights.
Instead of logging into each social website and publishing content one at a time, you can manage all popular platforms (including YouTube, Instagram, Facebook, Pinterest, Twitter, and LinkedIn) almost instantly. Create engaging content, schedule and publish posts, manage comments and messages, and monitor activity and mentions — all from a single dashboard.
Organizations known to use Hootsuite include Martha Stewart Medi, HBO,  Zappos, Panasonic, the Obama administration, and many more.
According to the company, enterprise customers save an average of $839,000 in advertising costs and $495,000 in operating costs over three years with Hootsuite's tools.
More To Know
Most popular B2B eCommerce platforms
The most popular and reliable B2B eCommerce platforms for manufacturers and wholesalers are:
Shopify Plus

: Offers cutting-edge shopping experiences with built-in augmented reality, 3D, and product clips.

NetSuite Commerce

: unifies business operations and commerce apps, providing a single source of item, inventory, order, and customer data.

Salesforce B2B Commerce

: It simplifies online buying with a range of features like custom catalogs, fast reorders, contract pricing, account hierarchies, and more.

Magento

: Offers future-proof technology to build multi-channel commerce experiences for B2B and B2C customers.
What are the crucial elements of a B2B website?
Developing a B2B site is not an easy task. Companies need to focus on various things to attract customers and provide the best user experience. The most important factors to consider include:
Content Management System

— it helps you manage website design and content in a 'systematic' way

SEO

— A site optimized for search engines can attract more organic visitors, creating more opportunities to convert prospects into customers

Advertising

— Effective ad campaigns amplify your marketing efforts and help you reach the right audience

Analytics

— Track every activity on your website to see how well it is performing
Global B2B eCommerce Market Size
According to the Grand View Research report, the global B2B eCommerce market size will surpass $33.3 trillion by 2030, growing at a CAGR of 19.7% from 2022 to 2030.
The major factors behind this growth include the increasing popularity of specialized online marketplaces, increased focus on digital experiences, and small retailers migrating to online operations.
Amazon, Alibaba, Walmart, IndiaMart, Global Sources, and Mercateo are the major players in this market. Their vast network of low-cost suppliers enables them to dominate the market.
Why you can trust us?
We thoroughly analyzed 30+ B2B websites as well as their marketing strategies. It took more than 20 hours to do the full research. Finally, we decided to shortlist the 13 platforms based on their features, popularity, and user reviews.
Every piece of information is taken from the company's official website and trusted sources.
We DO NOT earn commission from any of the featured platforms. Moreover, we have two separate editors who have no influence over our listing criteria or recommendations.
Read More
14 Best Edge Computing Companies