A business banking account is a specialized bank account that allows business owners and entrepreneurs to manage their business-related finances more efficiently. It also provides access to important services and tools, such as business debit/credit cards, with a better reward system, easy loans, and lines of credit. Thus, choosing the right bank is critical for the smooth functioning of any business.
An ideal bank for your small business depends largely on your specific banking needs and sometimes the type of industry you're in. Business owners often bundle financial services and products from the same bank for convenience, but there is nothing against using specialized products from different institutions. Below is a list of large, regional, and online banks that are best for business banking needs.
1. Chase: Best Bank For Card Services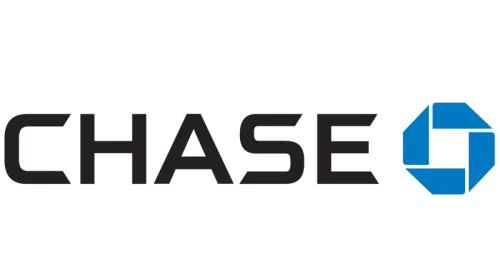 Chase Bank Logo | Image Courtesy: Wikimedia Commons
Chase Bank is the retail and commercial banking subsidiary of the financial services behemoth JP Morgan Chase, whose total assets exceed well over $3 trillion (2020). As one of the largest commercial banks in the country, Chase specializes in providing a variety of financial products and services to small businesses.
The bank offers three different business checking accounts and two business saving accounts for you to choose from based on the size of your enterprise. These accounts can be interlinked with other Chase services for better management of finances.
But what makes Chase Bank stand out from the rest of the commercial banks is its exceptional credit card program. Chase offers a total of six business credit cards, three of which are its widely popular 'ink' line of cards, while the remaining three are co-branded cards. Their cash-backs, bonus offers, and reward points are among the best in the industry.
Moreover, the bank has over 16,000 operational ATMs and 4,700 physical branches across the nation and is present in more than 100 nations worldwide.
Pros
Three business checking account options
Unlimited fee-free transactions
High reward business credit cards
16,000 ATMs, 4,700 branches across U.S
Cons
$15 monthly fee
No free wire transfers
20 fee-free physical deposits per month
In 2004, Chase became the largest issuer of credit cards in the U.S after it acquired Bank One Corporation. Today, it ranks second in the list of largest credit card companies with 83 million active accounts (in 2020).
Some of the highlights of Chase Bank Business Accounts and Credit Cards
A monthly service fee, starting from $15 per month, for business checking accounts. There are options to waive.
Unlimited electronic deposit without fees and a maximum of 20 in-person (non-electronic) deposits.
Access to Chase online Banking for bill payment.
2. Wells Fargo: Best Bank For Branch Access and Business Loans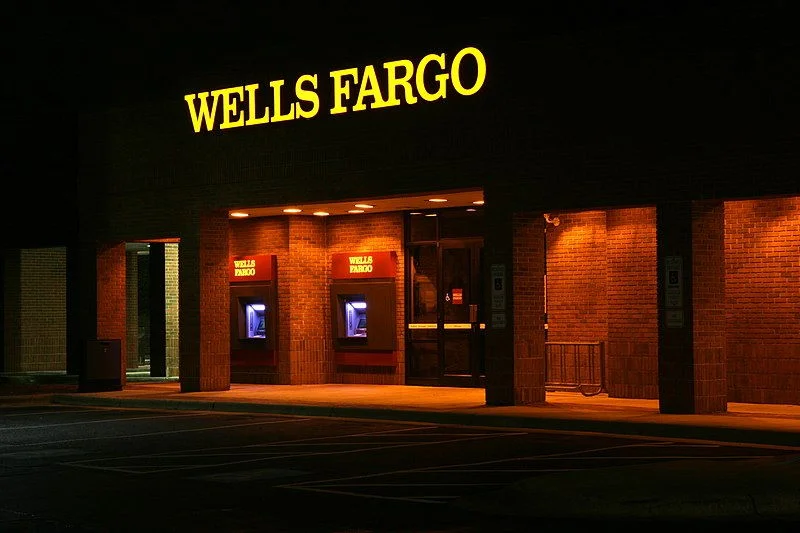 A Wells Fargo branch in Durham, North Carolina | Image Courtesy: Ildar Sagdejev/Wikimedia Commons
Wells Fargo is the 4th largest financial services company in the United States by total assets, which stood at almost $2 trillion in 2020. It is recognized as a systemically important bank, critical for financial stability in the U.S.
The bank, including its subsidiaries, is divided into three broad segments; community banking, wholesale banking, and wealth and investment management. Wells Fargo has the largest branch network in the United States, with around 5,129 operational branches across the country. It is ideal for any small business or startup owner who prefers to do at least some of the banking operations in person.
Apart from regular branches, the bank also operates about 2,000 specialized mortgage branches that deal exclusively in home mortgage loans and refinancing. The number of ATMs currently operated by the bank is 13,000, one of the largest in the country.
Pros
The business checking account options
Fee-free ATM withdrawal
Access to over 13,000 ATMs across the U.S
Cons
Minimum $10 monthly service fee
$0.50 fee per transaction after 100 or 250 transactions (depending on the account)
$2.50 fee for non-Wells Fargo ATM withdrawal in U.S
Although the bank has lost some ground due to a string of recent controversies and scandals, it remains a business-friendly bank with some of the most competitive financing options for business loans. It is one of the ten most active SBA 7(a) lenders in the country and the most active among the large traditional banks.
An SBA 7(a) loan is a loan granted to qualified small businesses in the United States and is guaranteed by the Small Business Administration.
Wells Fargo offers three business checking account options, three business saving accounts, and three high reward business credit cards.
Highlights of Wells Fargo Business Checking and Savings Accounts
The most basic business checking account with Wells Fargo, suited for a newly established business, costs $10 in monthly service fees (avoidable). The mid-tier and topmost business checking accounts have maintenance fees of $25 and $75, respectively.
All three business checking accounts provide a fixed amount of fee-free transactions each fee period, online and mobile banking facilities, and zero liability debit cards.
There are two standard business savings account options, namely Business Market Rate Savings ($5 monthly service fee) and Business Platinum Savings ($15 monthly service fee). The former is suited for small businesses with low profits, while the latter is for higher-income businesses. Both have a minimum opening deposit of $25.
The third saving account type, called Business Time Account, is a fixed interest deposit account with no monthly service fee and a minimum opening deposit of $2,500.
3. Capital One: Best Bank For High volume Deposits and Transactions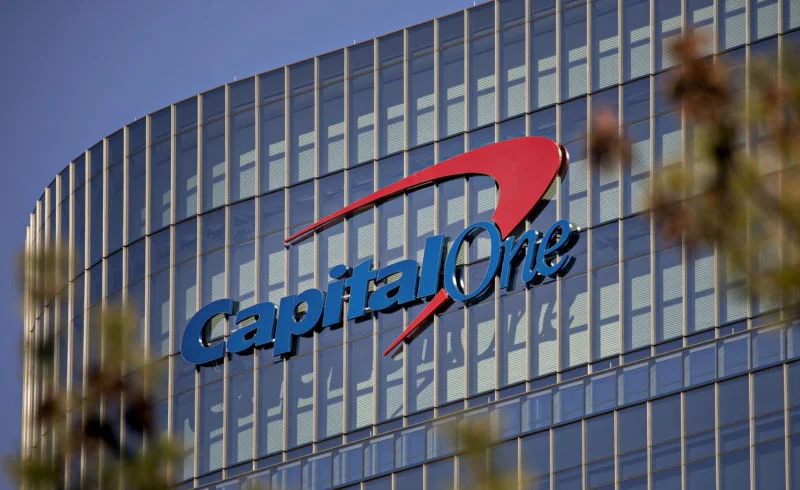 Capital One Building in Virginia | Image Courtesy: Bloomberg Finance LP
Capital One Financial Corporation, simply known as Capital One, is one of the largest financial services companies in the United States. It is ranked 99th on the Fortune 500 list, 9th on the list of 100 best companies to work for, and is widely considered one of the most innovative banks globally. Outside the United States, Capital One is engaged in auto finance and credit card business in the United Kingdom and Canada.
Though the bank primarily focuses on credit card, auto finance, and other consumer banking services, some of its commercial banking programs are well suited for small businesses.
Capital One has two business checking account options — Spark Business Basic Checking and Spark Business Unlimited Checking. Both accounts allow unrestricted amounts of fee-free transactions, a feature that's not found in most commercial banks.
Other benefits include easy fund transfer via online and mobile banking mode and fee-free access to over 70,000 ATMs operated by Capital One and ATM networks, Allpoint and MoneyPass.
Pros
Two business checking account options
No-limit on the number of fee-free transactions
No fees on debit card use on more than 70,000 ATMs
Free online and mobile banking
Cons
No business saving account option
Available in a few U.S states
High fees on international wire transfers
In-person visit to a branch is required
Compared to other large brick-and-mortar banks in the country, Capital One has significantly fewer branches and is limited to some eight states on the U.S east coast. The bank also requires an in-person visit to a branch to avail of its services.
Highlights of Capital One Business Checking Accounts
Fee-free cash deposit up to $5000 per month with Spark Business Basic Checking, 1$ charge on every $1000 deposit after that. The Spark Business Ultimate Checking account charges no cash deposit fees whatsoever.
The basic checking account imposes $15 on every incoming $25 on outgoing domestic wire transfers. For international wire transfers, both accounts charge $15 on incoming and $45 for outgoing funds.
The monthly service fee for the basic checking account is $15 and for the Ultimate checking account is $35 (avoidable). The minimum opening amount on both accounts is $250.
4. HSBC: Best Bank For Small Business and Startups in Europe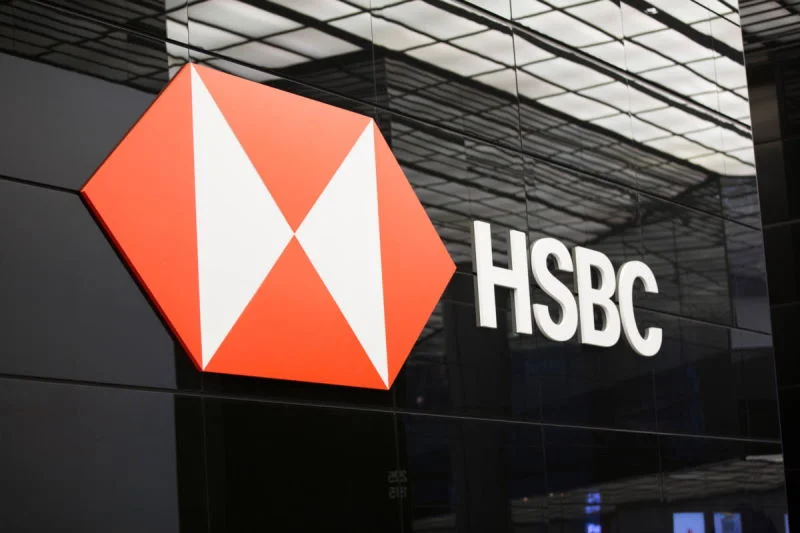 HSBC is one of the most recognized financial services institutions in the world. It is ranked second largest in Europe and sixth largest globally in terms of assets, which is close to $3 trillion (2020).
HSBC provides a comprehensive suite of banking services to businesses of all sizes. It includes tailored business accounts for new startups, medium-sized and large businesses. It also offers specialist business accounts for managing foreign currencies and institution funds.
Pros
Fast and easy to apply
Easily managed through the app
Up to £30,000 in overdraft funds (subject to approval)
Multiple payment method options (BACS, EFT)
The HSBC Kinetic Current Account enables startups and small business owners to manage their finances right from their smartphones through an app. It can help monitor your business cash flow with simplified breakdowns and insights. The business account comes with a debit card, which can be managed from the app. HSBC's global presence allows them to offer you faster, much safer, and more competitive ways to send and receive payments in different currencies from anywhere in the world.
With a Kinetic Current Account, you can apply for a separate savings account, a credit card, and up to £30,000 in overdraft funds.
5. NBKC: Best Online Bank For Small Business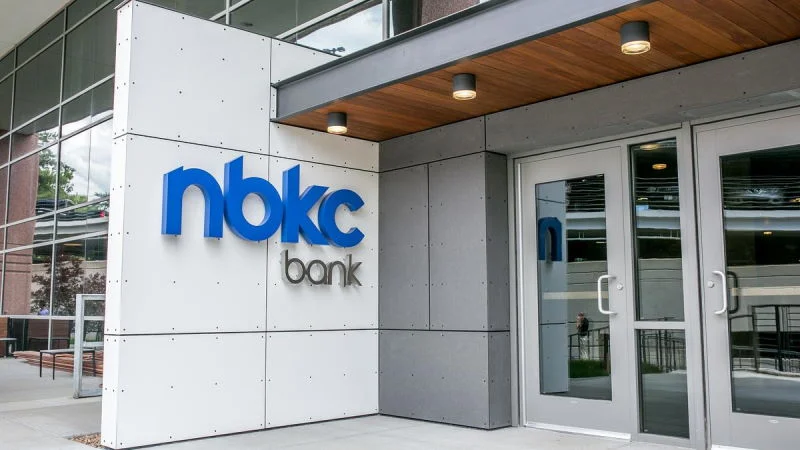 NBKC bank HQ in Overland Park, Kansas
As a small business owner, if you're looking for a financial services provider that cuts down on unnecessary fees and requires no in-person visits to a branch, then NBKC bank is for you.
NBKC is a full-fledged digital bank that offers financial products to individuals and small businesses, including savings accounts, credit cards, and home loans. It has a few brick-and-mortar branches in Missouri and Kansas.
The bank offers a free checking account for small businesses, referred to as simply Business Account, with no monthly service fee, minimum balance requirement, and unlimited transactions. Moreover, it allows you to deposit checks and pay bills electronically with no extra costs. There is also an option to open a high-yield business savings account side-by-side.
Pros
No monthly maintenance fee for business accounts
No opening deposit and minimum balance requirement
Unlimited transactions
Fee-free incoming domestic wire transfers, stop payments, and overdraft
Access to over 32,000 ATMs across the USA and Puerto Rico
Up to $12 in refunds on ATMs fees charged by other banks
Cons
No physical branches outside Missouri and Kansas
Incoming and outgoing international wire transfers cost a $45 fee. $5 for outgoing domestic wire transfers
Five days delay on deposits on new accounts. No international wire transfers up to 90 days of account opening
With an NBKC business account, you receive a free business debit Mastercard, which can be used in more than 32,000 MoneyPass ATMs across the United States without any transaction fees. What's more, the bank refunds up to $12 per month in charges levied by other banks when using their ATMs.
NBKC also offers a few additional business solutions, including cash/treasury management, efficient debt collection, and disbursement through ACH (Automated Clearing House) transfers, and protection against fraud.
Best Digital Business Accounts For Small Businesses and Startups
6. OnDeck: Best For Small Business Loans
Image Courtesy: ondeck.com
OnDeck Capital is a New York-based lending company that provides loans and lines of credit to small businesses online across the globe. It uses proprietary software to analyze and determine the creditworthiness of a potential client before giving loans.
OnDeck currently offers two types of business loans. The OnDeck Term Loan — a one-term loan of a sum of cash between amount $5k to $250k that you return over a period of up to 18 months. The term loans are perfect for business expansions and other large projects.
Pros
Fast and easy
Average credit score (min.600) requirement
Better borrowing rates for regular customers
Allow you to improve your business credit ratings
Cons
High-interest rates
Personal guarantee requirement
Fixed daily or weekly interest payments
No interest rebate on early repayments
Not suitable for certain business
Then there is the OnDeck Line of Credit facility that allows small business owners to access credit lines of amounts between $6k and $100k with a repayment term of 12 months.
Compared to traditional banks, OnDeck provides much faster and more flexible loans. A loan application with OnDeck can be finalized within minutes and becomes readily accessible within a day (as per OnDeck) once it is approved. These loans are, however, expensive. The term loans have APRs between 11.89% to 99%, which include processing fees and monthly maintenance fees.
7. Aspire: Best For Digital Banking in Asia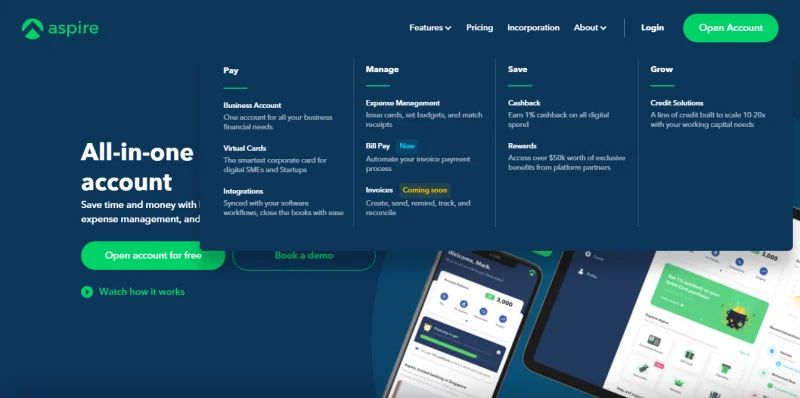 Image Courtesy: aspireapp.com
Aspire is a Singapore-based digital or neo bank that provide various financial services to small and medium-sized business. It includes an all-in-one business account, free and cheaper virtual corporate cards, and an efficient credit facility.
Aspire business account is free-to-open with zero minimum deposit fee requirement and no annual maintenance fee. It allows businesses to send and receive payments to/from anywhere in the world in more than 50 different currencies (supported by Wise) at relatively low exchange fees. Online fund transfer from one bank account to another within Singapore is free through FAST and GIRO.
Aspire charges mid-market or interbank FX rates for outbound transfers and Reuters currency rates plus a 0.5 percent fee on inbound transfers for international funds.
Pros
Free account with zero minimum deposit
No annual maintenance fee
Send and receive payments in over 50 currencies (no multicurrency account)
Easy integrations to popular business applications
Cons
No ATM withdrawals, cheque deposits
One of the best things about Aspire is that it allows quick and easy integrations to several third-party applications, be it accounting software such as Xero, QuickBooks, and SAP business; payment processing, including Skype and PayPal; or mobile wallets such as Google Pay.
As a business owner, you have an option to issue unlimited virtual cards (free of cost) to your employees, all of which can be managed in one place. You can track spending on those cards in real-time, set limits, or freeze them.
Read: 9 Helpdesk Software For Small Business
8. Holvi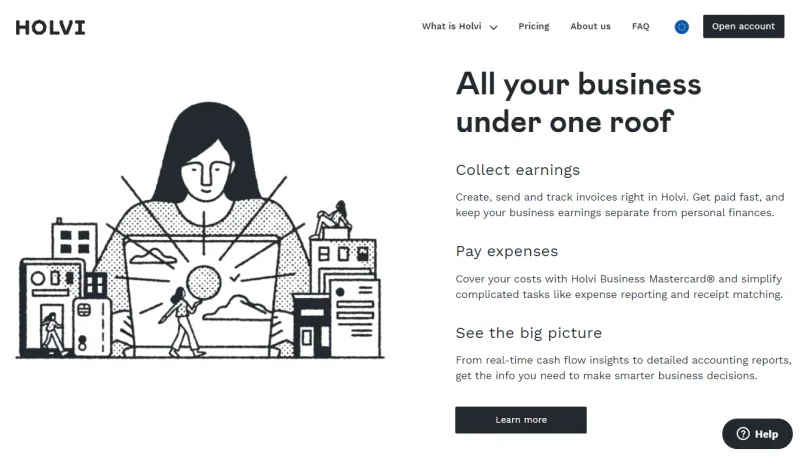 Image Courtesy: holvi.com
Holvi is a Finnish digital bank specializing in helping small businesses with their various banking needs and managing them under one roof. It operates in the European Economic Area, which includes most of Europe except a few countries in Southeast Europe.
Unlike many neo-bank or digital-only banks, Holvi services are not free. There are two account types to choose from; Holvi Lite (€6/month) and Holvi Pro (€12/month). The former gives you access to essential banking services, including a business account and a debit card, to keep your business going.
Pros
A single dashboard for all your business finances
Streamlined invoicing and accounting feature
3 business cards with Holvi Pro without extra charge
Can track your VAT balance
Secure and protected payments
Cons
Charges a monthly fee
0.25€ per transaction after 500 credit transfers
Additional debit cards cost €3/card per month
2.50% of the amount from ATM cash withdrawals
Holvi Pro comes with a streamlined invoicing and accounting feature that makes it easier to track expenses, facilitate faster and error-free payments and keep track of your VAT.
The Holvi Business Debit Mastercard allows you to keep track of your business expenses more efficiently by auto-sync your expenses to accounting reports and providing real-time notification every time the card is used. There is also an option to issue additional cards at a fee of €3/ card per month.
Read: 15 Largest Banks In The World By Total Assets
Frequently Asked Questions
How Do I choose a Bank For My Small Business?
Choosing a commercial banking account requires more thought and planning than a personal account. The first and most important aspect to consider while choosing a bank for your small business is your small-term and long-term goals. A scalable business account is better equipped to serve the banking needs of your growing business.
Another increasingly important factor to consider is the bank's compatibility with your existing business tools and services, such as accounting and payment processing platforms.
Other critical considerations include the bank's specialization, fee structure, the level of customer support, and other benefits.
Which Is Best For Small Businesses, Credit Unions, or Banks?
A credit union is a not-for-profit financial setup owned and managed by a group of people who share common economic interests. They provide easily accessible loans and other financial services to their members.
You can choose between credit unions and traditional banks to open a business account based on your priorities. If you are looking for a flexible banking solution with higher interest rates and lower fees, then credit unions might work for you. Since credit unions do not seek profits and are exempted from taxes, they are constantly able to provide credits at lower rates than established banking institutions.
However, most credit unions offer only basic business banking and loan services due to their small size. They also lack a comprehensive digital platform and brick-and-mortar locations, all of which are fundamental to large banks.
For many small business owners, using both traditional banking services (offering extensive services) and credit unions (low-interest rates, fees) is beneficial.
Read: 16 Biggest and Most Valuable Fintech Companies in the World
Which Are The Best Business Banking Accounts For LLCs?
In the United States, members of an LLC (limited liability company) are not legally required to open a separate business banking account. However, it is a standard practice to do so. The first and foremost reason is to preserve liability protections.
Depending on the size of your LLC and specific needs, you can either go with large banks, such as Bank of America, Chase, Barclays, and Wells Fargo, or smaller and digital-only banks, such as BlueVine and Novo Online Banking.