Listening to podcasts is becoming a more and more popular method of consuming digital content today. Podcasts allow you to multitask. You can listen to your favorite show while gardening, cooking, washing dishes, or traveling.
Apart from entertainment, podcasts are widely used as a learning tool. It makes learning convenient and engaging, depending on the quality of the podcast you choose. There are several inherent advantages of listening to good podcasts daily. Perhaps the biggest advantage is that you learn new things at your own pace, anywhere.
Whether you're a young entrepreneur looking for ways to expand your startup, get valuable business insights from industry experts, or looking for inspiration to do better at your job, a quality business podcast can be a great start.
You can listen to one-on-one interviews of some of the influential business individuals sharing their success stories, failures, and a ton of actionable quality insights.
Below is the list of the 15 best business podcasts that every aspiring entrepreneur should listen to.
15. Creative Rebels
Available on: Apple Podcast
Creativity is perhaps one of the greatest qualities an aspiring entrepreneur can have. However, even the most creative person can run out of ideas during a time of need. Fortunately, listening to podcasts is one of the ways to inspire creativity and get your creative spark going.
Creative Rebels is one such podcast where hosts David Speed and Adam Brazier interview successful individuals and talk about success and creative life. They also give advice and pointers on how to be creative.
14. SaaS Breakthrough – Niche Podcast
Available on: Apple Podcast, Spotify, Soundcloud
The SaaS (software as service) industry is now bigger than ever. It has become a common delivery model for a wide range of business applications, from accounting and productivity software to resource planning and customer relationship management (CRM). If you're an aspiring entrepreneur with a SaaS startup, this podcast is for you.
SaaS Breakthrough brings you all the latest news and developments in marketing for SaaS companies. The podcast allows listeners to gain inside knowledge on techniques used by SaaS companies to grow their user engagement and MRR (Monthly Recurring Revenue).
The podcast is helpful for any marketer with its great insights on different SaaS companies, marketing strategies, inspiration, and mostly enjoyable episodes. It also tackles specific topics such as productivity and marketing leadership.
SaaS Breakthrough is produced by Demio, an easy-to-use webinar software for marketers.
13. CodePen Radio
Available on: Apple Podcast
If you're an entrepreneur running a small web or software business, this podcast is for you. CodePen Radio podcast invites successful individuals in the web development and software industry to share their personal success stories and failures they have come across in their journey.
This podcast is ideal for those who are involved or want to start a web development business, as it gives valuable insights into various aspects of the industry.
It is produced by Codepen, an online tool for testing HTML, CSS, and JavaScript code.
12. Planet Money – Best Podcast for Economy Related News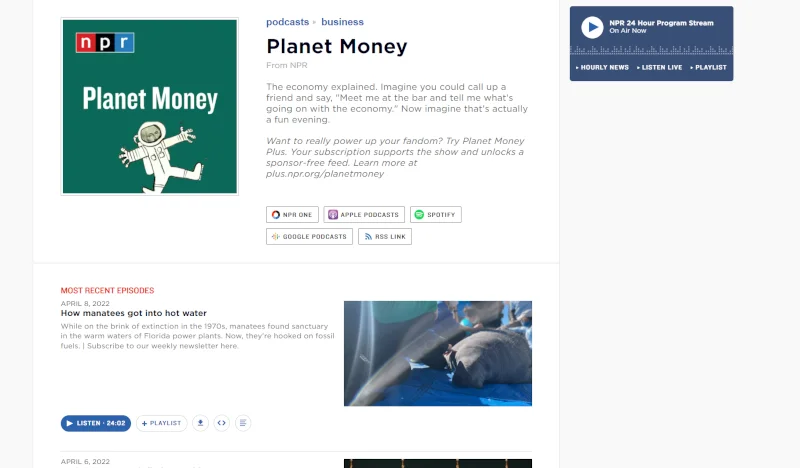 Available on: Apple Podcast, Spotify, Google Podcast
NPR Planet Money is a highly rated podcast show where you can learn about the world economy through great insights on various economy-related matters from around the globe. As an entrepreneur, it is vital that you stay connected with national and international news on matters that can have an effect on your business. It is the podcast to do so.
The credibility of NPR Planet Money can be determined by the fact that it's more than a decade old and is one of the most downloaded podcasts of all time. It uses problem or case-based learning methods to teach listeners about various economic theories and models. Rather than reciting definitions, the podcast relies on the art of storytelling.
The podcast is known for its entertaining narratives in which the hosts summarize a complex issue or concept to individuals who don't have an academic background in economics. The length of the episodes in this podcast varies between 10 and 35 minutes.
Planet Money was created by Adam Davidson and Alex Blumberg in September 2008. The idea of a podcast centered around economics concepts and issues came after the success of a radio episode "The Giant Pool of Money," which they both hosted for the popular radio show program This American Life.
11. We Study Billionaires – Best Overall Podcast for Investing
Available on: Apple Podcast
'We Study Billionaires' was created by Stig Brodersen and Trey Lockerbie to closely look into the principles used by some of the world's most successful businessmen and investors. It provides listeners with valuable insights on popular investment strategies and ideas and teaches how to apply these strategies in the stock market.
The podcast invites influential individuals from different backgrounds, from financial educators/coaches to angel investors and serial entrepreneurs, to share insights on a wide variety of topics.
In one of the more recent episodes of the podcast, the host Trey Lockerbie interviews a value investor and lawyer by profession, Zach Oliva, to talk about the investment style of the legendary investor Warren Buffett. They also discuss how to find new investment ideas, among other things. Overall, it is an ideal podcast for anyone who is looking for helpful insights on finance and investing.
We Study Billionaires is a part of The Investor's Podcast Network, which also produces interesting shows on bitcoin and real estate investing. The podcast has more than 75 million downloads.
10. Duct Tape Marketing Podcast
Available on: Apple Podcast
Duct Tape Marketing is a one-stop podcast for marketers. It is a highly rated show which answers all your marketing-related questions. As with other highly successful podcasts, the host, John Jantsch, invites influential marketing experts and authors to offer tips, resources, and insights on business marketing.
The podcast also covers important topics such as how to maintain your mental health at work, different strategies to start your business, also how to start your own podcast. Over the years, the Duct Tape Marketing podcast has garnered the respect of marketers due to its insightful interviews and marketing strategies.
Duct Tape Marketing is one of the oldest podcast series on marketing, with over 800 episodes. The length of episodes varies between 20 to 25 minutes and is published twice every week.
9. The $100 MBA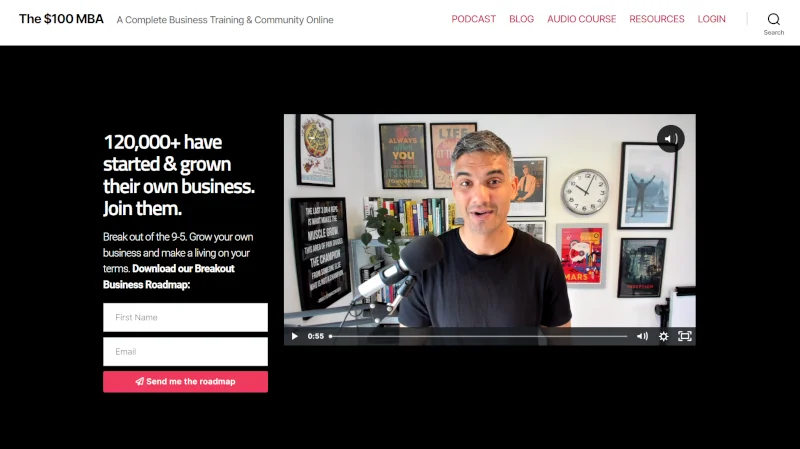 Available on: Apple Podcast
The $100MBA is a widely recognized and award-winning business podcast that shares practical, no-nonsense business lessons and insider knowledge with listeners.
The podcast is hosted by Omar Zenhom, who attended the prestigious Wharton School of Business but dropped out to start his own venture. Omar's $100MBA community is spread across 30 countries and has more than 120,000 devoted listeners.
The show also interviews some of the most influential business experts and authors to give unadulterated lessons on business and several other related topics. The $100MBA provides answers to almost all your queries related to setting up a business, such as how much money you should invest in your business, how you should monetize, and which online growth strategies you should use.
Perhaps the best thing about this podcast is its compact episodes about business strategies and insights. On average, every episode is about 15 minutes long.
8. Entrepreneurial Thought Leaders – Best Podcast for Inspiration
Available on: Apple Podcast
Entrepreneurial Thought Leaders is an increasingly popular business podcast that allows aspiring entrepreneurs to learn from industry experts. It is a weekly show produced by Stanford University. Like other successful business podcasts, ETL invites distinguished individuals to share their important life lessons, secrets, and setbacks behind their success.
The podcast covers a wide variety of topics. One of its recent episode feature billionaire investor Chris Sacca shedding light on his most recent VC fund, Lowercarbon Capital, which backs the 'green companies.' Sacca initially rose to prominence in the venture capital industry with early investments in companies like Uber, Instagram, Twitter, and Twilio.
Another recent episode talks about the role of AI and machine learning in medicine,
ETL podcast was originally established specifically for Stanford entrepreneurs, but it now features individuals from other backgrounds.
7. The Goal Digger Podcast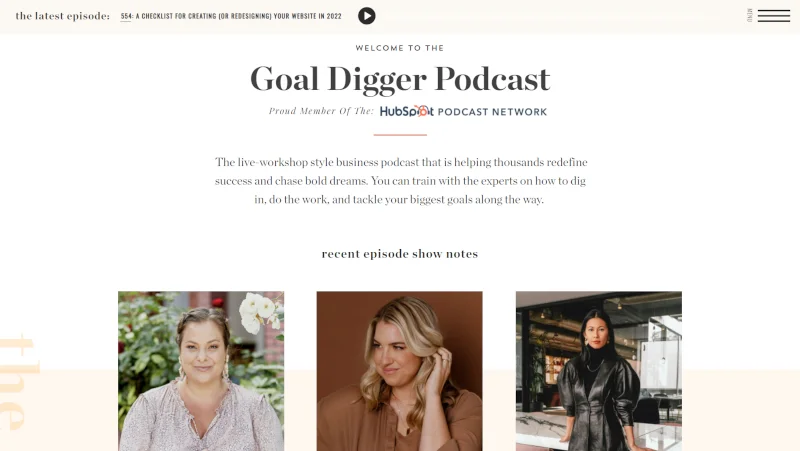 Available on: Apple Podcast
Jenna Kutcher's Goal Digger Podcast is a great podcast series for aspiring individuals. It is a live-workshop-style podcast that offers step-by-step actionable advice for marketers and entrepreneurs. The podcast covers a wide range of topics, from social media and search engine optimization tips to productivity hacks and creating effective business plans.
Jenna also shares her journey to success and how she became a 'self-made millionaire' through influencer campaigns, affiliate marketing, photography, and selling digital courses. The podcast often features successful women entrepreneurs and experts sharing their views on various issues and providing helpful insights.
The Goal Digger Podcast has more than 500 episodes with over 65 million downloads. It is among the most highly rated business podcasts.
6. Business Casual
Available on: Apple Podcast
Business Casual is an interview-style podcast for entrepreneurs where you can listen to creators, innovative thinkers, and industry leaders talk about their journeys and personal stories.
The podcast is hosted by Nora Ali and Scott Rogowsky, both of whom have been praised by listeners for their professional yet casual approach during interviews and timely comedic relief. Nora has ample experience in finance and equity research, being a former summer analyst and associate at Goldman Sachs.
Business Casual is a bi-weekly podcast with new episodes released every Monday and Thursday. The length of episodes varies between 30 to 50 minutes. It is produced by the online media company Morning Brew.
5. How I Built This with Guy Raz
Available on: Apple Podcast, Spotify, Amazon Music
How I Built This is another highly-rated business podcast produced by National Public Radio or NPR. In this podcast, internationally acclaimed producer Guy Raz invites entrepreneurs and innovative business owners who share their narratives and provide helpful insights on a wide variety of subjects.
The very first episode of 'How I Built This' was aired in September 2016, featuring Sara Blakely, the founder of underwear maker Spanx. Some of the other prominent individuals who have appeared on the show are – Sir Richard Branson, Reid Hoffman (Linkedln), and Mark Cuban.
After the initial success of the podcast, Guy Raz organized an annual summit in 2018, which turned out to be a sell-out.
4. Entrepreneurs on Fire – Best podcast for Interviews
Available on: Apple Podcasts, Spotify, Audible
Entrepreneurs on Fire is created and hosted by John Lee Dumars, who is more popularly known by his initials, JLD. JLD has hosted over 3,000 successful entrepreneurs from different industries, such as Tony Robbins, Barbara Corcoran, and Tim Ferriss. The podcast provides listeners with insights on different business strategies and inspiration to navigate their entrepreneurial journey.
Entrepreneurs on Fire is an ideal podcast for business-minded individuals who are looking for new insights and, most importantly, motivation to push forward with their business endeavors. What I really like about the podcast, apart from its long list of distinguished guests, is that it provides new content every day.
Read: 8 Types Of Business Ownership You Must Know
3. Harvard Invites – Best Podcast for Interviews
Available on: Apple Podcast, Spotify
Harvard Invites is an excellent business podcast organized by the Harvard Alumni Entrepreneurs network. The podcast feature CEOs and founders of some of the most innovative companies around the globe. These guests are former students of the much esteemed Harvard Business School.
In other words, Harvard Invites allow users to learn important business lessons directly from Harvard graduates who own businesses or hold key positions in large organizations. Not many people are better qualified for this task. The podcast is hosted by Denise Silber and Philip Guarino, veterans in strategy and business development. Their vast experience in business makes the podcast more insightful and interesting.
The only downside is that it irregular, and just about two episodes are published every month on average.
2. The Tim Ferriss Show
Available on: Apple Podcast, Spotify, Overcast
Tim Ferriss gained widespread popularity as a lifestyle guru after the success of his self-help book series, The 4-Hour. He has also been an angel investor. Some of the well-known startups that he invested in are Evernote, Shopify, and Stumbleupon. In 2014, he started a business podcast – The Tim Ferriss Show, where he invites esteemed guests from diverse backgrounds to talk about their secrets for success, such as habits/routines, favorite books, strategies, and time-management tricks.
Some of the guests that have appeared on the show include – Arnold Schwarzenegger, LeBron James, Maria Sharapova, Hugh Jackman, Kevin Hart, Whitney Cummings, Tony Robbins, Reid Hoffman, Peter Thiel, Marc Andreessen, and Ray Dalio.
The podcast is known for its long-form, open-minded and raw interviews. It is among the most highly rated and recommended business podcasts on Apple Podcasts. More than 700 million episodes of the podcast have been downloaded so far. The insane popularity of The Tim Ferriss Show leads The Observer to label Tim Ferriss the 'Oprah of Audio.'
1. HBR Ideacast – Best Podcast for In-depth Insights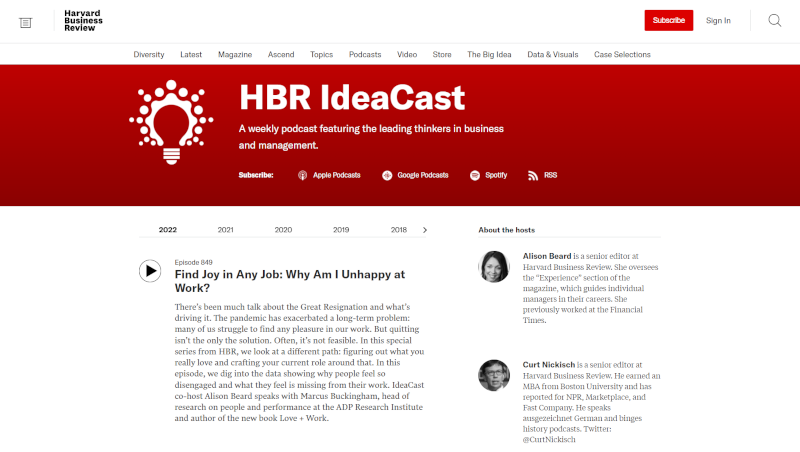 Available on: Apple Podcast, Spotify, Google Podcast
Among all popular business magazines, the one that every entrepreneur should definitely read is the Harvard Business Review. The magazine covers a wide range of business-related topics, including leadership, strategy, career planning, management functions, marketing, and ethics. While most of its articles can only be accessed after paying for a subscription, you can listen to its podcast for free.
HBR Ideacast hosts leading businesspeople, consultants, and management experts from different industries who share their thoughts and valuable insights on a specific issue. Those who have read HBR articles are probably aware of its no-nonsense, in-depth, and research-driven style. The podcast is no different.
Read: 18 Best Apps For Small Business In 2022
Each segment of HBR Ideacast lasts about 20 to 30 minutes, during which the hosts and their guests provide listeners with good ideas and tons of actionable advice. Some of the most popular episodes on the podcast include how to become a better listener, creating psychological safety in the workplace, and networking myths dispelled.
Frequently Asked Questions
What is a podcast?
A podcast is an episodic audio program, like a radio talk show, that you can subscribe to, listen to, and download over the internet. A podcast series is usually focused on a particular theme, like language learning or, in this case, business. It could also be a news podcast discussing current events. A podcast creator is known as a podcaster.
Unlike a radio show, which requires listeners to tune in on the radio at a specific time each day or week, you can listen to your favorite podcast shows at any time.
There are five different types of podcasts — enhanced podcasts, video podcasts, fiction podcasts, podcast novels, and live podcast. While most podcasts tend to have original content, some of them are repurposed radio content.
What are the best Podcast apps?
Podcast streaming services and applications offer a convenient way to manage and listen to all your favorite podcast shows across multiple devices. There are virtually tons of such services. While many of them are free, some follow a subscription-based model.
Whether you're traveling, commuting to work, or just relaxing at home, these podcast streaming applications allow you to connect with your favorite podcaster and get your daily dose of news, politics, comedy, business, and entertainment.
For the best streaming experience, we have selected some of the best podcast apps that you can use.
Apple Podcast
Google Podcast
Spotify
Audible
TuneIn Audio
Read: 9 Helpdesk Software For Small Business [Best of 2022]
What are the best business podcasts on Spotify?
While we have already covered some of the best business podcasts that you can listen to on Spotify, including HBR Ideacast, and Entrepreneurs on Fire, there are a few other unique podcasts that you can try.
Reply All – A widely popular podcast about all the internet and technology.
Great Women of Business – A special 12 episode podcast series about some of the most successful businesswomen in history and the issues they faced.
2000 Books for Ambitious Entrepreneurs – Offer summaries of some of the greatest self-help and business books.
Startup Success – A podcast about startups. It offers advice and insights on everything related to startups, such as fundraising, finance, marketing, hiring, and sales.