Are you looking for good business strategy games, from which you can learn one or two things about business and grasp the idea of microeconomics? Well, if you do, then you are definitely in the right place.
'Learning by doing' is a proven and one of the most effective ways to gain invaluable knowledge as it simulates real-world situations through activities such as reading, watching live demonstrations, practicing, etc.
The optimal goal of any strategy game, which in this case is related to business, is to help players understand various components of business more efficiently. So below are 15 of the best business simulation games you can try this year, rated from medium to advanced level.
14. Industry Giant II
Image Courtesy: MobyGames
Platform: Windows, Xbox One, PlayStation 4
Although Industry Giant II is billed as a business simulation game, many crucial aspects such as HR, finance are mostly missing. It took inspiration from other business-oriented games such as Capitalism and Transport Tycoon, and city-building games such as Emperor: Rise of the Middle Kingdom, etc.
In IG2, the player is responsible for the manufacturing and distribution of the company's products in a 20th-century background. The goal is to obtain maximum profits from the operations. There is also a 'free game' option, where you don't have to worry about profits, but how interesting it could get when there is no money involved.
13. Airline Tycoon
Platform: Windows, macOS, Android, iOS
Airline Tycoon is one of the oldest business simulation games in existence. The original game was initially launched for Windows in 1988, but the Deluxe version was later made for Mac OS X and Linux. Like all the other tycoon games, the main objective is pretty simple – to become filthy rich, a Tycoon. And the only way to so is by maintaining a healthy relationship between income and expenditure.
12. Transport Tycoon
Platform: PlayStation, iOS, android, MS-DOS
Transport Tycoon is more or less similar to above mentioned Airline Tycoon, where players compete with rival companies making as much profit as possible by transporting passengers and various goods by road, rail, sea, and air.
11. Victoria II
Platform: Windows, macOS X
Victoria II will take you to a century-long journey from 1836 to 1936, allowing you to take control of one of the 200 playable nations. The game gives a lot of stress to the economic side of the story with a reasonably complex market system and 50 different types of goods. It also focuses on internal management, industrialization, and socio-political changes/aspects in a country.
10. Port Royale: Gold, Power, and Pirates
Image Courtesy: Port Royale
Platform: Windows
Like the way pirates do business? Well, we have the right game for you then. Port Royal is a business simulation game set in the 16th and 17th centuries, mostly in the Caribbean. The game employs a combination of real-time battles with business and economic simulation, where players can choose from many in-game options, which includes trading with pirates. GameSpot nominated Port Royale for their "Best Game No One Played" in 2013.
9. Theme Hospital
Image Courtesy: Theme Hospital
Platform: Windows, PlayStation
Instead of a factory or a chain of stores, you have a hospital, and you not only have to manage it but to make a profit out of it. Theme Hospital is one of a kind business simulation game, where you own a hospital to cure patients with fictional illness while turning it into a profitable business at the same time.
In many ways, this game is a successor to Theme Park, another management simulation game produced Bullfrog productions. In January 2018, Two Point Studios announced that they are about to launch a squeal of the Theme Hospital named Two Point Hospital.
8. simCEO
Image Courtesy: simceo.org
Platform: Browser-based
In simCEO, all you have to do is create your company and join a dynamic stock market where you manage your independent investment portfolio. There are two entities in the game; instructors, who create the perfect market learning environment, and learners.
Based on that environment and announcements, you have to evaluate various companies before investing in them. Here you can compete in teams or individually. In both ways, simCEO allows top-notch social learning for everyone, from solutions to business-related problems.
7. MobLab
Image Courtesy: Moblab
Platform: Browser-based
MobLab is an ambitious and growing online company that provides interactive learning games to individuals and even universities. Started by Caltech students, MobLab illustrates simple to complex theories in areas like economics, psychology, and business administration. From basics like supply and demand to asset market knowledge, you can have videos and games for almost every major concept.
6. Railroad Tycoon II
Platform: Windows, PlayStation
Railroad Tycoon II is the third installment in the popular Railroad Tycoon series, released for the first time in the United States in 1998. The game covers all the significant events in the history of rail transportation. As a Chairman of the railroad company, your task is to double the profits for investor benefits while dealing with mishaps like train breakdown, robberies, economic downturns, etc.
A critical element in this game is how well the player can manage a healthy ratio between expenses and earnings by choosing the right locomotive for the right job as every engine possesses unique attributes like speed, preferred cargo, and the ability to pace through the mountain or steep hills.
5. Eve Online
Image Courtesy: CCP Games
Platform: Windows, macOS
Eve Online is a space-based MMORPG or massively multiplayer online role-playing game where players can participate in one of the core activities such as piracy, mining, manufacturing, trading, and combat. While it may not be recognized directly as a business simulation game, at least for some users, its complex economic and political interaction between players makes it a lot more interesting from a business standpoint.
4. OpenTTD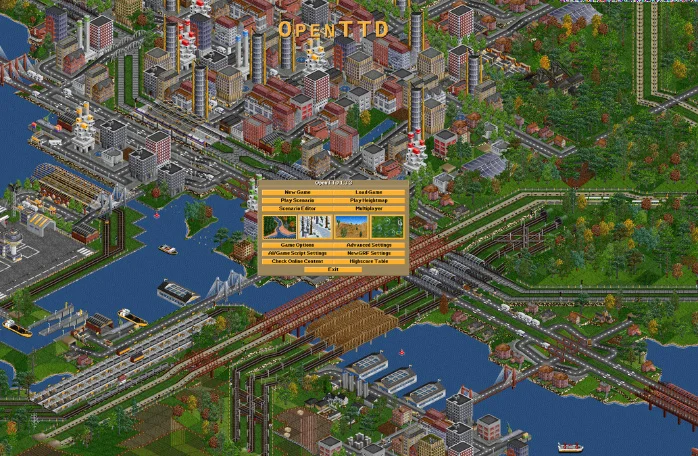 Platform: Microsoft Windows, macOS, Android, FreeBSD, Linux
OpenTTD is an open-source, multi-platform business simulation, where players try to create their transport empire by managing and progressively investing profits gained mainly from fares and goods transport. It is vastly influenced by the Transport Tycoon Deluxe (1995 Chris Sawyer video game), or you can say, it copies most features of the game.
As indicated earlier, you will progress in this game by earning money by transporting passengers and goods via road, railways, waterways, and even airways. OpenTTD also includes customizable maps, custom AI, ports, and support for multiple languages. The game also supports LAN and online multiplayer mode, where players can play in groups.
3. Virtonomics
Image Courtesy: virtonomics
Platform: Browser-based
Virtonomics is a turn-based, MMO online simulation game that focuses on the process and working principles of business and presents it in a competitive environment. Without established criteria for victory or loss and indefinite game time, players can define their individual goals, which they can achieve using smart tactics and strategies.
The biggest positive point of the game is, it employs non-linear gameplay, meaning a player is not entitled to opt from a given number of choices throughout the game. While players are competing with each other for their market share, each one has to take bold managerial decisions in almost every step.
Read: 18 Best Physics Game For All Platforms
2. Capitalism II
Platform: Windows, macOS X
Today's corporate world is a cutthroat affair, but we still love it because it is highly rewarding. A single correct decision may land you in your world of dreams. Even-though, no computer simulation on Earth can match the real world of corporations and large organizations, what comes close is Trevor Chan's Capitalism II.
The game, in many ways similar to Virtonomics, where you, as a player, create and operate a gigantic business empire. It incorporates every aspect of real-life business such as manufacturing, marketing, purchasing, importing, and retailing. All you have to do is play your cards right.
1. MIT Sloan Management Simulation Games
Image Courtesy: MIT Sloan
Platform: Browser-based
The MIT Sloan School of Management is one of the seven super-elite private schools for MBA programs alongside Harvard, Wharton, Chicago Booth, Columbia, Kellogg, and Stanford. It has always been an innovator among business teaching institutions, especially when it comes to learning. By creating real-world applications of classroom knowledge, they help students and participants learn their way to the top.
Read: 18 Best Investing Books You Should Read
One such modern application is their management simulation games, which fortunately is free for all. These games are specially designed for students, which help them learn important business tactics, real-world practices, and industry standards. But most importantly, the games aim towards giving participants a little taste of management and how executive decisions affect the entire chain of business.