In today's fast-paced world, smartphone cameras are a huge deal. Instead of carrying a separate camera, more and more people rely on their smartphones to take snapshots of the moments they don't want to miss. Smartphone companies are also seizing every opportunity to improve camera hardware on their products to make it bankable, but what about the software?
Most of the people use default camera app(s) on their phones to take images and selfies. But what if you are not satisfied with your device's camera and want more out of it? In that case, there are many quality, third-party apps available that you can download. Many of these apps are good for overall usage, while some are perfect for specific use.
Below, we have compiled a list of best camera apps for Android that you can use this year. Both free and paid apps are included in this list.
12. Motion Stills
Price: Free
Motion Stills is a relatively new camera app that focuses solely on providing video-related features. It allows you to record short videos and transform them into GIFs or create long videos by combining multiple clips with just a few clicks. You can also share those videos and GIFs with friends and family directly from the app.
Though the app is free and possibly the best at what it does, taking quality images and modifying them is just not its cup of tea. Apart from this, the app might also have some compatibility issues. To be honest, Motion Stills is a decent app that may come in handy at times. You can have it in your inventory if you don't have any space issues.
11. Vignette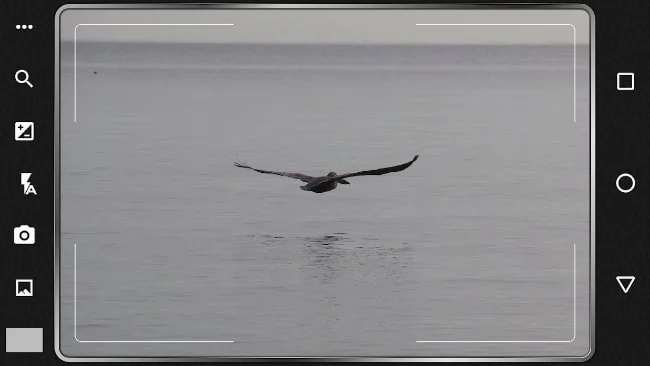 Price: $2.49
Vignette is a feature-rich application that you can use to perform your image editing tasks. The app comes with both basic and advanced features like self-timer, golden ratio composition, steady-shot modes, and 10x digital zoom. Vignette gives you the flexibility to use the volume rockers either to zoom, control exposure or as a shutter button.
You can easily relocate camera icons on either side of the screen and not to mention dozens of filters and effects you get like soft-focus, tilt-shift, Orton effect, etc. Furthermore, every image taken from this app can be labeled with time, date and location.
10. ProCapture
Price: $4.99
ProCapture is another relatively less popular camera app that's now gaining traction among Android users. The app has a streamlined interface so you can access all the features of the camera pretty easily. It supports multiple image modes including panorama, reduced noise, and wide shot. Then there is an on-screen real-time histogram with which you can tell whether the image has been fully exposed or not.
The app also has a scaled-down free version in case you want to try it out before buying. One should keep in mind that like any other app, this one also has limitations for example support for many of its features including color effect and white effect can vary from device-to-device.
9. Cymera Camera
Price: Free/$3.49
Cymera brands itself as a selfie-camera app which you can use for free. It allows you to edit and modify selfies with the use of stickers, makeup tools, background text etc. You can also make beautiful collages out of your snaps. Cymera boasts on its excellent filters, which is over 150, though not all are free. These filters can be used in real-time.
The app lets you choose basic effects like brightness and contrast as well as configure multiple advanced camera options like anti-shake, out-focusing and touch shooting quite easily.
It also gives you the ability to import images from Google Photos directly. The base app is free-to-download, though you can add extra features through in-app purchases.
8. Google Camera
Price: Free
Google Camera is an easy-to-use camera application that comes with a set of impressive features, which include HDR+, lens blur, and smartburst mode. The app also allows users to record slow-motion videos (up to 240fps).
It carries an impressive feature, named Photosphere with which you can create elegant spherical images. Keeping all the feature related things aside, compatibility is perhaps the only major drawback of this app. Its current version only works on devices running on Android 7.1.1 (Nougat) or later versions.
7. Camera MX
Price: Free/$1.99
Camera MX has almost everything to become your go-to-app when it comes to mobile photography and image editing. It offers users the ability to take high-quality images through optimized autofocus and HDR. You can also customize image (JPEG) quality in camera settings. Brightness, contrast, color temperature can be easily configured as well.
Camera MX has a wide range of camera effects including kaleidoscope, mirror, and sketch drawing effect. These can be used in real-time. The app not only lets you create good videos but edit them in a quite advanced manner. You can easily trim your videos and perform slow/fast motion editing. Overall Camera MX is a pretty good app and worthy of your trial.
6. Footej Camera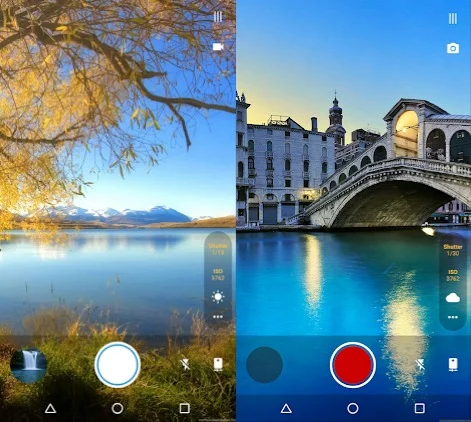 Price: Free/$2.99
Footej Camera is a powerful and user-friendly app that comes with an attractive interface and the ability to capture quality images and videos. As a popular app among Android users, it carries a good mixture of basic and advanced features that are appropriate even for professional photography.
The app lets you shoot videos, make GIFs and shoot images in burst mode (continuous shooting mode). Major features include shutter speed control, manual ISO, time-lapse, panorama mode as well as support for RAW image format.
In case if you really like the app, there is a further option to upgrade many of its features including better image and GIF quality, enhanced burst shot and several other advanced functionalities for less than $3.
Read: 15 Best Android File Manager And File Browser Apps
5. VSCO
Price: Free/$19.99 per year
VSCO (product of Visual Supply Company) is an exceptionally popular camera app that has an efficient camera and editor, though it focuses more on the editor side of the business. The app is packed with advanced features like white balance, ISO, grid overlay and RAW mode that allows enthusiastic photographers to take delightful images.
Those captured images can now be modified in VSCO's powerful editor suit, which in my opinion is one of the best available out there. Here, you can utilize a multitude of filters and effects to make appropriate adjustments to your image.
Although the app is free to download, many of its desirable features can only be gained by going pro. At $19.99 per year, the app is costly, perhaps the costliest on the list.
4. Candy Camera
Price: Free
Candy Camera is specifically made for taking quality selfies. The app comes with a lot of cool filters (as one would expect), stickers etc. It also has a few specific beauty enhancement tools with which you can add blush, eyeliner, mascara, concealer and perform face slimming, whitening.
It also has a powerful collage feature where you can assemble your selfies using various filters, mode, and grids. You can decorate your selfies and images with re-sizable stickers, which can easily be customized to fit anywhere on the screen. Though the app is not suitable for serious photography, it does satisfy the needs of selfie lovers, plus it's absolutely free (with ads).
3. Camera FV-5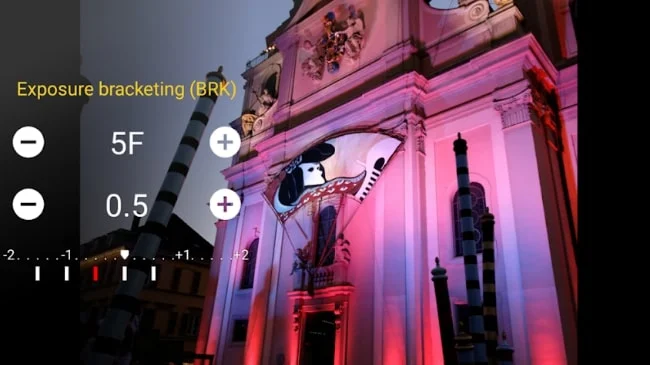 Price: Free/$3.95
Are you looking for an app that works more or less like a professional camera? If yes, then Camera FV-5 is what you are after. The app provides features that you commonly find in a typical DSLR such as ISO sensitivity, manual shutter speed, white balance, focus, light metering and much more. One could say that Camera FV-5 is a tailor-made app for enthusiastic photographers.
Camera FV-5 features a built-in intervalometer for making time-lapse images. There is support for RAW (DNG) and lossless PNG formats, so you have greater options. You can adjust ISO, color temp., etc using just the volume keys. IT also provides support for popular image formats like PNG, JPEG, DNG and is available in over 30 different languages.
The app is available in two version; lite and pro. The lite version, as it sounds, comes with fewer features as compared to the Pro version but it's free. To conclude, Camera FV-5 is one of the most powerful camera apps in the Android store.
Read: T-CUP: World's Fastest Camera Captures 10 Trillion Frames Per Second
2. Open Camera
Price: Free
Open Camera is without a doubt one of the most popular camera apps which you can use absolutely for free. It's lightweight, have a clean interface and carries all the necessary features that an ideal camera should have. Some of its important features include auto-stabilizer, exposure lock, face detection, geotagging (for both videos and images), configurable GUI and volume buttons.
Moreover, there is support for HDR, external microphones, and multiple scene/focus modes. It also features a noise reduction mode so that you can take better images. On the downside, however, the app may lag here and there. Overall, it's fair to say that Open Camera is a no-nonsense app and totally worthy of your time.
1. Camera Zoom FX
Price: Free/$3.49
Camera Zoom FX is another popular camera app that you can try. It comes with a number of useful features such as RAW capture (on supported devices) time lapse, collage maker, HDR mode, etc. The app publicizes itself as the fastest camera on android and it could be right on the money.
Read: 15 Best Music Player Apps For Android
The app can shoot up to 50 frames per second, which is perfect for capturing action-packed events. Then there is an image stabilizer feature that ensures you don't end up with a blurry photo. Some regular and distinctive features include HDR mode pro, ISO, shutter speed, spy camera, voice activation, speed burst mode, etc. Like most of the apps here on the list, it is available in both free and premium versions.