Are you not happy with your iPhone camera and looking for a better alternative? If yes, then you're in the right place. The modern iPhone cameras have rather high standards (talking about the hardware here), just like the rest of the device. However, we are unable to exploit its full potential almost always. Luckily, there are some great third-party camera apps available that you can use.
A powerful third-party camera app can help you fine-tune your images with great control and precision. Many camera apps include built-in editors so you can modify even the smallest of details in your photos. One should note that many advanced features offered by third-party camera apps may vary based on the iPhone version. The more recent your hardware is better the chances of getting advanced features.
Bellow, we have assembled a list of some powerful camera apps for iPhone for best image-capturing experience. Let's get started.
9. Obscura 2
Price: $4.99
Obscura 2 offers a minimalist way to capture remarkable photos and edit them, unlike many apps which have rather cluttered screens. The camera is designed to take near-perfect images every time no matter whether you're shooting in portrait or landscape mode and even when you're in a hurry.
Most of the manual controls are same as other apps. Both camera focus and exposure can be manually adjusted so are the ISO and shutter speed with a single tap. You can access other manual control options in the central Control Wheel.
Support for popular image formats including JPEG, TIF, HEIF, and RAW is available with the ability to switch between them. Furthermore, dual lenses iPhone users also have the liberty to choose between telephoto, wide and dual modes.
8. Filmborn Camera
Price: $2.99
Filmborn is an excellent and easy-to-use third-party camera app alternative that you can try. It gives you full control over important features like white balance and exposure and lets you choose from multiple presets that can be applied before taking pictures.
With Filmborn you can create multiple pre-defined camera settings which you can easily use/switch in order to shoot more consistently in different conditions. It also supports batch editing where you can quickly copy edits from one photo and apply it to others.
7. ProCamera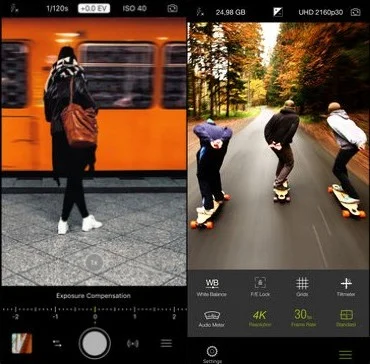 Price: $5.99
ProCamera is an efficient image taking and editing app which comes with plenty of features. It's fairly easy-to-use, you can adjust camera exposure and flash right from the home screen. Options like white balancing, ISO adjustments, shutter speed, anti-shaking mode, and other manual controls can be accessed with one click.
The app also lets you choose from multiple camera preset modes including Lowlight and high dynamic range (HDR). You can also use the histogram to manage exposure levels. ProCamera has more than 80 different filters and other image editing features which makes it a comprehensive editing tool as well.
Its quick navigation and a wide range of advanced functionsmakes it a good camera app worthy of your time.
6. Horizon Camera
Price: Free
Horizon Camera is a free camera application that will not allow you to take vertical videos at all. Yes, that's right. No matter how you hold your device, the app will always align your final image horizontally. It lets you shoot in 60/120 FPS mode and in multiple resolutions such as VGA, HD, and Full HD.
On the other hand, the app is little short on image editing side. Unlike other popular camera apps, Horizon only has eight filers to choose from. Other notable features include lossless zoom, image sharing and geotagging. You can also choose video quality manually to save disk space in case you're running out of space.
5. Camera+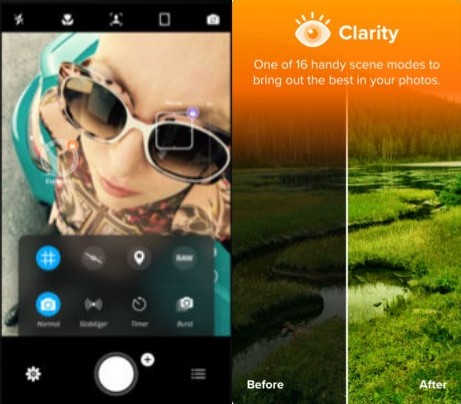 Price: Free/ $4
Camera+ is a feature-rich camera app that can be used by both experienced and novice photographers. The app has a well-organized UI that makes it easier to utilize its core and advanced functions to the fullest. It features multiple fun scene modes; Sunset, Food, Portrait, Beach, etc. A powerful stabilizer and timers are there so you can automate image taking process with high precision.
It also allows you to adjust focus and camera exposure (how light or dark your shots should be) separately. Camera+ is packed with HDR and lets you zoom up to 6 times, and there are addtional one-touch effects with which you can take truly attractive photos. Furthermore, there is a Horizon Level mechanism that you can use to eliminate the possibility of taking ugly shots.
Lastly, Camera+ lets you share your images with your family and friends on popular social media platforms directly from the app without extra hassle.
4. ProShot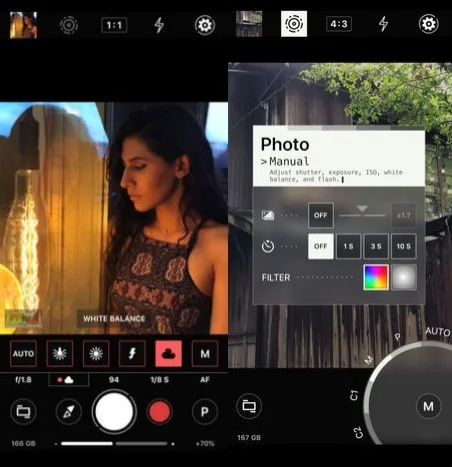 Price: $4.99
ProShot is another highly rated camera app that has been gaining popularity lately. The app comes with five image taking modes; Auto, Program, Manual and two fully-customizable modes. Then you can choose how much you want to manually control features like focus, shutter speed, flash intensity, white balance, and exposure.
ProShot has support for RAW (DNG) format and has full resolution burst and time-lapse modes all of which can be controlled manually. Other features include portrait camera support, zero-lag bracket exposure, EXIF metadata, support for video playback and grid overlay. And yes, you will find several useful features for recoding vidoes as well.
A few in-app purchase option is also available even though it's a paid app.
3. Darkroom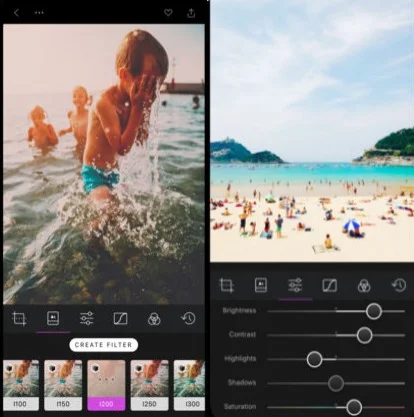 Price: Free/Starts from $1.99
Darkroom is without a doubt one of the most popular image editing app on iTunes. It's a powerful, feature rich and well-designed application that provides serious photographers with all the necessary tools to capture/create stunning images from their smartphones. Here, you can edit and manage images in batches which can be sent easily to your multimedia library.
One of the best things about the app is it can easily cope with large/high-resolution images (up to 120MP). It also provides support for RAW and highly compressed JPEG files. Although a number of filters and image enhancing tools are available for free, the most desirable ones can only be obtained by going pro. Though Darkroom is not a typical camera app, it can fulfill your editing needs.
2. Halide Camera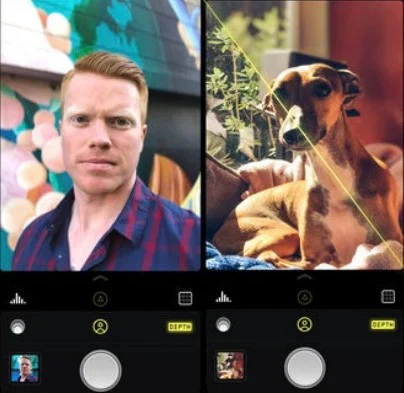 Price: $5.99
Halide is an intelligent camera app that enables amateurs to capture professional-looking images. The app can be used in two different modes; automatic and manual. The automatic mode makes it much easier to take polished images on the go. However, if you're creative and like more options then you can use the manual mode, where you have more control over the camera settings.
A number of advanced features such as RAW capture, focus peaking, histogram, and adaptive grid are available along with full control over shutter speed, white balance, and ISO. App's compatibility is not an issue since it works fine on iPhone 5S onward, though few advanced features require the more recent device.
1. Procam 6
Price: $5.99
ProCam 6 is perhaps the best camera app iTunes has to offer. The app has a perfect balance between camera and video editing features. It supports multiple shooting modes (night, burst, slow, portrait, etc) and shutter release options (self-timer, anti-timer, and interval).
ProCam offers functions that are only found in DSLRs. It also provides a plenty of manual control that gives you full control over features such as aspect ratio and image/video recording resolution, etc. Advanced functionalities like 4K video support can be bought through in-app purchases.