3D printing can involve a wide range of processes in which material is deposited,  attached or solidified to build a three-dimensional item. In all processes, materials (such as powered grains or liquids) are added (or fused) together layer by layer.
Each layer can be seen as a very thin sliced cross-section of the item. Thus, 3D printing is also called additive manufacturing.
As of 2021, the material range and accuracy of 3D printing have increased to the point that some additive processes are commercially used in the manufacturing and medical industries. In fact, there has been a lot of hype in recent years when referring to the extraordinary things we can achieve through emerging 3D printing technologies.
For more than two decades, additive manufacturing has demanded very high entry costs. Lower prices were mostly used to be synonym with poor quality.
However, that's no the case anymore. The trend has shifted. Today's budget 3D machines offer great value for money. Although they are not professional-grade printers and often require some level of expertise and patience, they are perfect for beginners.
Below, we've listed some of the best cheap 3D printers based on their price-performance ratio, ease-of-use, reliability, and various other factors such as types of frames, supported filament, and software availability.
11. Creality CR-6 SE
Price: $399
Printing Volume: 23.5 x 23.5 x 25 cm
CR-6 SE is built with a broad foundation and equipped with dual Z-axises matched with a movable timing belt that translates into decreased unwanted motion and enhanced refined 3D prints.
The preciseness of 3D printing heavily depends on the leveled bed. Creality CR-6 SE features an innovative true leveling-free technology with auto 16 points leveling.
The 32-bit mainboard with stepper motor drivers, X-axis and Y-axis belt tensioners, and a textured glass bed make the printer even more accurate.
4.3-inch LCD touch screen, optimized UI, and optimized details (such as foldable filament holder, sealed aluminum profiles, and tools storage box) further improve the user experience.
Overall, if you want to print well with little fuss or enjoy owning unique and odd machines, then the Creality CR-6 SE is a great choice.
Pros 
Super Easy Assembly
Impressive bed leveling
Resume printing during power outages
Cons
Service is not up to the mark
Could be tricky for non-technical users
10. Qidi Tech X-Pro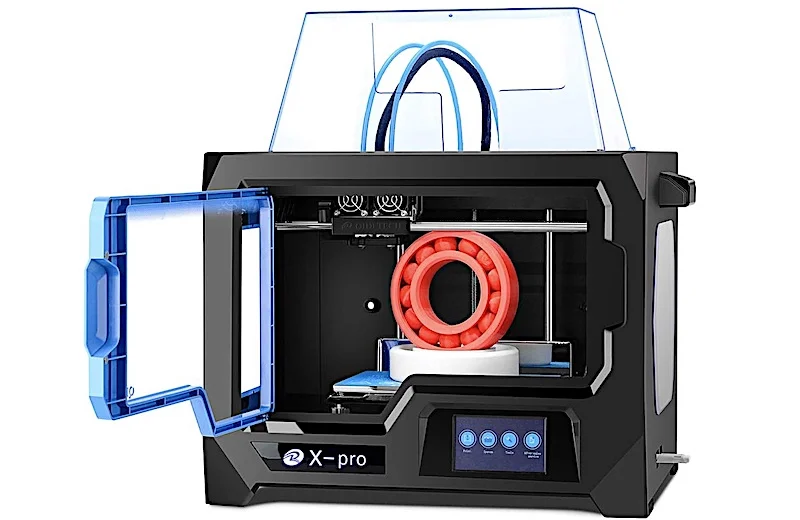 Price: $469
Printing Volume: 23 x 15 x 15 cm
The Qidi Tech X-Pro offers a unique dual direct drive extruder, so you can print in two colors without changing filament spools. It has an acrylic cover and additional panels that can be magnetically attached to the sides and top of the metallic frame.
The transparent panels maintain a constant temperature inside the chamber, which is crucial for materials that need a specific temperature. The four-sided turbofan provides strong cooling performance and improves the print quality significantly.
The metallic body side panels are accompanied by decent cable management. According to the manufacturers, it machine can print ABS, PLA, and PETG.
The printer also contains a 4.3-inch touch screen with a user-friendly interface. It provides real-time stats, making the whole printing process more intuitive and easier to operate.
Pros 
Dual extruder supports double color printing
Easy handling
WiFi connection
Cons
Mediocre print quality
Manual bed leveling
9. Anycubic Photon Mono
Price: $259
Printing Volume: 13 x 80 x 16.5 cm
Photon Mono is a reliable resin 3D printer designed for beginners. Its main feature is its monochrome LCD that supercharges its print speed. It can print at a maximum speed of 5 cm per hour, which is nearly 2.5 times faster than conventional 3D printers.
It is equipped with a new generation of "matrix parallel light source" that provides more uniform UV curing, with the additional benefit of being slightly more efficient. This light source, in connection with a 2K monochrome LCD, significantly improves the accuracy and printing details.
It supports up to 8 times anti-aliasing and more detailed printing for gadgets, miniatures, and game characters. Its 2560 x 1620-pixel resolution equates to an XY resolution of 51 microns — not revolutionary, but quite impressive and capable of printing items with fine detail.
What more? The machine doesn't make much noise, so it won't affect your work and sleep. It eliminates the cumbersome steps of replacing the release film. And with the transparent cover, you can watch your prints while still block 99.9% of the ultraviolet light.
Pros 
Initial setup is extremely easy
Highly stable and fast printing speed
UV screen is easy to look through
Cons
Odors may bother you
Hard to tell what's going on until the base comes above the resin
8. Tronxy X5SA Pro
Price: $389
Printing Volume: 33 x 33 x 40 cm
One of the most impressive things about Tronxy X5SA Pro is the frame design. It only has four acrylic parts, and the rest of the printer is made of aluminum and sheet metal. The manufacturer has also included a double-axis guide rail to enhance the stability and accuracy of 3D prints.
Unlike other budget 3D printers, it comes with an auto-leveling sensor, which makes the frustrating bed-leveling task easier to deal with. The detachable print bed allows you to remove printed objects with a single snap.
There are dozens of useful functions, such as filament run-out detection and print resume function that keep the print progress safe during power outages.
You can control the entire printing process through a 3.5-inch full-color touch screen. Its simple, intuitive interface makes printing more convenient.
Overall, the machine is specially developed for people who like large-size printing and DIY. Users need to assemble the printer by themselves. In this process, they can modify the printer's appearance according to their own ideas.
Pros 
Auto leveling sensor
Filament run-out sensor
Power Resume feature
Cons
Lengthy assembling process
Slow customer service
7. Lotmaxx SC-10 Shark
Price: $259
Printing Volume: 23.5 x 23.5 x 28 cm
The Lotmaxx SC-10 is an incredibly well-built, durable, and reliable printer out of the box. It comes as a 95% pre-assembled product: all complex modules such as cantilever and gantry are assembled before leaving the factory. You can assemble the rest of the machine at home within 5-10 minutes.
The printer has dual extruders; each extruder has two metal gears to provide a smoother feeding performance. It automatically switches filaments (of different colors), making artwork unique and special.
It also supports a 1.6 W laser engraver, which allows you to engrave a wide range of materials including leather, PVC, resin, plastic, and wood. The laser kit, however, doesn't come with the printer. You have to purchase it according to your needs.
The auto bed leveling technology provides an accuracy of 0.1 mm. The inductive sensor detects the heating bed, measures the inclination, and automatically calibrates.
You can enable this automated bed leveling function by just tapping on the 3.5-inch touch screen. The interface shows detailed information of the printing process and supports 8 languages.
Pros 
Multi-Color Printing
Detachable screen for convenience
Four-fan Design increases heat dissipation efficiency
Cons
Laser engraving prints line by line
Messy wiring once you integrate additional modules
6. Elegoo Mars 2 Pro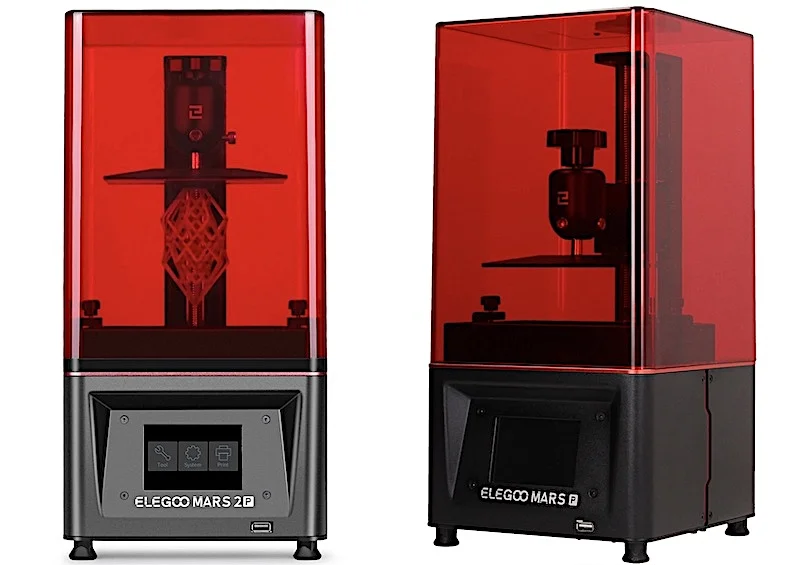 Price: $299
Printing Volume: 12.9 x 8 x 16 cm
Equipped with a 6-inch monochrome LCD of 2K resolution, Elegoo Mars 2 Pro provides outstanding prints and ultra accuracy. It is two times faster in printing speed and four times longer in lifespan than conventional RGB LCD 3D printers. This means it offers more stable performance with less maintenance.
The new UV LED light source structure provides more uniform light emission (with no spots) and ensures high heat dissipation performance. More specifically, it can print at a maximum speed of half layer per second with 50 microns XY precision.
The printer contains activated carbon to absorb the fume of resin. Functioning together with silicone rubber seal and turbo cooling fan, you can hardly smell any discomforting odor.
While there is no shortage of mono LCD printers of all shapes and sizes, the Mars 2 Pro stands out in terms of ease of use and its reputed quality. You can print anything from board game miniatures to industrial parts.
Pros 
Sturdy build quality
Fast Printing and less maintenance
Multi-language interface
Cons
Loud cooling fans
Screen does not have a protective glass
5. Prusa I3 MK3S+
Price: $749
Printing Volume: 25 x 21 x 21 cm
Prusa Research's MK3S+ offers all the necessary features required to print a high-quality object, including the heat bed with detachable sprint steel print sheets, filament sensor, automatic Mesh Bed leveling, and power loss recovery.
Before starting the printing process, the MK3S+ analyses the bed from different positions and generates a virtual heatmap of the print area, ensuring that the first layer is always spot on.
Its in-built filament sensor can detect the type and color of filament inserted into the extruder. The machine is compatible with many different types of materials. Whether you are printing from PLA plastic, Polypropylene, Polycarbonate, or flexible materials, MK3S+ can handle all with ease.
The printer is available either as a kit (with easy-to-follow instructions) or factory assembled (ready-to-run). If you don't want to assemble it screw by screw, you can order the fully assembled version, which costs $999.
Pros 
Excellent print quality
Supports multiple filament types
Comes with 1 kg PLA spool
Cons
Not very silent
Pre-assembled unit is quite costly
4. Anycubic Mega X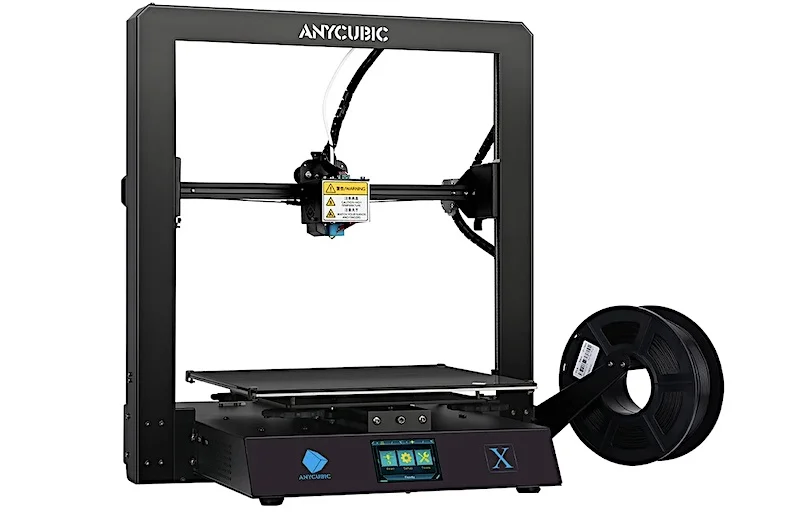 Price: $339
Printing Volume: 30 x 30 x 30.5 cm
Anycubic Mega X can be assembled quickly and easily: all it takes is to plug in 3 cables and 12 screws. Once the printer is set up, you don't need to reconfigure it every time you start a new project.
The all-metal frame and compact chassis minimize vibrations, increasing print quality and restoring more details of the model. The Y-axis dual sideway design and Z-axis dual screw rod design reduce the chances of printing errors.
The heat bed is coated with a patented microporous layer, which allows the 3D print to stick strongly with the bed surface when printing and then effortlessly fall of the bed when it cools down to room temperature.
It also has a 3.5-inch TFT touch screen with all information and options you require during the printing process. All in all, the good design, rich functions, ease-of-use, and affordable pricing make it a great choice for beginners.
Pros 
Large print volume
Colour touchscreen for easy operation
Comprehensive starter package
Cons
Louder fans
No auto bed leveling
3. Monoprice Voxel
Price: $449
Printing Volume: 15 x 15 x 15 cm
With an in-built WiFi system, a touchscreen, and a simple setup process, it doesn't take long to get Monoprice Voxel up and running. It has a see-through plastic door that can be closed (with a magnetic lock) during printing. This prevents burns and filament odor and makes the printing process less noisy.
One can remove or swap the extruder when required. The heated build plate can also be removed, which makes it easy to pop off printed items. The printer comes with an additional build plate so you can begin a new project as soon as the previous print is completed.
The machine also features assisted bed leveling, which can be accessed via its 2.8″ full-color touchscreen. You can adjust the distance between the bed and the nozzle with just one tap.
Unlike other budget 3D printers, Monoprice Voxel has a fully enclosed print area, which is beneficial for objects that demand a stable printing environment.
According to the manufacturer, Voxel can reach a maximum print speed of 6 cm per second and achieve a minimum layer height of 50 microns.
Pros 
Fast print speed
Quick change nozzle
Easy to use
Cons
Lackluster software
Cannot hold spools of over 0.5 kg
Read: 15 Tools to Instantly Convert 2D Images to 3D Ones
2. Ender 3 V2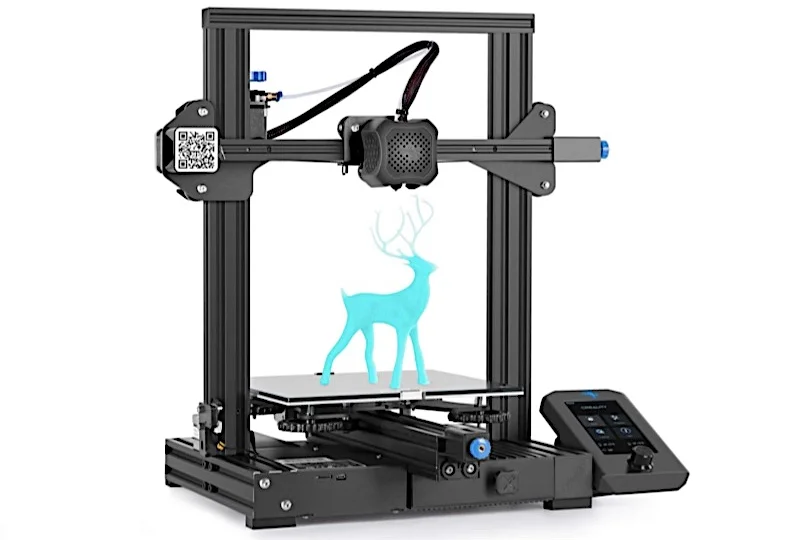 Price: $269
Printing Volume: 20 x 22 x 25 cm
The Ender 3 V2 is equipped with a slient 32-bit motherboard, which offers stronger anti-interference and stable motion performance. The rotary knob on the extruder makes loading and feeding filament process very simple. 
The printer also benefits from the inclusion of a new operating UI system and a 4.3-inch smart color screen. Its carborundum glass platform provides better adhesion and makes it easier to remove prints when cooled.
The X and Y-axis tensioner support adjusting the belt tension in a more convenient way, so that the machine can maintain its performance and accuracy.
Overall, it's far from perfect. But it's an incredible new baseline for budget 3D printing. The machine is easy to assemble, has decent print volume, and creates high-quality prints.
Pros 
Decent print quality
Low decibel operation
Cleaner appearance and design
Cons
Poor filament feed-in
No touch screen
Read: 40 Best Websites to Download Free STL Files for 3D Printing
1. Artillery Sidewinder X1
Price: $329
Printing Volume: 30 x 30 x 40 cm
At $330 — give or take —  Artillery Sidewinder X1 offers impressive features for its price tag. It comes with AC heated bed, a color touchscreen, and a memory and USB slot. The overall unit is 95% pre-assembled, so you don't have to spend hours on installation alone.
The printer supports power failure detection and recovery, and filament runout detection and recovery. The power supply, mainboard, and 3.5-inch touchscreen are neatly integrated into the base unit, which gives the printer a sleek and professional look.
The UI is very simple and easy to use: different submenus have different colors. You can oversee and control the entire printing process from this small screen.
What makes Sidewinder stand out from its competitors is the way it uses its ribbon cables. Unlike other affordable desktop printers, Sidewinder X1 has neatly arranged large ribbon cables. Its adjustable spool holder can support up to 3 Kg filament roll.
Read: The 14 Best 3D Printing Software 
The device consumes 100-240 Volts and heats up the nozzle within 3 minutes. It can print at a maximum speed of 15 cm per second, providing a layer resolution of 0.001 cm.
There is also a Facebook group if you need any help. Members regularly share their printed items and suggestions about the product.
Pros 
Full aluminum frame design
Low noise level
Audio and video support
Cons
Uneven heat dissipation
Fragile wiring