Modern smartphones come with various sensors to facilitate better user experience and provide apps with accurate information about the world around the device. This includes a proximity sensor, accelerometer, gyroscope, barometer, digital compass, and biometrics sensors.
The digital compass, in particular, is based on a sensor called the magnetometer. It is responsible for providing smartphones with a simple orientation with respect to the Earth's magnetic field. As a result, your smartphones/smartwatches always know which way is North.
While compasses seem to become more and more outdated with the advancement in GPS devices, it could be incredibly useful for serious hikers, backpackers, and survivalists, as well as for people who like outdoor adventures.
Below, we have listed some of the best compass apps that usually come at little or no cost. They range from being minimalistic to having several additional features.
12. Compass by R. Apps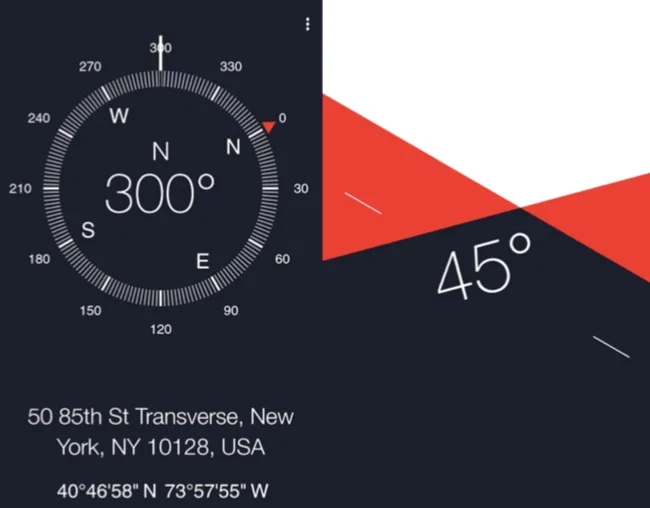 Platform: Android
Price: Free
Plus Point: Offline navigation; shows elevation above sea level.
If you are looking for a modern-looking, white-on-black digital compass, this is it. The app is not feature-packed, but it looks nice and is accurate.
It is easy-to-use spirit level application with magnetic north, coordinates, and offline off-road navigation. This means you can see your current address, coordinates, and navigate to a particular location without an internet connection.
You get an option to select between true north and magnetic north. Once you do that, the app will show you relative angles with higher accuracy.
11. Compass Galaxy
Platform: Android
Price: Free
Plus Point: It does what it's supposed to do without a bunch of frills or distractions.
Compass Galaxy is a very simple yet accurate app that doesn't require unnecessary permission. It uses minimal phone memory and works without errors.
When calibration is required, it will give a notification. You can do it by turning the device in a figure 8 gesture. There is clear instruction about how to perform calibration, so you don't get confused.
You can also use it as a tool to learn and practice directions: North, South, East, West. All in all, it's a beautifully designed, minimalistic app.
10. Commander Compass Go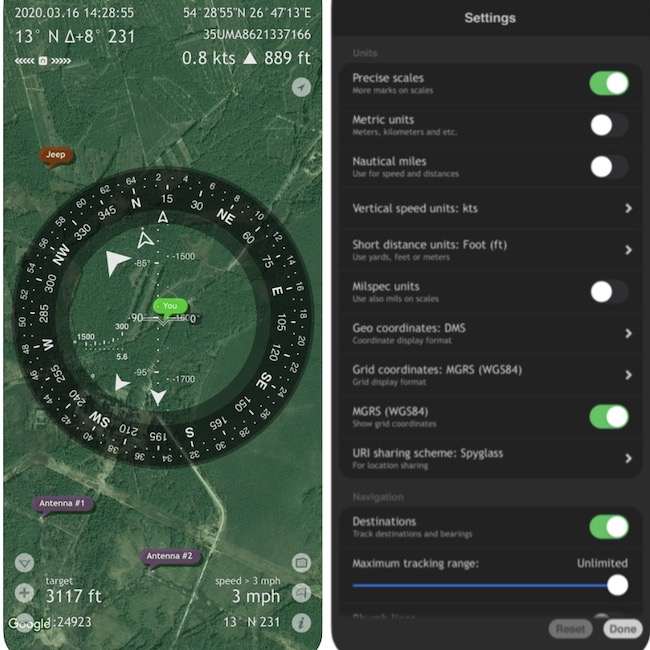 Platform: iOS
Price: Free
Plus Point: Track positions of Sun, Moon, and stars with arc second precision.
Commander Compass is off-road navigation and offline GPS app packed with several high-tech features. It does a lot more than any other compass app.
It has special compass modes, calibration methods, and accuracy improvement techniques that provide readings as precise as a real instrument. It works in 3D to show real-time object positions and information.
The app can track multiple targets simultaneously and show their data, such as direction, distance, elevations, azimuth, as well as estimated time of arrival. You can manually save current location, enter coordinates, add points from maps, and share map links and coordinates with various supported formats.
What's more: you can track the locations of Sun, Moon, and stars with arc second precision, and use them as a reference to calibrate compass for the highest accuracy.
9. Compass Steel 3D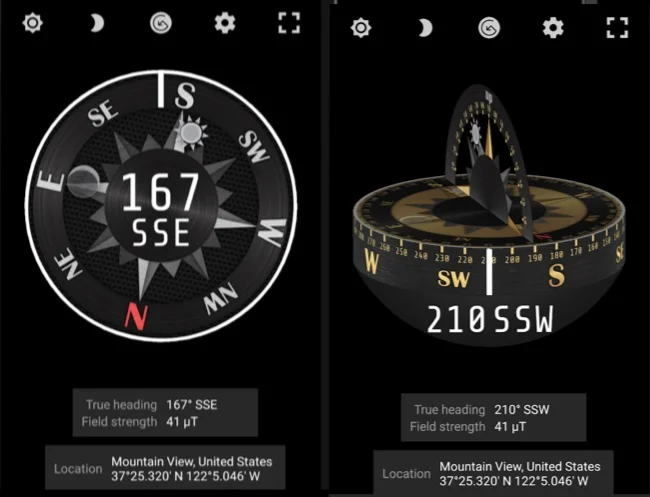 Platform: Android
Price: Free
Plus Point: No ads; has multiple colors and heading modes.
When you install Compass Steel 3D, it asks for some permission requests, but don't let this worry you. It needs to access device location coordinates to determine the direction accurately.
The app provides some unique features, such as sun and moon direction indicator, sunrise/sunset times, and moonrise/moonset times. There are two heading modes to choose from: Magnetic heading, which is based on magnetic north, and True heading, which is based on true north.
The graphics are amazing: as you turn and tilt your device, the digital compass appears to move in 3D, as though you were holding a real compass in your hand.
8. Compass Level & GPS
Platform: Android
Price: Free | Offers in-app purchases
Plus Point: Manually adjust compass sensitivity and update cycle.
The app is designed for hiking, tracking, and camping fanatics. The integrated compass helps you find and keep track of the right heading, get information about your current and target location, and locate your parked car using the target position feature.
There are plenty of convenient options that enhance users' experience, such as screen capture and hold/release button for easy readout. You can adjust the sensitivity of the compass and its update cycles.
DIY lovers can also use this app for self-assembling. It comes with an automatic vertical and horizontal level display, which can be used in various common tasks like hanging up up a frame or placing furniture.
7. Compass by PixelProse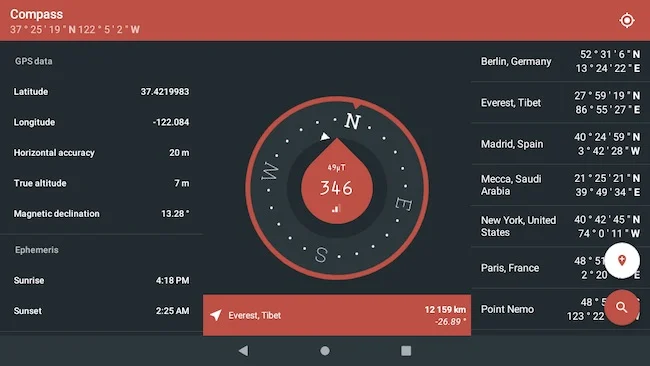 Platform: Android
Price: Free | Offers in-app purchases
Plus Point: Magnetic declination correction; easy calibration.
This app uses GPS or network location for maximum accuracy. It has everything you can expect from a digital compass. In addition to direction, it shows true altitude above sea level, altimeter, latitude, longitude, sunrise/sunset times, and coordinates in multiple formats (including DD, DMM, DMS, and UTM).
It has a very simple and easy-to-use interface. You can save places to track them in the future, create multiple lists of favorite locations, and search for new places by name or address.
There is also a feature (called Qibla Compass) to find directions for the Kabba in Mecca. The app will show you the shortest path to the target location.
6. Compass Maps Pro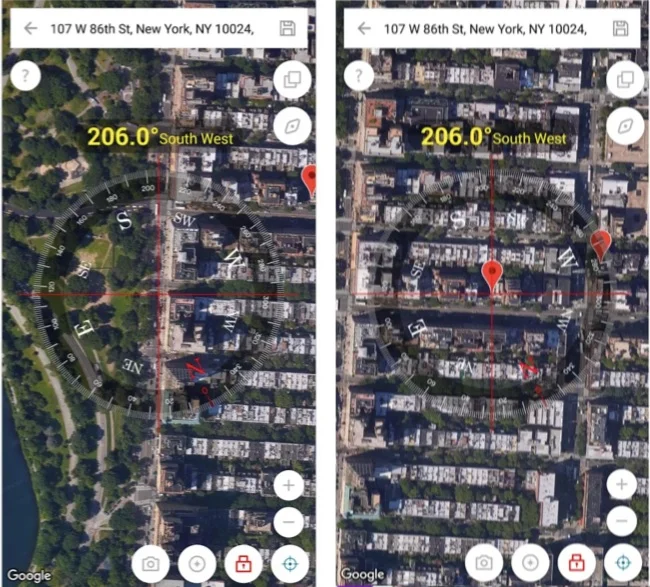 Platform: Android
Price: Free | Offer in-app purchases
Plus Point: Assist compass view anywhere on the map.
The app comes with a classic compass and Feng shui compass. The former supports all basic functions (such as zoom in/out and lock/unlock) and shows results with metrics and direction names.
Feng shui compass has five types: Default, 24 Mountains, 60 Jia zi, 72 Dragons, and Heaven Earth Human. Each is capable of measuring directions of a specific place and is available in English and Vietnamese.
Users can overlay the digital compass on the map, which makes it quite easier to locate or measure direction at all places. They can assist the compass view anywhere on the map and search a place via name or address.
5. Compass ⊘
Platform: iOS
Price: Free | Pro version costs $1.99
Plus Point: Super easy to use; has amazing graphics.
Perhaps this is the most beautiful digital compass designed for iPhones and iPad. The rusty style compass embedded in the app shows your current location, altitude, and orientation of the device.
The app works fast and gives GPS coordinates too. The paid version removes all ads and lets you customize the compass interface using different themes.
While the readings depend on device sensors (like all other apps listed here), it is advisable to keep your iPhone/iPad away from the electromagnetic sources for better accuracy.
4. Compass 55 Map & GPS Kit
Platform: iOS
Price: Free | Pro version costs $3.99
Plus Point: Supports Siri shortcuts; takes care of your privacy.
This is an all-in-one assistant with a feature-rich compass and map that can show GPS coordinates in various formats, along with distance, altitude, latitude, and longitude.
The compass instantly pickups the direction based on magnetic or GPS data. It supports declination for the current position and any position on the map. With advanced target/waypoint editor, you can convert coordinates and check or set waypoint locations and add images or audio notes.
The app is also packed with a speedometer (that displays top and average speed) and a barometric vertical speed indicator in both scale and graph forms. And since it works perfectly in the background, you can use other applications when tracking.
3. Smart Compass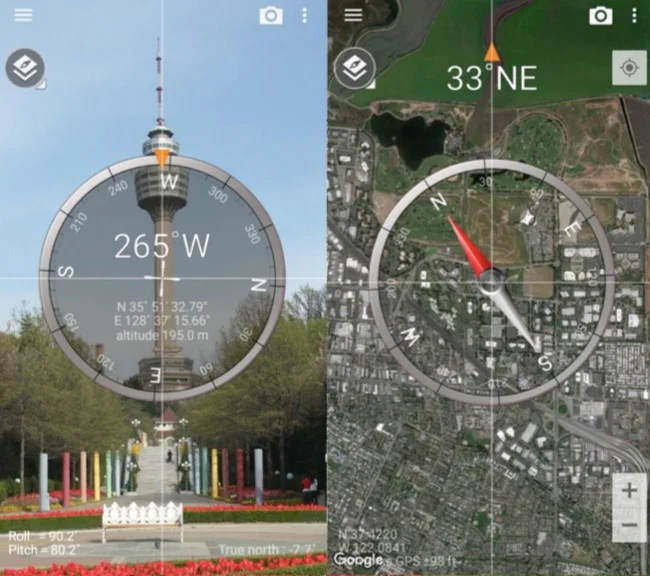 Platform: Android
Price: Free | Premium version costs $1.99
Plus Point: Features Azimuth types (degree, mil, quadrants, back azimuth).
Smart compass makes good use of magnetic sensor embedded in your device. It gives you three options to detect direction: point to magnetic north, point to true (geometric north) using GPS data, or point to true (geometric) north using manual offset.
In addition to the standard mode that uses your device's camera for a real-life view of the direction, the app also features telescope, night, digital, and Google Map modes.
There is an option to superimpose compass in images, so you can easily review which direction/location is taken. The pro version is packed with some additional functions, such as a car locator and individual metal detector.
2. Compass∞
Platform: iOS
Price: Free | Premium version costs $9.99
Plus Point: Displays altitude and weather; has big letter reading options.
This is an easy-to-use app for iPhones, iPads, and Apple Watch. It features magnetic north, cardinal direction, big letter compass reading, flashlight for night time usage, and displays the weather of your location.
The premium version unlocks more functions, such as latitude/longitude display, speedometer, voice option, and sending location to family and friends. Speedometer shows readings in km/hr, mph, and knots, while latitude/longitude supports decimal degrees.
All in all, it's a great feature-rich compass for Apple devices. And like all other apps, it won't provide correct readings on devices without magnetometers, such as the 5th generation (and below) of iPod Touch.
Read: 3 Different Types Of Magnets
1. Compass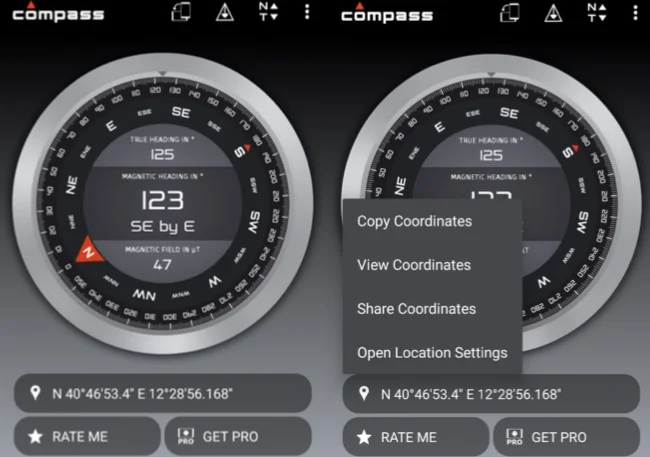 Platform: Android
Price: Free
Plus Point: Highly accurate; ads at the bottom aren't too intrusive.
If you want a free, simple compass app for off-roading, camping, or other related outdoor activities, this is it. The app uses GPS or network location coordinates to determine the true North.
It supports magnetic north and shows the strength of the magnetic field when you search for interferences. In the settings, you get options to adjust the precision of the compass sensor and optimize the interface for high-resolution displays.
Read: 18 Best Travel Apps For Android and iOS
To get accurate readings, hold the device flat to the ground with the display facing the sky, and keep it away from magnetic fields. You can also copy, share, and send current location coordinates to third-party applications.