Studies indicate that more and more people in America are opting for the freelancing career, instead of (or in addition to) holding traditional 9 to 5 corporate jobs. In 2019, more than 57 million people freelanced, and it's estimated that more people than ever see this as a long-term career path.
The highest freelance participation comes from New York City (NYC). A study reveals that 34% of New Yorkers are freelancing, and this workforce contributes over $31 billion annually to the city's economy.
The trend is catching up fast, and so is the demand for semi-formal work zones where people gather to work, interact, and network with their peers. These zones are different than typical office workspaces because people in a coworking environment usually do not work for the same company.
Coworking has become a new norm for freelancers, digital nomads, and professionals who need the right mix of creativity, flexibility, collaboration, networking, and motivation.
Below, we have gathered some of the best coworking spaces in NYC at broad price ranges that are perfect for productivity, networking, and just getting the job done. Each of these spaces has a unique aura and offers no compromise on amenities, access, and the essentials.
9. The Farm SoHo
Price: $349 per month for Dedicated Desk; $179 per month for Hot-Desk membership.
The Farm has been able to gather people from very different walks of life: startuppers, creatives, freelancers all work under one roof towards innovation in their own field.
The company has three spaces located in Soho, Soho East, and Nomad. All of them feature a unique interior design that brings more nature in the heart of New York City. They have flexible coworking areas with high tables, benches, furniture. At night, these areas can be transformed into spaces for meetups, events, and live talks.
The materials used around are very farm-like: they've utilized plenty of woods, metals, and greenery. If you don't need a physical workspace, they also provide a business address and mail services supported by HR, Insurance, and Payroll system.
All in all, it's a perfect fit if you are looking for an inspiring and productive workspace. And did I mention the unlimited coffee/tea and printing facility?
8. The Wing
A sneak peek of Dumbo location
Price: Membership costs range between $185-$215 per month, depending on the location; all-access membership is $250 per month.
Founded in 2016, The Wing is a coworking space full of cozy corners, phone booths, and conference rooms. It was originally built for women, but in 2019, the company started accepting members regardless of gender identity.
Today, The Wing has more than 12,000 members. It is currently home to several member-led clubs and support circles where members can interact, exchange knowledge, and learn from each other. The company's ultimate goal is the professional, civic, social, and economic advancement of women through the community.
They operate five spaces in New York City (Williamsburg, Dumbo, Soho, Flatiron, and Bryant Park). Each office has bookable conference rooms, phone booths to take calls, shower and beauty rooms, and most importantly, a women-focused lending library.
Each Wing location hosts 3-4 events per week, which include workshops on mental health and wellness, panels on current events, film screenings, and social events.
The company also has a scholarship program for individuals who have contributed to the advancement of marginalized women and girls in the fields of education and social services.
7. Convene
Price: Community membership starts at $250 per month; costs of private suites depend on location.
Convene provides full-service workplaces without the hassles of signing a long-term commercial lease. They take care of everything, so you can focus on your team and business.
The company has offices in 14 conveniently accessible locations; each one is just a few steps away from Manhattan's most iconic landmarks – Times Square, Wall Street, Rockefeller Center, and Grand Central.
They have offices inside the world's most icon buildings that have 5-star hospitality services, incredible views, and amazing interior designs for a distraction-free environment.
While they have cutting-edge workplaces that increase your comfort and productivity, the private offices are quite expensive. For small teams, there are a lot of other affordable options out there.
6. Croissant
The Westchester center, situated between White Plains and Mamaroneck
Price: $39 (10 hours) per month; $129 (40 hours) per month; $249 (120 hours) per month.
Croissant makes it easy to find coworking spaces on the go. It is built for remote workers who are constantly traveling around the city, or maybe for people who don't feel like spending hundreds per month on a single workspace.
Its monthly coworking membership gives you access to hot desks at the best-shared workspaces in NYC. There are so many inspiring places to work in the city.
All you need to do is download their app and find a space nearby to meet, work, and focus on your projects. Pick a spot with vacant seats and when you arrive, check-in with the app. At each workplace, you will find fast WiFi, coffee, and like-minded people.
Hours vary from one workspace to the next. While most spaces are open during the day, some offer extended hours. You can check their listing on the app.
5. GreenDesk
Office in Downtown Brooklyn
Price: Starts at $350 per month for private office; $199 per month for a dedicated desk.
Founded in 2008, GreenDesk is known for providing unique, environment-friendly office suites. It also offers virtual offices and meeting rooms to those who don't need an entire office or might just need a little more.
They have large conference rooms, shared workspaces, retail shops, and event spaces. Each of them is wired with high-speed internet access and VoIP-ready network. Fruit-infused water, fresh coffee, and printing facilities are included in the rent.
Other useful amenities and services (such as fully-equipped kitchen, rooftop patio, and storage space) help you focus all your energy on getting the job done.
The company operates several office spaces within prime locations in Brooklyn and Queens. You can pick the number of desks you need or media-ready conference rooms for organizing events, with daily/weekly/monthly rentals.
4. Industrious
An office with private conference rooms and executive suites at Bryant Park 
Price: $1,450-$2,750 a month for a private office, depending on location.
Industrious focuses less on coworking and more on having a private office. Their large, move-in ready suites include common areas, conference rooms, and private offices, tailored to unique business requirements.
They also have traditional private offices with floor-to-ceiling glass windows and natural light, specifically designed for smaller teams. The premium amenities include a wellness room, fast WiFi, unlimited color printing, office supplies, daily breakfast, and craft coffee.
With several locations in NYC (in Union Square, Soho West, Equinox, Bryant Park, Brooklyn), Industrious has built up quite a presence in the city, as well as around the country.
Since the company does not tie you into a long term lease, it's a good option for startups and businesses that are quickly adding members in their team.
3. NeueHouse
The library at NeueHouse in Madison Square
Price: $800 – $4,500 depending on the type of membership.
NeueHouse provides collaborative workspace to individual entrepreneurs and small businesses operating in the film, design, fashion, publishing, and arts sector. The company also organizes cultural programs and live talks on a weekly basis.
It has one office in Madison Square, which offers plenty of private spaces for client presentations, social gatherings, and product launches. Featured amenities include dedicated concierge services, a wellness room, private showers, artisan roasted coffee, happy hour & cocktail program.
For individuals and teams who thrive in an open, dynamic environment, there is a lot of social space and several conference rooms. And for people who do their best in enclosed offices, NeueHouse provides ample space and privacy to do just that.
2. Freelancers Union
Price: Free; co-work eight times a month from 9 am to 5 pm (Monday through Friday) with free WiFi and free printing
Freelancers Hub is a community space built to help NYC's freelancers thrive. It offers many free events, including educational workshops, benefits consultations, free legal clinics, and dozens of networking opportunities. The Hub is open to everyone who lives and works in New York City.
It is created in partnership with the Mayor's Office of Media and Entertainment, Freelancers Union, and the Made in NY Media Center by IFP. It is a first-of-its-kind private/public partnership to serve freelancers.
Located in Dumbo, Brooklyn, Freelancers Hub consists of conference rooms, classrooms, media art galleries, a library, and 72-seat theater. There are plenty of choices for seating at lounge chairs, couches, community tables, and cafe tables.
The workspace can accommodate up to 40 people, which keeps the group small enough to be quiet and productive.
1. WeWork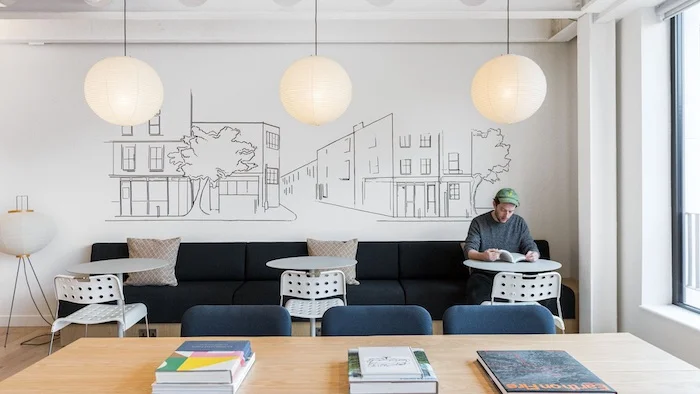 980 6th Avenue / Common area
Price: Private offices start at $760/month; Hot desk membership starts at $380/month.
You cannot list the coolest coworking spaces in New York without mentioning WeWork. The company designs and builds physical and virtual shared spaces and office servers for freelancers and entrepreneurs.
WeWork operates more than 65 spaces in New York City in several important locations, including Manhattan, Queens, and Brooklyn. According to the company, each office is designed to foster focus, productivity, and connection.
All office spaces provide meeting rooms, unique common areas, complimentary refreshments, and phone booths for conducting private calls and video chats. Common spaces have a distinct vibe that will inspire your teams as well as the guests you bring into the buildings.
Read: 15 Largest Libraries In The World
Some office spaces include a private mother's room, a wellness room, a food hall, a big event space, and an acoustically optimized suite for recording audio and editing footage.