A DJ software application allows you to mix multiple music tracks to create a new one. It emulates the way people used to remix tracks with a physical DJ mixing deck and vinyl records.
Traditional DJ setups were used to be expensive and required some sort of training and knowledge to handle instruments. And since there were several types of music mixer devices, DJing was not an easy job.
However, things have changed a lot in the past couple of decades. Now you don't need any special instrument to create a good remix track. Just use your existing mouse and keyboard on the computer or tap your fingers on the smartphone to mix as many tracks as you like. But you do need to attach a DJ hardware controller to take your work to the next level.
Below, we have gathered some of the best DJ software programs (for both Mac and Windows) that contain all the necessary functions to help you intensify your love of music and test your imagination.
9. Serato DJ
Platform: Mac, Windows
Price: Lite version is free | Pro version starts at $9.99 per month
Serato is a music software company that develops DJ mixing applications with interactive visual elements like waveform beatmatching and track slicer.
Its most popular software, named Serato DJ Pro, is known for its reliability and incredible performance. It comes with a sample player that allows you to load up to 32 samples across 4 banks, so you can easily trigger DJ stings, drops, loops, and much more. Plus, it supports more than 90 pieces of industry-leading hardware. Every instrument is well-integrated to provide the best experience possible.
The company has also developed a lite version for beginners. It has a Practice Mode, where you can mix multiple tracks and add various sound effects and transitions without connecting any hardware to your personal computer. Experienced users can also use this Mode to test out song blends, place cue points, and manage their playlists.
Key Features
Echoes, filters, and expansion pack for creative noise synths
Trigger up to 8 cue points
Work with up to 32 samples loaded across 4 banks
Chop a part of the music into 8 slices on the fly
Although the software doesn't have tons of innovative features, it is one of the most stable and reliable DJ platforms. And this is its biggest selling point.
8. Anvil Studio
Platform: Windows
Price: Free core functions with optional add-ons
Anvil Studio is a multitrack MIDI and audio editing software application designed for Microsoft Windows. It allows you to compose music and edit MIDI files in an easy-to-use, multitrack interface.
The application is packed with a large library of samples and audio effects. You will find over 40 instruments; each can be layered over other tracks so you can better analyze what the final product will sound like.
Key Features 
Fast loading and scrolling of massive MIDI files
Align notes with beats and measures
Split a stereo audio track into two mono tracks
Supports an external MIDI keyboard
Although the interface looks quite outdated, the application is very well built and documented. The free version lets you create two one-minute audio tracks and an unlimited number of MIDi tracks.
7. Zulu DJ Software
Platform: Mac, Windows, Android
Price: $25 (one-time fee) | 14-day free trial available
Zulu offers a complete DJ mixer solution. Its easy-to-use interface has two decks, so you can easily mix tracks and apply effects to the melodies. The playlist is shown at the bottom, where you need to drag and drop the soundtracks you want to use in each deck.
The software utilizes an automatic beat detection system to keep the music on tempo. When you load tracks onto a deck, it automatically scans the file for a beat, assigns a BPM (short for beat per minute), and adjusts the tempo on the other deck for precise synchronization.
Like any other DJ software, you can add loops, adjust tones, change speeds, and apply effects like phaser, reverb, delay, flanger, etc.
Key Features 
Easy-to-use mixing interface
Automatic beat detection
Apply effects on the fly
Supports MIDI controllers and various audio formats
The free version of the application can only be used for non-commercial projects. You can download it directly from the official website. Although the software doesn't expire, it will stop supporting premium functions after two weeks.
6. WeDJ
Platform: iOS, Android
Price: Free | In-app purchases ($3.49 per item)
Developed by PioneerDJ, WeDJ is a colorful, feature-rich app for mixing tracks. Its animated 2-channel interface features job wheels, play/cue buttons, waveforms, crossfader, and tempo sliders.
The app contains useful tutorials and pop-hint functions to teach some basics to beginners. It will show you the meaning of common DJ terms, help you understand the basics of mixing, and have you dropping great mixes in no time. If you want to take your performance to the next level, connect the app with any of these DJ gears: DDJ-200,  DDJ-WeGO3, or DDJ-WeGO4. 
Key Features
Change the track texture using different FX like Reverb and Echo
Include "triggering sound," such as Siren and Siren
Synchronize the tempo of two tracks with a single tap
Automix different tracks
Whether it's your first time mixing soundtracks or you have been doing it for a while, you will love the seamless DJ experience. Share your creations with friends and music lovers via Soundcloud or Mixcloud.
5. Algoriddim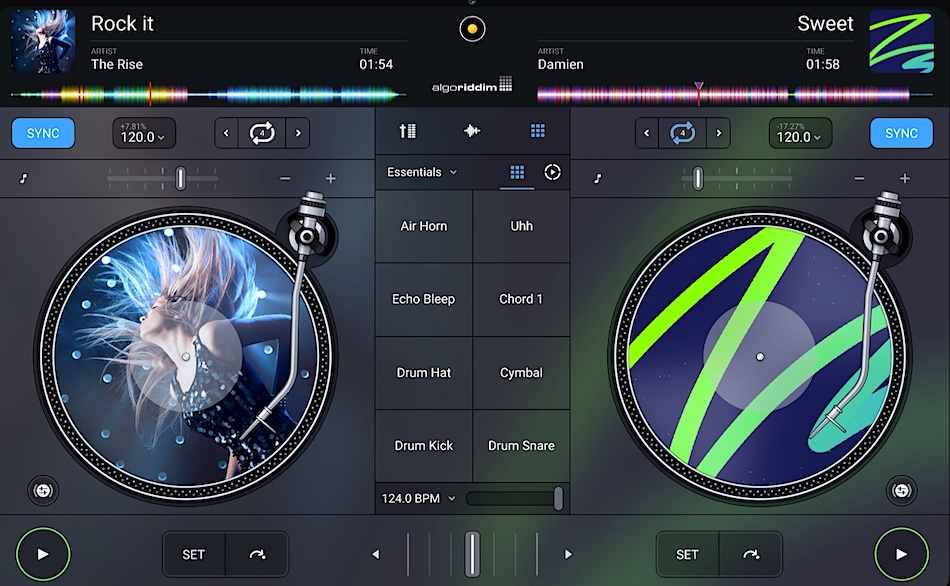 Platform: Mac, Windows, iOS, Android
Price: Free | Pro version costs $49.99 (one-time fee)
Algoriddim DJay software program turns your PC and smartphone into a full-featured DJ system. It integrates with your music library, giving you direct access to all the tracks on your device, plus millions of soundtracks.
Its modern interface makes it easy to switch between two- and four-deck and detailed library layouts, so you can precisely create your preferred mixing style.
Algoriddim has developed a proprietary Neural Mix technology that allows you to play and remix individual components from multiple tracks in real-time. More specifically, its AI system instantly isolates the instruments, beats, and vocals of any song. It also intelligently detects rhythmic patterns, such as the intro and outro segments, to keep the music flowing.
Key Features 
More than 40 pre-built audio effects
Real-time audio source separation and advanced pitch-shifting
Multicolor waveforms
Integrates with Spotify Premium song library
With its advanced offline export function, you can extract acappellas and instrumentals of any track in high quality for use in DJ or music production applications.
4. Ableton Live
Platform: Mac, Windows
Price: Starts at $99 (one-time fee) | 90-day free trial
Ableton Live is a digital audio workstation built for recording, composing, and mixing soundtracks. It has a set of functions for beatmatching, crossfading, and numerous other effects used by turntablists.
This software program makes it easy to pick the best moments of each live performance and merge them to create a perfect take. More specifically, you can edit the pitch and pressure envelopes of individual notes to refine the expression of your takes. Combine random samples (by sequencing polyphonic sound variations) from your local library to create something unique.
Key Features
Adjusts tempo based on incoming audio in real-time
Lets you control multiple parameters of every note in real-time
Add subtle expression variations and morph between chords
User interface is designed for liver performance
The platform has three versions: Live Intro (for beginners who don't want to spend much), Live Standard (contains all features but fewer effects and instruments), and Live Suite (the complete edition with a price tag of $749).
3. TRAKTOR Pro
Platform: Mac, Windows
Price: $99 (one-time fee) | Demo version closes after 30 minutes (but can then be reopened)
Traktor Pro is a full-featured DJ mixer application with studio-quality equalizer and filters, automatic beatmatching, flexible performance effects, and easy-to-use control functions for DJs of all styles and experience levels.
It has everything you need: Remix decks and loop recording, over 40 DJ effects, extended cueing options, and performance tools that allow you to twist and screw your soundtracks in countless ways.
Key Features 
Multiple Waveform modes
Automatically syncs beats and tempo
Twist and screw tracks with endless variation
Custom MIDI mappings
Since the app has four decks and each of them can be transformed into a Remix deck, you can upload up to 16 loops and play four tracks concurrently. Moreover, it gives you access to thousands of royalty-free tracks, including both vocals and instruments. Just search for style, genre, and BPM, and drag-drop these tracks into Remix decks to add new variations to your mixes.
2. MIXXX
Platform: Mac, Windows, Linux
Price: Free
Mixxx provides a set of tools for creating live mixes with digital music files. Whether you are an experienced turntablist or a beginner, these tools can support your techniques and style of making tracks.
The software supports inputs from keyboard, mice, as well as MIDI and HID controllers. Unlike other applications, it includes mappings for several DJ controllers, and you can create your own mapping to execute custom behavior. In fact, it is the only DJ software that uses JavaScript (a fully-featured programming language) to create mappings with complex controller interaction and feedback.
Key Features 
Built-in mappings for DJ controller hardware
BPM and musical key detection
Master sync matches the tempo and beats of four songs
Multiple equalizers and isolators with adjustable shelves
Another major plus point about Mixxx is that it is an open-source software program and entirely community-driven. Over 100 artists and developers have helped create Mixxx, and more than one million downloads of the program occur every year.
1. Virtual DJ
Platform: Mac, Windows
Price: Free for home use | Pro version costs $19 per month | $299 for a lifetime license
Developed by Atomix Productions, Virtual DJ utilizes the power of modern processors to open new avenues of mixing that weren't possible before. It achieves a far more accurate separation than conventional frequency-based equalizers, yielding perfect transitions like never before.
The Stem pads allow you to create live mashups and remixes instantly. Mix various elements of your tracks (instruments, vocals, kicks, etc.) in real-time. Get more creative with jog wheels, transport controls, performance pads, smart sync, and quantized cues.
The application is equipped with a precise, low-latency DVS engine, so you can easily mix with traditional CD players and turntables. Plus, it supports almost all controllers from popular brands like Pioneer DJ, Hercules, Reloop, Hercules, and more.
Key Features 
Real-time stem separation
Smart quantizing for valuable mixing assistance
Works with all popular DVS vinyl
Thousands of visualizations for audio-only mixing
What's more? Virtual DJ supports karaoke playback. This means you can play karaoke songs on every deck or use the built-in Karaoke Engine to add song key, singer name, and venue name. You also get options to display graphics between karaoke songs or show the next singers on the screen.
Read: 8 Best Deepfake Apps and Tools
Other Equally Good DJ Apps
10. Cross DJ
Platform: iOS, Android
Price: Free | In-app purchases worth $0.99 – $8.99 per item
Cross DJ is a powerful audio engine that allows you to mix tracks in perfect sync. It accurately detects BPM on the track, down to the last decimal. You just need to tab on a button, and the app will take care of synchronization — your tracks will never go out of phase. It also supports progressive, manual pitch bend.
As far as the interface is concerned, it's quite modern and easy to use. There are two turntables, a three-band EQ mixer, a stunning waveform view, and large buttons optimized for small screens. Unlike most other apps, you can pre-listen to your music before creating the mix.
11. MixPad Multitrack Mixer
Platform: Mac, Windows, iOS, Android
Price: Free | Upgrade to the Pro version for $139.99
MixPad is a multitrack recording and mixing application packed with plenty of useful features. It allows you to record multiple tracks concurrently, add audio various effects, and make your own beats from scratch or use sample patterns.
With this application, you get hundreds of royalty-free sound effects and music tracks. You can add audio files in different formats, and the app will automatically identify the tempo and location of beats. Adjust the pitch with Pitch Change tools and analyze your tracks with TFFT and FFT sound frequency tools.
The app is completely free for non-commercial use. Mix countless audio, music, and voice tracks. When you are done, export the file in any format, ranging from high compression formats like MP3 to studio-quality WAV files.
12. Edjing Mix
Platform: iOS, Android
Price: Free | Weekly subscription costs $8.99 and an annual subscription costs $40.99
Edjing Mix converts your smartphone into a DJ setup, stretching the limits of djing on portable devices. It has the advanced sampler and hardware integration to further push the boundaries of the mobile djing.
Its intuitive interface lets you easily set up 8 Hot Cues on each deck, adjust the vinyl inertia and starting speed, and access dozens of free sound samples like gunshot, siren, snare, kick, etc.
And since the app is compatible with SoundCloud, Dropbox, iCloud Drive, and iTunes, you can load and remix millions of tracks. The smart search bar shows results of your music sources, while the advanced sorting feature helps you browse by alphabetical order or BPM.
13. Remixlive
Platform: Mac, iOS, Android
Price: Free | Unlock all features for $9.99 per month or $49.99 per annum
With Remixlive, you can do everything you want, from launching fully-synced loops to adding FX — all from a single app. It has multiple play modes to create rich and layered tracks.
The seamless time-stretching makes it easier to combine samples from various sources, including 200+ samples available in the app. It allows you to import samples (in all popular formats, including mp3, wav, aiff, and 16/24 bits) from your local library.
Overall, the analytics kit, advanced sample editing, step sequencer, and instant FX pad make Remixlive a professional-level application and allow users to be more creative in producing music.
Read: 8 Perfect Video Editing Software For YouTube Creators
Frequently Asked Questions
Which is the easiest DJ application to use?
There are plenty of simple, lightweight DJ apps that turn your smartphone into a full-featured DJ setup. DJ PADS and Dj it, for example, allow you to remix tracks and voices within a minute. These apps also provide practical tips and lessons to improve your music production skills.
Is there any free online software to mix soundtracks?
You.dj offers all the tools you need to mix music online. It features a traditional DJ setup with two turntables and a mixer. You can play two tracks simultaneously on each turntable and use the mixer (in the center) to fuse tracks together.
You.dj is completely free, with no ads and no sneaky subscription. And since it works well on all browsers, you don't need to install any app on your device.
Read: 11 Best Free Beat Making Software
Where do DJs get their music?
There are plenty of platforms that offer new, old, and remixed tracks and everything in between. SoundCloud, Bensound, Bandcamp, Jamendo, ReverbNation, and Beatstars are some of the trusted sources to legally download free DJ music.