What started in 2007 for the personal use, is now the world's most popular cloud storage service. As of March 2016, Dropbox had 500 million users. The online tool enables users to share files, have instant access to them on all devices, and help businesses collaborate easily. It works on a freemium business model, where you get 2 GB of storage for free.
Despite all lucrative offerings, not everyone likes Dropbox services. In the past few years, they had a couple of hacks that compromised over 50 million accounts. For any cloud service, security is the first big issue, which they failed to deliver effectively. Luckily, there are tons of services that are equally good; some are even better in terms of providing features and security.
Keeping the number of features, pricing and security factors in mind, we've picked a few of impressive Dropbox alternatives that might make you drop the service you are currently using. Needless to say, these services are compatible with all devices and operating systems.
15. Sync
Free Storage: 5 GB
Security: SSL/TLS, 256-bit AES, 2-factor authentication
Like Dropbox, Sync makes it easy to share and access your files from any device. How it's different you asked? Well, it provides end-to-end encryption, which ensures that only you can access your data in the cloud, no one else, not even Sync developers.
With Sync, you can control access with passwords, expiry dates, email notifications and upload capacities. There is no limit on file size and traffic, and links recipients get instant access without requiring any Sync account.
For personal and family use, you can upgrade your free account to $49 per year to 500 GB of storage, or $96 per year for 2 TB of storage.
14. Zoho Docs
Free Storage: 5 GB | 1 GB file upload limit
Security: SSL/TLS, 256-bit AES, Server failure recovery
Zoho's file sharing service is ideal for both small and enterprise businesses. It offers some fairly impressive additional features, such as email integration, Dropbox integration (in case if you want to use both), bulk upload, access management, inbuilt document editor, tagging, version history, digital signatures and much more.
Although it supports some common types of business files including, presentation and spreadsheets, it does not have the capability to run industry-specific file types like PSD, DXF and MPP. So before investing in Zoho, make sure it supports the format that you may need in future.
You can upgrade the space to 100 GB for $5 per month, or 1 TB for $8 per month.
13. Cloudup
Free Storage: 200 GB
Security: SSL/TLS
Cloudup is to Dropbox as instant messaging is to email. It makes sharing easy and beautiful for both the sharer and the recipient. It lets you upload any file (including video, links, documents, code) using drag-drop features and send file links as you work.
Cloudup is the largest free file storage and sharing service, but it doesn't have version control, or an option to upgrade to more storage. Therefore, it is perfect for private use and small businesses who don't intend to grow larger than 5 people.
12. Nextcloud
Free Storage: Depends on your hosting plan
Security: SSL/TLS, 256-bit AES, 2-factor authentication
Nextcloud is an open source file sharing platform that offers unique public link shares to multiple users, each with their own setting such as password protection, read/write rights and expiration date. It supports tons of add ons for contact management, task management for both small and enterprise level businesses.
The platform tends to attract 3 kinds of users – those who need big scalability potential, those who keep security as first priority and those who are fans of other open source projects.
You can run it on most of the Linux, Apache, MySQL PHP or similar servers. Either host your Nextcloud installation with your current web host or chose from Nextcloud managed providers.
For €1900 per year, you get enterprise level support, which includes access to core engineers, support for your customized applications and security consultations.
11. Tresorit
Free Storage: None | 14 days free trial available
Security: SSL/TLS, 256-bit AES, 2-factor authentication
Tresorit is known for its security features. It provides end-to-end encryption service, keeping your sensitive data safe from hackers, internal breaches and snooping government. You can even monitor and allow specific devices to have access to certain files within in your organization.
Privacy is a critical issue when it comes to syncing and sharing information in the cloud. Tresorit handles your data under Swiss privacy laws, which offer even stronger and better protection compared to laws in US and EU.
Price starts at $10.42 per month for 200 GB of storage (for individual), and $12 per month for 1 TB of storage (up to 10 users).
10. IDrive
Free Storage: 5 GB
Security: SSL/TLS, 256-bit AES
Given its dual sync and backup capabilities, matching budgets, IDrive is one the best deals in both cloud storage and cloud backup. Unlike Dropbox, it offers password protection for links regardless of whether you are using premium service or not.
IDrive provides much better security by storing your password and encryption keys in its data center. However, you can switch on private encryption, effectively making it a zero-knowledge provider.
If you are using a private account, you can upgrade to 2 TB of storage for $52.12 for the first year – half the cost of Dropbox and twice the storage space. If this isn't enough, you can bump up to 5 TB for $74.62. The best thing is you don't have to split the space between storage and backup. Both get their own separate allotment. 
9. hubiC
Free Storage: 25 GB
Security: SSL/TLS, data is hosted between 3 data centers
This is a great option if you are looking for a secure Dropbox alternative based outside of the United States.
hubiC was developed by the OVH group, a French company that offers a wide range of services related to web infrastructures, hosting and cloud resources. The very first thing you will notice when comparing it to Dropbox is that hubiC provides a wide range of substantial amount of free storage. You can backup huge quantity of data via "Backup" option.
There is an option to upgrade to 2.5 TB of free storage just by recruiting other users to the service. Upgrades start at €1 per month for 100 GB of storage and €5 per month for 10 TB of storage.
8. ownCloud
Free Storage: 5 GB
Security: SSL/TLS, 256-bit AES
ownCloud is a straightforward way to sync file and share content. It's is hosted exclusively on your own private cloud so you can rest assured that your content is under control.
The service provides a simple user interface with favorites, tags, search and other ways to quickly get to your files. Additional features like editing and preview support for flies, integration of antivirus scanning functionality and advanced quota management with configurable accounting of external storage make the tool even more valuable.
It has been integrated with the GNOME desktop. Raspberry Pi project uses ownCloud to create a cloud storage system. The standard enterprise subscription starts at $3,600 per year for 50 users.
7. Resilio
Free Storage: Unlimited
Security: SSL/TLS, 128-bit AES, 2-factor authentication
Resilio (created by BitTorrent) lets you automatically sync files between devices via secure, peer-to-peer protocol. It skips the cloud and finds the shortest path between devices when transmitting data, which means there is no uploading to third party servers – just simple and fast file syncing.
You don't even need the Internet connection. The tool utilizes local networks, even if the internet is down. All you need to do is set up a router in a place with zero internet access over a private network.
In order to make updates faster, it only alters the parts that have changed rather than re-uploading the entire file. Also, there is an option to pause syncing for selective folders, or for everything at once.
The Pro version comes with 3 synchronization modes (disconnected, selected sync and synced), folder-level access controls and on-demand access to files. It will cost you $59.99 (one time fee).
6. pCloud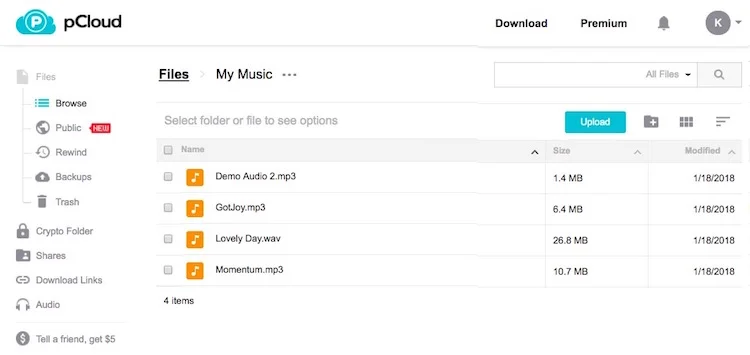 Free Storage: 20 GB
Security: SSL/TLS, 256-bit AES
The Switzerland-based cloud storage company, pCloud provides comprehensive easy to use cloud services for private and business purposes. At present, they are serving to 6 million users.
pCloud Crypto allows you to protect your confidential documents with high-end security, making it as easy as placing files in a folder. It's security application encrypts files on your local machine, uploads only the encrypted version to the cloud servers.
You can upload any type of files, regardless of its size, directly to your account. There are two plans to select between – annual and lifetime. The annual plan starts at $3.99 per month (for 500 GB of storage), or you can pay on time fees of $125/$250 for 500GB/2TB of storage.
5. Amazon Drive
Free Storage: 5 GB
Security: SSL/TLS, 256-bit AES, 2-factor authentication
In its initial days, Amazon Drive went through some struggles competing with Dropbox because it offered storage at great prices but no syncing. That's now changed with sync clients for Mac, Windows, iOS and Android. It utilizes the same server network that Amazon uses for Amazon S3 and its own internal data.
If you are an Amazon customer, you already have free cloud storage, which you can upgrade to 100 GB storage space for $11.99 per year, or 1 TB for $59.99 per year. With Amazon Prime account you get unlimited photo storage space (depends on your location) plus 5 GB for videos and other files.
4. Mega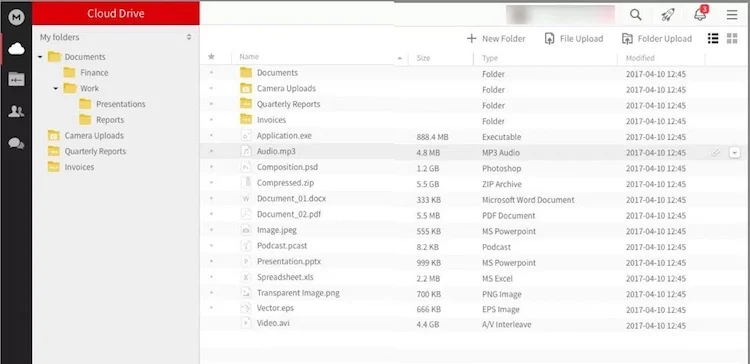 Free Storage: Up to 50 GB
Security: SSL/TLS, 256-bit AES
Mega advertises its features as 'files are locally encrypted before they are uploaded to the cloud'. Apart from common features like global access with any device, secure collaboration and live encrypted backup, Mega has released some API documentations so developers can write their own applications.
As of August 2016, Mega had 50 million registered users, and more than 20 billion files had uploaded to the service from over 245 countries.
You can upgrade the plan to €4.99 per month for 200 GB of storage, and go up to €29.99 per month for 8 TB of storage (with 16 TB transfer limit).
3. OneDrive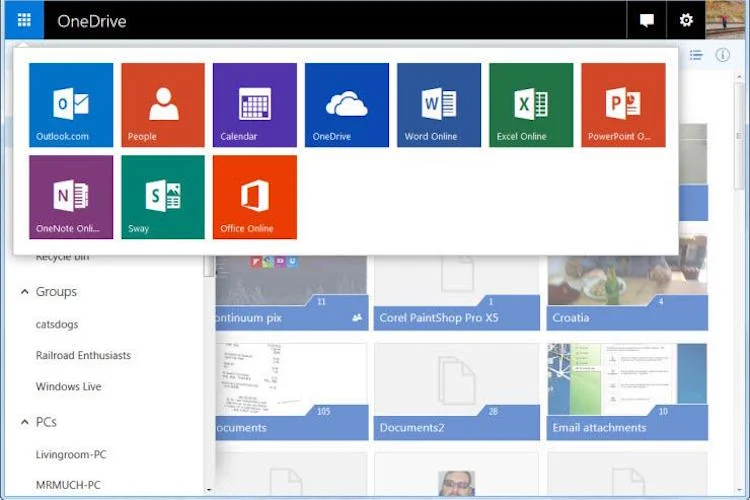 Free Storage: 5 GB
Security: SSL/TLS, 256-bit AES
Microsoft OneDrive lets you share any file and collaborate with your team in real time suing Office 365. You can access all your files without being online and because it's a Microsoft product, you will always have the latest Office applications, 1 TB of OneDrive storage and premium OneDrive features.
If you're looking for storage without premium feature, you can upgrade it to 50 GB for $3 per month, or 1 TB for $10 a month.
2. Box
Free Storage: 10 GB | 250 MB file upload limit
Security: SSL/TLS, 256-bit AES, 2-factor authentication
In addition to securely sharing files, Box allows you to create, edit and review documents with others from any device in realtime. While providing enterprise-level security, it gives an emphasis on collaboration tools. The ease of use, integration with your favorite apps and ease of IT management, makes it an excellent choice for small teams.
Individual users can upgrade to $10 a month for 100 GB of storage, while in business plan (requires minimum 3 users) gives you same amount of storage for $5. And yes, free accounts do get standard customer support.
1. Google Drive
Free Storage: 15 GB
Security: SSL/TLS, 256-bit AES, 2-factor authentication
Google Drive needs no introduction. Launched in 2012, it offers offline capabilities for macOS and Windows computer, and iOS and Android devices. Since it's a Google product, it plays well with Google Sheet, Docs, Slides and Office suite. Also, there are plenty of add-on apps like MindMeister, PandaDoc and WordPress.
Read: 25 Small Business Collaboration Tools to Streamline TeamWork
As of March 2017, it had more than 800 million users. The advanced features of the cloud storage services allow you to search for an image by describing its visual and using natural language to find certain files, for example, "find my vacation pictures from last April".
You can get 100 GB of storage for $1.99 per month, 1 TB for $9.99 per month, up to $30 TB for $299.99 per month.