Since the evolution of emoji, our method of communication via electronic messages has been changed. We are compelled to use emoji every time, even when we actually don't need. The character's appearance in various genres such as place, animals, facial expressions, memes using emojis is a great way to convey emotions and feelings without typing any text.
Emoji is Japanese word – "e" means "picture" and "moji" means "character or letter". The emoji we know today was designed in the late 90s by Japanese engineer Shigetaka Kurita, while working on the i-mode mobile Internet platform of NIT DoCoMo, the largest mobile carrier in Japan. Well, we won't dig into the history, instead, we have collected a few best emoji apps for both iPhone and Android device (available for free) that will give you several new and creative ways to make your message more expressive.
For Android Device
20. Galaxy Emoji keyboard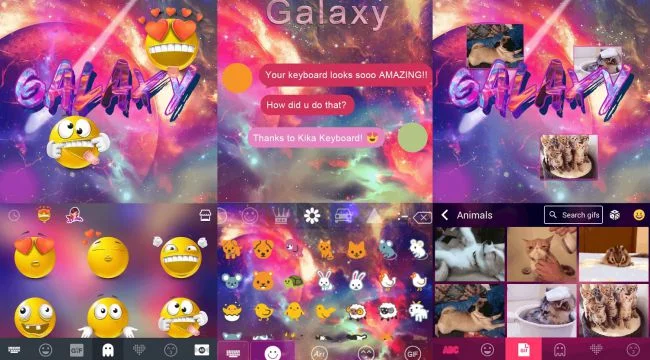 A smart keyboard app that makes typing fast and fun. It comes with over 800 emojis and emoticons, animated GIFs, and colorful themes. You can input voice, customize fonts and layout, including one hand mode and split screen. The app also features word predictions, suggestions, auto-correct, and supports more than 60 languages.
19. Emojidom Emoticons For Texting
Emojidom Emoticons comes with over 4,000 unique high definition smileys to share over a wide range of platforms. There are more than 130 themes in app, including  holiday stickers, birthday emoticons, sports, animals, flowers, romantic, celebrities and naughty smilies. The collection also includes black and Asian emoticons, and the emoji are pictures automatically enabling support and visibility on any device.
18. Keyboard
It's a powerful keyboard especially designed for sending messages with stickers, GIFs and emoticons. The app features fun and colorful emojis, cute GIF stickers, a variety of keyboard themes, smart word prediction, auto word correction and cool fonts. Furthermore, it is available in more than 30 languages.
17. Imoji
Imoji is an excellent place to search, share and discover new stickers. There are millions of imoji stickers for every conversation designed by the community. Also, you can create your own stickers using custom images on your Android device. However, there is major drawback – you can only send stickers using the app alone.
16. GO Keyboard
With GO Keyboard, you can easily turn plain text into smiley and emoticons. Along with 800 stickers and emojis, there are 10,000 colorful themes for keyboard, and new themes are updated weekly. The app is smart enough to recognize misspelled words and provides correction/suggestion. It also voice input and tons of beautiful fonts.
15. Emoji Stickers for Messengers
The app contains cute quality of emoji stickers categorized in Fast talk stickers, Smiley emoticons and Soft toned stickers. To express your emotions better, the app gives you high definition and 3D smiley and talking stickers. For more customization and manual sharing, you can save them to gallery or add to favorites and save in separate folder.
14. CoolSymbols
CoolSymbols comes with over 1000 interesting symbols and emoticons that you can insert in your social or messaging apps like SMS, Twitter, Whatsapp, Facebook, etc. All you need to do is click the heart and choose the symbol, and then paste it into the social app you are using to communicate with your friends.
13. Flash Emoji Keyboard
The Flash Emoji Keyboard is packed with thousands of GIFs, new emojis, cute emoticons, impressive themes and stickers, and lenny face in a flash. The highly customizable keyboard helps you type faster with smart auto correction and next word suggestion, and supports over 50 languages.
12. StickerMe
With StickerMe, you can use your own selfies to create emojis. The coolest feature of the app is its ability to generate over 60 stickers using one photo. It will give you many different looks and characters – student, prince, cute baby, funny, and much more.
11. Kika Keyboard
Kika contains thousands of emoticons, smileys, funny GIFs, stickers, animated themes, fonts and sounds. It makes typing fast on mobile devices, and helps you avoid typos with intelligent predictive text, smart autocorrect, and suggested emojis and GIFs.  There are over 80 languages to choose from, and the best part is all comes with no cost – it's 100% free.
Read: 16 Best Smart Notification Apps for Android Users
For iPhone
10. Bitmoji
Available for both iOS and Android, Bitmoji creates an expressive cartoon avatar of your picture. There is a huge library to select from. You can easliy insert bitmojis into Whatsapp, hike, messenger, gmail, slack, virtually anywhere you communicate on your device.
9. GIPHY Stickers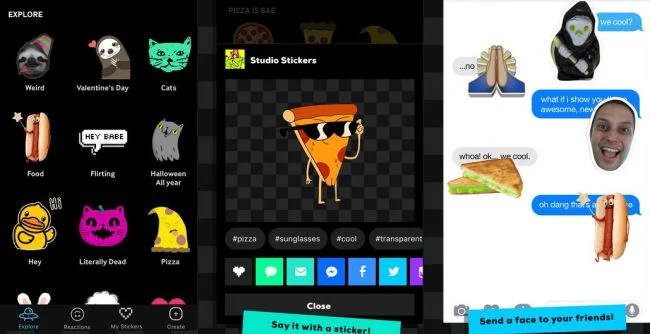 GIPHY Stickers is the easiest way to create, find and share emojis across all of your favorite social and messaging apps. For even quicker access, you can switch on the iMessage extension. It will allow you to peel, stick and send items without leaving the conversation. You can take your selfie to create your own stickers of anything you desire.
8. Emoji>
Emoji> has a huge set of regular and big size stickers, organized in categories. There are 12 amazing colorful keyboard themes, fun emoji puzzle games, and new iMessage stickers. The app doesn't support any other keyboard, and you need to allow full access to use big emojis, stickers and favorite features.
7. EmojiFace
Snape a selfie using EmojiFace and tweak to get the cartoon version of yourself. The app automatically creates emojis that look like you with different attitudes and expressions. You can create hundreds of emojis from a single photo, and use it in iMessage, Whatsapp, Messenger and more.
6. Emoji++
Emoji++ contains super, vivid smiley icons that are totally free. There are well-designed cartoon images with all kinds of expressions and colorful actions. It has a clean and easy to use interface – just launch the app, click on any picture you want and select the share type from popup menu. Also, it contains different fonts to bring you beautiful messages.
5. Keymoji
Keymoji translates what you type in any app into emojis in real time, so you don't have to think up emoji keyboard phrases. It works on almost all messaging and email apps, including Snapchat, Whatsapp, Facebook, Email, iMessage, Notes, Twitter, etc. There is also an emoji art button to find special designs made from emojis that you can send directly from keyboard via any app.
4. Adult Emoji Icons
Adult Emoji Icons is designed for romantic and flirty texting. It consists of more than 800 colorful and sharp emojis in 8 different galleries. The app lets you set the size of emoji – it can be tiny or giant, whatever you want. In favorites gallery, you can save your most used or liked adult emoji for easy access. Moreover, a keyboard extension is available for free. Luckily, the app supports both platform, iOS as well as Android.
3. Emojiyo
Emojiyo makes the keyboard more user-friendly with inbuilt search and features that allows you to rearrange where and how specific emoticons appear within the keyboard. You can browse all emojis in a single scrolling view and save combinations. The app also gives you the ability to make your own emoji.
2. Emoji Keyboard for Me
This is personalized, universal color keyboard with autocorrection, smart predictive typing and quick access to all emojis, including artistic emoji combos and lively stickers. The app also supports handy search (to find matching emojis), fancy fonts to make words look exquisite, and a word maker that spells words with smiley pictures and other emoticons.
Read: 15+ Best Alternative Keyboard Apps for Android & iOS
1. Disney Emoji Blitz
Read: 30+ Stunning Lock Screen Apps for Android & iOS
This one is quite different. The app lets you collect and play with hundreds of Pixar and Disney emojis like an exciting game. Complete missions, earn prizes and discover new emojis. The emoji character or items you get are usually taken from Cinderella, The Little Mermaid, The Lion King, Monsters, Toy Story, Finding Dory, The Muppets and more. You can then share the collected items with Emoji Blitz keyboard and iMessage stickers. The app is available for iOS as well as Android.