Global motorsports is a multi-billion dollar industry that is growing at a rapid pace. It is dominated by a handful of racing championships or events that take place across the globe.
From NASCAR in the United States and the World Rally Championship (the biggest car rallying event in the world) to Grand Prix motorcycle racing (MotoGP), these racing sports events have accumulated a massive fan base over the years.
However, no global motorsport event is bigger, more popular, and more appealing than Formula One or F1.
Founded in 1950, Formula One has established itself as the biggest motorsports event on the planet in terms of both, revenue and fan base. It is immensely popular in Europe and South America and is getting its grip in the United States.
As of 2023, 774+ Formula One drivers have participated in at least one championship race. Out of these 774+ drivers, who are some of the biggest stars in the history of Formula 1? Let's find out.
Why is It Called Formula One?
Before we get into the list, I want to take a minute to talk about why it's called Formula 1 or what is the meaning of its name.
The word 'Formula' here refers to the rules and regulations set by the FIA that all participants must abide by. The rules are regarding various aspects of the race, including car design, engine size and weight, refueling, types of tires, and so on.
The 'One' or '1' simply means the topmost tier of the Formula Championship. There are also second-tier (Formula 2) and third-tier (Formula 3) championships, which are organized by the FIA.
The FIA (Fédération Internationale de l'Automobile) is the main governing body that regulates Formula 1.
Below is the list of the 14 best F1 drivers of all time.
10. Niki Lauda – 1971 to 1985
Lauda in 1975 British Grand Prix | Image Courtesy: Gillfoto/Wikimedia Commons
Championship: 3 (1975, 1977, and 1984)
Career Wins: 25
Andreas Nikolaus Lauda was an Austrian Formula 1 driver and a legendary figure in motorsports.
He won the Formula 1 Drivers' Championship three times and was the only driver to win a title with McLaren and Ferrari, two of the most successful teams in F1 and arch-rivals.
Lauda started his Formula 1 career in 1971 with March Engineering, a now-defunct British constructor. After three unsuccessful seasons, he joined Ferrari in 1974. That was the breakout season for Lauda as he won 2 Grand Prix and finished 4th in the title race.
Niki Lauda won his first Formula 1 championship in 1975 and the second one in 1977, both in a dominant fashion. He also came very close to winning the title in 1976 but lost it to James Hunt by one point.
The 1976 season will always be remembered for the horrific Nürburgring crash (German Grand Prix), in which Lauda's Ferrari burst into flames after hitting an embankment.
Even though a few of his fellow drivers were able to pull him out of his car on time, he suffered severe burns on his face and hands.
Despite his near-death experience and burn scars, Launda returned to racing after recuperating for over a month. Lauda's miraculous return to racing after such an accident was a testament to his tenacity and sheer force of will.
Niki Lauda won his third and final championship in 1984 with McLaren.
Outside Formula 1, Lauda had vested interests in the aviation industry. He founded three airlines: Lauda, Niki, and Lauda Air.
9. Max Verstappen – Since 2015
Verstappen (center) after winning the 2018 Brazilian Grand Prix | Image Courtesy: Governo do Estado de São Paulo
Championships: 2 (2020, 2021)
Career Wins: 44 (5th most all-time)
Max Verstappen is the new force in Formula 1, who is taking the motorsports world by storm. Already a two-time world champion, Verstappen started his Formula 1 career at the age of 17 in 2015.
In his first season, Verstappen broke two Formula 1 records: the youngest driver to start a race and the youngest driver to score a point, both within the span of a few days.
His first race victory came in the 2016 Spanish Grand Prix, and he replaced Sebastian Vettel as the youngest driver to win a race.
Verstappen clinched his first Formula 1 championship in 2021 after a tough battle against Mercedes' Lewis Hamilton, who ended the season with just eight points behind the leader.
He was far more dominant in his second title win in 2022, winning 15 out of 22 Grand Prix and racking up a record 454 points in a single Formula 1 season.
Since his debut in 2015, Verstappen has been heavily praised by the Formula 1 community, including former and current drivers.
In 2019, Jenson Button described Verstappen as the fastest Formula 1 driver of all time. These sentiments were echoed by another former world champion, Nico Rosberg. According to Rosberg, Verstappen didn't have the fastest car, but his raw speed allowed him to win pole positions.
More experienced Formula 1 drivers, such as Fernando Alonso, have said that the Dutchman is "one step ahead" of all others. Legendary driver Niki Lauda even described him as the "talent of the century."
F1 Records Held by Max Verstappen
Most points in a season – 454 points
Most wins in a season – 15 (2022)
Most podium finishes in a season – 18 (2021)
Youngest driver to win a race – 18 years, 228 days
8. Fernando Alonso – Since 2001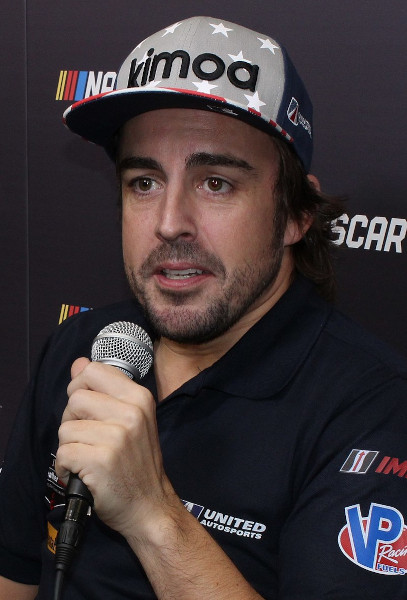 Fernando Alonso at a NASCAR media tour in 2018 | Image Courtesy: Zach Catanzareti/Flickr
Championships: 2 (2005, 2006)
Career Wins: 32
Fernando Alonso is not only one of the most popular Formula One drivers but also one of the most successful professional race car drivers of all time.
Apart from his two F1 driver championships that he earned in 2005 and 2o06, the Spaniard has also won the 2018-19 FIA World Endurance Championship and the prestigious 24 Hours of Le Mans two times in 2018.
He is one of the only five drivers in history to have won both the F1 championship and the 24 Hours of Le Mans.
Alonso started his Formula 1 career in 2001 with Italian team Minardi (now defunct). That season, his best result came in the German Grand Prix, where he finished 10th.
However, in 2002, he left Minardi and joined Renault, where he spent his most successful years in Formula 1. Alonso spent a total of seven seasons (in two stints) with Renault and won championships in two of them.
He came extremely close to winning two more F1 championships in the 2010 and 2012 seasons, in which he finished just 4 points and 3 points behind the winner, respectively.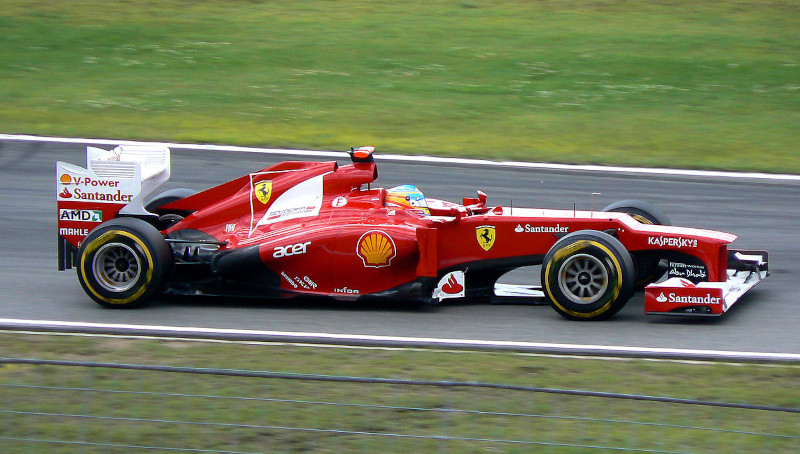 Fernando Alonso at 2012 German Grand Prix | Image Courtesy: Andrius Vanagas
F1 Records Held By Fernando Alonso
Fernando Alonso has several important F1 records under his name as a testament to his long and illustrious career. Some of these records include –
Alonso has more race entries than anyone else in the sport's history (370 entries).
He also holds the record for the most starts and race finishes (366 and 292).
In 2003, Alonso became the youngest world champion at the age of 22 years and 26 days. Alonso held that record until 2008, when he was replaced by Sebastian Vettel.
7. Sebastian Vettel – 2007 to 2022
Sebastian Vettel (right) and Lewis Hamilton at the 2018 Austria Grand Prix | Image Courtesy: Lukas Raich
Championship: 4 (2010,2011,2012, and 2013)
Career Wins: 53
Since the inception of Formula 1 in 1950, only five drivers have won four or more championships throughout their entire career. Sebastian Vettel is one of them.
With four consecutive Formula 1 drivers' championships from 2010 to 2013, Vettel has established himself as one of the most successful drivers in the sport's history.
The German started his Formula 1 career in 2007 with Toro Rosso. 2008 was a breakout season for Vettel as he won his first (Italian) Grand Prix and became the youngest driver to win a race. (This record was surpassed by Max Verstappen in 2016).
Due to his exceptional performances, Vettel was promoted to Red Bull Racing in 2009, and it didn't take him long to dominate Formula 1 completely. In 2010, he became, and still is, the youngest driver to win a championship at age 23 years, 134 days.
With Red Bull, Vettel won four straight world championships and broke numerous Formula 1 records.
After leaving Red Bull in 2014, Vettel spent six seasons with Ferrari. The 2018 Formula 1 season was perhaps the most thrilling year in the recent history of the sport. It was the first time in the history of Formula 1 that two quadruple champions participated in a season together.
During his racing career, Vettel was often compared to Michael Schumacher, mostly due to his similar background and driving style. After his surprising win at the 2008 Italian Grand Prix, the German media named him "Baby Schumi." Vettel was hailed as the next Schumacher after winning his first F1 title in 2010.
6. Norman Graham Hill – 1958 to 1975
Graham Hill during the 1971 Dutch Grand Prix | Image Courtesy: Anefo
Championships: 2 (1962 and 1968)
Career Wins: 14
Formula 1 drivers today start competitive racing at a very young age and become very skilled drivers when they reach their late teens. This is a normal career course for most motorsports drivers.
But, what if I say there is a rare exception to this case? The answer is Graham Hill.
Norman Graham Hill, a legendary motorsports driver who won 2 Formula 1 championships, didn't qualify for his driving test until he was in his mid-20s.
In fact, Hill became interested in car racing only after seeing an ad for the Universal Motor Racing Club in 1954, when he was already 25 years old. Anyhow, Graham Hill made his Formula 1 debut in just four years at the 1958 Monaco Grand Prix.
What's more astonishing is that Graham Hill is the only driver in history to win three of the world's most prestigious motorsports events: the 24 Hours of Le Mans, Indianapolis 500, and Formula 1 drivers' championship.
Hill won his first Formula 1 Drivers' Championship in 1962 and the second one in 1968. At the time of his second F1 championship, Hill was 39 years old, making him one of the oldest world champions in the sport's history.
The following year, at the 1969 United States Grand Prix, Hill was involved in a near-fatal crash in which he suffered broken bones in both his legs. Although Hill was able to recover and continued to race in Formula 1 for five more years, he didn't have any success.
However, he won the 24 Hours of Le Mans in 1972.
5. Lewis Hamilton – Since 2007
Lewis Hamilton at 2018 British Grand Prix | Image Courtesy: Jen Ross/Flickr
Championship: 7
Career Wins: 103
Lewis Hamilton is undoubtedly one of the biggest names in the modern history of Formula One and possibly the entire motorsports universe.
He is the most successful British driver of all time and, so far, the only black driver to participate in a Formula 1 race.
Hamilton has won seven World Drivers' Championships and is tied with Michael Schumacher for the record of the most F1 titles. He currently holds several important Formula 1 records, including the most Grand Prix wins (103) and most pole positions (104).
Hamilton started his racing career in 1993 at the young age of 8. Within two years, he won the British cadet class karting championship. Then, in 1998, he joined the 'McLaren Driver Development Programme,' which helped him develop into a world-class driver.
Soon after graduating from the development program, Hamilton signed a professional contract with McLaren in 2007. In his first season, Hamilton teamed up with the defending champ Fernando Alonso.
The next year, in 2008, Hamilton won his first Formula 1 championship and became the youngest driver to do so at the age of 23 years and 301 days. He also became the first British driver to win a championship since 1996.
Hamilton's time with McLaren was quite impressive, but the best years of his career came after he joined Mercedes in 2013. Between 2014 and 2020, Hamilton won the drivers' championship in each year except 2016.
During his consecutive title runs, Hamilton had a tense rivalry with teammate Nico Rosberg, who won the 2016 F1 championship after finishing as a runner-up in two previous seasons. After Rosberg's retirement in 2017, Hamilton engaged in tough battles for the championship with Sebastian Vettel.
Hamilton is known for having an aggressive driving style with the ability to accurately gauge the limits of the car and quickly adapt to the changing track and car conditions.
4. Ayrton Senna – 1984 to 1994
Ayrton Senna (right) and Alain Prost at the Canadian Grand Prix in 1988 | Image Courtesy: Wikimedia Commons
Championships: 3 (1988, 1990, 1991)
Career Wins: 41
Ayrton Senna is one of the most dominant and successful Formula 1 drivers in the sport's history. He won three driver's championships between 1988 and 1991.
Senna made his Formula 1 debut at the 1984 Brazilian Grand Prix with the Toleman Motorsports team. He finished his debut season at 9th position in the Drivers' Championship with 13 points.
The Brazilian spent three seasons with Lotus-Renault from 1985 to 1987 before joining McLaren in 1988.
His time with McLaren was significant not just because he won all three of his championships with the British constructor but also due to his partnership with Alain Prost.
In 1988, Senna joined world champion Alain Prost at McLaren to create one of the most formidable teams in sports history. In their first season, the duo won 15 out of 16 Grand Prix between them, while Senna secured his first world title. Prost won the championship the next year, in 1989.
However, behind their dominant team performance was the intense professional rivalry, which led to numerous incidents and battles on the track between the two drivers. The Prost–Senna rivalry continued even after Prost left McLaren to join Ferrari in 1990.
Ayrton Senna's Formula 1 career was cut short by a horrific accident during the 1994 San Marino Grand Prix, eventually leading to his death.
3. Michael Schumacher – 1991 to 2012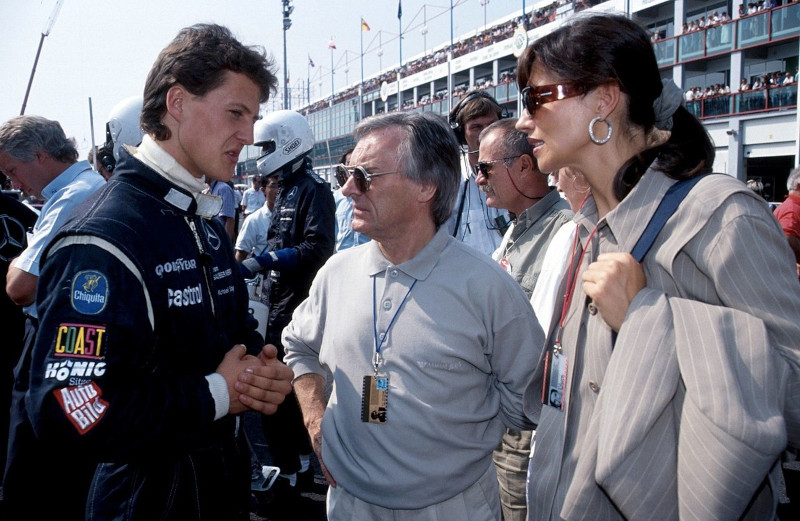 Michael Schumacher (left) with Bernie Ecclestone at a race event in September 1991 | Image Courtesy: Wikimedia Commons
Championships: 7 (1994, 1995, 2000 – 2004)
Career Wins: 91
Michael Schumacher is a name that doesn't need any introduction. He is to Formula 1 what Michael Jordan is to NBA.
Schumacher is largely responsible for popularizing Formula 1 in the 21st century, especially in countries where it was earlier deemed as an obscure sport. He is considered by many fans and drivers as the greatest F1 driver in history.
In 2020, Formula 1 conducted a survey to determine the most influential individual in F1 history. About 61 percent of the responders voted for Schumacher ahead of Bernie Ecclestone, the former CEO of the Formula One Group.
Michael Schumacher has perhaps the most decorated career in Formula 1 history.
Schumacher has won a record seven World Drivers' Championships (which he now shares with Hamilton), the second most Grand Prix wins (91), the second most wins in a championship year (18), and the percentage of wins in a season (72.22%) both in 2004.
But, perhaps his most striking achievement is winning five straight world championships from 2000 to 2004. Lewis Hamilton came close to equaling this record with four consecutive titles between 2017 and 2020 but lost the 2021 championship to Max Verstappen.
Throughout his F1 career, Schumacher was known for his superior athletic abilities that allowed him to perform at a very high level for long periods during a race.
He is widely considered a pioneer of modern fitness regimes and conditioning in Formula 1.
Formula 1 Records Held by Schumacher
Despite retiring in 2012, the German still holds over a dozen Formula 1 records. Some of them are –
Most consecutive titles – 7
Most wins at the same Grand Prix – 8 (French Grand Prix).
Most fastest laps – 77 (2001 Australian Grand Prix).
Most consecutive seasons with a win – 15 (1992-2006).
Most consecutive top-two finishes – 15 ( 2002 Grand Prix Brazil – Japan)
2. Alain Prost – 1980 to 1993
Prost driving a McLaren MP4/2B in 1985 | Image Courtesy: Lothar Spurzem
Championships: 4 (1985, 1986, 1989, and 1993)
Career Wins: 51
Alain Marie Pascal Prost is one of the best and most successful Formula 1 drivers of all time. Prost was nicknamed "The Professor" due to his meticulous approach to racing.
He perfected an economical or conservative style of starting a race – going easy on tires and brakes at the start – which allowed him to put a fierce late race challenge.
Prost's elite driving skills and planning allowed him to take on formidable opponents such as Nelson Piquet, Nigel Mansell, and, most notably, Ayrton Senna. The rivalry between Alain Prost and Senna, who were teammates at McLaren for two seasons, is widely considered the fierce and most controversial in F1 history.
Prost himself had a controversial career. He started his Formula 1 journey in 1980 with McLaren but left after just one season to join Renault. In 1984, he returned to McLaren and joined already two-time world champion Niki Lauda.
Prost nearly won his first World Drivers' Championship in the 1984 F1 season when he lost the lead to Niki Lauda by just 0.5 points. Prost's seven Grand Prix wins in that season equaled the record set by legendary British driver Jim Clark in 1963.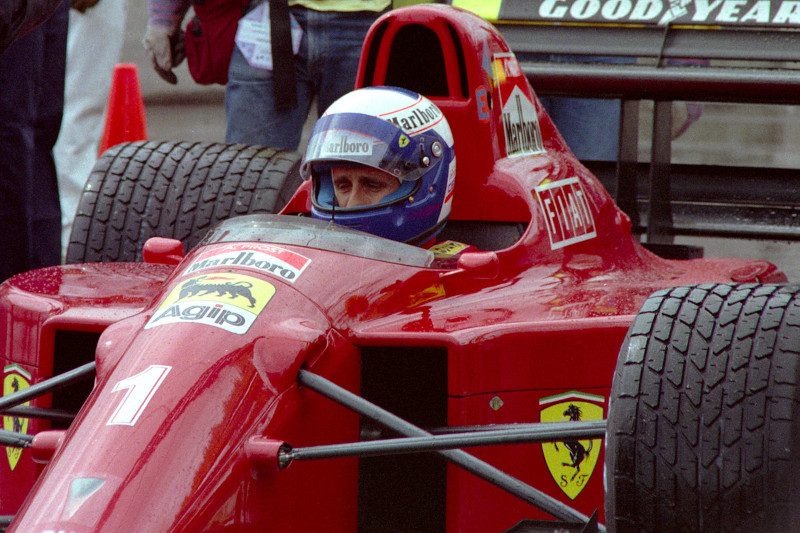 Prost during a practice session in the 1990 United States Grand Prix | Image Courtesy: Stuart Seeger
Nevertheless, Prost became the world champion in 1985, the first-ever French driver to do so. In 1986, he successfully defended his title and became the only driver since 1960 (Jack Brabham) to achieve this feat.
In 1988, he achieved his 28th Grand Prix win and surpassed Jackie Stewart's record for most race victories. Prost won his third world championship with McLaren, before signing for Ferrari.
He earned his fourth last F1 title in 1993.
1. Juan Manuel Fangio – 1950 to 1958
Fangio driving a Maserati 250F at the 1954 Argentine Grand Prix
Championship: 5 (1951, 1954 – 1957)
Career Wins: 24
Juan Manuel Fangio, nicknamed "The Master," was an Argentine racing car driver and an iconic figure in Formula One racing in the 1950s.
Fangio won a total of 5 world titles between 1951 and 1957. He held the record for most drivers' championships for a staggering 46 years until it was broken by Schumacher in 2003.
As of 2023, only two F1 drivers have won more titles than Fangio – Lewis Hamilton and Michael Schumacher (seven titles each).
Unlike most Formula 1 drivers today, who start their professional career as early as 17 years of age, Fangio made his Formula 1 debut in his late 30s. Fangio won his last title in 1957, at the age of 46 years, making him the oldest world champion to date.
In 2020, The Economist published a report in which Formula 1 champions were ranked based on their overall impact on the sport. It argued that during the initial years of Formula 1, drivers relied more on skills for the team's points than their cars.
Similarly, Carteret Analytics, an advisory firm that uses quantitative analysis methods, also ranked Fangio as the best F1 driver above Lewis Hamilton and Michael Schumacher.
Perhaps one of the biggest reasons why Fangio is often considered the greatest Formula 1 driver is due to his high agility and consistency.
He is the only F1 driver in history to have won world titles with four different teams. Schumacher won seven titles with two teams, while Hamilton won all with Mercedes.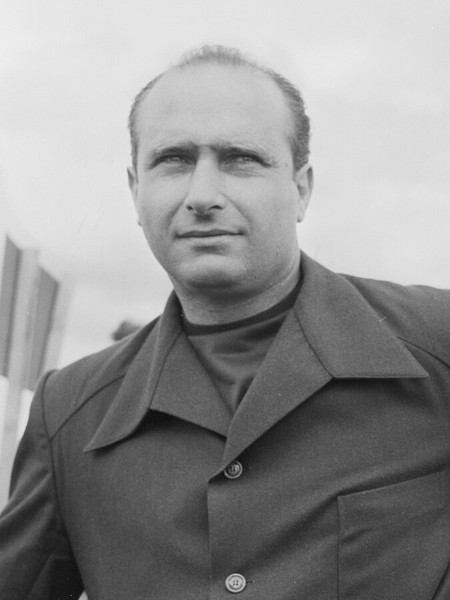 Juan Manuel Fangio in 1955
F1 Records Held By Juan Manuel Fangio
At 46.15 percent, Fangio has the highest winning percentage in Formula One, winning 24 out of 52 races.
He also holds the record for the highest pole position percentage at 55.77% (29 pole positions from 52 entries).
The only Argentine driver to have won the World championship.
Other Notable Formula 1 Drivers
1. Jackie Stewart – 1965 to 1973
Jackie Stewart celebrating his win at the 1969 Dutch Grand Prix.
Jackie Stewart nicknamed the "Flying Scot," is a legendary figure not just in Formula 1 but the entire world of motorsports. Before Lewis Hamilton, Jackie was the most successful British Formula 1 driver, with three world drivers' championships in 1969, 1971, and 1973.
However, these championships are not the only reason why Jackie is one of the greatest of all time. He is perhaps the first outspoken advocate of a higher standard of safety in racing sports.
Jackie rigorously campaigned for safety barriers on race tracks, improved emergency services, and mandatory seatbelts for drivers. For his efforts, Jackie even received criticism from organizers and track owners.
Interesting Fact: In 1996, Jackie Stewart founded a Formula 1 team called the Stewart Grand Prix with his son Paul. In 2000, the team was acquired by Ford Motor Company and was rebranded to Jaguar Racing. It was eventually sold to Red Bull in 2004 and became Red Bull Racing.
2. Alberto Ascari – 1950 to 1955
Alberto Ascari was an Italian racing car driver who won two back-to-back Formula 1 drivers' championships in 1952 and 1953.
Ascari was considered one of the most talented drivers of his era. Before becoming a professional racing car driver, he competed in motorcycle racing.
His father, Antonio Ascari, was a talented racing driver himself, winning four Grand Prix (precursor to Formula 1) before his death in 1925.
Alberto Ascari still holds the record for the highest percentage of wins in a season – 75 percent (1952 season). He also holds other F1 records, including the most consecutive fastest laps (7), and the most consecutive laps in the lead (304).
3. Jack Brabham – 1955 to 1970
Brabham during 1966 Dutch Grand Prix practice | Image Courtesy: Anefo/Eric Koch
Sir Jack Brabham was the first Australian driver to win the Formula 1 championship. He is also the only Australian to win the F1 championship more than once (1959, 1960 and 1966).
In 1944, at the age of 18, Brabham joined the Royal Australian Air Force to become a pilot, but he ended up as a flight mechanic. After leaving the Air Force, Brabham started a service and repair business, which eventually led him to midget car (speedcar) racing.
Jack Brabham started his Formula 1 career in 1955 with British constructor Cooper Car Company. He won the drives' championship thrice in 1959, 1960, and 1966.
Interestingly, Brabham won the 1966 championship with his own Formula 1 constructor team – Brabham Racing Organisation, which he founded in 1960.
4. Nelson Piquet – 1978 to 1991
Nelson Piquet is one of Brazil's greatest and most successful Formula 1 drivers. He is one of the only three drivers to have won the F1 championship in history; the other two are Ayrton Senna and Emerson Fittipaldi.
Piquet won his first Formula 1 championship in 1981 with 3 Grand Prix wins and seven podium finishes. His second title in 1983 was special as it was the first F1 championship to be won by a driver using a turbocharged engine.
Piquet's third and last F1 championship came in 1987, in which he defeated his teammate Nigel Mansell. The 1987 season was marred with controversy as Piquet was named the champion despite winning fewer races than Mansell.
Read More