The role of farm management tools has emerged as a pivotal force driving sustainability, efficiency, and profitability in modern farming.
Modern farming generates massive volumes of data, which include information about soil and crop conditions, machinery performance, and weather patterns. The software gathers and analyzes this data to provide detailed insights that can help farmers make better decisions, such as
what and when to plant
how to allocate resources, and
how to fertilize and reduce waste.
These tools don't just replace pen and paper but revolutionize how the agricultural industry functions, from family-owned farms to large-scale agribusiness operations.
Below, we have shortlisted the 13 best farm management software platforms available in the market. Each offers a unique combination of features, capabilities, and benefits, catering to the broad needs of farmers and agricultural professionals worldwide.
10. Agworld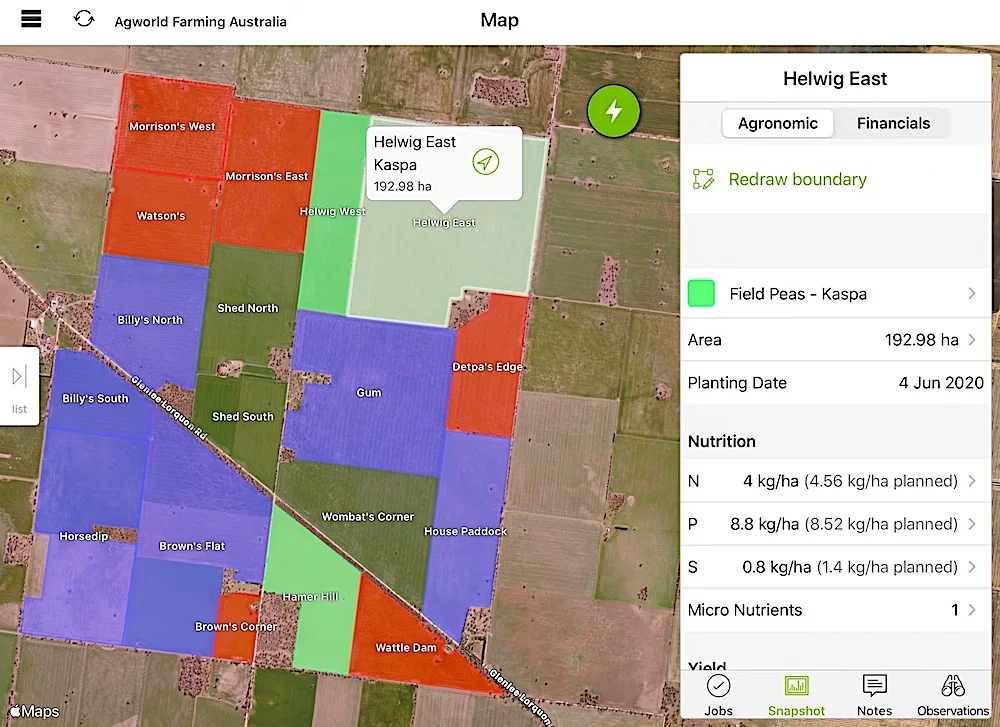 Precision crop management platform
Agworld provides a central repository for all farm data, including field records, financial information, crop plans, and weather patterns. It comes with a wide range of tools to help farmers and agricultural professionals make better decisions related to budgeting, optimizing operations, and forecasting yield.
Key Features
Collects data from field sensors, weather stations, and machinery
Accurately maps out fields, recording boundaries, soil types, and historical data
Helps farmers manage field operations like spraying, harvesting, and planting
Offers offline access to critical product labels and safety information
The platform assists farmers in planning their crop rotations, creating budgets, and tracking expenses. It provides detailed insights into the profitability of different crops and methods.
Plus, it integrates well with precision agriculture technologies like variable-rate application devices and yield monitors. This makes it easier for farmers to manage seeds, fertilizers, pesticides, irrigation water, and other resources.
Farmers can also track their compliance with regulations, such as pesticide and fertilizer use. The platform automatically alerts when someone approaches compliance limits.
As for pricing, Agworld offers three plans:
Basic ($1,695 per year)
Plus ($2,795 per year)
Pro ($3,995 per year)
The basic plan is designed for the digital record keeper and covers all agronomic insights. The plus plan is for the forward-thinking team and connects agronomic insights with financial records. The Pro plan facilitates data-driven operation and allows you to build custom reports.
9. AgriWebb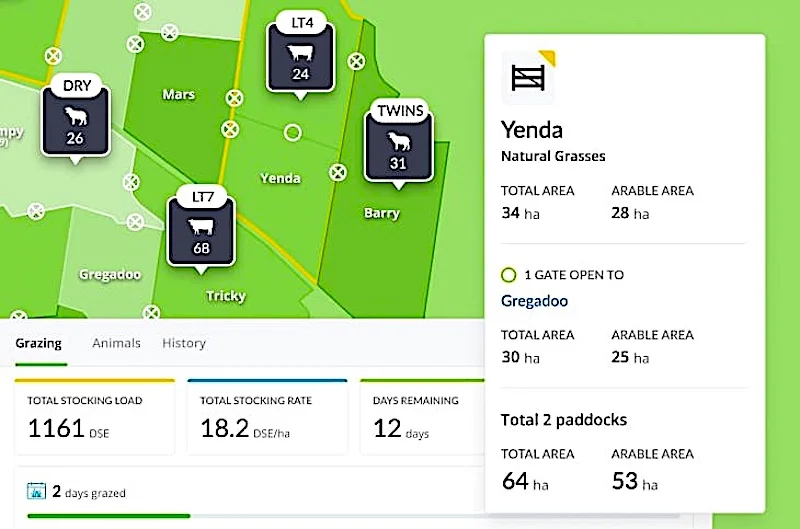 Livestock operations management tool
AgriWebb helps farmers and livestock producers efficiently manage their agricultural operations. They can record data about individual animals, including weights, movements, birth dates, and health records. This data makes it easy to track the performance and health of the herd or flock.
Livestock producers can keep track of animal breeding data (such as breeding dates and offspring information) to improve the genetics of their herd.
Track vaccinations, treatments, medical histories, and health events of livestock — all in one place. This data is crucial for maintaining animal health and complying with regulations.
Key Features
Interactive farm map
Tracks the movement of animals from birth to slaughter
Weight projections and insights
Includes audit compliance & biosecurity tools
With AgriWebb, you can also optimize grazing practices by monitoring pasture growth and utilization. This would help you make more informed decisions about how to move your livestock to maximize pasture health and productivity.
The platform facilitates collaboration and communication among farm team members, external partners, and stakeholders. This is useful in effectively coordinating tasks, sharing vital information, and ensuring everyone is on the same page.
According to the company's official website, AgriWebb manages 10% of the national Cattle and Sheep stock across 35 million acres. Its users have witnessed a 20% increase in livestock production performance.
8. Farmbrite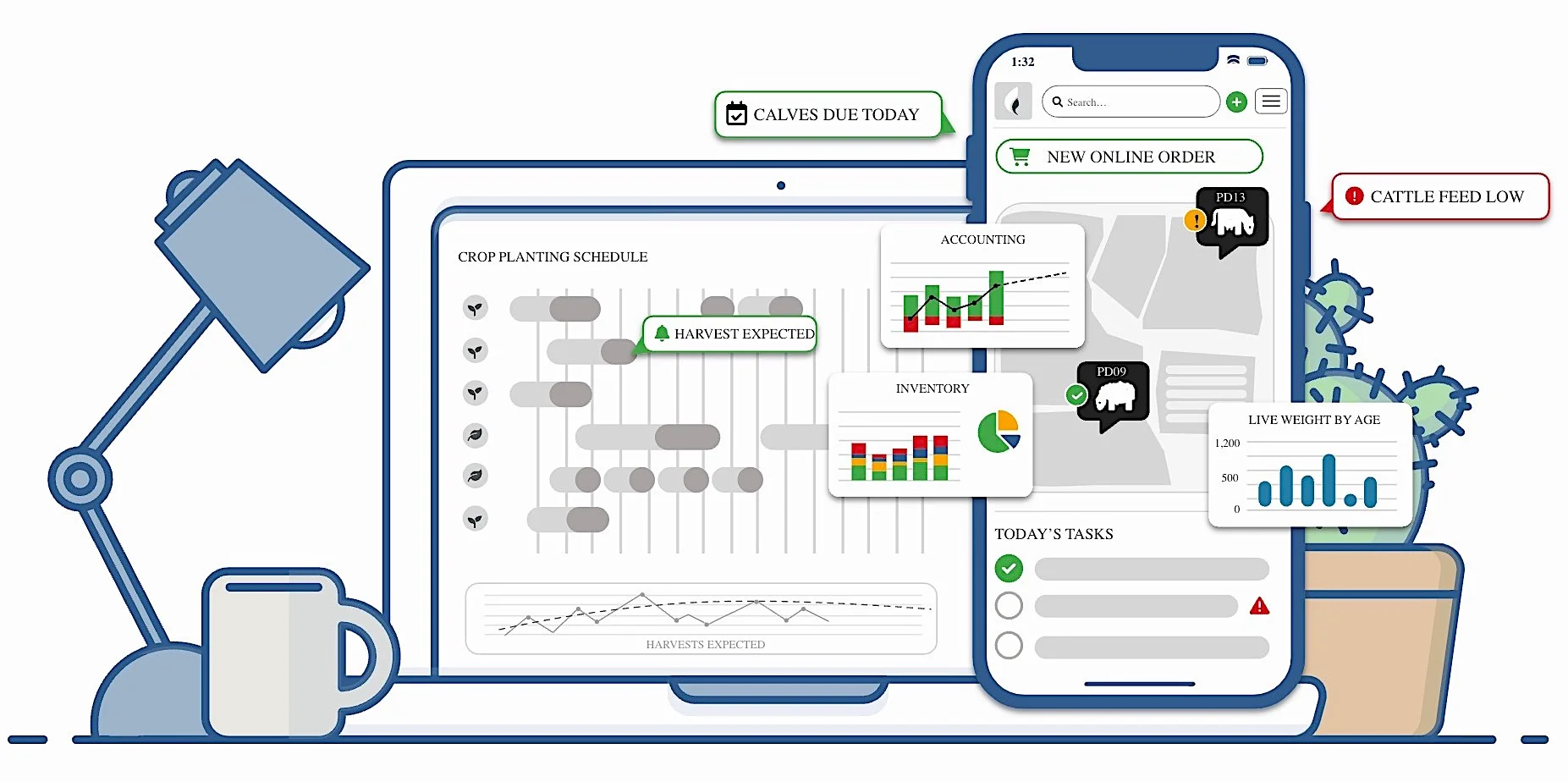 Streamlined farm record-keeping and finance
Farmbrite is a smart farm software built to cater to the needs of multi-species and biodiverse farms and ranches. It is packed with several tools to streamline various aspects of farm management, reporting, and sales — all within a user-friendly interface.
It offers a centralized hub for livestock record-keeping, including in-depth information on poultry, goats, pigs, sheep, cattle, and other multi-species livestock. This encompasses tracking, breeding, and health management.
You can also easily manage livestock sales within the software. It generates detailed reports, allowing you to track your livestock inventory and monitor sales performance.
Key Features
Track and improve soil and livestock health
Yield and income projections
A fully integrated e-commerce platform
Financial reporting and cashflow analysis
Moreover, the platform features 40+ pre-built, farm-specific reports, integrated dashboards, and custom report options. This makes it easier for you to get instant insights into different aspects of your farm, from production to sales.
It also assists you with organic certification and compliance reporting, simplifying the often complex documentation required for farm certification.
The basic plan, which includes essential digital livestock record-keeping and health and management tools, costs $29 per month.
In terms of user feedback, Farmbrite boasts an impressive 4.7 out of 5 rating on Capterra.
7. AgSquared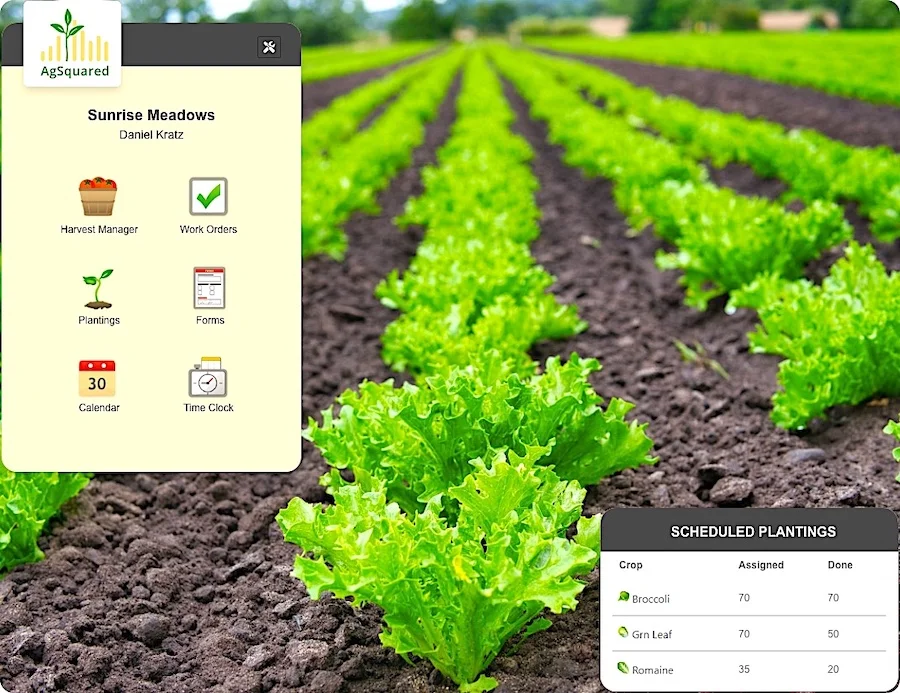 Farm planning and task management software
AgSquared is designed to assist small to medium-sized farms and agricultural operations in planning and optimizing their farming activities. It comes with various tools to help farmers streamline their workflow and make data-driven decisions.
For example, AgSquared has a precise tool for mapping fields and recording crucial information about each field, such as soil types, boundaries, and historical data. It can also be integrated with GPS systems for precise planting and harvesting activities.
There are tools to manage important resources like fertilizers, pesticides, and irrigation. You can easily track resource usage, monitor inventory levels, and plan resource purchases.
Key Features
Real-time data collection and reporting
Resource and financial management
Task and labor management
Facilitates collaboration with other team members
Chemical label compliance and on-demand food safety documentation
The platform allows you to create custom reports to test and trace different parameters and achieve new outcomes for your farm business. All reports are relevant, accurate, and available on demand.
Like most other farm management platforms, AgSquared integrates weather data to provide forecasts and historical weather information. This helps you make weather-dependent decisions like irrigation scheduling and pest management.
It also helps you stay compliant with food safety and environmental regulations. This saves you from hefty fines and penalties that could otherwise burden your operations.
On Capterra (an independent review platform), users have rated it 4.2 out of 5.
6. FarmERP
All-in-one software for sustainable and data-driven farming management
FarmERP is designed to address the complex and varying needs of modern agriculture. It offers a range of tools to help farmers and agribusinesses plan, manage, and optimize their farming activities.
It streamlines farming activities by handling various tasks, from harvest planning to finance. This makes managing product supply and demand easier, ultimately leading to increased profits.
The platform also simplifies tree inventory, cost tracking, and growth monitoring with tree encoding and geo-tagging.
Its intelligent data insights aid in timely decision-making. You can visualize crucial data like resource utilization, crop performance, and financial metrics to further optimize your farming strategies.
Unlike most other platforms, FarmERP offers unique customization and integration options (including smart hardware devices and legacy financial software) for a tailored solution.
Key Features
Farm profile module for mapping the crop and land infrastructure
Production module to track farm-level or greenhouse activities
Can be integrated with drones
Satellite imagery analysis
FarmERP can use satellite images and smart technology to detect pests and crop diseases. This helps financial companies and insurers determine how healthy the crops are and forecast how much they will produce.
So far, the platform has been deployed in 30+ countries in across Europe, Africa, the Middle East, and Southeast Asia. It has been used in cultivating 120 crop varieties, spanning over 675,000 acres of land.
According to the company, its FarmERP platform has directly or indirectly assisted 1.5 million farmers, empowering them to achieve higher productivity, improved sustainability, and increased profitability.
5. AGRIVI
Empowering Agriculture through valuable, real-time insights
AGRIVI is used by farmers in over 110 countries. It has helped them increase their yields, reduce expenses, and improve sustainability.
What makes it special is its ability to collect and analyze data in real-time. It can gather information from various sources, including weather stations, sensors, and satellite imagery.
Once the data is collected, AGRIVI quickly analyzes it to provide insights into the crop's health and growth. It also offers multiple tools (including crop yield prediction models, irrigation scheduling software, and pest and disease management tools) to help farmers make informed decisions about their crops.
Key Features
Real-time insights into pest risk, weather conditions, crop health by field
Ensures compliance with food safety and sustainability standards
Provides recommendations based on crop progress
Integrate ERP tools to synchronize inventory and production costs
There is a collaboration tool that allows farmers to communicate with each other, as well as with food processing businesses. It improves the overall efficiency of the agri-food system.
Farmers can also adopt sustainable practices like crop rotation and water conservation to protect the environment and ensure the long-term viability of agriculture.
The platform has won several awards and recognitions in recent years. In 2021, for example, it won the UN FAO award for Agriculture innovations systems and sustainable farming. In the same year, it was listed as one of the fastest-growing EU companies in the Financial Times.
4. Conservis
Sustainable farm management and analytics
Conservis cultivates a data-driven agricultural ecosystem, unlocking opportunities for operational streamlining, precise yield tracking, financing, improved decision-making, and profit maximization across the farm.
The platform allows you to track the crop health and identify potential problems early on. It also lets you track and categorize expenses like input costs, labor, machinery, etc.
The platform makes it easy to track revenue generated from crop sales and other sources. It automatically generates financial reports and forecasts, aiding in budgeting and financial planning.
Key Features
Track your plans vs. actual results
Compare yields, cost of production, and profit margins for crops and seed varieties
Generate reports for crop insurers and regulatory compliance auditors
Implementing solutions through ESG awareness and adoption
To help you understand the true production costs, Conservis integrates agronomic and economic data with tools like Zone Economics.
Furthermore, you can view the impacts of your decision by asking questions — show me the yield harvest efficiency or cost per hectare on these blocks and compare these results with these specific blocks. This is how you can visualize the cost-benefit and plan things further.
Conservis has got a rating of 4.8 and 4.7 (out of 5) on G2 and Capterra.
3. Granular Insights

Data-driven financial analysis for farms
Granular Insights is a comprehensive farm management platform designed to empower farmers and their advisors with accurate insights and tools to enhance crop planning, field management, and profitability.
Farmers can create intelligent field plans that adapt to changing scenarios. These plans can optimize planting rates, placement for each acre, and crop variety, maximizing seed investment and yield potential.
The platform can also automatically generate field-specific plans that include planting rates, valuable recommendations, and optimal placement based on factors such as seed price and targets.
Key Features
3-meter resolution satellite imagery
Compare profits on each acre
Collaborate with advisors by working from a single, shared tool
95+ years of agronomic data and research to validate seed performance
It also features a single, shared tool that allows farmers to collaborate with their advisors and team members. All users can share data from different sources (like the John Deere Operations Center or monitoring systems) and evaluate the impact of different factors on yield by comparing side-by-side financial and agronomic map layers.
There is an optional feature called Directed Scouting, which gives you access to high-resolution satellite imagery and weekly email alerts. This helps you relocate resources and address issues more efficiently.
2. Bushel Farm
A platform for financial, agronomic, and marketing decisions
Bushel is an independently owned software company that specializes in providing farm technology solutions for farmers, grain buyers, protein producers, ag retailers, and food companies. It addresses key challenges and enhances operational efficiency within the agricultural supply chain.
Bushel Farm's primary focus is on solving real-world problems in agriculture, including paper-based tracking, delayed payments, and workforce shortages. It seeks to replace tedious tasks with digital solutions that streamline operations across the entire agricultural supply chain.
The platform offers a ground-level view and a big-picture perspective of a field's operational and financial performance. It allows farmers to access various farm records, such as field maps, machinery data, inventories, grain sales, land agreements, satellite imagery, scouting notes, and more.
Key Features
Field mapping
Recent rainfall & email notifications
Profit and Loss reports
Contract management and electronic signatures
Plus, it makes it easy for farmers to get valuable insights (for decision-making) and share them with trusted partners. Key insights include production costs, market conditions, and profit and loss analysis at the farm and crop levels.
The company has also developed a mobile app that gives farmers easy access to all crucial records, including field maps, activities and inputs, and work orders.
Users have rated Bushel Farm 4.8 out of 5 on Capterra.
1. Trimble Ag Software
A suite of farm management tools to enhance their efficiency and sustainability
Developed by Trimble (a technology company known for its expertise in agriculture, construction, and geospatial solutions), Trimble Ag Software tools help farmers and agricultural professionals streamline their operations, improve productivity, and make informed decisions.
This centralized platform can handle diverse aspects of farm operations, from crop planning and scheduling to weather forecasting and compliance reporting.
You can create, manage, and sync resources for fieldwork from several locations. It offers access to real-time data, ensuring you have all the information you need to effectively manage your farm and maximize profitability, irrespective of your location.
Key Features
Centralized management
Automatically synchronizes various types of data
Integrates with third-party farm management software platforms, such as Raven and AGCO
Unlike any other platform, Trimble features an app store for farmers called App Central. It is specifically designed to work on Trimble's Android-based display screens.
These displays are like specialized tablets that farmers can use in their tractors and equipment. They can browse and download various apps, such as mapping apps, weather apps, and other tools for managing farm operations. These apps have been tested and approved by Trimble.
The platform also facilitates communication among team members through live updates and prescription file sharing. This ensures that everyone on the team has access to the information they need to manage their tasks efficiently.
Other Equally Good Farm Management Tools
11. Farmers Edge
Satellite-based precision agriculture insights
Farmers Edge employs a network of weather stations, satellite imagery, soil probes, and other data sources to gather real-time and historical information about farm conditions. It provides field-level data, allowing you to make data-driven decisions for specific land areas.
The platform utilizes advanced analytics, artificial intelligence, and machine learning models to process data and generate actionable insights. It also uses predictive modeling to forecast crop yields and identify potential issues early in the growing season.
Key Features
Advanced analytics and crop monitoring
Weather monitoring and equipment tracking
Applied, yield data, and ROI reporting
Personalized recommendations based on data analysis
Farmers Edge also features variable rate technology (VRT) that generates prescription maps for variable rate seeding, fertilization, and pesticide application. This helps you allocate resources precisely, optimize input costs, and increase yields.
12. CattleMax
Livestock management for cattle operations
CattleMax is a cloud-based software tool designed for cattle ranchers and farmers to manage their herds more effectively and efficiently. It keeps all ranch records in one place, and its smartphone version makes updating and accessing records in the field easier than ever before.
More specifically, you can maintain detailed records for each individual animal. This includes birthdates, identification details, breeding history, and health records. You can even monitor the lineage and genetic traits of your cattle.
Key Features
Animal tracking
Herd management
Breeding and reproduction management
Track finances like feed costs, breeding expenses, and sales
As for health records, you can add or view vaccination schedules, medication administration, and other health-related activities for each animal. CattleMax also provides health alerts, notifying you about upcoming vaccinations or health checks.
13. FarmOS
An open-source web-based farm management platform
With FarmOS, you can efficiently plan, record, and manage multiple aspects of farm operations. This open-source platform is packed with a broad range of tools that support crop and livestock management, as well as sustainability and environmental monitoring.
It is developed by a community of researchers, developers, and farmers and is hosted on GitHub. Since it is built using a popular content management system called Drupal, it is highly configurable, scalable, and secure.
FarmOS features a special tool called Field Kit app that works on iOS and Android phones. It allows you to enter data even when you are not connected to the Internet.
Key Features
Equipment and asset management
Create to-do lists and assign tasks to team members
GPS and weather data integration
Budgeting and Financial Reports
You can maintain records necessary for regulatory compliance and certifications, such as organic farming certifications. Or use the software to adopt sustainable practices like crop rotation and water conservation.
More to Know
Important factors to consider when choosing a farm management platform
While selecting the right farm management platform can be a daunting task, it's important to take the time to do your research. You must consider several crucial factors when making this choice:
Farm type and size: Some platforms are better suited for small family farms, and some are designed for large commercial operations or certain types of farming like livestock or crop farming.
Cost: Understand the pricing model. Align your budget with upfront costs, subscription fees, and any additional charges for support or training.
Features and Customization: Look for features like crop and livestock management, financial management, weather tracking, compliance reporting, and precision agriculture integration. Since every farm operates differently, you should be able to tailor the software to your specific needs.
Reporting and Analytics: It should generate insightful reports on financial performance, crop and livestock health, resource usage, and more. This will help you make informed decisions.
Compatibility: Ensure the software is compatible with existing technology infrastructure, including software or equipment (weather monitoring tools or GPS devices) you use in the firm.
Compliance and Regulations: The platform should keep you updated with the latest agricultural standards, environmental regulations, and reporting requirements.
Long-term Viability: Assess the vendor's reputation among other users, its financial stability, and its commitment to long-term development and support. You don't want to invest in tools that may become obsolete or unsupported.
Can small farm owners benefit from farm management software?
Yes. Small farm owners can use such software to track resources (like seeds, fertilizers, and pesticides), manage inventory, schedule tasks, and monitor livestock health.
These software platforms help you analyze every piece of data and make better decisions about crop selection, resource allocation, and budgeting. Plus, they save you a lot of time and effort spent on paperwork and data entry.
Most of these farm management platforms feature weather forecasts and market analysis tools to help you make timely decisions about planting, irrigation, and selling crops at the best prices.
Farm management software market scope
The global farm management software market is expected to reach $5.1 billion by 2028, growing at a CAGR of 11.1%. This steady growth can be attributed to the increasing use of Artificial Intelligence and Machine Learning in agriculture.
Additionally, the ever-increasing global demand for food production (coupled with the escalating costs of agricultural inputs) has put pressure on the farming industry to seek innovative solutions. The need for compliance and the widespread adoption of precision agriculture techniques have also contributed to the market's growth.
Why you can trust us?
We thoroughly analyzed over 25 farm management platforms that can reliably track various data and automate operations. It took about 15 hours to do the complete research. Finally, we decided to shortlist 13 software tools based on their ability to track crop yields, manage livestock, automate tasks, manage finances, and predict profitability.
We DO NOT earn commission from any of the featured apps. Moreover, we have two independent editors who have no influence over our listing criteria or recommendations.
Read More
13 Best Agriculture Software Companies