Do you feel over stressed lately and having mental or physical breakdowns? Well, there is no need to be afraid as stress is an integral part of our lifestyle. Of course, it can have negative effects on your personal and public life, it can even destroy your career or could cause even worse. While there are many ways one can bust their stress, the world has got hang of something new lately and it is efficient too.
Fidgets are small but powerful gadgets that help in stress relief. They also work perfectly for people suffering with anxiety. So if you are experiencing stress why don't you give it a try, but you should also be aware of its possible side effects. Here, we have compiled 25 of the best fidget spinners that you can easily buy online. Select which one is best for you.
25. Mizzuco Luminous Tri-Spinner
Price: $1.89
Mizzuco luminous fidget is a good choice for releasing stress and anxiety, it also helps person dealing with ADHD and autism. It is small, so you can carry it wherever you like. It is perfect for anyone who wants to kill time.
24. New Style Fidget Hand Spinner
Price: $2.79
This is a small and simple fidget packed with lots of fun and it's also very effective in releasing stress, increasing focus and prompting deep thought. On average, it can spin around 1-3 minutes non-stop, but with rapid strokes at regular intervals you can keep it running indefinitely.
Price: $2.95
This amazing fidget spinner is a powerful tool for people suffering from ADHD. Because of its lite and small body structure, it is quite easy to carry the fidget here and there. It is effective for focusing on something and drowning into the deep thoughts. To use it, hold the fidget in one hand and use the other hand to propel it rapidly using continuous strikes to keep it spinning indefinitely.
22. Mmrm Light Fidget
Price: $2.40
Another great fidget that you can use to release your stress and anxiety.
21. Stress Spinner Fidget
Price: $2.19
What can possibly be a better stress reliever than a colorful fidget. With the help of this shiny spinner fidget you can say goodbye to stress and calm your nerves. It is durable and long lasting. On an average it can revolve up to 3 minutes with just one strike. It is compact, lightweight and suitable for both kids and adult.
20. Shield Fidget
Price: $1.03
Heavily based on a superhero theme, this fidget spinner provides you with the perfect tool to play with. It can help you release stress and anxiety in a cool way. It is made of Aluminum Alloy, which makes it lite and gives a longer spin time of 3-5 minutes (it's actually based on your striking intensity). You can use this while standing in a queue, waiting for a bus or something, while in the office, etc.
Price: pre order
Are you feeling lot stressed lately? Or affected with attention deficit disorder, but you don't want any pen or any regular rotating fidget? Well, that's not a problem anymore. The infinity cube provides you a pretty amazing way to release your stress, it will also improve your focus, allowing you to concentrate on your current task.
Price: $10.40
Here is a really addictive fidget for you. It consist of a marble inside a plastic tube. You can use it to kill time or fight anxiety, it is also a great tool to increase your concentration. You can squeeze it, slide the marble back and forth, etc. The best part is that you can take care of it by washing as they generally last much longer.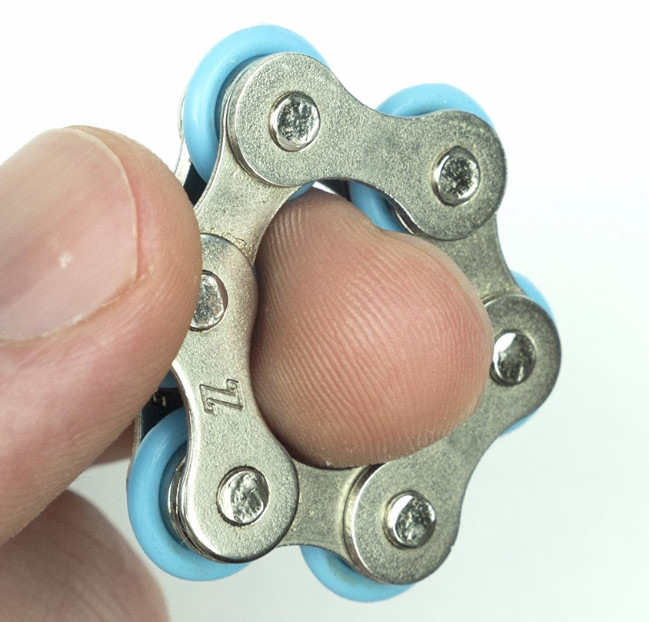 Price: $7.95
This interesting fidget is made with six chain wheels and a silicone band, which makes it perfect for hours of silent fidgeting. If you suffer from anxiety or lack of concentration, this fidget will help you to relax and focus. It is suitable for kids over 10 years old.
16. Magic Hand Spinner
Price: $99
The magic hand spinner is a good choice for killing time. It's made up of premium materials which can possibly justify its rather high prices. You can use this fidget in two different ways, either you spin the gadget from the center or roll a single wheel at a time. It is suitable for kids over 10 years old.
15. Fiddle Balls
Price: $10
According to a research paper, A Philosophy of Fidgets done by Steven Connor, the steel made fiddle balls are a perfect device for fidgeting. You can release the stress by rolling them or shaking them in your hands. They are also pretty lite, plus you get to own a nice pouch, which comes with each pair.
Price: $8
This fun fidget can greatly benefit people affected by autism, ADHD, anxiety and stress. With its simple movements and colorful bands, it can help you to concentrate and relax. It is lite and compact so that you can use it at home or carry it in a conference at the office. It also comes with exciting color combinations like blue-green and pink-purple.
Price: $13.49
This is actually a therapy device based on the new ergonomic approach for stress relief. The twistable, latex free rubberized tangle is a powerful tool for calming anxious moments. And it is suitable for people of all ages.
Price: $64.95
The design of this fidget is truly unique. It offers countless hours of entertainment and perpetual motion, so you can say goodbye to your stress forever. Orbiter has a hand spinner, a trackball and a spinning top, which means there are numerous ways for you to have endless hours of fun.
11. Squeeze Vent fidget ball
Price: $6.99
The fidget consist of many small, gel filled balls with a nylon mesh wrapped around it. So when you squeeze it, many bubbles will come out through the mesh. It is fun to squeeze, and children will love this. It can help them stay focused in school. For many adults who has anxiety problems, these squeeze balls can provide with a helpful distraction!
10. Bat-wing fidget spinner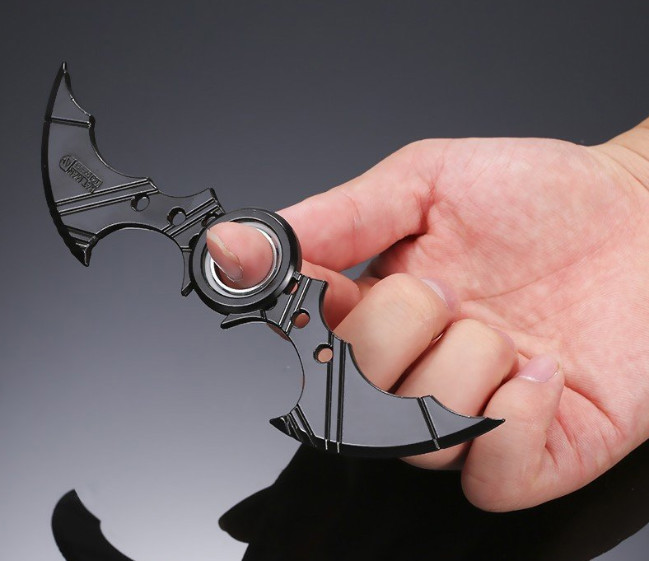 Price: $17
As a Batman fan, one may really fall in love with this amazing fidget. The Bat-wing fidget is carefully designed to resemble like the batarang, so it's really cool. You can use it at home, office or public places. While it's fun, it can also release stress, get rid of anxiety and stimulate deep thought.
9. CAVN 12-Side Fidget
Price: $13.99
Tired of clicking pens all the time? Well, here is an amazing fidget that you may like. This fidget gives you numerous ways for you to play, such as buttons, joystick, gears, switch, and stress ball. It is small and compact so you can carry this anywhere in your pocket. You can also present this to kids as a gift who can't keep their hands still and always want to play with something.
8. Titanium Fidget Spinner
Price: $105
To own a fine titanium made fidget you have to spend more. Yes, the price is a bit too much, but with Titanium Alloy you will have a long lasting fidget. It comes with a beautiful pink and green gradient which produces a pleasant color mix while spinning. On an average, it can spin for 2 minutes non stop.
7. Malltop LED Light Fidget Spinner
Price: $2.99
Here is a really cool fidget spinner for you. It comes with an LED and a switch, which you can turn on or off whenever you like. It looks awesome when you spin it with lights on. For a bonus, turn off the light of your room and then spin the fidget. The powerful button-cell batteries can keep the lights glowing for 20 Hours straight.
Price: $24
Fidgi is a multi purpose pen, which can be used as a normal pen as well as a fidget at the same time. The fidgi pen offers you endless fidgeting options to keep you busy and away from stress. In total, it has seven different features, including a click top, a spinning disc, a flip clip, clicking switch, and a rolling ball, plus it's a smooth textured grip pen so it's worth every penny.
5. KCHKUI Cube Fidget
Price: $8.99
The modern cube fidgets are largely inspired by traditional worry stones, a smooth, polished gemstones which are used to reduce anxiety. The KCHKUI cube comes with separate buttons, switches, dials and in many different inspiring designs. If you choose this, you'll find 3 clicker buttons, 2 silent buttons, and also comes with silver ball which you can click and roll.
4. Fidget hand spinner
Price: $40
This shiny little thing can keep you occupied all day long. Apart from using this for easing your own anxiety and increasing concentration, you can also gift it to your relatives and friends. I will be a perfect gift for kids and even for adults. The spinning motion lasts up to 5 minutes, but you can keep it going with small continuous strikes in a considerate interval of time.
Price: $19.90
This fidget comes in a pack of two black and white color combination. They can help in reducing your stress and keep you focused. You can use them anywhere, at the office, at home or even in the car when you are stuck in the traffic. With its revolutionary design, they can spin for over seven minutes non stop. Just put the spinner between your fingers and propel it in a spinning motion to get it started.
2. Steel Ball Tri-bar fidget spinner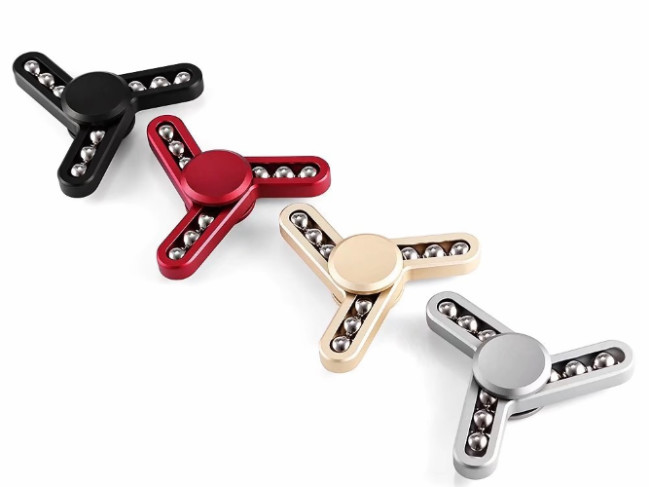 Price: $27
The tri-blade fidget spinners are perhaps most popular fidgets among the fans. It is simple yet stylish, lightweight so that you can play with it anytime you want. It is just a perfect toy for kids (above 3) and adults to release stress and anxiety. All you have to do is hold the spinner in one hand and spin it with the other one.
Read: 10 Most Expensive Gadgets in the World
1. Tir-Bar Copper Fidget Spinner
Price: $48
This fidget has all those things that you wished for. It is lightweight, colorful and long-lasting. You can use it anywhere, anytime, at school, college or at work. You can also gift it to your friends and family.
Bonus: Most Expensive Fidget Spinner
Price: $17,000
Read: 35+ Unique Gadgets For Geeks (Available Online)
Russian luxury jewelry specialists Caviar have created 4 high quality versions of the famous spinning toy. It is coated with 100 grams of gold. What else do you get for this whooping price tag? Well a lot of bragging rights.