Flight simulation games and apps are the perfect options for aviation enthusiasts who can't actually fly a plane. Simulators allow them to take control of their favorite aircraft with real-looking cockpits, take off from popular airports, and experience the environment in detailed 3D graphics.
While the most famous Microsoft Flight Simulator doesn't support the macOS, there are a lot of incredibly accurate simulation tools available for Mac.
Some are so incredibly detailed that they replicate the equations that govern how airplanes fly and how aircraft systems react to external factors like turbulence, cloud, wind shear, etc. Some are designed to be a bit easy to jump straight into. They are suitable for users who just want a virtual experience without getting into details.
Regardless of what style you prefer to play, there is a perfect simulator out there to meet all your requirements. Some are integrated with VR capabilities, so you can be physically active while experiencing all the fun of flying.
Below, we have compiled the list of best flight simulators for Mac (for both Intel processors and Apple silicon computers) that allow you to test your piloting skills in virtually challenging environments. The list also includes iOS apps that seamlessly run on Apple silicon Macs.
9. GeoFS
Developer: Xavier Tassin
Price: Free | Full version costs $13.99 a year
Rating: 4.1/5 from 400+
GeoFS is a multi-platform browser-based flight simulator that generates images through digital geographic and satellite data. You can either install the app (for iOS and Android devices) or run it for free in your browser.
The free version comes with three fully functional aircraft and a flyable region covering the French island of Corsica. It's great if you are just looking for fun flying in beautiful sceneries.
However, if you are a licensed pilot practicing VFR, the Pro version would be a better choice. It includes 11 aircraft, HD maps generated via Bing Maps, and a global flyable region. Plus, it allows you to fly in real-time weather conditions or configure parameters like clouds, fog, precipitation, wind, ridge lift, and thermal.
Key Features
Navigation charts with 40,000 referenced runways
Real-time commercial traffic
Six camera modes
Supports joystick
If you are running the simulator on Chrome, make sure you've enabled hardware acceleration. If you are running it on an older Mac machine, lower or disable the most performance-demanding options like resolution, anti-aliasing, shadows, etc.
8. AirFighters Combat Flight Sim
Developer: RORTOS SRL
Price: Free | Premium version costs $17.99 | In-app purchases ($2.99 per airplane)
Rating: 4.5/5 from 14,200+
If you are looking for a combat flight simulator, this is it. With AirFighters Combat, you can go on strategic missions and destroy ground, sea, and air targets.
It precisely simulates hundreds of real airports and runways, dozens of popular aircraft (including F-14 Super Tomcat and MiG-29K Fulcrum), and real-world weather conditions.
While the game has thousands of missions, you can create your own without any limitations. Publish your favorite missions and allow other users to rate them.
You can even engage in a Dog Fight and make things more interesting — Fight against a large number of enemies and destroy stronger jets to become a top gun. Unlock advanced weapons for each fighter jet.
Key Features
500+ real airports and 1100+ runways
Immersive gameplay with multiple modes
Create your own missions
Engage in Dog Fight
All aircraft are true to life in attributes, performance, and fuel capacity. Test each of them in vertical takeoff, navigate the entire world, and challenge yourself in difficult weather conditions.
7. F-Sim Space Shuttle
Developer: SkyTale Software GmbH
Price: $0.99
Rating: 4.6/5 from 800+ users
As the name suggests, F-Sim simulates the Space Shuttle approach and landing. Its unique rending engine combines realistic flight dynamics with stunning graphics to deliver an excellent gaming experience. The simulated GNC systems (guidance, navigation, and control) are perfect replications of their counterparts in the real spacecraft system.
Every flight begins at altitudes between 10,000 and 50,000 before banking into the heading alignment cone. Your job is to fly safely and land the Space Shuttle at its destination. And since it's a spacecraft, the descent approach is 6 times steeper and 2 times faster than a conventional airliner approach.
You are free to experiment under different external environments, varying wind conditions, and emergency scenarios or critical failures.
Once you touch the ground, the simulator will assign you a landing score. You can compare this score with your friends and chase the perfect landing. Watch replays at different camera angles.
Key Features
Built-in landing analysis and scoring system
Head-up display shows all the instruments real Space Shuttle
Compare landing performance with friends
No ads, no in-app-purchases
In order to help you get started, the simulator offers varying degrees of autopilot assistance. It also offers several tutorials that teach how to enhance your next landing.
6. Turboprop Flight Simulator
Developer: Alexandru Petre
Price: Free
Rating: 4.8/5 from 5,700+ users
Turboprop puts you in the pilot seats of various aircraft, ranging from the ATR 72 regional airliner and Airbus A400M military transport airplane to a concept seaplane PS-26 and concept VTOL aircraft XV-40.
Unlike most other simulators, Turboprop allows you to explore the aircraft interior in first-person, interact with components like doors and cargo ramps, load and unload supplies in cargo planes, and drive ground vehicles.
There are many different types of missions to keep you hooked. New users can start with training missions, which focus on teaching the fundamentals of taxiing, takeoff, and landing.
Adjust the measurement units of distance, altitude, and speed according to your preference (imperial, metric, and aviation standard).
Key Features
Multiple cameras and control options
Free-flight modes let you explore the world without restrictions
Detailed cockpits for all airplanes
Numerous islands with airports
The simulator uses the noises of real turbines and propellers to give you the most realistic engine sounds. It even supports partial and total airplane destruction — you can separate the full wings and tail or break the main fuselage.
5. Infinite Flight Simulator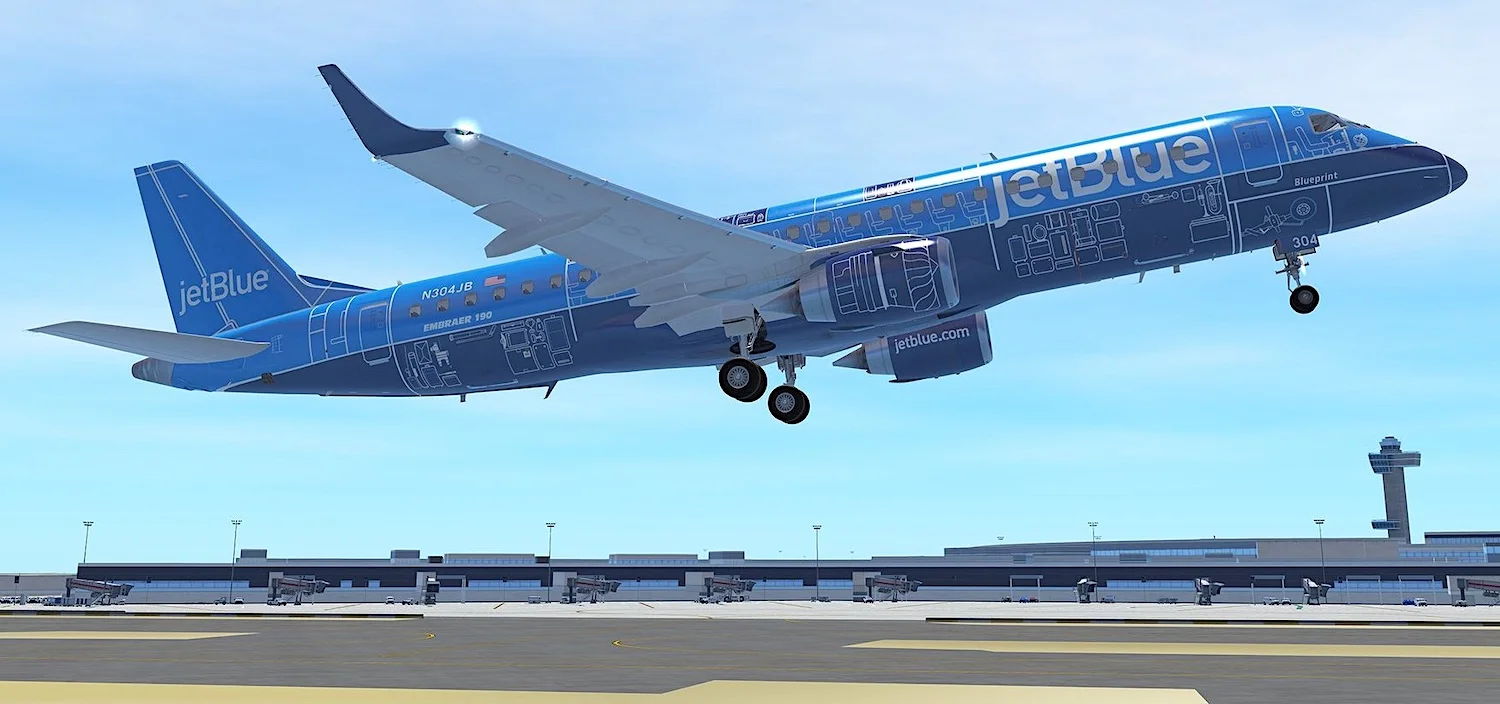 Image credit: Infinite Flight
Developer: Infinite Flight LLC
Price: Free | Pro version costs $9.99 per month
Rating: 4.2/5 from 16,000+ users
Built to satisfy aviation enthusiasts, Infinite Flight Simulator takes your passion for flying to new heights. It comes with dozens of airplanes, animated cockpits, hundreds of liveries, and real-world navigation systems.
The simulator uses the navigation data of NAVBLUE, an Airbus Company. This comprehensive database is already used by real-world air traffic management systems, onboard flight management systems, ground positioning systems, and mission planning systems.
In addition to the accurate global navigation database, the platform simulates a realistic external environment with the sun, moon, and stars. You can set the time of day to enjoy a beautiful noon departure, a scenic sunset cruise, or a night-time landing.
Advanced users can challenge themselves by adjusting the visibility, wind speeds and directions, and weather conditions.
Key Features
HD 15 meter/pixel satellite terrain imagery
Real-world navigation data
Customizable time and weather conditions
Weight and balance configuration
Advanced replay system
The company deploys multiple servers, so users can fly all across the world without experiencing any lag. While beginners can test their skills on the Casual Servers, skilled pilots can access the Expert Servers that strictly enforce the rules to offer the best flying experience.
Infinite Flight also has a training server where users can hone their flying skills while learning from YouTube Training Library and Documentation.
4. RFS – Real Flight Simulator
Developer: RORTOS SRL
Price: Standard version costs $0.99 per month | Pro version costs $3.99 per month
Rating: 4.6/5 from 12,000+ users
RFS gives you a unique experience of flying popular airplanes all across the world. Explore airports and sceneries with high-resolution satellite maps, as well as air traffic procedures, runways, and 3D buildings.
Unlike most other simulators, RFS allows you to chat with other pilots and join them in multiplayer games. There are multiple options to create and edit flight plans and interact with ATC controllers. Start with any available real-time flight and bring it to the destination.
Key Features
Real-time traffic for the 35 largest airports and their connected destinations
Personalize your instruments and gauges
Detailed airport view and flight plan
Multi-voice ATC procedures and communications
Chat with any multiplayer pilot
The interface is quite simple to use — you can easily adjust settings like sensitivity, input type, and copilot voice, see real-time flights and planned routes, and change camera views.
Overall, unique aircraft, realistic gauges, customized liveries, nuanced weather models, and accurate physics simulations make you feel like a real pilot.
3. FlightGear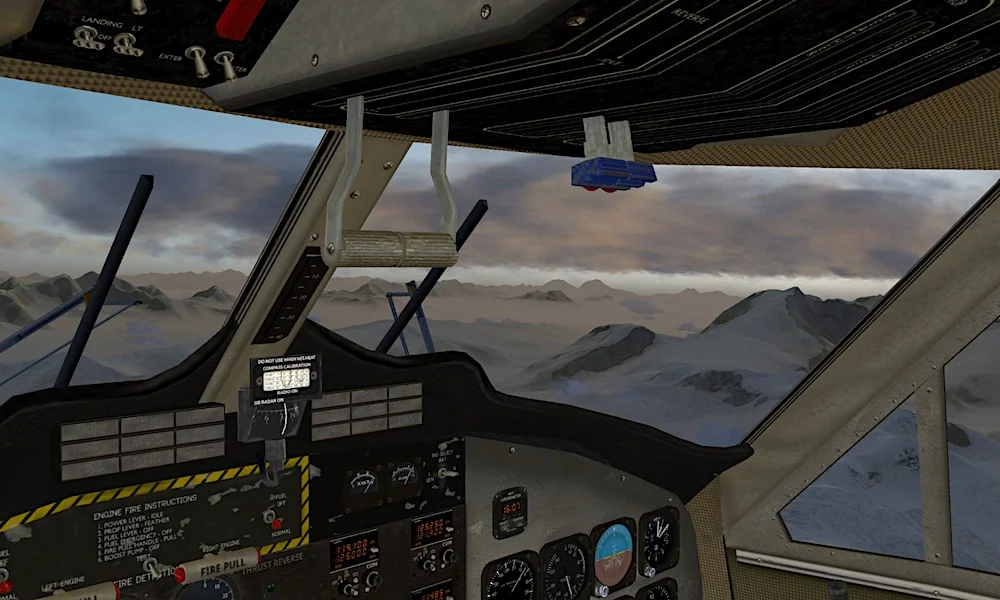 Developer: FlightGear developers and contributors
Price: Free | Premium Deluxe edition costs $26.99
Rating: 3.7/5 from 900+ users
FlightGear is an open-source flight simulator available under the GNU General Public License. Its source code, which is publicly available, has been extensively used for academic research and education.
The simulator allows you to fly various aircraft, from lightweight airplanes to large commercial jumbo jets, helicopters, military jets, and even airships. It also gives you the ability to model those airplanes and adjust almost every crucial parameter.
FlightGear accurately mimics the behavior of real-world instruments. For example, instruments that lag in real-world scenarios lag correctly in the simulator; the magnetic compass shows reading as per the airplane body forces; gyro drift is modeled correctly; and everything that makes actual flying a challenge.
FlightGear also models system and instrument failures. For instance, if the vacuum system fails, the HSI gyros spin down gradually.
Key Features
Includes 20,000+ real-world airports
Fully operational and interactive 3D cockpits
Detailed skies with correctly placed moon, sun, planets, and stars
Supports multiple displays
As for the external environment, the platform includes all cities, towns, lakes, rivers, railroads, etc. It loads/unloads scenery tiles in a separate thread, minimizing the frame rate hit when new areas are loaded.
The animation updates at the same rate as your out-the-window view updates. You won't notice any delay, especially on Apple silicon-based mac.
Moreover, the platform supports a multiplayer protocol on a local network. It is useful for formation flight or air traffic control simulation.
2. Aerofly FS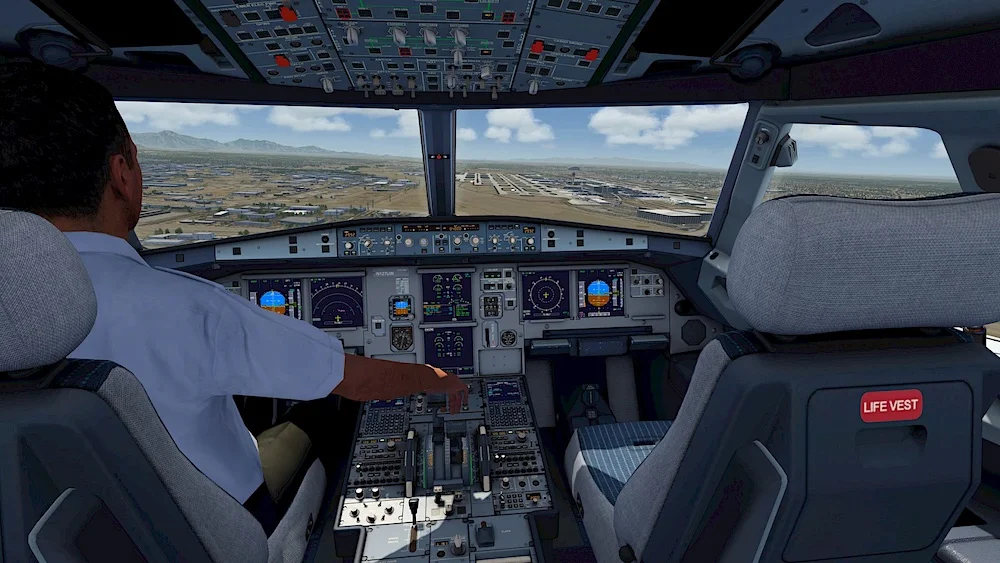 Developer: IPACS
Price: $50 on steam | $2.99 on iOS | Free version available
Rating: 3.8/5 from 2,000+ users
Designed from the ground up, Aerofly FS is simple and very easy to use. It focuses on realistic flight physics, detailed airplanes, and amazing scenery. Its latest version is equipped with high-resolution aerial pictures of Europe.
The simulator allows you to take control of various aircraft, helicopters, and fighter jets, including Airbus A320, UH-60 Black Hawk helicopter, 747 Jumbo Jet, F-18 and F-15E jets, and many more.
You can choose from thousands of flight routes, custom-made missions, and specific challenges prepared for you. Or simply pick a flight from the departure and arrival boards at the airport.
Unlike most other platforms, Aerofly FS offers a simulated copilot to assist you throughout the flight. The copilot can take control at any time and even handle the takeoff and landing for you.
Key Features
Full multibody and accurate stall simulation
Includes 1,200+ handmade airports in Europe and the United States
Global navigation database
Realistic radar altitude callouts
Simulated air traffic based on real-world flight data
Aerofly FS is integrated with worldwide elevation data and detailed aerial images. This makes the simulation even more exciting on VR systems.
As of today, it supports Oculus VR, Stream VR, Steam Deck, TrackIR, Tobil eye tracking, TCA Officer Pack, Game Controller, Joystick, and Pedals. Select a plane, take a seat in the cockpit, and enjoy flying over the famous Alcatraz Island or Golden Gate Bridge.
1. X Plane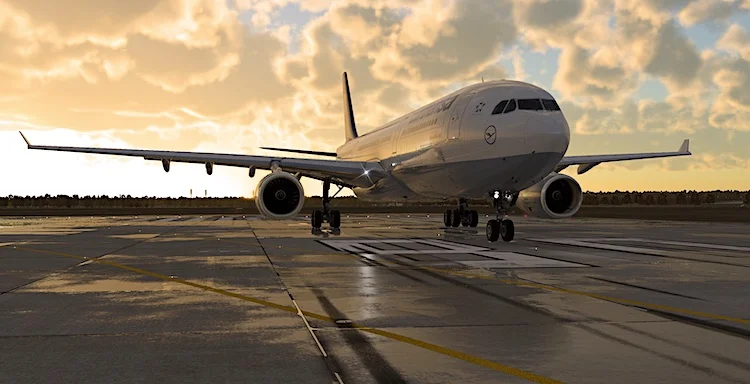 A330-300 on a wet runway at sunset
Developer: Laminar Research
Price: $60 (one-time fee) | Free demo available
Rating: 4.2/5 from 32,500+ users
X-Plane is currently the most powerful and realistic flight simulator available out there. It mimics authentic airplane systems and real-world physics, giving you an immersive experience.
Since the simulator is actually designed by engineers and pilots, it is full of detailed elements like hundreds of switches, knobs, and buttons in the interactive 3D cockpit.
But it's all unusable if you don't have a place to fly them. That's why X-Plane simulates the Earth-like environment, lifelike city buildings, and 3D airports with terminal buildings, jetways, and more.
Key Features
Includes 37,000+ airports, of which 11,500 airports have 3D terminals and hangars
Ambient sounds and seasonal effects
Volumetric 3D clouds
Localized ATC procedures/voices
Various emergency scenarios and combat missions
The simulator supports a scalable architecture — you can build your modules (your own world or replicas of places) to extend the simulator's functionality. Or you can simply visit the X-Plane forum and download plugins, scenery, and aircraft shared by other users.
You will also find many free tutorials that teach you the basics of traffic patterns, takeoffs and landings, and more.
Overall, X-Plane has been a popular tool among gamers, aviation enthusiasts, real-world aircraft designers, and flight instructors for more than two decades. We highly recommend you give it a try.
Other Equally Good Flight Simulation Apps
10. Air Cavalry
Developer: iTechGen
Price: Free | In-app purchases ($1.99 per helicopter)
Rating: 4.5/5 from 6,200+ users
Air Cavalry is a helicopter combat simulator with high-definition scenery and dozens of rescue missions. It includes all advanced helicopters, such as Ka-50 Black Shark, AH-1Z Cobra, AH-64 Apache, MV-22B Osprey, and UH-60 Black Hawk.
Get into the precisely simulated cockpit and fly the helicopter in various environments, ranging from deserts and Vietnam forests to big cities and huge mountains. Maneuver the helicopter in a specific path to test your precision pilot skills and build experience.
Key Features
Select from 19 choppers and 43 missions
Refuel and rearm helicopters to continue flights
Realistic 3D cockpit and targeting system
Challenging locations to fly fo
As you complete missions, you unlock new rewards and climb the leaderboards. You can even challenge friends to beat your performance while closely monitoring your progress against other players.
11. Armed Air Forces – Jet Fighter
Developer: iTechGen
Price: Free | In-app purchases ($1.99 per airplane)
Rating: 4.5/5 from 10,300+ users
Armed Air Forces offers virtual combat flight experience on smartphones and M-series Mac machines. In addition to modern fighter jets, it simulates extensive scenery with detailed cities and infrastructure.
Take control of the F-22 Raptor, Super Tucano, Mig-29K, Mirage 2000C, F-35 Lightning II, or A-10C, and test your air combat skills. Or you can simply take off and enjoy a free flight.
Every aircraft carries a detailed 3D cockpit (with a head-up display and working instruments) and real armament. Each has its own physics, characteristics, aerofoil, and limitations.
Key Features
Create simple missions with a click
Dogfight mode
Vertical takeoff and landing flight modes for specific aircraft
Large and detailed maps
Plus, the simulator gives you the option to record your flight and view it later to enhance your next flight or combat plans.
12. Extreme Landings
Developer: RORTOS SRL
Price: Free | Pro version costs $35.99
Rating: 4.6/5 from 26,700+ users
Extreme Landings allows you to manage critical flight conditions and resolve emergencies inspired by real incidents. It can simulate more than 5,000 possible situations — manage and resolve them all to achieve the highest pilot level.
During the flight, you can turn off/on individual engines, navigate between the equipment dashboards panels, and control flaps, rudder, landing gears, spoiler, and all other components a real pilot has access to.
Key Features
Weather Radar for managing wind, ice, and microburst
Fault management system
Real or customizable weather conditions
Cinema replay system
The simulator has two versions: free and Pro. While the free version includes six missions and four HD airports, the Pro version gives you access to all 36 missions, 216 challenges, and over 500 accurate airport replicas. It also includes cartography with 8,000+ waypoints, real terrestrial elevation, and automatic flight planning configuration.
13. YSFlight
Developer: Soji Yamakawa
Price: Free | Pro version costs $35.99
Rating: 3.9/5 from 200+ users
YSFlight is an open-source, lightweight flight simulator that runs on Mac, Windows, and Linux machines. Its features, like basic avionics and uncomplicated cockpits, make it easy to learn.
You can fly in the predesigned mission or create your own dog flight. Use the advanced navigation system to shoot down streams of hostile jets or destroy ground enemies.
You can also set a challenging environment to test your piloting skills — change the time from day to night and adjust cloud ceilings and amount of fog to practice flying under extreme conditions.
Key Features
Aerobatic flying
Adjust the difficulty settings
Various airplanes, helicopters, military ground units, and watercraft
Multiple maps to show real-world locations, airports, and ground attack spots
Join a multiplayer server
YSFlight also has an international community of thousands of active members. You can join the community to download more fighter jets and add-ons that extend the simulator's functionality.
More To Know
Can you play Microsoft Flight Simulator on Mac?
Although there is no native version of Microsoft Flight Simulator for Mac machines, you can use the Xbox Cloud service to run the simulator on Mac. Currently, this is the only way to run this simulator on Macs reliably.
You need to subscribe to Xbox Game Pass Ultimate, which costs $14.99 per month. It runs the Microsoft Flight simulator (without significant lags) on both Intel and M-series Macs. Plus, it gives you access to 100 high-quality games, exclusive member discounts, and EA Play membership.
Most Popular Flying Games
There are plenty of flying games available in the market that feature exciting missions and thrilling combats. The more popular ones are —
Ace Combat 7: Skies Unknown
The Falconeer: Warrior Edition
Heroes of the Pacific
Heroes Over Europe
Falcon 4.0: Allied Force
Vector Thrust
Market Size Of Simulation Games
According to the Allied Market Research report, the global gaming simulation market size will exceed $20.7 billion by 2030, growing at a CAGR of 15% from 2023 to 2030.
The key factors behind this growth include the increasing adoption of simulation platforms for analysis and training in various industries as well as the rising demand for virtual reality headsets. Furthermore, the wide acceptance of 360-degree cameras and cloud computing (to deliver a better user experience) is likely to deliver a positive impact on market growth.
Why you can trust us?
We thoroughly analyzed 25 flight simulators compatible with Macs and read their users' reviews. It took more than 20 hours to do the comprehensive research. Finally, we decided to shortlist the 13 simulation apps and games based on the number of integrated aircraft, navigation database, and graphic details.
Our "Rating" is the average of all ratings given by genuine users on trusted review sites. In order to show you the true picture, we haven't considered reviews and testimonials featured on the developer's official website.
We DO NOT earn commission from any of the featured applications or games. Furthermore, we have two independent editors who have no influence over our listing criteria or recommendations.
Read More
8 Best Professional Flight Simulators | Both Software & Real Ones
19 Best Physics Games For All Platforms