The demand for food delivery has grown substantially over the past few years. In the United States alone, revenue in the online food delivery segment is projected to reach over 32 billion by 2024 (at an annual growth rate of 5.1% between 2020 and 2024)
App-based food delivery plays a major role in this growth. Services like Grubhub and Uber Eats have made it easy to get food delivered to your home from local dining establishments or fast-food restaurants.
However, the best food delivery service is the one that gets you your food on time, safely, at a lower price than in-restaurant menu prices. At present, there are literally hundreds of apps available for ordering food online.
Paired with online ratings and user reviews, we used our expertise to gather the best food delivery apps available on the Play Store and App Store. These are the factors we considered while rounding up these apps.
How easy the apps were to use
Was contactless delivery available
Whether the app kept customers informed of their order status
Whether the correct order arrived within the time frame promised
13. Caviar
Platform: iOS | Android
Fee: First delivery is free | $1.99 to $8.99
Plus Point: Real-time GPS tracking; focuses less on fast food.
While Caviar is available in only 28 cities in the U.S., it brings you food from a rich selection of local restaurants. It connects diners with the best local and independent restaurants, via convenient pickup, delivery, or catering.
The app has real-time GPS tracking for deliveries and various exclusive deals that could actually save you some money. Unlike other apps that emphasize on fast food, Caviar focuses on other types of restaurants (mostly those that have healthy food options).
12. EatStreet
Platform: iOS | Android
Fee: Varies by restaurant
Plus Point: Provides options for group ordering and splitting the bill; contactless delivery.
EatStreet works with restaurants both near and far campus to bring food closer to you. Their service is available in more than 250 cities throughout the U.S.
The app has an easy-to-use interface that lets you search for food by cuisine, prices, distance, or ratings. It will tell you the minimum total required for delivery, and the delivery cost, though some places don't have one.
With every order, you get exclusive coupons, restaurant specials, and rewards. EatStreet keeps track of your orders, letting you know how many night orders away from a coupon you are.
11. ChowNow
Platform: iOS | Android
Fee: Varies by restaurant
Plus Point: No hidden commission or fees; focuses on local restaurants
ChowNow connects customers with local restaurants. Use Map View or List View to explore the latest hotspots and tried-and-true favorites in your neighborhood. From the hottest new sushi bar to the best pizza place, pick up your amazing meal and go. In certain markets, they offer the option for delivery, commission-free.
Unlike other food delivery services, ChowNow is not only a centralized consumer-facing system. Instead, it also allows restaurants to separately customize and brand their ordering apps. For example, restaurants can use ChowNow's online ordering technology to take orders directly through their Instagram profile or Facebook page.
The best thing is ChowNow doesn't load your final bill with unexplained fees. So if you'd like to fill your belly while also helping out local restauranteurs, this is the service you should try.
10. BeyondMenu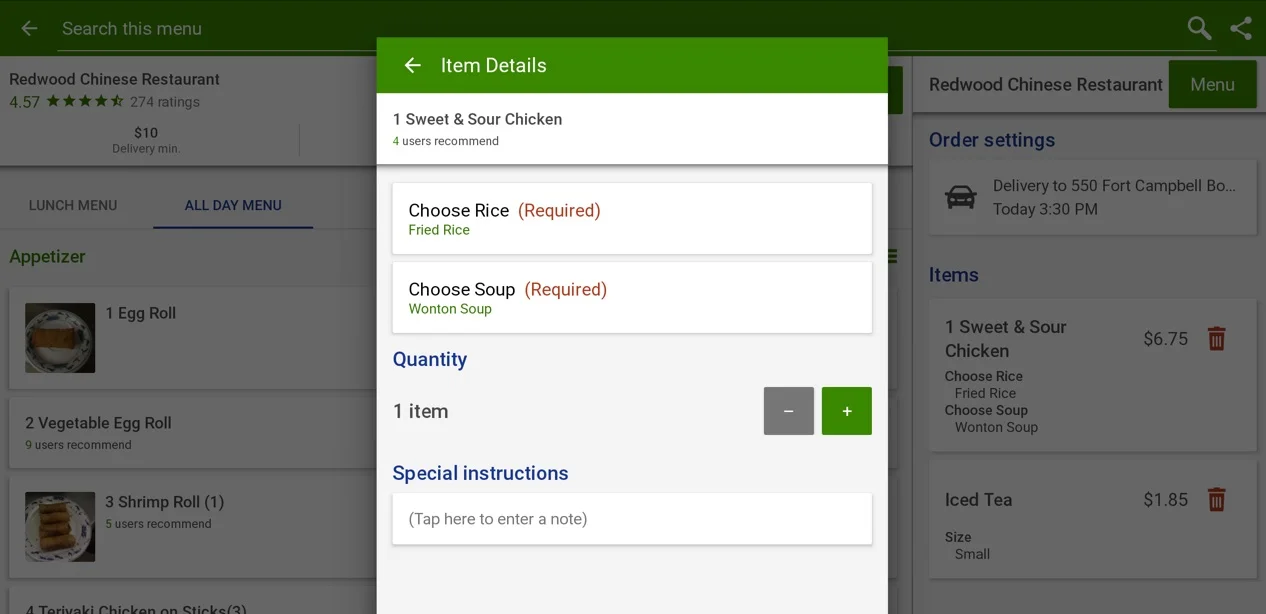 Platform: iOS | Android
Fee: Varies by location
Plus Point: Save as many different addresses you need; easily find restaurant offers or coupons and apply them before ordering.
BeyondMenu provides an authentic niche community infused with food experience content. The user-friendly interface of its app allows you to browse restaurant menus, read reviews, and explore coupons.
There are thousands of restaurants and more than 25 different cuisines to choose from. And since their service is accessible nationwide, you can use the app wherever you travel to.
BeyondMenu operates in almost all popular cities/areas, including New York, Los Angeles, San Francisco, New Jersey, Houston, Boston, Omaha, Las Vegas, Chicago, Miami, Washington DC, and more.
9. delivery.com
Platform: iOS | Android
Fee: Varies by shop and location | $10 off on your first order
Plus Point: Has a Group Ordering feature to order with friends and coworkers.
delivery.com is a one-stop-shop for local delivery and pickup of food, alcohol, groceries, and laundry. Search by cuisine, drink (anything from whiskey or white wine to hard-to-fin craft beer), or whatever you are craving.
The online marketplace consists of more than 12,000 restaurants, grocery stores, wine and liquor stores, and laundry/dry cleaning providers.
You can generate scheduled orders for future meals, or use the reorder carousel to bring back favorites. There is a group ordering features that allows you to split orders with roommates or neighbors to minimize the number of delivering coming and going. Don't forget to check the promo page for exclusive discounts.
8. Postmates
Platform: iOS | Android
Fee: $10/month for unlimited free delivery on orders over $12
Plus Point: Deliveries extend beyond food; delivers 24/4, depending on restaurant operating hours.
Postmates not only delivers food from your favorite restaurants, but it also lets you order kitchen staples and party supplies. You will find almost all big brands on this platform, including Shake Shack, Subway, Jamba Juice, Popeyes, Blaze Pizza, Walgreens, Chipotle, McDonald's, and hundreds more.
It operates with 600,000 local and national restaurants and retailers in more than 4,200 cities in the U.S. Once the order is placed, the app gives you real-time updates on your delivery progress.
The company also offers no-contact delivery choices and encourages users to report if the delivery guy seems unwell.
7. goPuff
Platform: iOS | Android
Fee: $1.95 per delivery | $6/month membership for unlimited free deliveries
Plus Point: 24/7 delivery is available in most markets; earn reward points on every order.
While most food-delivery services operate as a middleman between restaurants and customers, goPuff works more like a digital convenience store. It delivers thousands of daily essentials, from food and drinks to cleaning supplies and electronics. Wine, beer, and spirits are also available for delivery in some markets.
Before making an order, you can always request specific delivery instructions and check a 'non-contact delivery' box to ensure safety. The delivery guy will call you upon arrival and leave your order at your requested location.
The service has a reward program called Puff Points that gives discounts the more you order through the app. You can earn points with each order and redeem them to unlock different rewards such as weekly or daily discounts.
6. Wingstop
Platform: iOS | Android
Fee: Varies by location | First delivery is free
Plus Point: No account is needed to order wings.
Wingstop is a chain of nostalgic, aviation-themed restaurants that serve chicken strips, boneless wings, and a variety of dips and sides. They have more than 1,400 restaurants open across the U.S., U.K., Mexico, Singapore, Columbia, and the United Arab Emirates.
Its mobile app makes it easy to satisfy your craving. Select your made-to-order masterpiece featuring any of 11 iconic flavors from your favorite Wingstop location, and they will deliver it on the promised time.
The app has a great user interface that lets you customize your mix of iconic flavors and protein styles on each other. And if you are planning a party, you can order wings up to 7 days in advance.
5. Instacart
Platform: iOS | Android
Fee: First delivery if free | Starts at $3.99 with a minimum order of $10 | $9.99/month for free deliveries
Plus Point: Delivers food and groceries in as little as one hour; view nutritional information and filter results by your diet type.
Instacart operates a grocery delivery and pickup service in all 50 U.S. states and Canadian provinces in partnership with more than 25,000 grocery stores.
It delivers fresh food and drinks, including alcoholic beverages and late-night snacks, to your door. You can also order essential items such as prescriptions, toilet paper, and other household items. Fragile items like glass bottles and eggs are delivered with care.
Instacart has added a 100% contactless delivery option, so you and your shopper stay safe. Online reviewers rate the app very high for its fast and great service.
4. Seamless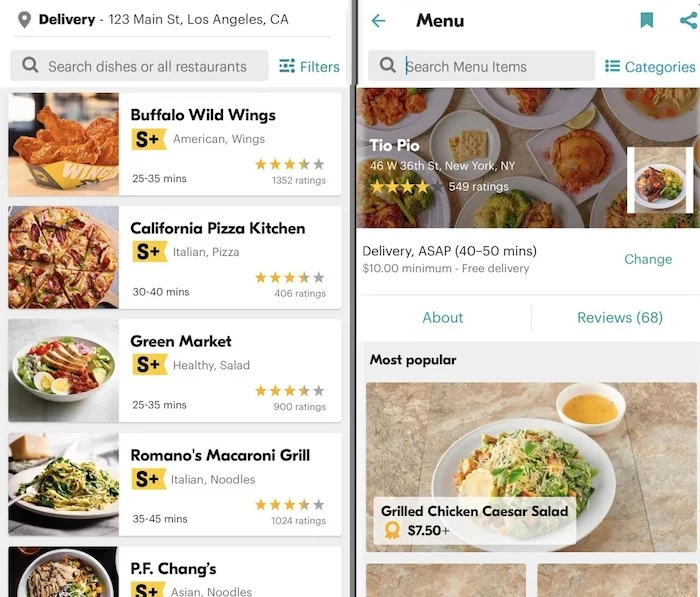 Platform: iOS | Android
Fee: Free delivery for first-time Seamless diner | $10/month for unlimited free delivery
Plus Point: Delivers from both local restaurants and national chains.
Seamless is a mirror image of Grubhub (#1). Both use the same technology and have an identical interface. Some cities (such as New York, where Seamless was founded) just recognize one over the other.
The platform provides the simplest way to order food for delivery or takeout. Whatever you are in the mood for, wherever you are in the mood for it, you have got it—no phone calls, no menus: just simple neighborhood food delivery.
You will find many exclusive deals from nearby spots and restaurant partners like Taco Bell and McDonald's. There are plenty of payment options too: Amex Express Checkout, Apple Pay, PayPal, Seamless gift card, or a good old-fashioned credit card – choose whatever works best for you.
3. Uber Eats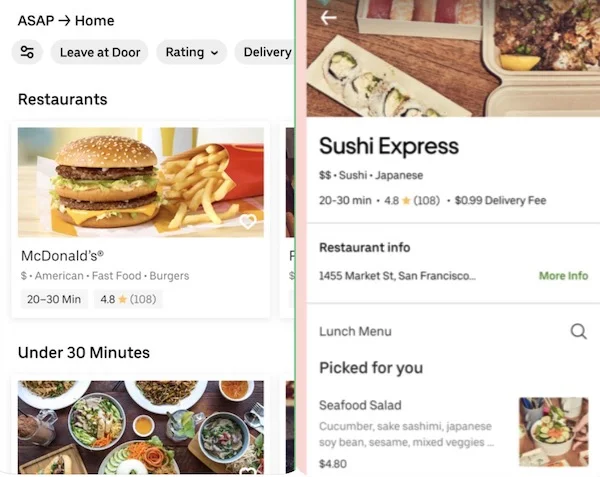 Platform: iOS | Android
Fee: Free delivery for all local restaurants | $1.5 standard delivery charge | $10/month subscription
Plus Point: One of the cheapest food delivery services in New York City; integrated with Uber in some cities.
If you trust Uber to drive you safely around the city, maybe you will trust them to deliver your food. While Uber and Uber Eats are different apps, they share several features like cashless transactions and delivery times.
With Uber Eats, you can browse nearby restaurants and search for food by restaurant name, cuisine, or meal. It has more than 330,000 restaurant partners in more than 500 cities worldwide.
According to MarketWatch, Uber Eats is the cheapest food delivery app. Its average delivery time is under 30 minutes, and there is a feature to track your order on a map as it heads your way. There is also an option for "no-contact deliver": just tap "leave at door" button at checkout.
Read: US Schools Waste 530,000 Tons Of Food Every Year [Excluding Milk]
2. DoorDash
Platform: iOS | Android
Fee: Varies by restaurant | $10/month for unlimited free delivery
Plus Point: A decent recommendation engine for discovering restaurants; no minimum order.
DoorDash has expanded to over 4,000 cities and offers a selection of 310,000 stores across the U.S., Australia, and Canada. There is a wide variety of cuisines, from your local sushi spot to the comfort food you crave.
With an advanced ordering option, you can get your food when it is most convenient for you. The real-time tracker shows when your order will arrive. It informs you about all the elements that come between you and your food, including prep-times, food quality, traffic, and weather.
The app also lets you order alcohol and mixers from local wine and liquor stores where local laws allow. All deliveries are left at your door by default, or you can choose "hand it to me" if you prefer.
1. Grubhub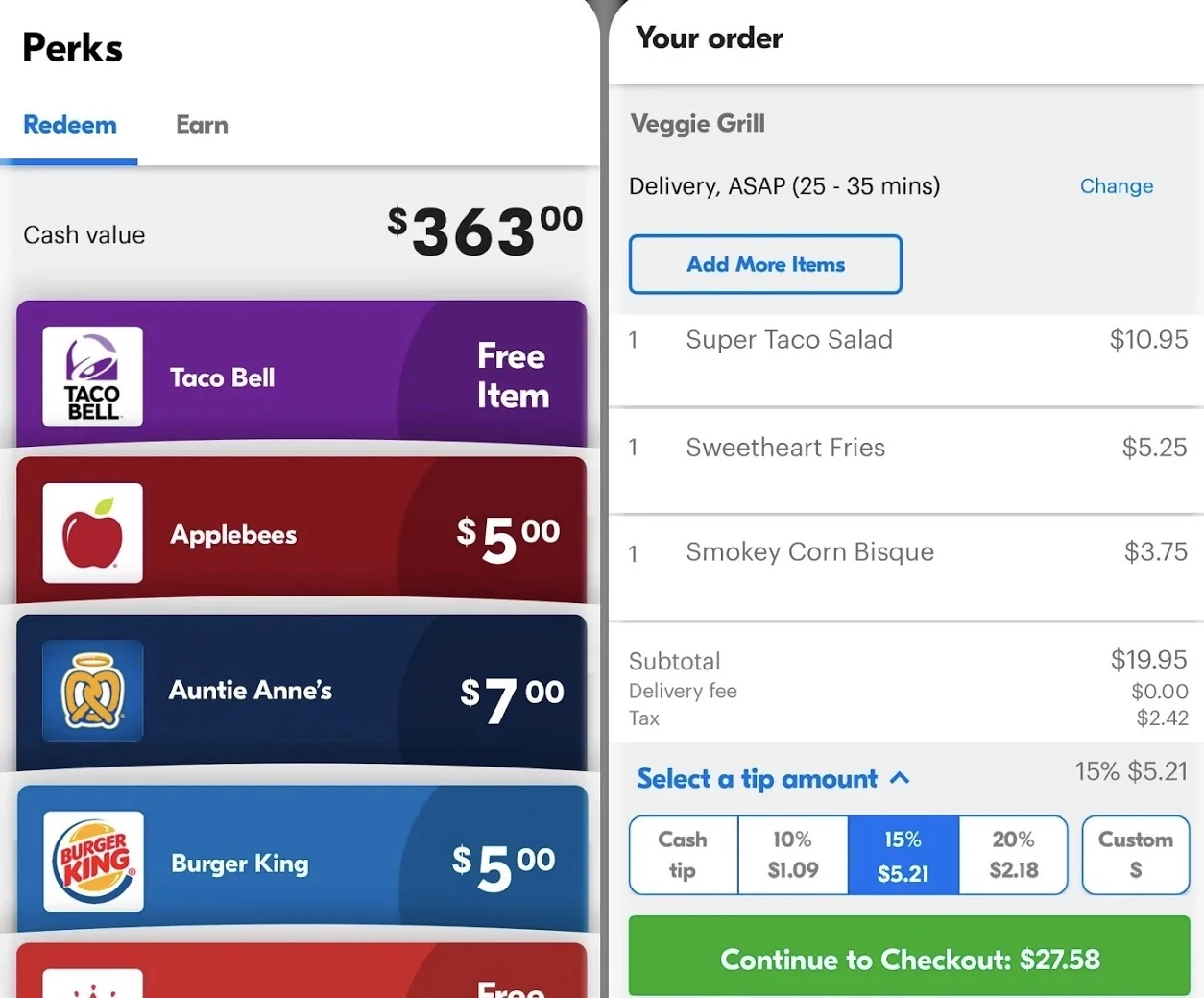 Platform: iOS | Android
Fee: Free delivery for first-time Grubhub diner | $10/month for unlimited free delivery
Plus Point: Order food with exclusive deals; Contact-free delivery for your safety and your driver's.
The Chicago-based company, Grubhub, connects diners with local takeout restaurants. It has more than 20 million active users and 120,000 associated restaurants across 3,200 cities and all 50 states in the U.S.
The app has a lot of great features. For example, you can preorder your next meal, reorder your favorite meals with a tap, and pay through various options, including Venmo, Apple Pay, and Grubhub gift cards.
Read: 18 Best Travel Apps of 2020
Grubhub has thousands of restaurant ratings and reviews that help you decide the best food in your area. There is also a perks tab with several rewards designed for frequent customers.