Football (not the American one) without a doubt is the world's most popular form of sports. It is played in over 200 nations and by 265 million professional players. Often mentioned as "the beautiful game", football almost always offers a great level of excitement and thrill.
The only thing that is as exciting as a 90 minute game of football for fans is a football video game. Just like actual games, millions and millions of football fanatics spend hours on their console and other devices playing all shorts of stimulating football games.
While most of the popular football games are PC and Console based, you should not feel left out because we have something for you too in case you are looking good applications for your smartphone or even for your old PCs.
Below is the list of the best football games for all major platforms so that you can choose freely, and yes we have also included few management orientated games.
15. Lords of Football
Developer: Geniaware Srl
Platform: MS Windows, Steam
Genre: Sports Simulation
Lords of Football will take you to the unique footballing journey, where you are in-charge of everything that's happening to your club and your players, in and out of the pitch. In other words, the game is a combination of footballer's life simulation and football management.
To start the game, you have to choose any one club from five European nations, all clubs are fictional due to no licensing agreement in place. As a manager, your main aim in this game is to win the European Cup and in order to do that, you must train players, teach them discipline and monitor their life outside football so they don't get into trouble.
Although, the game is based on some serious, innovative ideas, it seems like the work here is unfinished. After few gameplays, you are more likely to be surrounded by boredom.
14. Online Soccer Manager
Developer: Gamebasics BV
Platform: Android, iOS, browser
Genre: Management
Online Soccer Manager of OSM is a popular, free-to-play simulation that enables you to manage your favorite club and popular footballers. In order to become a successful manager, you have to take over transfers and training schedules. At first you have to choose one club and then preparing your team for the matchday.
One unique core aspect of the game is that you have to choose a new team after the end of each season.
13. Score! Hero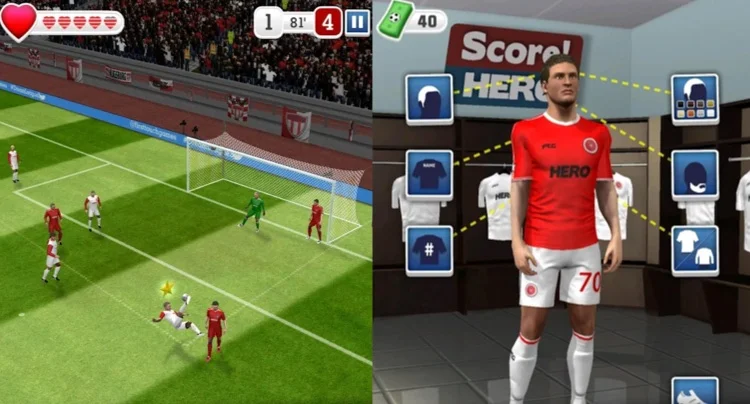 Developer: First Touch Games
Platform: Android, iOS
Genre: Sports
It's a fun, gesture-based 3D game for smartphone users. You will play from a young aspiring footballer view point, who has embarked upon a journey to become one of the biggest stars in the game. But in order to achieve that, he must clear hurdles – 580+ of them.
Impressive graphics, advanced AI are some of the highlights of this game. However, if you are not willing to pay real money, you may feel pretty restrained.
12. International Superstar Soccer Deluxe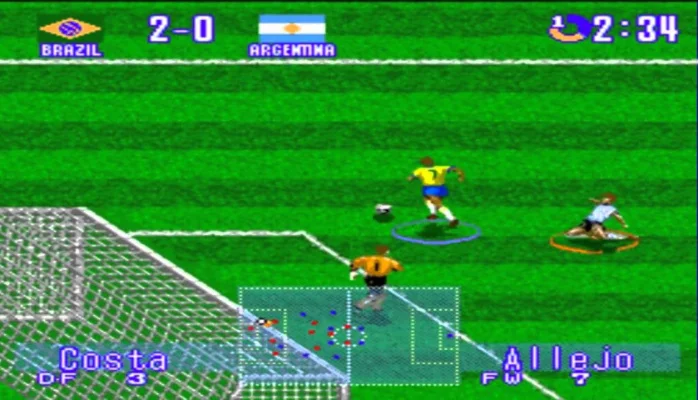 Developer: Konami
Platform: PlayStation, Super Nintendo, Mega Drive
Genre: Sports
No, the International Superstar Soccer Deluxe is not a direct predecessor to the PES series, despite the popular belief. Even so, the game marked its presence in the 90s with added commentary and upscale graphics. The game also offered good in-game AI and revamped ball physics (footballers can curl the ball).
You can choose from a dozen of predefined strategies to compete with other teams and try to win the league. Other competitions such as International Cup, Scenario Mode and mini-cups and leagues are also available.
You can also unlock the all-star team, in which each player is maxed out on the abilities, by winning the league in hardest difficulty settings.
11. Road To World Cup 98
Developer: EA Canada
Platform: Windows, Game Boy, PlayStation, Nintendo 64, etc.
Genre: Sports
We all know that France won the 1998 World Cup Defeating Brazil in Finals. But what if I say you can change it? Well, I didn't mean literally of course. Apart from a revamped graphics, advanced game AI and interesting sound choices, the game also feature all the 172 FIFA member nations at that time. It was also the first ever FIFA game where the offside rule was seriously implemented.
10. New Star Soccer
Developer: New Star Sports
Platform: Windows, Android, iOS
Genre: Sports
After being inspired from games like Championship Manager and Footballer of the year, Simon Reed created a football simulation, where you start your journey as a footballer at the age of 16 and slowly progress towards the top. Slowly, because there is no chance one can finish this game in a hurry. The game is essentially a hybrid; taking different aspects of games like Sensible Soccer and RPG style games.
9. Pro Evolution Soccer 6
Developer: Konami
Platform: Windows, PlayStation, Xbox, Nintendo
Genre: Sports
Pro Evolution Soccer 6 remains one of the widely acclaimed games in the vast world of PES. The game distinguishes itself from its earlier versions with superior graphics and improved gameplay. Everything from shooting to tackling has been upgraded. One of the highlights of this game is its enhanced AI, which enable players to make more realistic forward runs.
The game present a considerable amount of challenge to users as passing and shooting is much harder to master. Aspect of physical confrontation (during the game) has also been upgraded. The game marked the introduction of new game modes along with the return of popular Master League mode.
8. Top Eleven 2018
Developer: Nordeus
Platform: Android. iOS, Browser
Genre: Management
Here is one of my favorites. Nordeus' Top Eleven is a top notch football manager game in which you build the entire club from zero. Though it's a mobile based game, you can also play it on your browser. Top Eleven allows you to take control of every single aspect of your team, from training to facility management.
After naming your new club, you can train your squad, define tactics and team's intensity and even fix a friendly match with other clubs before going against other managers on matchdays.
One feature that I really like about this game is the competitive transfer market, where you compete with others from all over the world in order to sign young and talented players for your team within a given time limit. Man that used to give me thrills.
It's a completely free game as long as you don't buy official jerseys and club crest for your team or buy tokens (gold equivalent).
Read: 15 Best FPS Games For All Platforms
7. Championship Manager: Season 1/2
Championship Manager
Developer/Creator: Sports Interactive/Collyer brothers
Platform: Windows, macOS, Xbox, Playstation
Genre: Sport
The Championship Manager series was the brain child of two English programmers/game designers Paul Edward and Oliver Charles Collyer, also known as the Collyer brothers. For hardcore fans, the Championship Manger is more than just a game, it is something they fell in love with.
Championship Manager: Season 1/2 is the last installment of the 3rd generation of the Championship Manager franchise. The game features nearly 100 football leagues for you to choose from, including leagues from Japan and South Korea.
At the time of its launch, the game introduced the newly enforced transfer system along with player attribute masking feature, after which players can only know certain attributes about in game footballers.
Other features include revamped scouting, board and media interaction, footballers comparison and injury effects.
6. Rocket League
Developer: Psyonix
Platform: Windows, Linux, macOS, PlayStation, Xbox, Switch
Genre: Sports
What if instead of humans, football were played with cars and other vehicles? Quite a profound thinking isn't it? Well, for those who share the same thinking, there is the Rocket League. This game is developed by an American gaming studio Psyonix, in which human players are replaced by super cars, but other aspects of the game remain untouched.
It offers both single and multiplayer modes. Players can also use its cross-platform feature to engage in a fun battle between PC and consoles, as well as Nintendo Switch. The game is fast paced yet can provide you with a refreshing experience.
5. Dream League Soccer 2018
Developer: First Touch
Platform: Android, iOS
Genre: Sports
You start the game as a newly appointed manager of the team Dream FC. There are a total of six divisions; Elite, Junior Elite Division 1, Division 2, Division 3 and Academy Division in the game. Your job is to take your team all the way from bottom Academy Division to the topmost Elite Division.
Winning the Elite Division unlocks two advanced tournaments; the International Cup and All Stars Cup. You can further participate in Ultimate Challenge and First Touch Challenge once you win the Cup games. Players can customize their squad, team logo and kits once they start the game.
As of May 2018, the game has more than 100 million downloads on the Play Store.
4. Sensible World of Soccer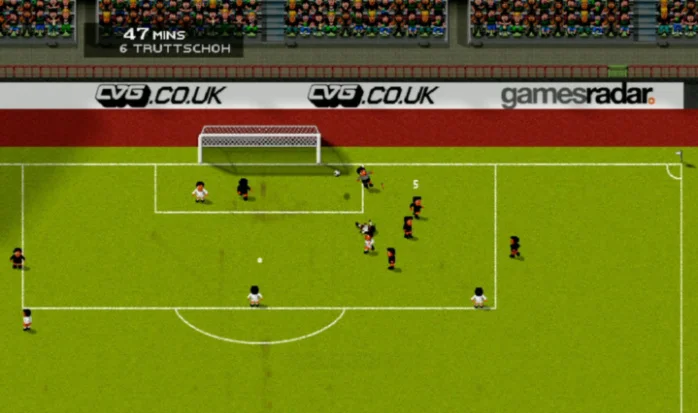 Sensible World of Soccer
Developer: Sensible Software
Platform: MS-DOS, Windows, Xbox 360
Genre: Sports, management
Where most games come and go rather quickly, this 90's classic has been able to stay relevant even after almost 25 years. The reason why SWOS is ahead of many PES and FIFA games is simply because of its timelessness.
During the initial launch in 1994, the game featured a massive database of 27,000 players and 15,000 teams, which boosted player transfer features at large. The career mode allows players to manage a club over the period of 20 seasons.
While the game cannot compete with big names like FIFA and PES in any manner now, many devoted fans have been able to keep it alive with regular patches and updating database time to time.
SWOS is included in "the ten most important video games of all time", a list of culturally and historically important games compiled by Henry Lowood of the Stanford University along with a team of game designers back in 2007.
3. Football Manager 2016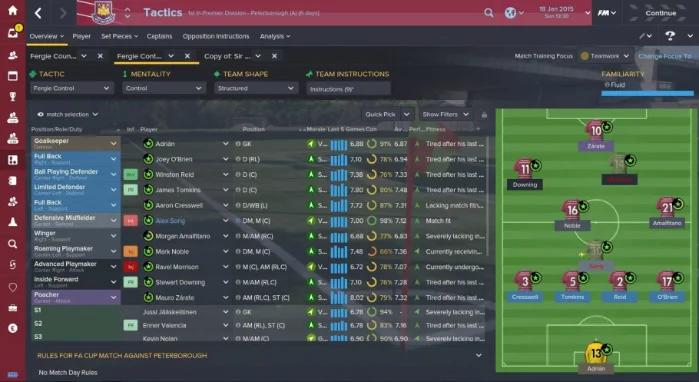 Developer: Sports Interactive
Platform: Windows, Linux, macOS
Genre: Simulation
Have you ever fantasized yourself as a manager of a popular football team? I am sure you did, we all do. Well, now there is a perfect game that will make your fantasy come true virtually. Football Manager 2016 or FM 16 is a management simulation game, produced by a Japanese video game publisher Sega.
Though Football Manager 2016 was launched back in 2015, it remains one of the favorite football among football fans. The game lets you take charge of any of the thousand football clubs from over 50 different nations. It comes with various new improvements over previous installment and two new modes; Fantasy Draft mode and Create-A-Club mode.
Read: Logo Evolution of Biggest Football Clubs in the world
2. Pro Evolution Soccer 2018
Developer: PES Production
Platform: Windows, PlayStation, Xbox, iOS, Android
Genre: Sports
PES 2018 (abbreviation of Pro Evolution Soccer 2018) is the 17th installment of the popular football game franchise Pro Evolution Soccer. The game features new and remarkable changes in the core gameplay. It includes strategic dribbling, which allow players to control the ball more intelligently and Real Touch+ for smoother ball control and improved ball physics
Set pieces have also been reworked with all new penalty and free kick system in place. A new dedicated 2v2 and 3v3 mode is also included. The game is definitely an upgrade over the previous installments of the franchise. However, authenticity or lack of licensed products and some in-game AI issues can make your gaming experience a little dull and less stimulating.
1. FIFA 17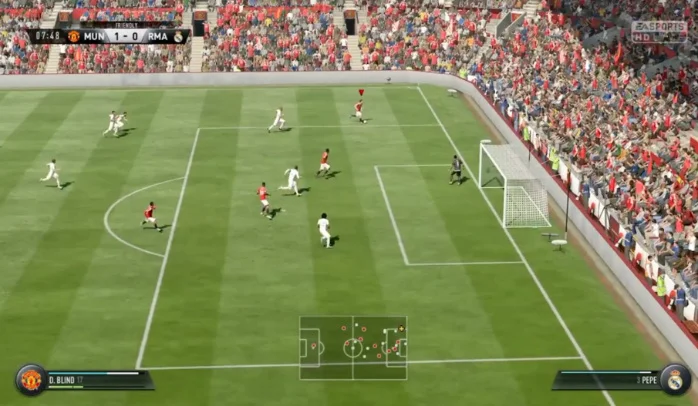 Developer: EA Vancouver
Platform: Windows, Xbox, PlayStation
Genre: Sports
FIFA 17 might not be the greatest football game in the history, but it is definitely by far the best option for an ultimate satisfaction, especially if you are on console. Like every new addition to the FIFA franchise, the FIFA 17 improved graphics and gameplay.
Read: 15 Awesome Football Infographics For Soccer Fans
The game also features a new single-player campaign mode 'The Journey', where you assume the role of a youngster named Alex Hunter, who is trying to be a successful footballer in the Premier League. FIFA 17 is the fastest selling game of the entire series in the U.K.