Animation is a lucrative career option, and it is often used in a broad range of fields, ranging from entertainment and modeling to education and presentation. The method can be used to create anything virtually, and everything is limited by the developer's imagination.
Today, most of the animation work is done on computers with complex, resource-hungry software such as After Effects and Maya. These expensive tools are used to create detailed animation videos, and they require certain skills.
But what if you want to create simple thought-provoking animations without spending a lot. Fortunately, there are plenty of applications built for independent animators that allow them to create outstanding 2D and 3D animation videos without using complex software.
Below, we've listed some of the best animation apps that make it easier to create fun videos on smartphones and tablets. And since they all have free versions (except one), there is absolutely no harm in trying them out on short runs.
14. Animation Desk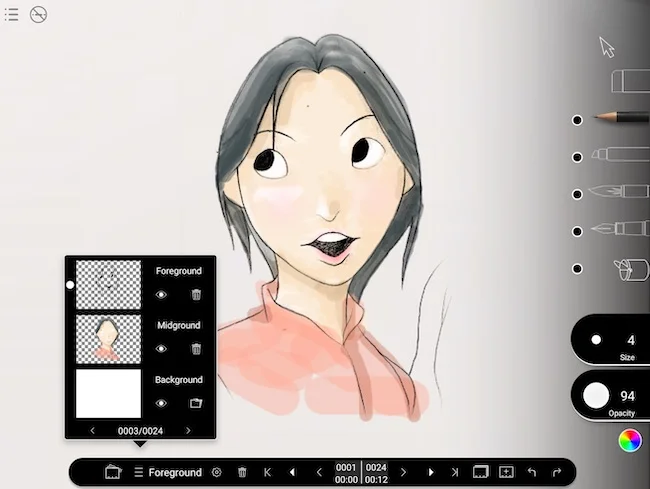 Platform: iOS | Android
Price: Free | Pro version starts at $3.99
Plus point: Export animations as Photoshop layers, PDF sheet, or large size GIF.
With Animation Desk, you can create animation upon images, videos, PSD layers, or draw frame-to-frame animation from scratch. It comes with all basic tools, including a set of brushes, text fonts, a storyboard video tutorial, and beautiful stamps.
There are many other useful tools that allow you to merge animation sequences into an animatic storyboard, tag/comment on each frame, import/export photoshop layer, and export your work in different formats. 
13. Animate free!
Platform: Android
Price: Free
Plus point: Great for those who want to make some sort of story of their own.
The app is packed with plenty of useful features that enable you to create sketches and poses on your smartphones and tablet whenever inspiration strikes. With intuitive controls, you can perform various actions by tapping, swapping, and dragging elements.
Each animation clip can be played on the spot while editing. There are plenty of skins available for your characters, in addition to props and foreground objects.
12. Slideshow Creator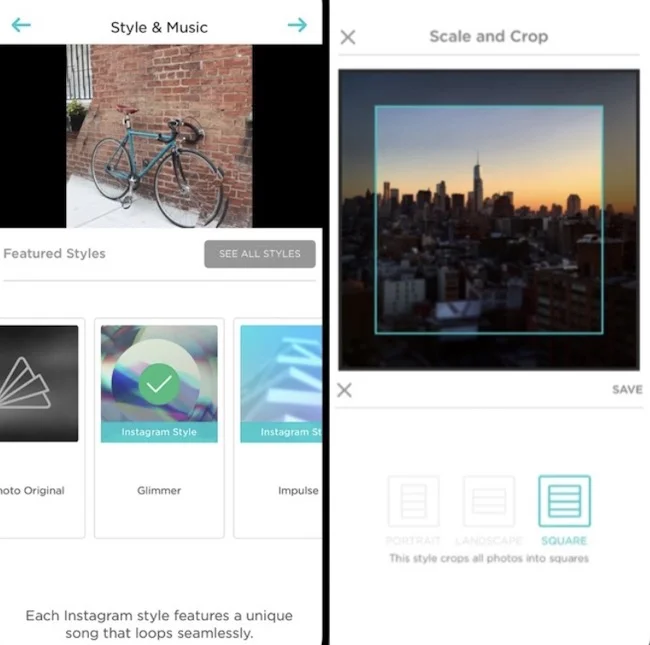 Platform: iOS
Price: Free | in-app purchases
Plus point: Capture a bunch of photos and video clips into a brief cinematic cohesive.
As the name suggests, the app allows you to make slideshows on your iPhone/iPad. It is perfect for turning your memories into movies. Just add as many photos as you want from the gallery (up to 20 in the free version) and add music to create a beautiful video or animation from images.
There are more than 100 slideshow styles and a large library of songs to select from. You can also put text and captures to tell your story effectively. Finalize and save/share your memory with just one tap.
11. RoughAnimator
Platform: iOS | Android
Price: $4.99
Plus point: It is very easy to pick up; automatically saves your progress as you close the window.
RoughAnimator is a fully-featured application designed for both beginners and professionals. It has everything you need to create traditional hand-drawn frame-by-frame animation.
Perhaps the best component of this app is its user interface. The layout of the tools is perfect: everything you need is where you can tap it easily. Timeline with unlimited layers, easily adjustable exposure length of individual drawings, custom brushes, lip-syncing feature, all are available straight ahead.
10. Stick Nodes: Animator
Platform: iOS | Android
Price: Free
Plus point: Forward and backward onion-skinning for precise animation.
Stick Nodes allows animators to create their own stick figure-based movies instantly, and export them as MP4 videos and GIFs. It is an excellent tool for beginners to learn animation. At the same time, it's robust and powerful enough for advanced users to really showcase their skills.
The app provides automatic frame-tweening to make smoother animations, a virtual camera to make animation cinematic (via move/zoom), and a variety of shapes and gradient colors. They also have thousands of stick figures (available for free on the website) that you can edit and share.
9. StoryZ
Platform: iOS | Android
Price: Free | Premium membership starts at $3.99
Plus point: Has many amazing ripple and motion effects in the Asset Store.
StoryZ allows you to create visual stories from still images by adding moving elements and effects. With the combination of static imagery and overlay video, the app turns pictures into an animated GIF and animated double exposure.
It has several powerful creative options. You can merge photos with video overlays, apply effects, motion filters, and music to create stunning Cinemagraphs. They also offer weekly challenges to keep you on your feet.
8. Draw Cartoons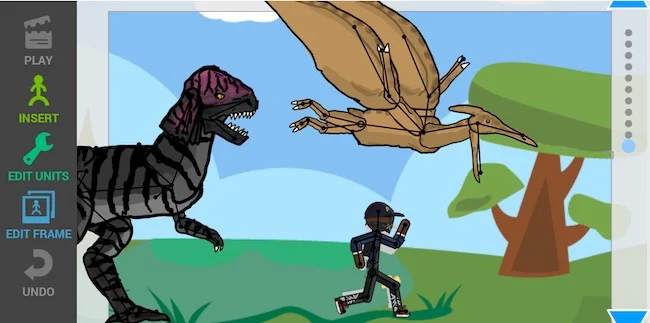 Platform: Android
Price: Free | in-app purchases
Plus point: Features a large library of characters and items.
It's a fun way to express yourself through art. The app makes it easy to create cartoons by taking care of every small step, from drawing characters to publishing.
You can start by selecting from the characters and objects offered by the app, or create your very own cartoon from scratch. Use templates, insert as many layers as you want, and add voices to make your cartoon perfect. Once you are done animating, export the video file in MP4 format and share them with your friends.
7. Alight Motion
Platform: iOS | Android
Price: Free | in-app purchases
Plus point: Supports vector and bitmap graphics.
Alight motion graphics app brings professional-quality animation, visual effects, motions graphics, and video editing and compositing to your smartphone.
The app features multiple layers of audio, video, and graphics, with visual effects and color correction. Using keyframe animation, various border/shadow effects, solid color/gradient fill effects, and velocity-based blur motion, you will be able to create eye-catching GIFs and videos.
6. Animation Amino for MAP
Platform: iOS | Android
Price: Free
Plus point: An encyclopedia for all things Animation
Animation Amino is one of the fastest-growing communities where you can find inspiration, get the latest news, share your projects, and meet other animators.
The app allows you to create unique animations on your smartphone, share them with other users, and gain a following. If you are a beginner, there are a lot of use useful tutorials available without any cost.
5. Stop Motion Studio
Platform: iOS | Android
Price: Free | Pro version costs $4.99
Plus point: Capture images in 4K or use a live green-screen effect.
With Stop Motion Studio, you can create films like Wallace and Gromit or those groovy Lego shorts on YouTube. Select from unique titles, text cards, and credits, or create your own with a built-in editor. It offers various foregrounds, backgrounds, video filters, and fade-effects to give your movie a perfect look.
The interface of the app is simple to use, deceptively powerful, and quite fun to play with. There are animation guides to easily place animated elements and an interactive timeline, so you never get lost, even if you editing with hundreds of frames.
4. PicsArt Animator
Platform: iOS | Android
Price: Free | in-app purchases
Plus point: Create complex animation with ease, using multi-layering and speed control option.
PicsArt Animator offers a powerful yet simple way to create striking animations. You can make funny doodles, moving stickers, GIFs in a few steps – no advanced skill is needed.
If you are looking for something a little more advanced, the app has duplicate frames, layers, fully equipped drawing tools, Emoji Me feature, and more. Once you are done animating, you can save your work as GIF or video and share it on social networking sites.
Read: 12 Best Avatar Maker Apps
3. Toontastic 3D
Platform: iOS | Android
Price: Free
Plus point: A reliable app full of playful characters, fun stories, and settings to inspire new adventures.
Google has developed its own animation app for kids, which allows them to draw and animate their own stories, either for fun or educational purpose. It is a kind of platform for storytelling. Kids can choose from three options: classic story, short story, or science report. Each comes with a unique challenge, climax, and resolution.
Toontastic 3D is full of swashbuckling pirates, evil villains, transforming robots, and many more characters and configurations to spark children's imaginations. The best thing is it works offline, and there is no need to login to get started.
2. Bot3D Editor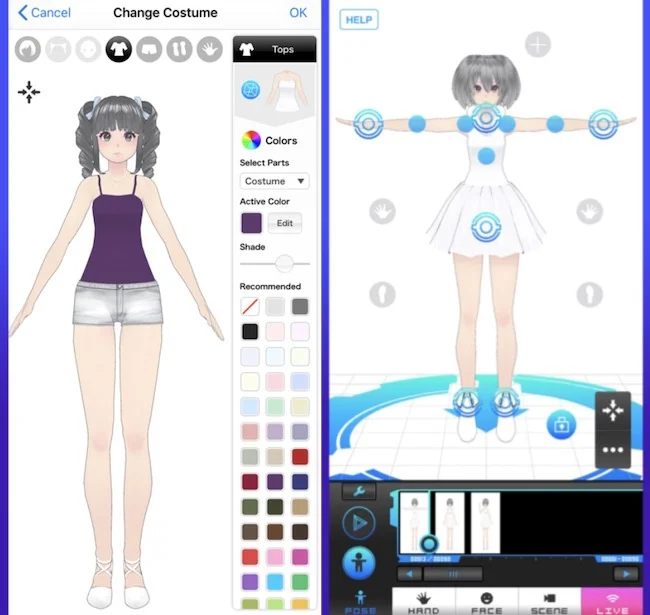 Platform: iOS
Price: Free
Plus point: Create poses freely and animate them on the spot.
Bot3D is a simple editing app that allows users to create 3D character animations without requiring any special hardware. It features a Full Body Inverse Kinematics algorithm to create vibrant 3D characters that talk and dance.
Your model characters can be dressed up from head to toe. With FaceEditor and HandEditor, you can put different kinds of emotions and create various finger movements, including subtle joint movements. There is also an option for real-time lip-sync: when you talk to the microphone, the character lip-syncs accordingly.
Read: 26 Exciting Things To Draw
1. FlipaClip: Cartoon Animation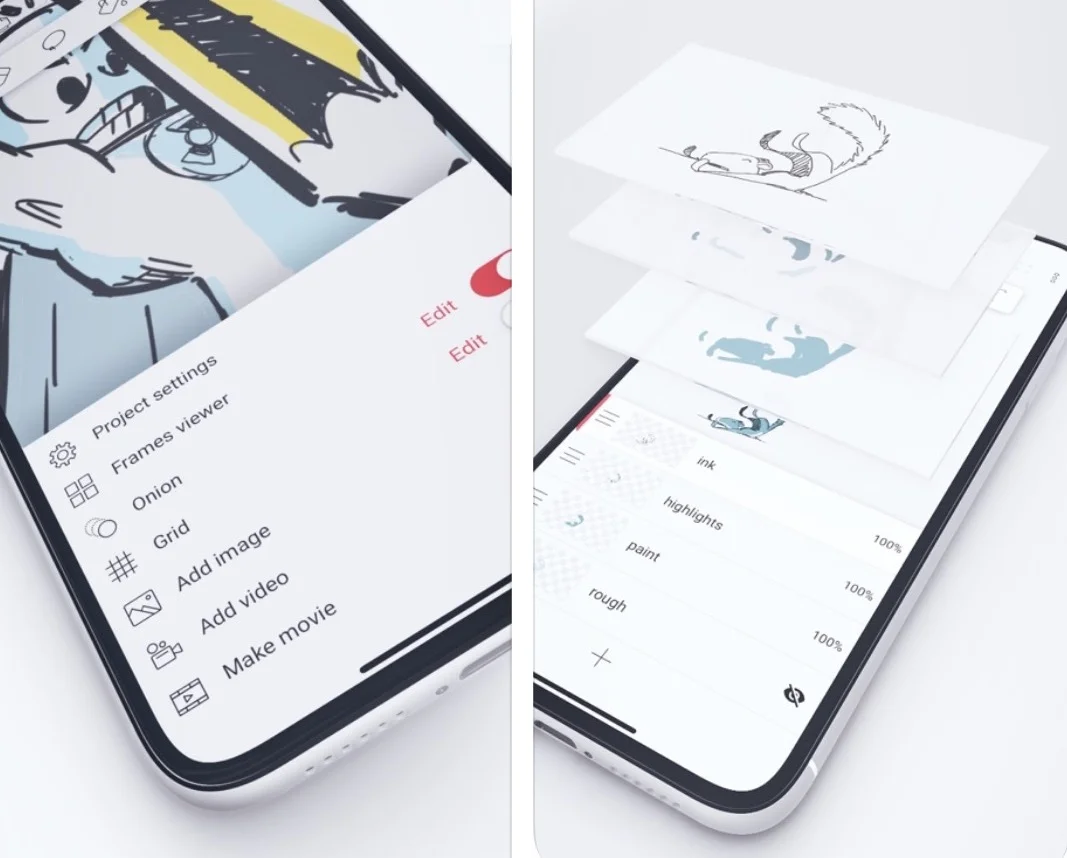 Platform: iOS | Android
Price: Free | in-app purchases
Plus point: Supports pressure-sensitive stylus; directly post animated videos to YouTube.
FlipaClip makes creating frame-by-frame animations easy. Its intuitive controls are easy to learn and are powerful enough to bring your imaginations to life.
Read: 15 Tools to Instantly Convert 2D Images to 3D Ones
The app has everything you need to create sketches, storyboards, and animations. It is equipped with multiple animation layers, timeline, frame viewer, overlay grids, and numerous practical drawing tools such as brushes, lasso, and ruler shapes. You can also add rotoscope to your videos and up to six audio tracks for free.