Since Google had acquired Android in 2005, things have surely changed, from phone looks to the nature of the applications. Perhaps only a few can remember the first generation of Android games. Over the time, the obsession of Android based games may come and go, but as far as the antiviruses are concerned, they still remain one of the most most popular apps on android.
It has long been argued that who exactly needs an antivirus? Well, you don't need one if you are already playing it safe. Keeping security setting on and always downloading apps only from the Google Play Store. However, it is essential for those who wants to explore unknown things or likes to do it rough. Anyway, here are the 20 best free antivirus and anti-malware Android apps to keep your phones healthy.
20. Max Clean 
Security Antivirus
Max Antivirus is a multi feature anti virus app that keeps your phone protected from viruses, adware and malware. It also cares about your privacy, and provides a boost whenever your phone needs it. It comes with some secondary functions like app lock and junk cleaner which can come handy anytime. The app gives you advance warning about any suspicious activity. Overall, Max Clean Security Antivirus is light, free and reliable app.
19. Green Booster Antivirus
Green Booster Antivirus is new in the market, but has some promising features which is good enough for a reason to test it out. It comes with one click scan and a nice real time protection feature. This app is for those who likes small and light apps, but without compromising its ability.
18. Malwarebytes Anti-Malware
Malwarebytes provides you a lite weight, no nonsense and above all, absolutely free anti-malware protection for your android devices. With nearly 10 million downloads and higher user ratings, is app is starting to get the respect it deserves. The app rigorously scans for various malware, including spyware and trojans and notifies you when someone is spying on you or when you are about to open a malicious website.
17. Hi Security Virus Cleaner
With over 20 million+ installs, the Hi Security Virus Cleaner is gaining popularity among the android users quite rapidly. To ensure the customers with world class antivirus and malware protection, Hi Security has an official tie up with McAfee, a part of Intel Security. It also comes with an intelligent app lock system with dashing lock themes. With Hi Virus Cleaner you can periodically scan your device at ease.
16. Hi 
Security AntiVirus

 Lite
Hi Security AntiVirus Lite is an another alternative for those who seek something new. As we mentioned, the app is relatively new and provide its users with a powerful antivirus engine with cloud based database, which ensure your device's security. It also comes with an app lock for better privacy options and wifi security to give you an edge against ARP spoofing and DNS hijackings.
15. Lookout
For many android users (T-Mobile) especially in the United States, Lookout Security and Antivirus have become a natural option. Unlike many other pre-installed third party apps, Lookout is a decent option when it comes to basic antivirus protection. For free users, it provides almost every basic feature including a robust anti malware and spyware and a backup facility for your important contacts.
14. 
TrustGo

 Antivirus and Mobile Security
TrustGo is a free and powerful virus scan engine, which allows you to quickly find suspicious apps carrying viruses or stealing private data on your devices. The app comes with a clean and easy interface. Overall, it has every important feature of an able antivirus, from real-time protection, and a privacy guard to a system manager, find-my-phone functionality, and data backup just in case you need it.
13. Avira Antivirus Security
Avira Antivirus Security is relatively new, but it's making quite a lot of buzz already. Now you can secure your photos, contacts, emails and credit card numbers without any hassle and for free. Avira gives you full power over our phone's security with tons of features. It's free and promising and definitely worth a shot. What do you think?
12. 
AndroHelm

 Mobile Security
AndroHelm Mobile Security provides a complex security feature for your smartphone from nearly all possible threats. With more than 1 million installs, is surely building its trust among the customers. The app provides its customers with reliable real-time protection from spyware and malware attacks. Other important features includes real-time apps scanning, which will start every time you download any app form the store and backups. With regular database updates and quarantine mode this is basically a good app that worth your try.
11. 
Eset

 Mobile Security and Antivirus
Eset Mobile Security and Antivirus is another popular application for android devices. Since it comes in a paid version, paid subscribers always gets a bit more, but its free version is perfect for basic protection. The free version comes with on-demand scan, strong anti-theft feature, and a rare USSD vulnerability protection. And speaking of a rare feature it also comes with a tablet-specific interface.
10. Dr. Wed Security Space
Even though, Dr. Wed Security app is paid, everyone can enjoy it for free up-to 14 days, after that a commercial license must be purchased to continue. Anyway, with this app you will get a strong anti-spam features, and a ton of anti-theft quality, including remote lock, remote wiping and custom remote messages, plus a cloud checker to block potentially harmful websites.
9. 
Bitdefefender

 Antivirus Free
Bitdefender is most likely the lightest and modest of all apps in this list. To be exact, it has two main features, first an incomparable app scan to keep your device clean and second, a real-time antivirus protection. The real-time keeps a watch full eye on other apps to monitor anything suspicious. In terms of the interface, the app is simple and neat, and so is the scanning, it takes only a few moments to get everything done.
8. Quick Heal Antivirus & Mobile Security
Quick Heal Mobile Security does not only provides protection to your Android smartphone from malware, but it also secures it against possible theft or loss. Among many features, it has Call filter that allows you to block unknown and unwanted numbers. It also notifies you about malicious apps and how they can affect your privacy and protection. Quick heal also have a capable audit function that guides you about highest settings that can enhance your device's security.
7. McAfee Security and Power Booster
McAfee is without a doubt one of the most popular anti virus software brand out there. And now their android based app is also achieving the same fame or maybe even higher. Even though paid subscription gets you a slightly better experience, but for free, you can get some pretty decent features as well. Free features include a top notch anti theft feature with remote access and a CaptureCam. With McAfee you can also save yourself against malicious web sites and ARP spoofing attacks with its streamline web protection.
6. Kaspersky Internet Security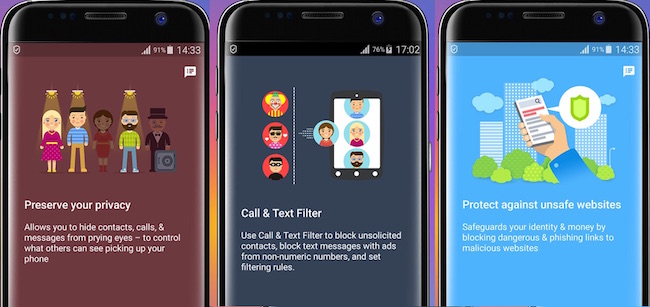 Kaspersky is perhaps one of the most recognizable names among the top dogs in this industry. And like the majority, it also has a free version and a paid version with slightly more features. The app provides its users a strong anti-phishing and anti-theft function for better security. The app also features a highly capable web filter to stop dangerous sites from attacking your device and a ever useful call blocker for privacy.
5. Avast Mobile Security
Antivirus Engine! Check. Call Blocker. Check, Anti-Theft! Check. App locker! Check. Junk Cleaner! Check. It is nearly all that we need in an anti-virus. Avast is a well respected and trusted antivirus product over PC and android. Apart from the basic device scanning and virus protection the app also includes regular database updates, anti-theft and advanced remote locking features just in case you somehow lose it.
4. AVG AntiVirus Security
You can join the 100 million+ users to take advantage of AVG AntiVirus to secure your device from any future threat. Compared to other similar apps, AVG is a bit lighter and it provide similar options like real-time device scanning and protection and steady database updates. Plus, there is a task killer. It also protects your wireless network with regular scans for network encryption and password strength.
3. CM Security
Since the first launch of CM Security it had some major success, when there was less competition. Time has changed, but CM Security still remains among the top freeware antivirus app till date. CM Security includes one of the most advanced app locks feature available in the app market. It now comes with fingerprint mechanism and modern anti-theft feature. Overall, the app is lightweight and won't take much of your phone's space and it's completely free.
Read: 16 Best Android Apps to Block Spam Calls and SMS
2. Norton Security and Antivirus
Norton is reliable, effective and will not disappoint when you need it the most. That is why nearly 20 million android costumers trust Norton with their mobile security. On a downside, the app is heavy and can cause executive power draining on several occasions, but quick and successful virus detection will make up for that. With a free Norton anti virus app, you get possibly the best in class privacy and device finder features with a fortified virus protection.
1. 360 Security – Antivirus Boost
Read: 30+ Stunning Lock Screen Apps for Android & iOS
360 Security is perhaps the most popular free antivirus app available on the Play Store with more than 200 million downloads. Apart from malware and virus safety, 360 Security also comes with a load of awesome features like speed booster, and power saver, which intelligently saves power by automatically triggering apps's Clean feature. In a case when you lost your phone, its anti-theft solution can Erase, Locate, Alarm and Lock, to assist you with retrieving the lost device and protecting personal data.